Is it possible to share a voicemail on iPhone SE?
In the past, it was quite challenging to share voicemail messages with other people, but with the developments of new iOS versions, you can now do this with ease. With just a few clicks, you can share a voicemail with multiple recipients. You can share via your carrier, email, and other third-party apps. Sharing voicemail on iPhone SE is now quite easy when you follow some of the procedures laid out in this article.
Part 1. How to Forward or E-mail Voicemail on iPhone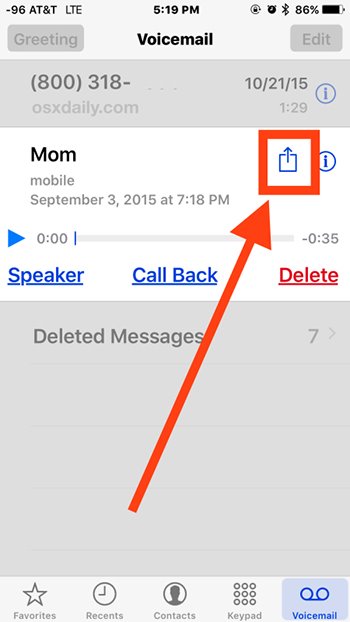 As mentioned earlier, you can now easily share and forward your voicemail messages with many people, for a variety of reasons; if your friend left a droopy voicemail at night, you can prank him or her for fun using this handy feature.
Step 1) Access the Voicemail tab. From your home screen, select the voicemail icon at the lower right corner of the screen to access your voicemails. Select the voicemail(s) that you would like to forward.
Step 2) Select the recipients of the forwarded voicemail. After selecting the voicemail(s) you will see a share icon appearing at the top of the screen; it look like a page with an arrow at the top. Tap on this icon and you will get a list of the people with whom you can share the voicemail.
Step 3) Select the mode of sharing. Once you select the recipient(s), you will have the option of sharing the voicemail through a wide variety of channels. Select them and then share the message(s).
Part 2. How to Recover Deleted Voicemail on iPhone 7/SE/6s/6/5s/5c/5/4s/4/3GS
iSkySoft Toolbox - iOS Data Recovery is one of the best to use when you need to recover lost iPhone voicemail messages. This is easily done from your latest backup on iTunes, iCloud or your computer. The application is easy to use with self-explanatory processes.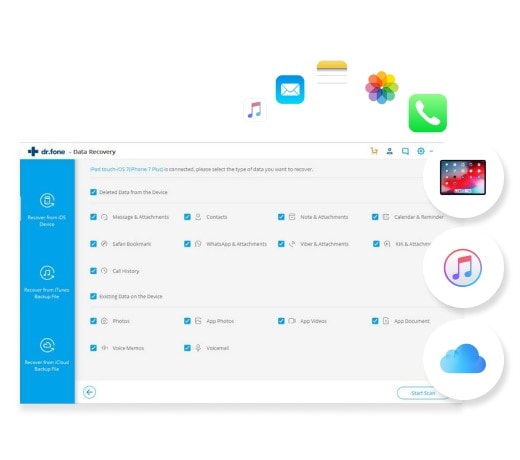 Key Features of dr.fone - iOS Data Recovery
Multiple Recovery Modes – You can recover your voicemail messages and other data from your iPhone, iCloud or iTunes.
Full iOS Compatibility – When it comes to recovering data on iOS devices, you can use iSkysoft iPhone Data Recovery for all of them.
Multiple File-type Compatibility – It does not matter which type of data you want to recover, iSkysoft iPhone Data Recovery can read images, video, audio and more; up to 18 different file formats.
Handy Preview Feature – You get the option of previewing the data you want to recover, before sending it to your iPhone.
Simple User Interface – Everything on iSkysoft iPhone Data Recovery is well laid out, and easy to understand; even a novice will find the tool to be quite easy to handle.
Custom Data Selection – The preview feature allows you to select the file and categories that you want to recover. This saves you a lot of time and avoids having multiple copies of the same files; recover the voicemails that you have lost and not copies of those that are still on your iPhone.