Are you an iPhone user and you are wondering how to get free voicemail apps? Well, there are over 100 free voicemail apps that you can choose from. In this article, you will find the top ten-voicemail apps for iPhone and how to get them. All you need is a good Internet connection to download any of these apps to your iPhone by clicking on the download link.
Within a few minutes, you can restore several data, which include voicemails, SMS, contacts, call log, video, photos, music, notes, calendar, apps, and more.
It is supported in all iOS devices, including iPhone, iPad and iPod touch.
It will let you preview the data that is recoverable. It presents them to you in a list thus; you can choose the data to restore.
It supports different data loss scenarios like reset formatting, virus attack, system crash, broken phone, jailbreak issues or unintentional deletion.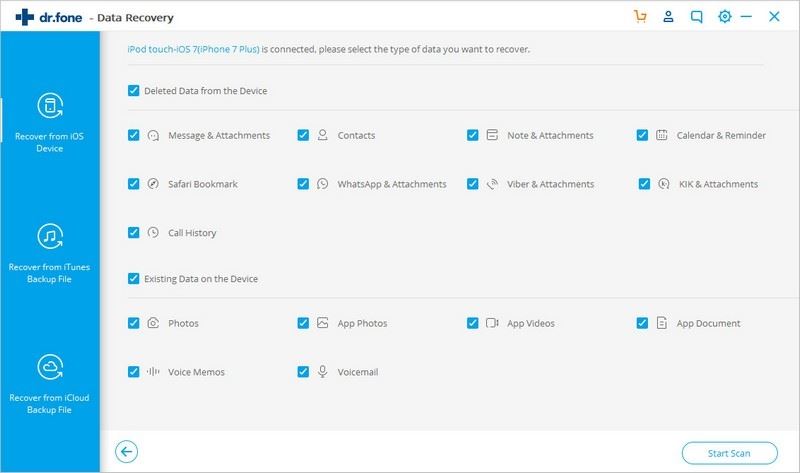 Top 10 Free Voicemail iPhone App
As stated earlier, there are over 100 free voicemail apps for iPhone. In this article, you have been provided with the top ten free voicemail apps that can help you get the most out of the voicemail system. Read this post, and at the end, you work will just be to choose the app that best suits your needs.
#1. YouMail Visual Mail
YouMail is a brilliant iPhone voicemail app that will allow you to access your voicemail messages and even create customized messages. It will also allow you to listen to your messages in your voicemail box and share the messages through email. If you don't want to receive any voicemail messages from some unwanted callers, you can create an "out of service" message. This way you can block them from leaving a message. The app can also show you the location of an unknown call that you receive on your iPhone.
Pros:
It has simplified greetings procedure.
You can block ditched callers from leaving messages for you.
It allows you to transcribe your messages from anywhere at any time.
This app provides free caller ID services
Cons:
This app limits the number of words for free transcriptions.
The contact organization is bulky.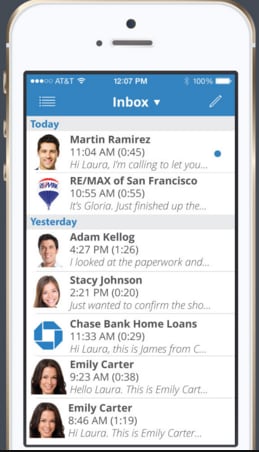 #2. Hullomail
This is another solid voicemail app for iPhone users. With it, you can have a quick view of your voicemail inbox. It allows you to use media controls to play message audio and easily manage your voicemail inbox. This free app will also allow you to send voicemail messages using your email.
Pros:
It allows you to manage your voicemail system from anywhere.
You can use it to reply to voicemails through email.
You can also leave a quick voicemail message for anyone without having to call them.
Cons:
You cannot access some features (premium) if you are not a business subscriber.
Cloud storage is limited.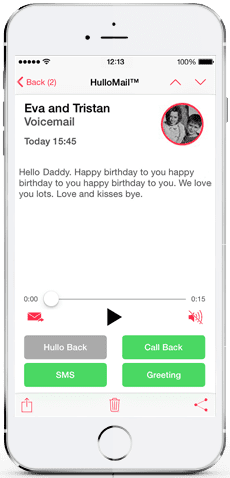 #3. Fusion Voicemail Plus
Fusion voicemail Plus is another fabulous voicemail app for iPhone. It will require you to create a web account. You will then download the app to access its mobiles services. This program works with any carrier. It has been designed such that it can cover most operating systems.
Pros:
It is available for several operating systems.
You can see a list of all your voicemails at a glance.
It allows you to listen to your voicemail messages without having to listen to instructions.
You can delete, reply to, SMS, or forward the voicemail before listening to it.
Cons:
It has a complicated interface.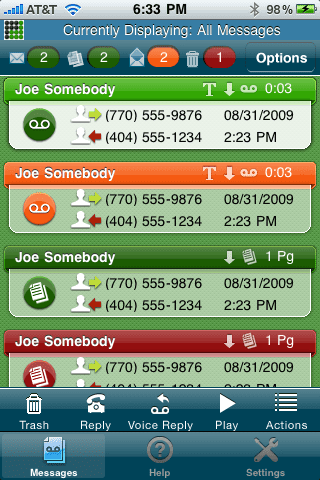 #4. AT&T Voicemail Viewer
AT&T Voicemail is another smart app that any iPhone user should have. With this app, you can manage your own voicemail on the go or at home. It provides you with a list of all your voicemail messages and all you need to do is to select the one you want to listen to. You can also use it to forward voicemail via email from your iPhone or PC.
Pros:
It allows you to play your messages in any desired order.
It can list all your voicemails for you.
You can also use it to read messages as Voicemail-to-text.
Cons: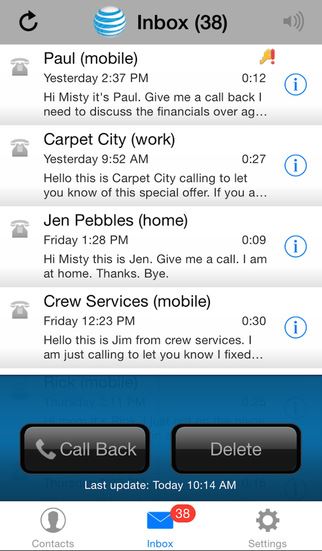 #5. Google Voice
If you are looking for a fully featured voicemail app, then Google Voice is here. This app transcribes automatically every voicemail that is received and then stores it in the user's inbox. It is equipped with play, rewind and pause functionality. This makes listening to the messages very convenient. You can also easily trash any voicemail message that you don't want. You can freely send and receive text messages and even phone calls as long as you have a data connection or Wi-Fi connection.
Pros:
You can send and receive calls and text messages for free over internet connection.
It automatically transcribes the voicemail messages that are received.
It allows you to archive or trash messages easily.
You can use it to block annoying people.
Cons:
It uses the outdated GV client.
It sometimes adds ads despite being ad free.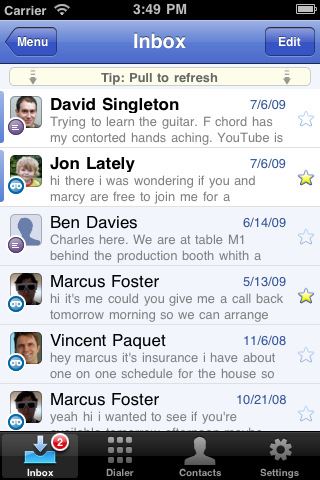 #6. Libon Voicemail App
Libon is another good voicemail app that offers convenient voicemail services to iPhone users. It has a personalized function that allows you to set up different greetings for each of your contacts.
Pros:
It features the voicemail-to-text function, thus, it can read transcribed voicemails as text.
It supports international calls.
Cons:
It does not support international calls to other outcries such as Japan and Brazil.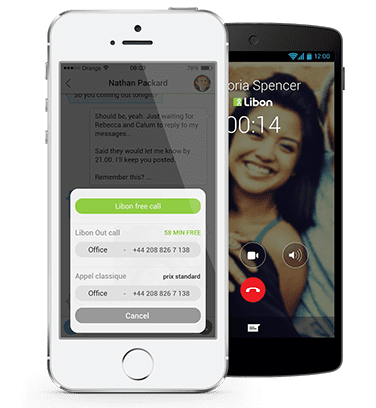 #7. Pinger
Pinger is a cross-platform voicemail app that has a very simple interface. This app integrates very with several mobile operating systems. This app works well over Internet and is carrier free.
Pros:
You can access and even reply to your voicemail messages online.
It allows you to forward and reply to messages directly without making separate calls.
Cons:
It will require you to have a steady data plan and a permanent internet connection.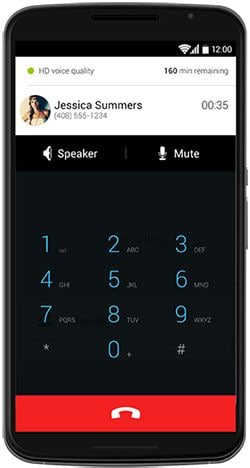 #8. Straight to Voicemail
Straight to voicemail is a great voicemail app for anyone who does not want to have a long conversation or do not actually want to converse with the parson making a call. It is also good for those who do not want to talk but want to leave a message. This app has been designed such that it will directly take you to the persons' voicemail without ringing.
Pros:
It is fast; your message will be delivered immediately you send it.
Cons: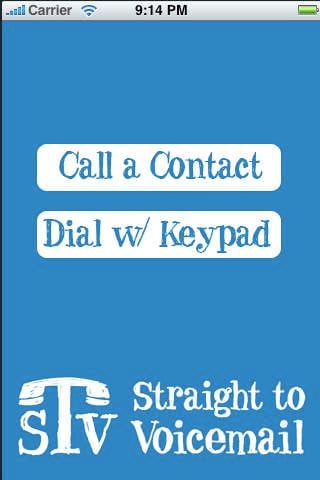 #9. Frontier Voicemail Viewer
If you want to have unified messaging services on your iPhone, then Frontier Voicemail Viewer is the best app that you can use. This app will allow you to control incoming calls, receive alerts on new voicemails, view Faxes, playback voicemail messages and even forward a message as an email.
Pros:
It alerts you when you receive new Voicemails.
Manage your voicemails from anywhere.
Cons: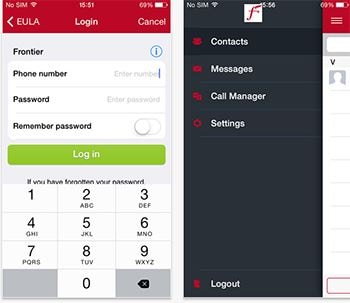 #10. Line2
Closing our top ten list is Line2 voicemail app. This is a VoIP phone service that allows an iPhone user to text and call from a separate phone number. This is a great app for voicemail transcription.
Pros:
It provides a very clear voice quality.
Allows you to forward voicemails as emails.
Cons:
Voicemail and missed call alerts are not quick. You can receive them hours later.