Part 1: How to Delete Photos from iCloud
In light of the recent celebrity hacking scandal, a lot of us are looking closely at the security of our devices and taking steps to ensure our personal data stays, well, personal. While Apple have assured users that iCloud is safe and no security breach has taken place, that isn't stopping thousands of users from tightening up their security.
The best way to keep your photos secure is to educate yourself about where they are stored. Did you know the deleting photos from your Camera Roll on your iPhone or iPad won't actually remove them from iCloud? To ensure your photos are fully deleted, you'll have to wipe them from iCloud itself.
Back up your photos from iCloud first
So, you've decided you want to remove previously uploaded photos from iCloud. The first thing you should do is download a backup of your photos from iCloud to your Mac, so you still have a secure copy should you want the photos for future use.
A great way to download and backup your photos is with iSkySoft Toolbox - iOS Data Recovery, which is a handy piece of software that allows you to recover data from your Apple products, should you accidentally delete anything. It's also a great way to back up your data from iCloud, so let's have a look at a step by step guide: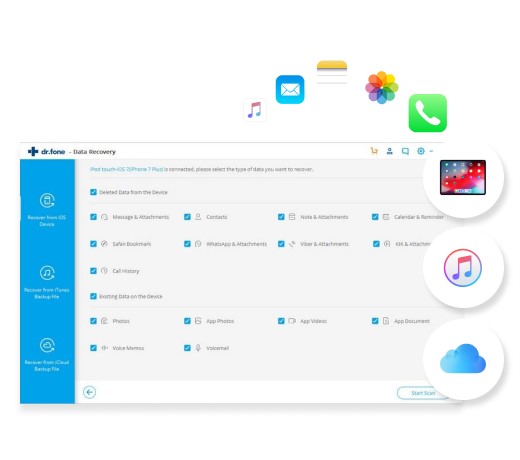 Download data from iCloud backup to computer in one click
Anyone can handle it to download and extract iCloud backup files on Mac.
3 Recovery Modes: Allows to recover data directly from iPhone, extract iTunes backup and download iCloud backup.
Up to 20 File Types: Recover lost text messages, iMessages, contacts, photos, videos, notes, etc.
Various Data Loss: Retrieve data lost for deletion, factory settings restore, jailbreak failure, iPhone lost or broken, etc.
Preview: Lets you read and preview found data before recovery.
Flexible Recovery: Selectively recover any item you want from iPhone, iTunes and iCloud backup files.
Step 1. Log into iCloud
Load up iSkysoft Toolbox - iOS Data Recovery and click on the'Data Recovery' and then choose 'Recover from iCloud Backup File', on the left hand side. Now enter your iCloud login details, which will take you to the next step.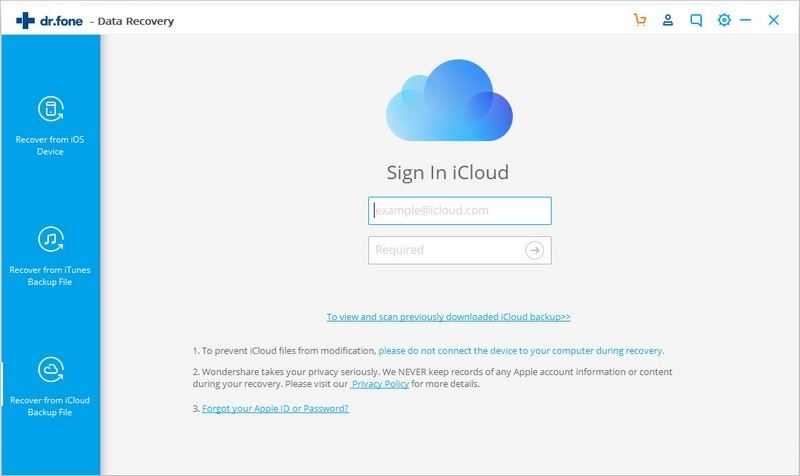 Step 2. Download the required files
Now you're logged into your iCloud account you'll see a neat list of all your backup files displayed. Select any that you want to download to your Mac, click on the 'Download' button (which you'll find under the 'State' column on the right hand side) and wait for iSkysoft to do its thing.
Bear in mind that these back up files can be pretty big, so your download may take some time. Be patient, though, it's worth it.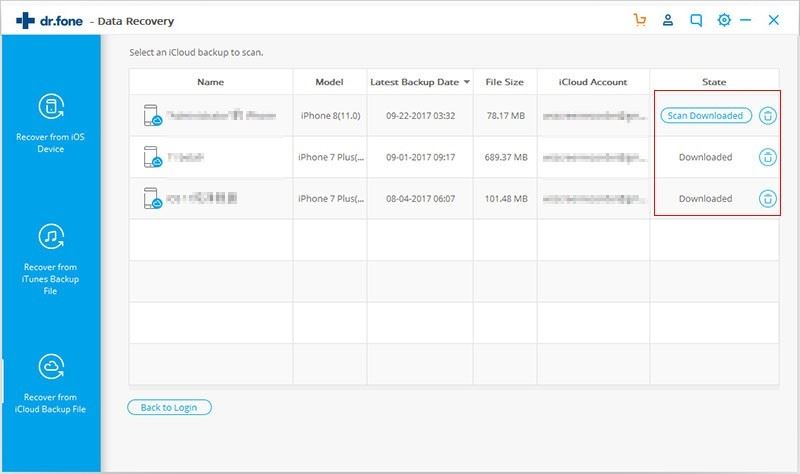 Step 3. Extract your download
After your download has completed you'll need to extract the backup file to access it. To do this you'll need to click on the 'Scan Downloaded' button, which will appear under the 'State' column when the download has finished.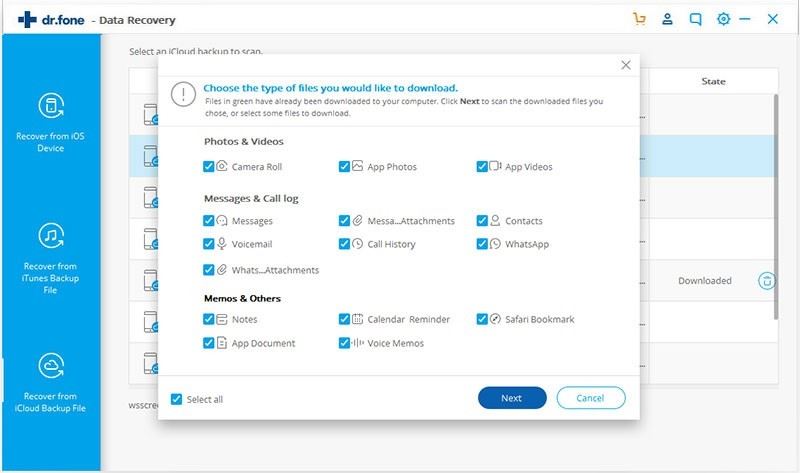 Step 4. View your files
Now the scan is complete you can begin viewing the files you've downloaded and sorting out what you want to keep. You can view each piece of data in the file individually, so choose the files you want to keep and copy them all to your Mac by selecting the 'Recover' option, which you'll find on the bottom right hand side of the window.
It's as simple as that! Just follow these four easy steps and you'll have your data backed up in no time. So now you've got everything backed up, let's take a look at how to remove your photos from iCloud.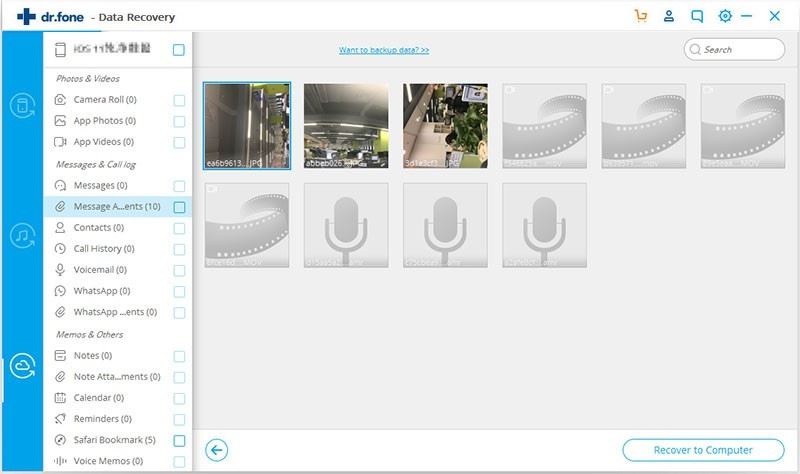 Delete photos from iCloud now
To ensure your photos are fully removed from iCloud there are a few steps you'll need to undertake but don't worry, it's not a complicated process.
1. Delete photos in My Photo Stream
Photos you've taken in the last 30 days (or one of your most recent 1000 images) will be stored in the 'My Photo Stream' section of your chosen device. To remove these images open the 'Photos' app, select 'My Photo Stream', select the photos you want to remove and then select 'Bin'. This will remove all of the selected images from any device they are on, as well as iCloud.
#2. Delete iCloud photos from iPhoto
So that's taken care of your most recent images, but what about those you took months or years ago? Luckily, these are also easy to remove, if you know where to look.
Power up your Mac and load up iPhoto. One you're in look for the 'iCloud Events' - these are arranged by month and will be titled 'October 2014 Photo Stream', for example.
Once you've found these folders it's simply a case of going into each folder, selecting the images you want to remove and hitting the 'Delete' option.
#3. Delete My Photo Stream on PC
That might take care of things if you use a Mac but what about PC users? Don't worry, we haven't forgotten about you! On your PC you'll be able to find your iCloud photos at the following: C:\Users\(insert user name)\Pictures\iCloud Photos\My Photo Stream. Once you've found the folder just highlight the images you want to remove and click 'Delete'.
#4. Delete iCloud backup from iPhone, iPad or iPod touch
We're almost finished but there are a couple of other stages you can undertake to really beef up your security. The next thing we're going to do is delete your iCloud backups. These contain photos and video, so it's important to remove them, if you want all trace of your photos deleted.
Grab your iPhone or iPad and head to 'Settings', then 'iCloud', next select 'Storage & Backup' and, finally, 'Manage Storage'. You'll see a display of all of your devices (if you have more than one), so select any that are relevant and choose 'Delete Backup' to remove the data from iCloud.
#5. Disable iCloud backup on your iOS device
One final step is to prevent iCloud backing up your photos from your iPhone in the future. To do this go back to 'Settings', then select 'iCloud' and 'Photos'. Select the option to turn off 'Photo Stream' and choose 'Delete' when it asks you whether you want to remove all iCloud images.
Next, go to 'Settings', 'iCloud' and choose 'Storage & Backup' again. Now opt to turn off the 'iCloud Backup' option. There you go - no more photos in your iCloud account.
Part 2: How to Share Photos with iCloud
So now you've removed the photos you want to keep private, what about pictures you want to share with friends and family? iCloud's My Photo Stream option might be a handy way to keep all of your photos in one place but it doesn't allow you to share your pictures with anything other than devices that are linked to your iCloud account.
Luckily, there is an easy way to create tailored photo streams that share selected images with your loved ones, using 'Shared Streams'. Follow our easy step by step guide to discover how.
1. Switch on Photo Sharing
The first thing you want to do is take your chosen Apple device and open up 'Settings' and then 'iCloud'. Next, select 'Photos' and turn on both 'My Photo Stream' and 'Photo Sharing'.
Now you've switched 'My Photo Stream' back on the photos in your Camera Roll will automatically be transferred to iCloud. You'll also see a 'Shared' button appear at the bottom of your screen.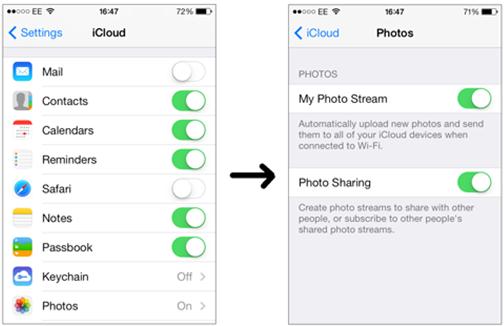 2. Choose which photos to share
Select the 'Shared' button and you'll be brought to a new window, which allows you to create a 'Stream', which is a group of photos you can share with other people. Select 'Create New Stream', put in a title for your photos and then invite people to view your stream by typing in their email addresses.
3. Now you've chosen a few people to view your Stream, either by putting in their email addresses or using the contact information on your device, an invitation will be emailed out to everybody on the list.
Alternatively, if you want to share your pictures with somebody who doesn't have an iCloud account you can publish your Stream on www.icloud.com, where it can be viewed by the public. To do this select the 'Public Website' option in your Stream and then 'Share Link', which will allow you send out invitations to friends and family who don't have iCloud.
There you go, folks, three easy guides to help you back up your data, remove unwanted photos from iCloud and share pictures with your friends and family. So, what are you waiting for? Get sharing those snaps!