Apple doesn't provide any service for iCloud backup downloading, except for restoring the whole backup to your iOS (including iOS 11) device. What if you want to download and access iCloud backup content? There are third-party tools like dr.fone - Data Recovery (iOS) which helps you download iCloud backup to your computer and extracts it for reading. Also, with this tool you can have a sneak preview the files you want to recover before recovering them. With all these in mind, let us have a look on how to download iCloud backup to Mac or Windows computer.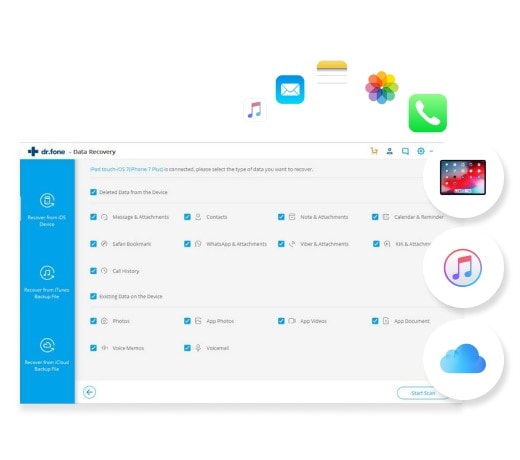 Download and Extract Data from iCloud Backup to Computer in One Click
3 Recovery Modes: Allows to recover data directly from iPhone, extract iTunes backup and download iCloud backup.
Up to 20 File Types: Recover lost text messages, Messages, contacts, photos, videos, notes, etc.
Various Data Loss: Retrieve data lost for deletion, factory settings restore, jailbreak failure, iPhone lost or broken, etc.
Preview: Lets you read and preview found data before recovery.
Flexible Recovery: Selectively recover any item you want from iPhone (iPhone X and iPhone 8 Plus Included), iTunes and iCloud backup files.
How to Download iCloud Backup to Computer via dr.fone - iOS Toolkit
To view how to recover lost data on iPhone/iPad/iPod touch via dr.fone - iOS Toolkit, please click here.
Tips: What gets backed up to iCloud
At this point, you have been enlightened on how to back up your data in iCloud and how to restore it. You should be wondering what exactly is being backed up in your iOS. Whenever you open your iCloud it offers you 5GB memory storage to back up your mail, notes, calendar, contacts documents, data and bookmarks. If that memory is not enough for your files, you can purchase more memory. The memory available is 20 GB, 200GB, 500GB and 1TB.
The data on your iPhone, iPod and iPad gets backed up when you connected to a network and locked. Remember to stay connected to power source. However, not all items on mac are fully backed up. This is what is backed in iCloud.
First, all the music, apps, TV shows and books that you downloaded in the iTunes will be stored. Your photos and videos on your iOS device are also secured. Moreover, the device settings on your gadgets will also be backed up automatically If you lose your ringtones and visual voicemail, you should never get worried since they are stored in the iCloud too. Furthermore, all your text messages, iMessages and MMS messages are also backed up in this feature. It is important to note that the device settings stored is only that which you stored on your iOS device. On the contrary, for the Mac users, you cannot back the music, app and TV shows that are not the desktop. It should only be in the iTunes. In addition, you cannot back up the documents and photo stream on your mac unless you drag the items to iCloud. Also, ensure that your mails on your Mac are attached to iCloud so that they can be backed up.
To conclude, for you to successfully back up your Mac and iOS device ensure you are connected to Wi-Fi and a source of power. It is vital to have a backup of your files so that you can retrieve them easily if you lose them in whatever case.