iOS is an amazing platform and it's one of the most popular operating system on the planet. It allows us to use lots of powerful applications while on the go, while also providing us with the means to play amazing games on our mobile phones or tablet. Unfortunately, even this platform has some flaws, and from time to time it will need a reset, which in the end might end up deleting all data we have on it, such as contact data or anything similar. In this page, you will get the best iPhone Contacts Recovery to help recover iPhone contacts.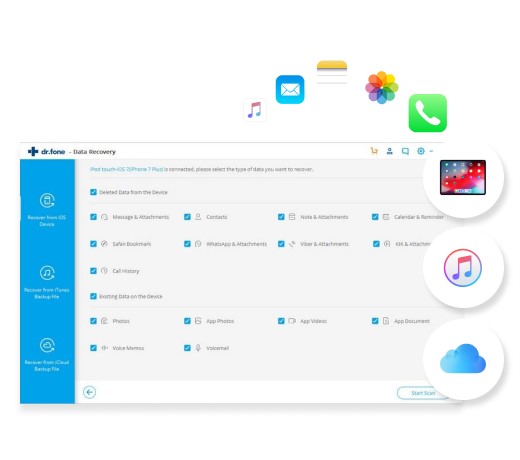 Why Choose This Software to Restore iPhone Contacts:
Anyone can handle it to recover data from their iPhone 7/SE/6S/6/5S/5C/5/4S/4/3GS.
Recover data from lost or deleted contacts to SMS, call history to videos and photos from our phone without too much effort.
Brings a direct scan for your iPhone and the result is that you get back the lost files without a problem simply by extracting them from your device, iTunes backup.
Supports the latest iOS version 10.3 as well as the older ones, so you won't have a problem using it with any iOS device, no matter its age, which is surely a neat feature.
Lets you read and preview found data before recovery.
Part 1: How to Recover Contacts Directly from iPhone
iSkysoft Toolbox - iOS Data Recovery must be the best tool to help restore iPhone contacts. It provides three modes to recover contacts on iPhone. You can decide to directly restore contacts from iPhone device or recover iPhone contacts from iTunes or iCloud backup.
Step-by-Step Guide to Restore Contacts Directly from iPhone
Step 1. Open the Program
After you download this application, install it and double click the application icon to start it. Next, connect your device to your computer and then choose "Data Recovery" menu from the feature list.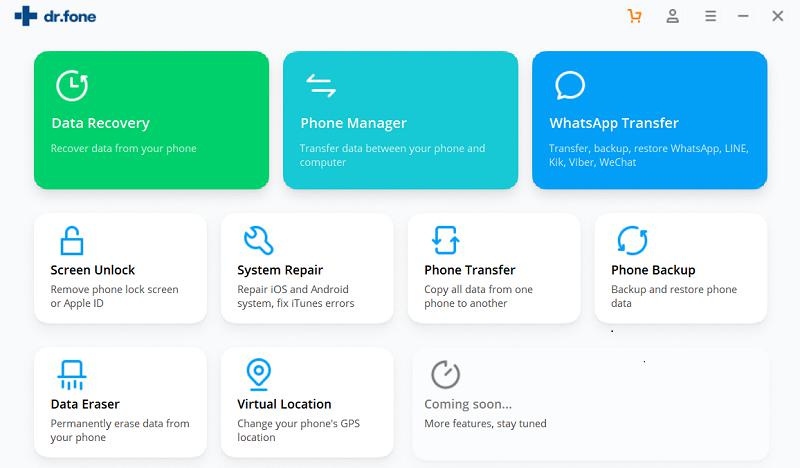 Step 2. Start Scan
Then select "Recover from iOS device" mode. Once you have connected the device and opened the application, you just need to choose the option of recovering from the iOS device and press the "Start Scan" button. Depending on the amount of data you already have on your device, this can take a little while, but on the other hand, once you complete the scan process you will be able to preview all the files you can recover.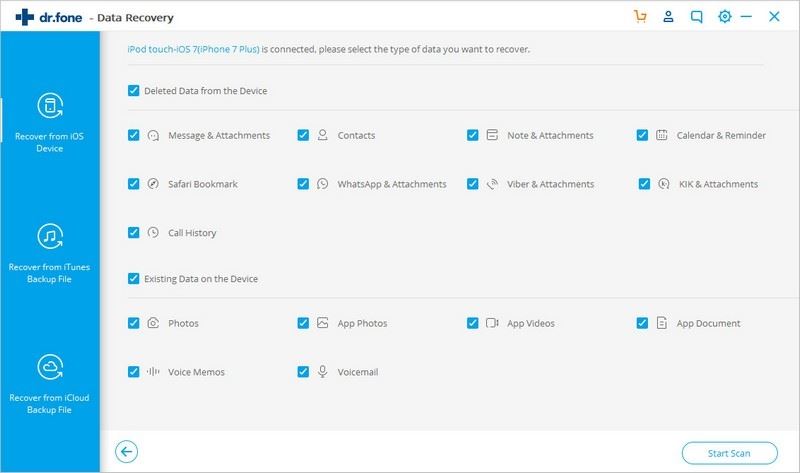 Step 3. Ready to Restore
After a few seconds, go to the "Contacts" category, check the texts that you want to restore and click "Restore" button at the bottom to retrieve deleted texts to your Mac.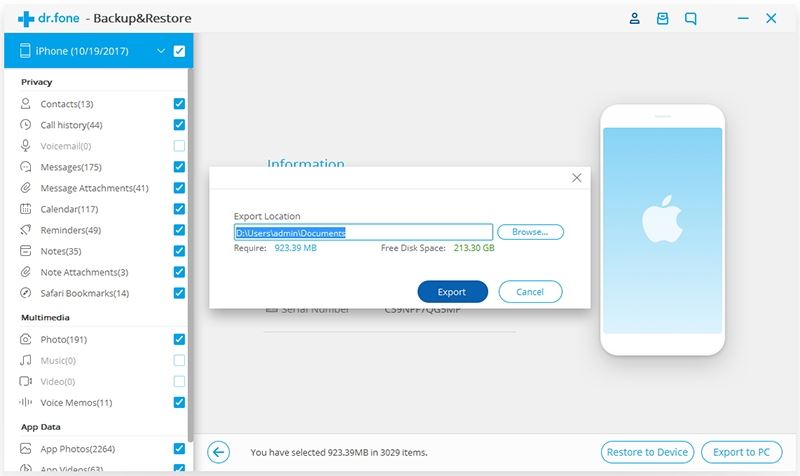 Part 2. How to Recover Contacts from iTunes Backup
Any modern device owner knows that creating a backup from time to time can surely ease the pain when you lose the device, or when it malfunctions. Keeping your sensitive data in the cloud or on a USB stick is very important and you should surely do it as often as possible. You can easily use the iSkysoft Toolbox - iOS Data Recovery to recover your contacts from a previous iTunes backup.
Step 1. Choose iTunes Backup
Select "Recover from iTunes backup file" mode in "Data Recovery" menu window and all iTunes backup files on your Mac will be listed in the window. Select iTunes backup file for your iPhone from the window, and hit the "Start Scan" button to extract contacts from iTunes backup file.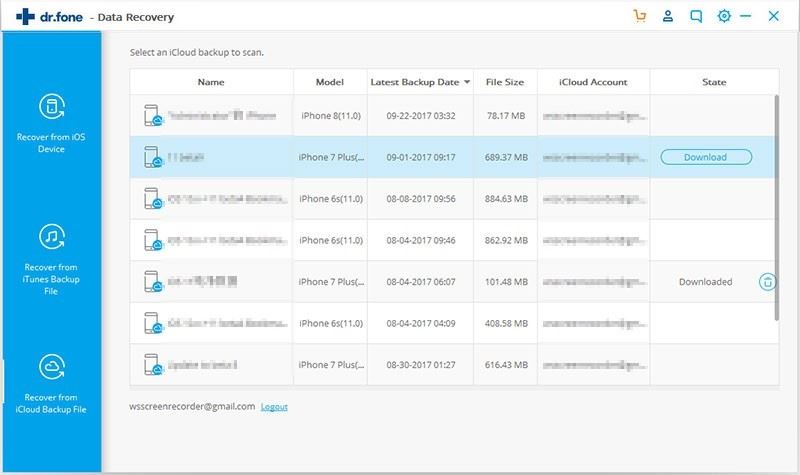 Step 2: Recover iPhone Contacts
In a while, you can see several categories, go to the "Contacts" category and preview them. Then select lost contacts and click "Export to Mac" button to get them back to your Mac.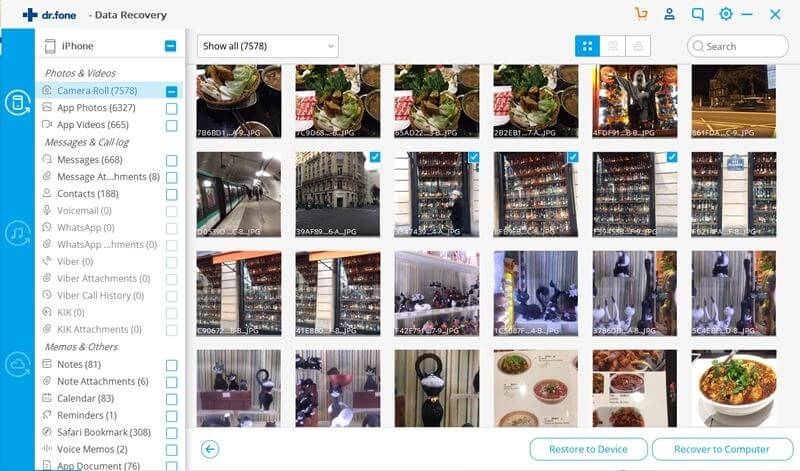 Part 3. How to Recover Contacts from iCloud Backup
iCloud is a neat feature that was added a few iOS versions ago and it allows you to effortlessly backup all your important files and folders in the cloud so you can access them on any Apple device at any given time. It became very popular and has helped a lot of people tremendously, as it allowed them to improve their workflow.
Recovering contacts from iCloud is very easy if you backed up your iPhone to iCloud at least once or twice. It's recommended that you backup contacts as often as possible, especially if you tend to add lots of contacts on a regular basis.
Connect your phone and recover contacts from the desired iCloud backup:
There are two different ways to recover contacts from an iCloud backup. You can merge them with the contacts that are already on the iPhone first, the recommended solution. You need to open the data recovery application, go to Settings/iCloud, log on to the Apple ID and turn off the Contacts item. After that, turn it on, select the merge function and the process will be complete automatically.
Delete all information on your phone and recover from iCloud backup:
The second recovery method requires you to recover the iCloud backup to your phone. As expected this is a much more extreme result and you should cautiously use it when your phone is not responding or malfunctioning. Otherwise the method presented above is highly recommended, as this method will delete all data from your phone and replace it with the one available on your iCloud account.
Tip 1. How to Block Contacts from Calling You
Unlike other mobile phone operating systems, the iOS is a very powerful tool when it comes to blocking contacts from calling you or managing your calls with ease. If you want to block a contact from calling you, all you have to do is enter the Settings panel, open the call log and find the number you want to block. After that, you need to touch the "I" next to the phone number and select the option to Block This Contact. You should be aware that this basically blocks anything, be it video calls, messages or anything related to that person. You should accept the blocking dialog that appears and that's it. The process is completed.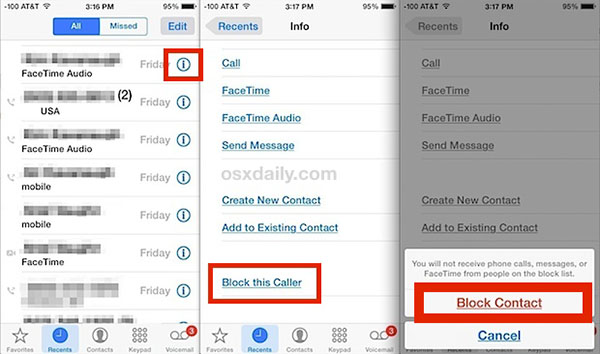 Tip 2. How to Add Emergency-contact Info to Your iPhone Lock Screen
Sometimes you might lose your phone so it's really important to add emergency contact information to it if that's the case so people who find it can return the phone to the owner as fast as possible. Since the phone can contain precious information, adding such data can be really helpful.
The best way to add emergency contact information to the iPhone screen is by inserting the necessary data in the wallpaper. This way you won't have a problem messing with options and other things. You just need to annotate your images or screenshots then use them as wallpaper. The best way to do this is by using an application such as Lightshot, which can take screenshots quickly, then annotate them. There are lots of tools which can annotate images, even some operating systems add tools that offer such features.
Once you annotate the image, all you need to do is add it to your phone via a quick transfer and the whole process is completed. You don't have to worry about anything at this point, as anyone who will find your phone will surely read the emergency information and call the number you added on your wallpaper. This is the best way to add such a number and it is surely helpful, so you should really add one to your phone right now.