What will happen when I reset my iPhone 6s?
Wondering what will happen if you reset your iPhone 6s? Certain things occur when you reset an iPhone. When you want to sell your iPhone, you will be prompted to reset it as this will get rid of all of your personal data and documents from the device and no one will be able to access them. Resetting your iPhone restores the device where it updates to the latest version, changes jailbroken devices to non-jailbroken state and relocks the unlocked iPhone. When you reset your iPhone, the device returns to its original factory settings and the latest Apple's firmware is installed. Read through this article to know when and solutions to reset your iPhone.
Part 1. What is Reset iPhone, When Do We Need to Reset iPhone
Reset iPhone is a special feature on iOS devices that enables you to return your iPhone back to factory settings in case your iPhone fails to function as normal or is in a bad state.
There are times when you need to reset your iPhone. You will need to reset your iPhone when in the following states; when your iPhone is Disable or password locked, iPhone freezes or is frozen, iPhone stuck in recovery mode, white Apple logo, black screen and when your iPhone cannot start up.
You also need to reset your iPhone when it crashes, when it is unresponsive and cannot shut down or turn on.
You need to do iPhone reset when you want to sell your iPhone to another person or when your iPhone is attacked by virus.
Part 2. Common Solutions to Reset iPhone
There are common solutions to reset an iPhone; some of the solutions are as below.
Solution 1. iPhone Hard reset through the iPhone's settings Menu
Step 1: Click on "Settings on the home page of your screen. Thereafter click on "General"
Step 2: From the options displayed on the screen, get to "Reset "at the bottom of the screen and click on it.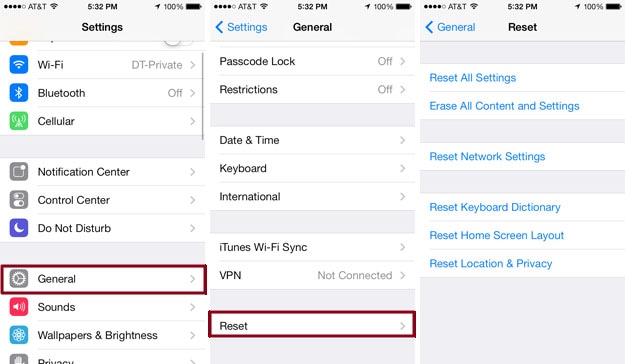 Step 3: From the list of reset options that appears, click on "Erase All Content and Settings" then tap on "Erase iPhone".
Step 4: Click on "Erase iPhone" and click it again to confirm.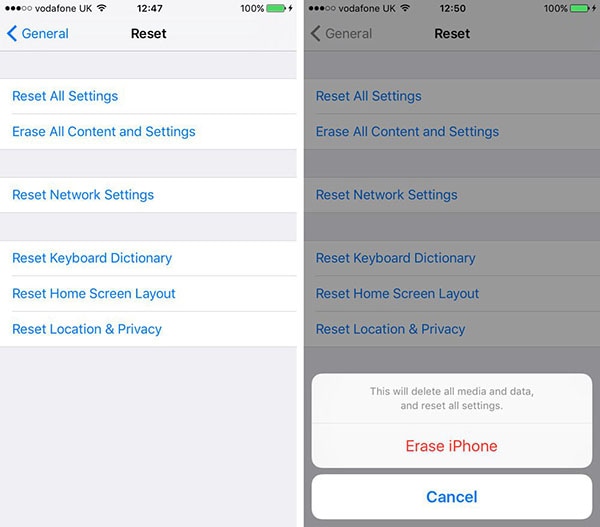 It will take some time for the iPhone to erase the data and on completion, the iPhone restarts itself.
Solution 2. Soft reset of iPhone with Home and Power button
Apart from the above mention solution, you can also reset iPhone through Soft reset with Home and Power button.
Below is a guide on how to soft reset iPhone with Home and Power Button.
Step 1: First power off your iPhone then disconnect it from your Mac or PC.
Step 2: Press and hold the Sleep/Wake button and the Home button together . The Home button is located at the bottom center of the iPhone screen.
Step 3: Continue holding till the phone shuts off to a black screen and restarts.
Step 4: Release both buttons when you see a white apple logo appear on the screen.
Step 5: Wait for your iPhone to reboot and it will be reset. You will have done a hard reset of your iPhone and it should work as normal.
Solution 3. iPhone reset using iTunes
Another common solution in resetting iPhone is using iTunes. Below is a step-by-step guide on how to reset iPhone using iTunes.
Step 1: Ensure that your iTunes is the latest version. If not click on "iTunes "menu then tap on "check for updates" to update your iPhone to the latest version.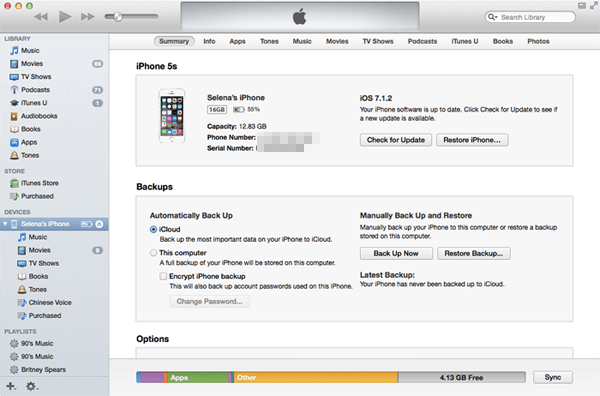 Step 2: Connect your iPhone to the computer using a cable the launch iTunes. You will be able to see all the information on your iPhone.
Step 3: When you see a message that "iTunes has detected an iPhone in Recovery mode. You must restore this iPhone before it can be used with iTunes" then click "OK.
Step 4: Thereafter, you need to restore your iPhone. On viewing the summary tab for your device, hit on "Restore iPhone" button.
Step 5: Afterward click the "Restore" button to confirm then tap on "Agree" to agree to the terms.
Step 6: After some minutes, the restoration process will be over. Check to ensure that your iPhone has been restored to its original factory settings.
If the whole process goes well an iOS start-up screen will appear on your device and your iPhone will have returned to its original factory settings.
Solution 4: Reset iPhone using Find My iPhone
You can reset your iPhone with Find My iPhone especially when your iPhone is disabled, when you forget your iPhone's passcode or when your device has been stolen or lost.
With the following steps, you can use Find My iPhone to reset your iPhone device .
Step 1: Get to 'Find My iPhone' website
Get to iCloud and log in to "Find My iPhone". Use the Apple ID for your iPhone device to log in.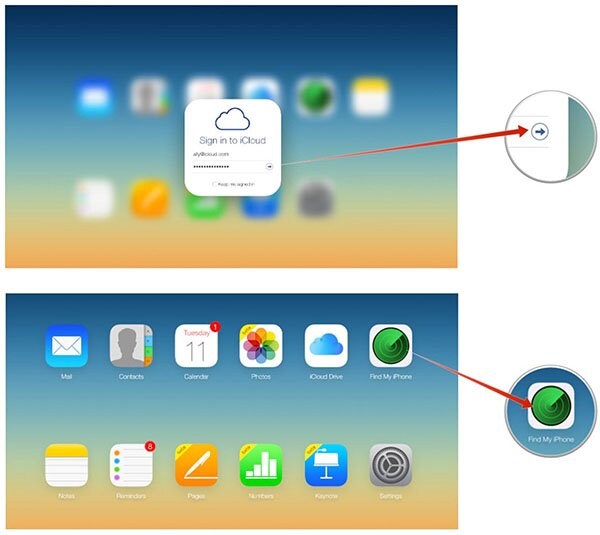 Step 2: Select your iPhone
If you had logged in your iPhone with the Apple ID and enabled Find My iPhone, you can access your iPhone device. Get to "All Devices" menu and click on it. The menu is located at the top of the window.
Step 3: Choose Erase iPhone
From your iPhone's information box, click on "Erase iPhone". You will get a message asking you to confirm.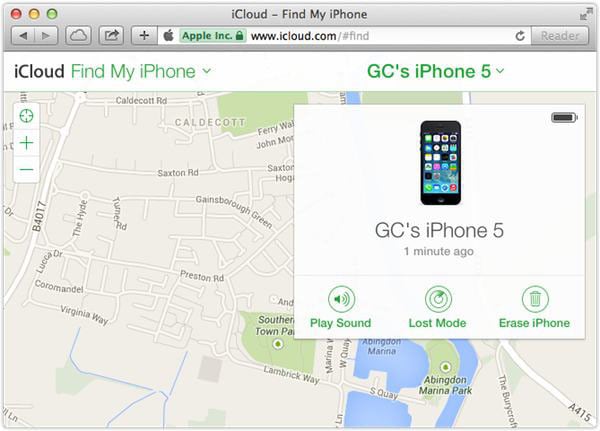 Step 4: Wait for some few minutes while your iPhone is erased. The process will complete after a short while.
Step 5: Reset/setup Find My iPhone
After your Find My iPhone has erased your iPhone successfully, you need to set up your iPhone. You can get all your backup from either iCloud or computer and restore back to your iPhone or you can decide to setup your iPhone as new.
Part 3. What We Should Do Before Resetting iPhone
It is importing to keep some important facts in mind before you start to reset your iPhone;
First, you need to protect your iPhone data so that in the case of anything you can easily retrieve the data back. You can choose to protect your data by syncing your iPhone to iCloud or to PC. This way you will have saved your data.
You can also choose to backup your data to iTunes.
It is also of great significance to ensure that your iPhone battery has a full charge. To do this, plug your iPhone into a charger and make sure it has a full charge.
If you are using iTunes to reset your iPhone ensure that you update your iTunes to the latest version.
You also need to take out iPhone SD card or SIM to protect any data in them.
Part 4. Best Tool to Recover Lost Data after Reset
dr.fone - Data Recovery (iOS) is a useful iPhone data recovery software tool that enables you to recover lost or deleted data from your iPhone, iPad,iPod touch or any other iOS device. It can extract existing data from iOS devices and you can save them on your PC.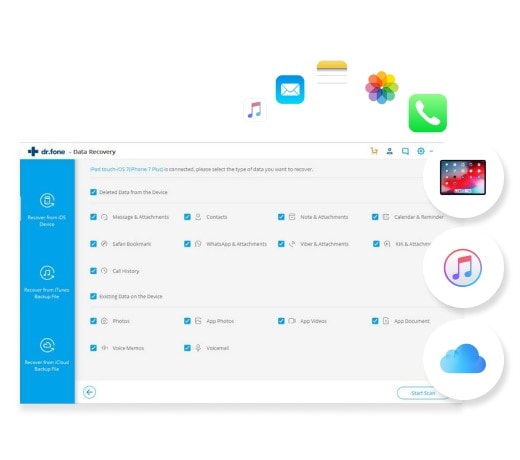 Key Features of dr.fone - Data Recovery (iOS)
It recovers data with 3 recovery modes, which are; Recover from iOS Device, Recover from iTunes backup and Recover from iCloud backup.
It supports recovery of many file types such as notes, photos, Calender, call history, WhatsApp History, Reminder, videos, voicemails, Facebook Messenger, messages, Safari Bookmark, contacts and more.
It restores data lost due to many reasons such as accidentally deleting files from your iPhone, damage or lose of an iPhone and iPhone upgrade.
It has a simple guide that allows you to easily extract deleted or lost data on your device, from iCloud or iTunes and restore them to Mac or PC.
A Step-by-step guide to recover lost data after reset your iPhone with dr.fone - iOS Toolkit
Step 1: On the program, select "Data Recovery" option. (You can download the dr.fone - iOS Toolkit from the Download button below)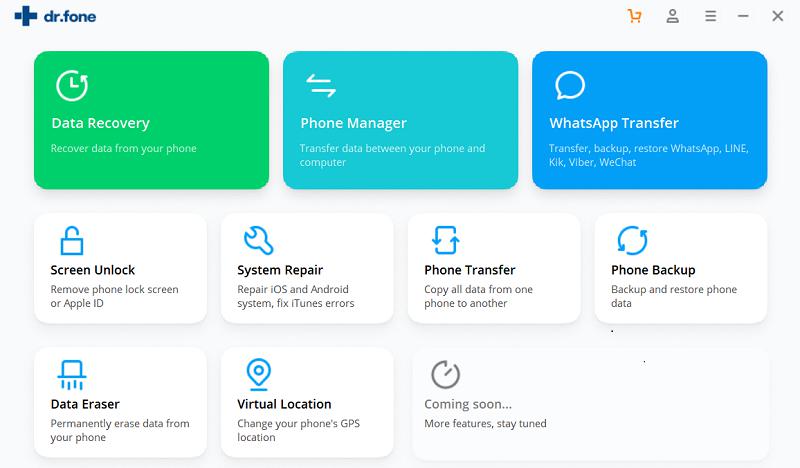 Step 2: Now please choose the type of the files that you wish to recover. Then click on the Start Scan button at the lower corner. It will start scanning the files on your iPhone.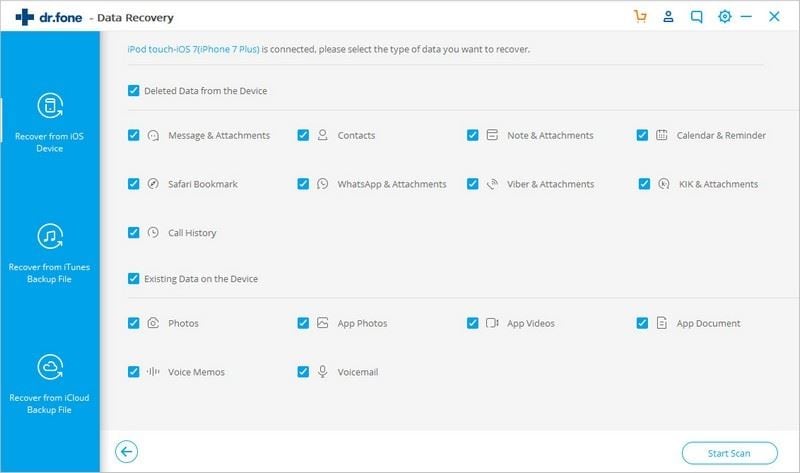 Step 3: When the scanning process is over, you can see the results presented for you. Click them to check the detail and hit the "Restore to Device" or "Export to Mac" button to bring them back!