-"Help! How do I restore contacts from iCloud to my iPhone?"
-"I wonder how to extract contacts from iCloud. Does anyone know?"
- ...
Wow, you just go to the right place! You can absolutely restore your contacts from iCloud. The traditional method by Apple is to erase data on your iPhone and restore the entire iCloud backup including your deleted contacts, so you can get your lost contacts on iPhone again. This is a method you can try to recover your deleted iPhone contacts, which is also introduced in the following content. However, today we recommend the best way to preview and selectively restore contacts from iCloud backup.
Part 1: [Best Way] Selectively Restore Contacts from iCloud Backup
dr.fone - Data Recovery (iOS) provides an out of the box solution to restore contacts to your iPhone or computer from iCloud backup. If you have lost your major contact details due to any unfortunate situation, choose this right tool is very essential to retrieve important iPhone contacts from iCloud backup with ease. With dr.fone, you can perform selective recovery of specific contacts too if needed. Here are some highlighting features of this program.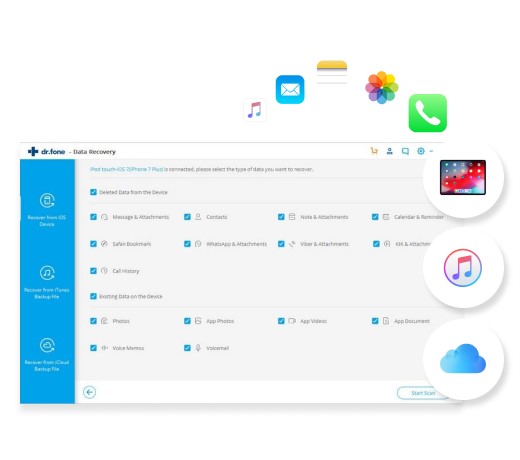 It allows you to restore contacts from iCloud backup selectively or entirely according to your requirements.
You can choose to get back the lost contacts on your iPhone or export to computer.
To save your iPhone space, you can preview the recovered contacts before deciding to bring them back.
It widely supports every iPhone X/8/7/SE/6S/6/5S/5/4 runing from iOS 4 to iOS 11.
Bonus: Not only deleted contacts, you can also recover your other lost data on iPhone, such as photos, videos, messages, call log and other files.
It will definitely NOT overwrite or erase any data existing on your iPhone.
User Guide to Recover iPhone Contacts from iCloud Backup with dr.fone
If you have an iCloud account with iPhone backup, you could restore the lost contacts easily. Just follow these steps to retrieve any lost data from iCloud backup.
Step 1: Install and Launch dr.fone - iOS Toolkit on your computer. Choose "Data Recovery" and choose "Recover from iCloud backup file" option from the left menus. After that login your iCloud account with username and password.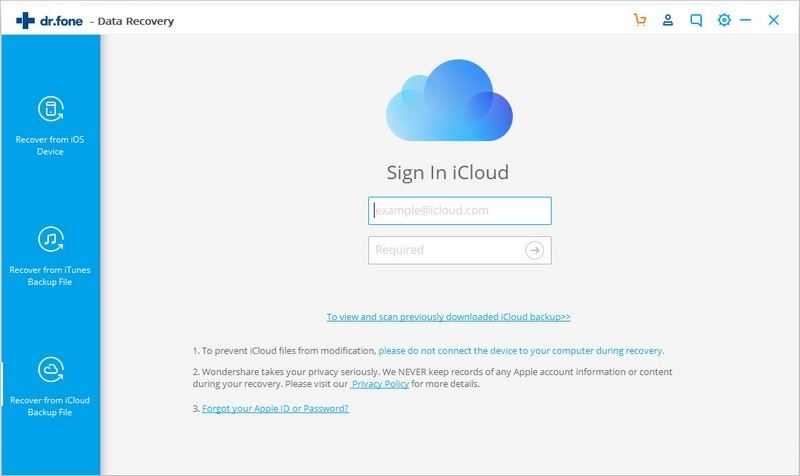 Step 2: Now the software will detect your iCloud backups. Choose the backup file that contains your lost contacts by clicking "Download". From the pop-up window, choose "Contacts" and hit "Next" to recover deleted contacts from iCloud.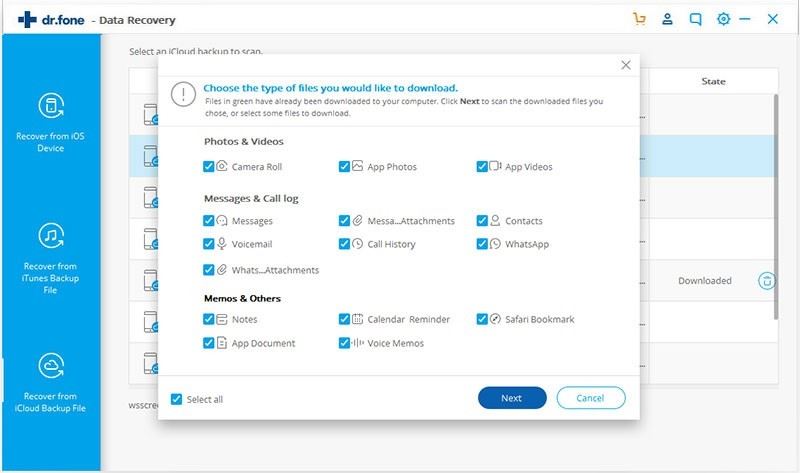 Step 3: Now you can preview the contacts before recovery. During Preview of contacts, you could select the contacts you want to download from the "Contacts" category and tick mark the contacts you want to retrieve. Click "Restore to Device" or "Recover to Computer" option to find them back! That's it! Download dr.fone - iOS Toolkit and have a try!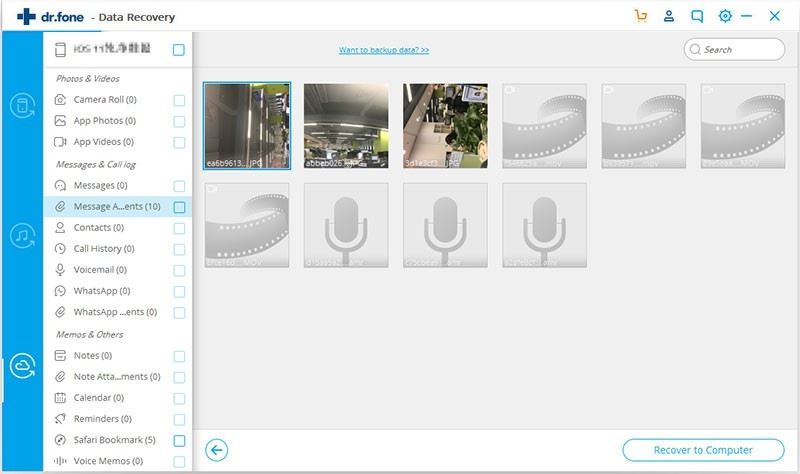 Part 2: Other 3 Ways to Restore Contacts with iCloud
The disadvantage of the above method using the best contacts recovery software to restore contacts from iCloud is, it needs a computer to assist the recovery process. But the advantages are remarkable. It won't overwrite any of the data on your iPhone. However, restore contacts with iCloud will take place all of the data on your iPhone with the backup files. It is not possible to select a particular contact to restore but will restore all files.
Method 1: Restore iPhone Contacts with iCloud
Step 1: From your iPhone, find "Settings" > "General". Choose "Reset" from the next window. Then choose "Erase All Content and Settings".
Note: The 'Erase all Contents and Settings' step will remove any previously saved data from your iPhone if you restore from iCloud directly. Please consider.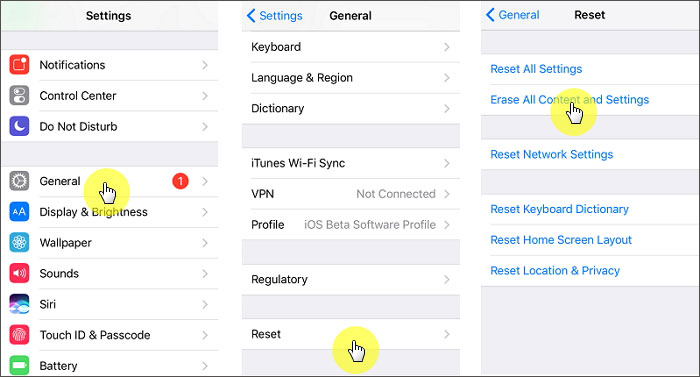 Step 2: The next step would need to setup your iPhone. As the images below shows, choose "Restore from iCloud Backup", from which you can retrieve contacts from iCloud backup. Now enter your Apple ID and password to extract iCloud data. Finally select "Restore". Congratulations! The entire iCloud backup file has restored on your iPhone including your deleted contacts.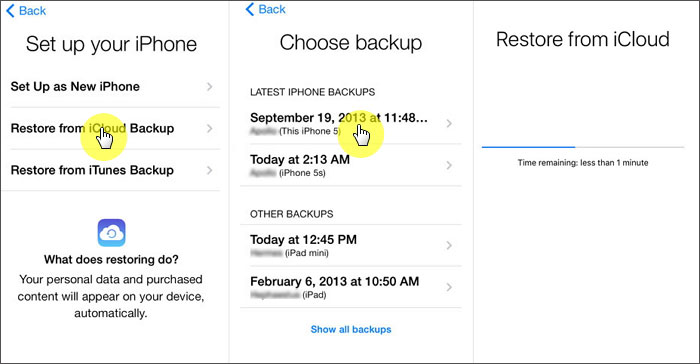 Method 2: Restore by Syncing All Contacts from iCloud to iPhone
It is also possible to merge all the contacts in your iCloud backup to your iPhone. This is a pretty simple way of getting back your contacts from the iCloud backup just when you need them. To do this, click on Settings and then choose iCloud from your iPhone. Click on the 'Turn off Contacts'. Go to 'Keep on My iPhone option'. Turn on Contacts and choose the 'Merge' option to keep all your existing contacts to iCloud account.
Note: You need to create enough space on your device.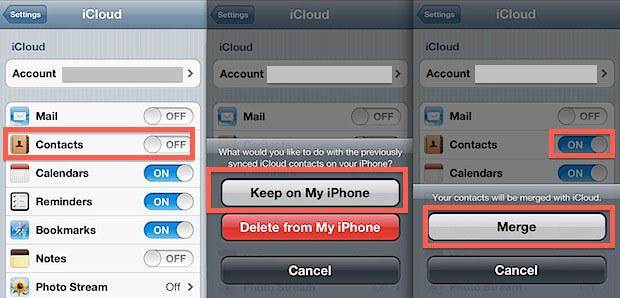 Method 3: Restore iPhone Contacts via vCard
You can also go for the option of using a vCard to export your contacts from iCloud backup to the computer. When this is done, the contacts go as a vCard file. These simple steps will lead you through. Log into your iCloud account to see all your contacts. Click on the contacts and then on clog icon. Select 'Export vCard'. You can then recover your contacts.
Note: You need to create enough space on your device.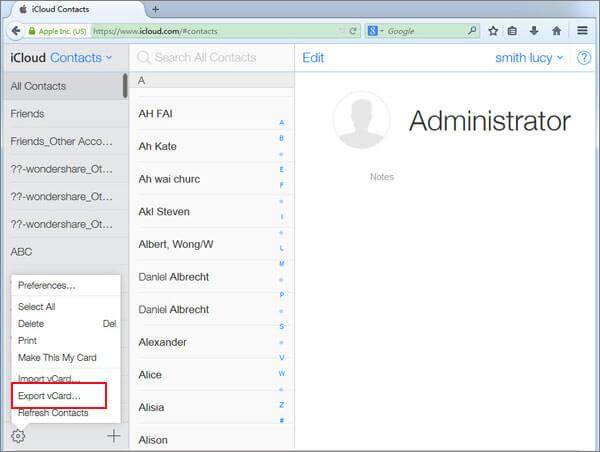 Part 3: Tips on How to Backup iPhone Contacts on iCloud
You just need to regularly sign-in and sync your iPhone data directly. There is no need to connect your device to the computer. Just login your iCloud account with username and password. After that backup your contacts by syncing them, rest assured all the data will be stored safely for future reference. With the help of iCloud backup, you could synchronize important contacts in your computer. We have provided some tips for you to backup iPhone contacts with ease.
1. Sync your iPhone Contacts: It is not necessary that you could recover contacts from iCloud backup. You can edit it if needed, but for recovery of lost contacts you have to follow these simple steps.
In your iPhone, Go to Settings > Mail, Contacts & Calendars > Go to Contacts and select Default account. Following this step all the contacts will be stored in your iCloud account. Or for safety, you can also backup iPhone contacts to computer.
2. Delete Unwanted Files: If you want to backup your iPhone data or contacts, delete unwanted files like videos, photos, messages and other data to create space. Sometimes you may have encountered issues like "Not Enough Storage Space" with your iPhone. By reducing the size of backup, you could store important data in your iCloud backup.
3. Disable HDR: We usually backup photos in iCloud and it consumes a lot of space. So, after turning off the HDR you could reduce the size in iPhone backup easily. By enabling the HDR option it will create two copies of the photos. Disabling the HDR will reduce the number of copies in iCloud backup by creating space for iPhone contacts. Just open the camera application and you will see HDR in the middle. Just tap it to turn it off.
iCloud is a convenient way to backup your iPhone contacts wirelessly. For easy recovery in any kind of data loss situations, it is recommended to use iSkysoft iPhone Data Recovery to restore contacts from iCloud to avoid any complications. You don't need any technical background to use this tool, as it provides an user-friendly interface for easy recovery of any iPhone data from iCloud backup.