If you want to extract your iCloud backup quickly and precisely, then you certainly need iSkysoft iCloud Backup Extractor right away. This application has a wide range of features that will enable you to extract your data quickly and with complete reliability. It supports all the major versions of iOS devices (including iOS 11 devices), and through it you will have the opportunity of getting access to your old iOS backups stored in iCloud rather quickly.
Best Tool to Extract iCloud Backup Data
dr.fone - Data Recovery (iOS) comes with complete support for a wide range of formats, and it helps you recover things such as notes, calendar, bookmarks, reminders, call history and messages, which is really neat indeed. With the help of iSkysoft iPhone Data Recovery you will be able to find your lost data no matter what type of situation you go through, and this can prove to be very helpful for all categories of iPhone users. Also, the recovery speed is very fast and the high amount of precision that can be found within the app is astonishing, as it enables you to use it without any previous experience, preview the files and recover them with ease.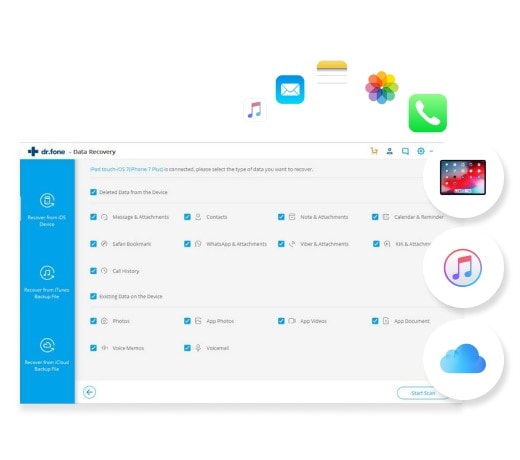 Download data from iCloud backup to computer in one click
Anyone can handle it to download and extract iCloud backup files
3 Recovery Modes: Allows to recover data directly from iPhone (iPhone X and iPhone 8 Plus supported), download and extract iTunes and iCloud backups.
Up to 20 File Types: Recover lost text messages, iMessages, contacts, photos, videos, notes, etc.
Various Data Loss: Retrieve data lost for deletion, factory settings restore, jailbreak failure, iPhone lost or broken, etc.
Preview: Lets you read and preview found data before recovery.
Flexible Recovery: Selectively recover any item you want from iPhone, iTunes and iCloud backup files.
Step-by-Step Guide to Extract iCloud Backup Data
The iCloud backup file, as well as the iTunes backup files are very hard to access, mainly due to various security purposes. The only thing that you can access at all times is the contacts, otherwise you simply cannot find your iCloud data unfortunately. With the help of dr.fone - Data Recovery (iOS) you are able to gain access to your iCloud backup files in a very fast manner. You just have to go through the following steps:
Step 1. Sign in iCloud Account
Run the program and click "Data Recovery". Choose to "Recover from iCloud Backup File". Enter your iCloud credentials then.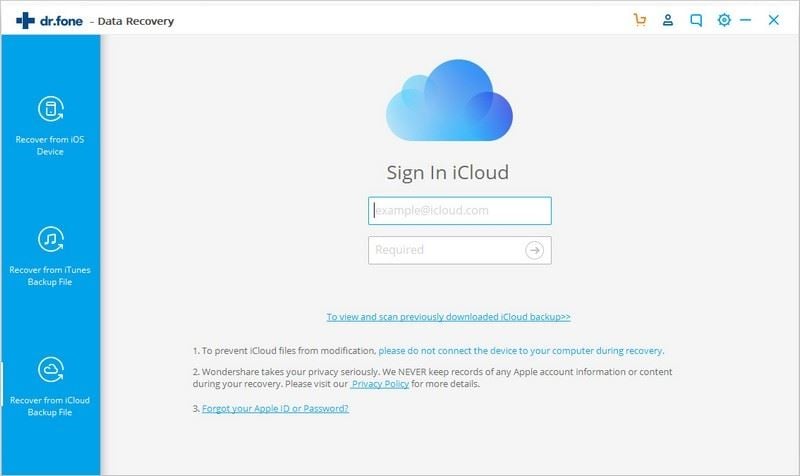 Step 2. Download iCloud Backup Data
Once you've logged in, choose the iCloud backup file that you want to extract. Then click on the "Download" button to get it off iCloud. After it have downloaded the backup files, choose target file types and click "Next" button, it will start scanning the files.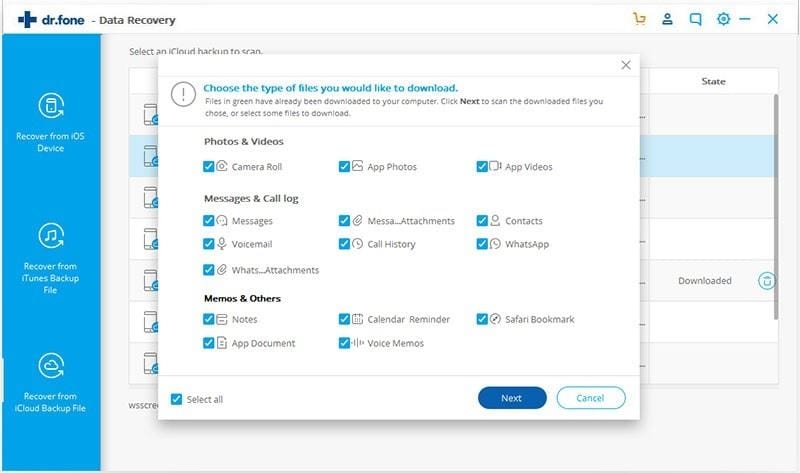 Step 3. Extract iCloud Backup Data
When it is done, you can preview it if you want, to see if the file integrity is kept intact. Once the preview process is completed and you are happy with the outcome, you can choose to "Export to Mac" the files and complete the recovery process.
As you can see, the whole process of recovering data from an iCloud backup is very easy to perform with the help of this iCloud Backup Extractor and you can be certain that in the end you will receive a top quality outcome.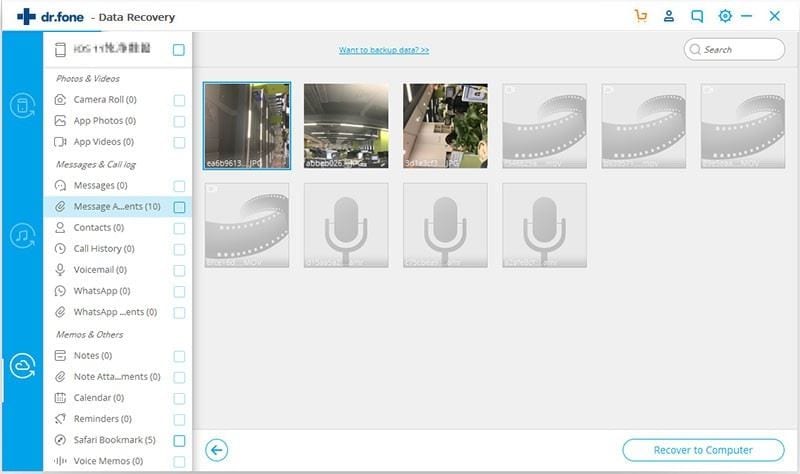 If you want, you can also use the normal method to extract files from iCloud backup, but unfortunately this will require you to reset your whole device, which might prove to bring a large level of inconvenience that you might not want in the end.
- Open your phone, go to Settings/General/Software update to get the latest update for your iOS version.
- Access Settings/iCloud/Storage and Backup, then try to find the latest backup
- After that is done, you need to go to Settings/General/Reset and once that is finished you will need to tap the Erase all content and settings button.
- This opens a setup assistant where you need to set up your device. Restore from backup and enter your iCloud credentials.
- One that is done, press Choose backup and wait until the process is finished.
As you can see, there are multiple ways you can use to extract your favorite items from your iCloud backup. We recommend you that you choose dr.fone - Data Recovery (iOS) as this is the only professional way that will help you recover your files quickly without having to restore the whole phone.
Tip: Why do we need to extract iCloud backup content?
Ever since the possibility to create a backup for our files and store it online a few years ago, we always wanted to remove as much data as possible from our hard drive and store it online. When the iCloud service first appeared, many people thought of it as being revolutionary, and it still is up to this date. It's an amazing way to store your files online without having to deal with security issues or any other type of problem, and that is really important.
However, while creating an iCloud backup is recommended, the main challenge lies in extracting the content of that particular backup and using it. There are multiple reasons why you should want to extract such a backup, either it hosts some very important data for you, in the form of documents, photos or videos, or it can include sensitive information that you want to access and maybe remove as fast as possible. Either way, it's very important for any users to make sure that he has complete access to his iCloud backup, and the only way to do this properly comes in the form of a professional backup extraction tool.