When you first register your iCloud account you'll be given 5GB of free storage. It might sound like a lot but you'll be surprised how quickly you can fill up 5GB if you're backing up photos, videos and the like. When your iCloud backup is full, you'll receive the following message: "Not Enough Storage: This iPhone/iPad cannot be backed up because there is not enough iCloud storage available. You can manage your storage in Settings."
Once you receive this message, you will no longer see any new iCloud backups, so any new information you store on your device won't be backed up. So, what do you do when your iCloud storage is full but you want your backup to continue? The first thing is to remove unwanted data from iCloud, which will free up some space.
Part 1: Delete Useless Photos
When iCloud backup is full, the first thing to look at is removing images from your iCloud storage, as they can really eat into your 5GB of storage and fill it up before you know it. We're all guilty of snapping away without really thinking about it and we're sure you have hundreds more photos on your Camera Roll than you release (do you really need those ten selfies from last week?), so there's bound to be plenty of pictures you can delete to help save on space.
Luckily, deleting photos is extremely simple, so in a matter of minutes you can give yourself an extra couple of GB of space for your backups - phew!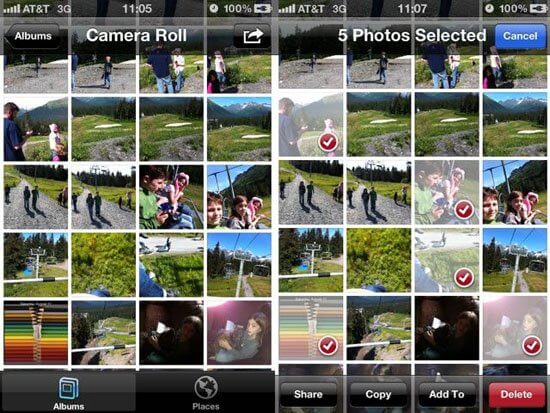 Part 2: Delete Useless Apps
Now you've removed your unwanted photos it's time to turn our attention to apps. How many times have you read about a great new app, quickly downloaded it, had a quick play and promptly forgotten all about it? Your device is most likely filled with apps you never use, which are all taking up space if they're backed up to your iCloud account. Instead of leaving them languishing on your home screen and taking up valuable space, it's time to delete them.
Not only can this help you free up a significant amount of space (you'd be surprised how big some apps can be), it will also leave your device looking less cluttered. Win win! Macworld have a great tutorial, outlining the process you need to follow to delete any apps from your Apple devices.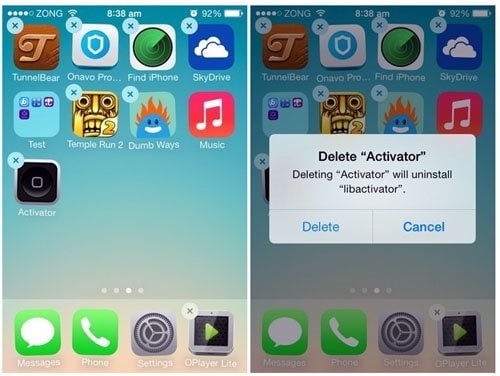 Part 3: Delete Useless Backups
Another great way to reclaim some space in your iCloud account is to manually delete any old backups that are out of date and no longer required, or from devices you no longer use or have. Out with the old and in with the new, as they say!
As every device you sync with your iCloud account shares the same 5GB of storage, you can really make a difference by removing unwanted back ups.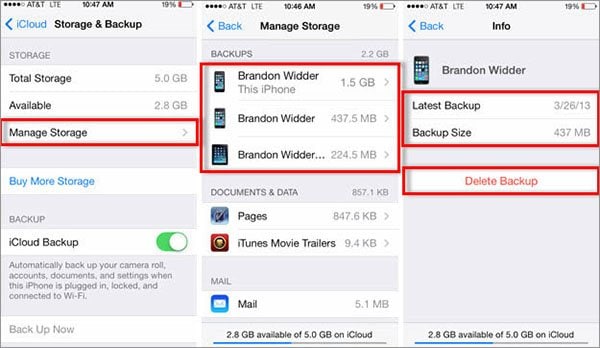 ---
Considering iCloud backup is full, you need to do a necessary deletion of backup. Before doing this, there might be one or two that contain information you want to keep hold of, so you may need to download an old back up or two to your computer. To do this you can use dr.fone - Data Recovery(iOS), which will make this previously difficult process a walk in the park.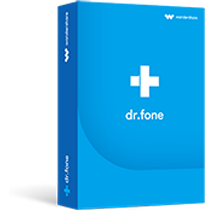 dr.fone - The Best iCloud Backup Downloader
3 Recovery Modes: Allows to recover data directly from iPhone, extract iTunes backup and download iCloud backup.
20+ File Types: Recover lost text messages, iMessages, contacts, photos, videos, notes, etc.
Various Data Loss: Retrieve data lost for deletion, factory settings restore, jailbreak failure, iPhone lost or broken, etc.
Preview: Lets you read and preview found data before recovery.
Flexible Recovery: Selectively recover any item you want from iPhone, iTunes and iCloud backup files.
4,290,481
people have downloaded it
How to Download Old Backups
Step 1. Log into Your iCloud Account
Open dr.fone - iOS Data Recovery and click "Data Recovery" menu, select "Recover from iCloud Backup File" on the left side of the "Data Recovery" menu window. Next, enter your Apple ID and password to log into your iCloud account.
Note: iSkysoft confirms they will not keep any copy of your iCloud account details or any data stored in your account. They state that "you are always the only person who can see the account and access the data".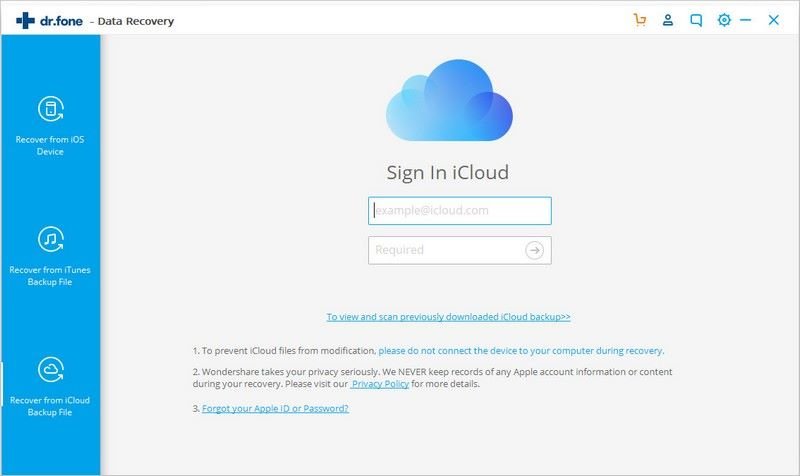 Step 2. Select and Download the Required iCloud Back Up
Once you've logged into your iCloud account you'll see a list displayed of all of your back up files, arranged by date. All you need to do now is scroll down the list, choose the one(s) you want to download and click on the green "Download" button, which is displayed under the "State" column on the right hand side of the window.
Bear in mind that it can take some time to download the back up, as these can be large files.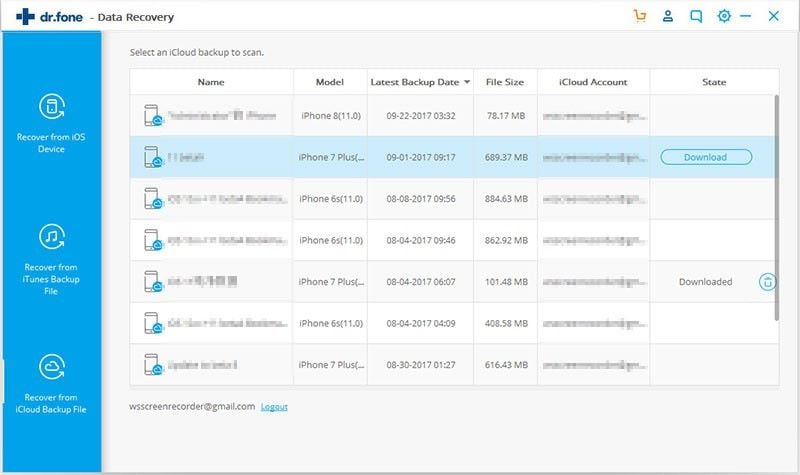 Step 3. Extract Your iCloud Backup
Once your download is complete you can extract the back up to gain access your files. To do this you'll need to click on the "" button in the pop-up window, after you have chosen the types of file you want to restore.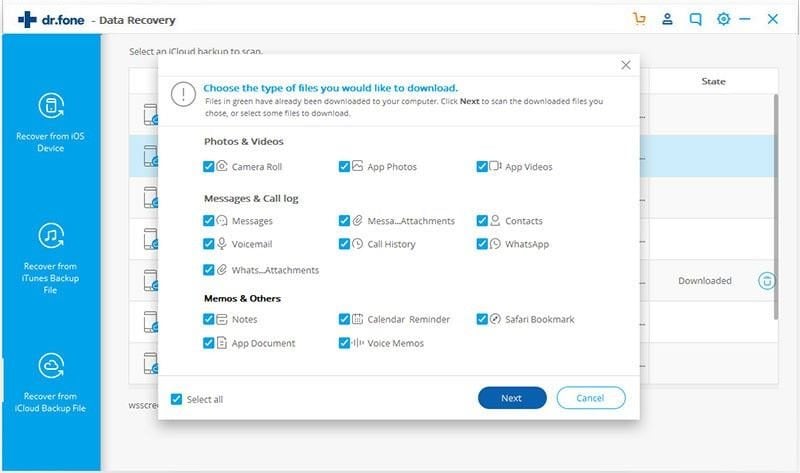 Step 4. Preview and Save Your Files
Once your back up file has been scanned you're almost finished. Now you can preview each piece of data in the back up file to decide what you want to keep from the back up file. The information in the back up will be displayed in a clear list on the left hand side of the screen, where files will be split up into categories like "Photos", "Call History" and "Notes", to make life easier for you.
You just need to scroll through the list of files and select any data that you're looking to recover. Then all you have to do is save the files to your Mac by clicking the "Export to Mac" button on the bottom right hand side of the screen.
Wait for the files to download and that's all there is to it - you've now got a copy of your old iCloud back up on your computer.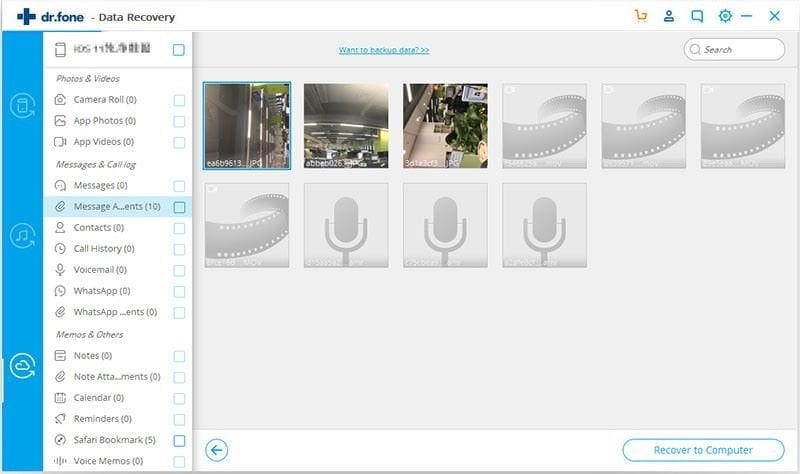 Conclusion
All in all, the article show you 3 praticable ways of removing useless data when iCloud backup is full, so that you can get more storage on iCloud. By the way, if mistakenly erasing vital data, you can try to use third-part tool dr.fone - Data Recovery (iOS). Just a few simple clicks to restore lost data as you want.