In iOS 9, Apple has launched an improved Notes app. Apple has been focusing on establishing an upper hand in almost every aspect of Application and creating a product and series of services. In the recent years the company has been looking forward to improve its application and also rectify the errors that they had been neglecting for so long. And this time they present the all new, improved notes.
Notes have been there for so long, but lack of features and negligence of the developers had lost it in the web. Earlier versions of the Notes were very basic and the functionality offered by the application were way too basic to be worth installing or be used as an Notes recording platform. But now the company is set to revive it, and this might me some serious competition to the existing note taking application like the Evernote and Onenote. The new features will help bring it at par with these existing successful giants of the market. Apple relieved the new updated version of Notes, packed with features and that might be challenging to the competitors.
Part 1. Main Benefits of Notes App in iOS 9
Though the list might not seem too long or the new added features may not be much different from the other 3rd party software, but when you can find some useful features on a preinstalled application why go for a 3rd party application. Here is a gist of the improvements made by the developers to please the users.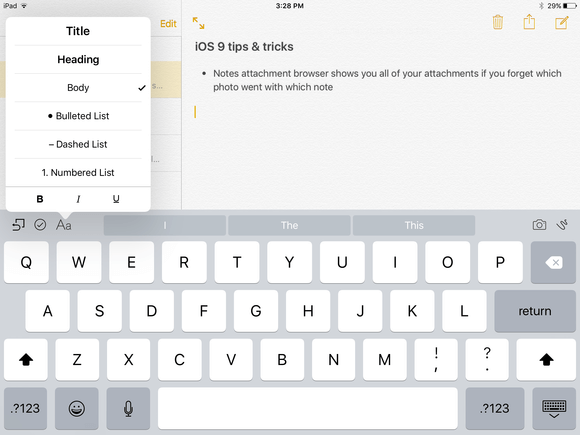 1. The new notes come with the text formatting features
Though the options are limited yet, but they may seem sufficient as per Apple's standards. Three different font sizes have been made available. Also you can make lists using bullets. The text can be set to bold, italics and underlined, now that's good enough if we compare it to the old notes.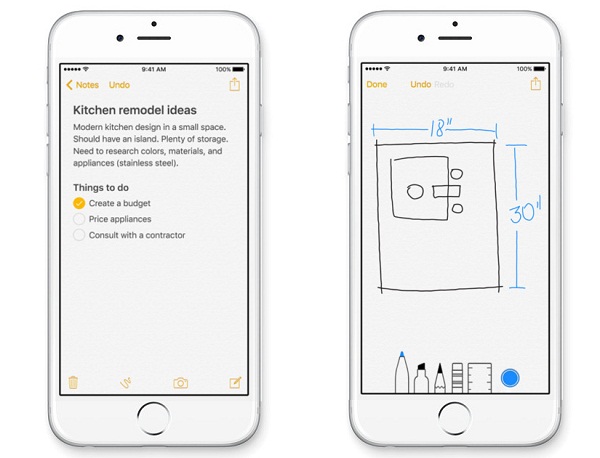 2. You can insert links, videos, captured images and checklists and draw notes
This reborn Notes app would not let you draw, paint and edit the way you like. Also you can add images and videos. That's not it, you can shoot them directly from within the app, in addition to adding them from the gallery. Also the Notes have access to other applications like the maps to export locations, or the Safari to add links, etc.
There are amazing tools available to your services, the pen, marker, pencil in different colours and the best of all, there is a ruler to draw with perfection. Notes make the task of making checklist so much fun and simple that you just can't forget them.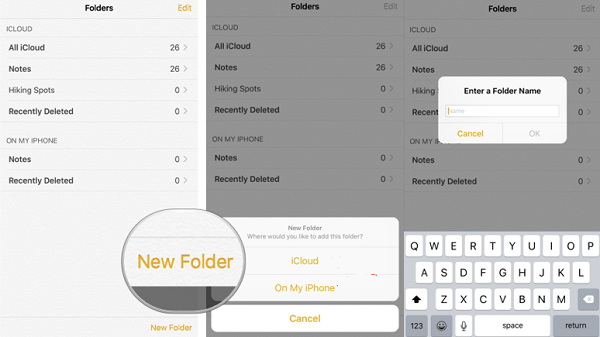 3. You can save notes under your iCloud account
The sync just got more impressive. Now you could link media to your notes and sync it to the network. This would be replicated to all your connected devices. Besides the deleted notes can be saved up to 30 days, you can restore or delete them during the 30-day period.
Part 2. How to Recover Lost Notes from iOS 9 Devices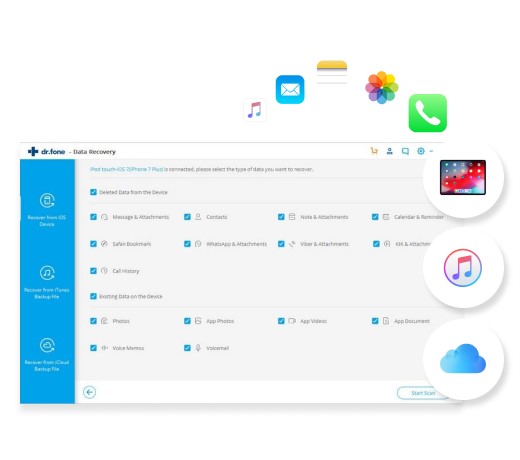 If you delete any note or something, the application maintains a backup of the file and saves it for 30 days, and so it can be retrieved. But if you delete the cache, doing it might not be possible without the help of a third-party software. And one such powerful tool available to recover these notes is the iSkysoft Toolbox - iOS Data Recovery. You can recover all type of files like the contacts, SMS, calendar, notes, voice etc.
Why Choose This Software to Extract Notes from iPhone:
Multiple extraction methods: iSkysoft iPhone Note Extractor helps you to recover notes from iTunes, iCloud and directly from your iPhone device.
Variety of files formats: It can not only recover notes on iPhone, but also retrieve lost or deleted photo, music, video, contacts, messages, etc.
Compatibility across all iOS devices: You can extract voicemails from iPhone backup files to your iPod, iPad or MAC. Basically, as long as you have a device that runs on iOS, you can use iSkysoft Toolbox to extract Notes.
How to get lost images back using iSkysoft Toolbox – Android Data Recovery
Step 1. Plug in Your iPhone or iPad
Launch the software and connect your iOS 9 device to the computer. Select the "Data Recovery".
Tips: If you have created backup with iTunes or iCloud, you can also extract the lost notes from iTunes and iCloud backup file with this smart tool. All you need to do is to click the "Recover from iTunes/iCloud Backup File" tabs and then follow the on-screen instruction.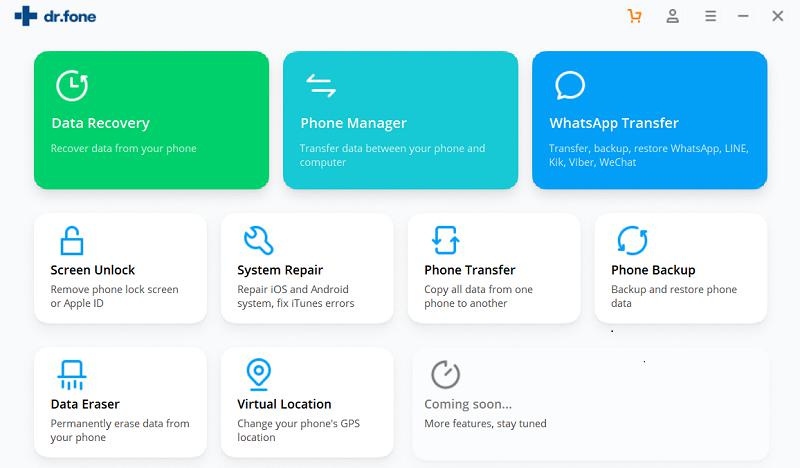 Step 2: Choose File Types
The next step is to choose "Notes" to recover your notes from iPhone. Then click "Start Scan".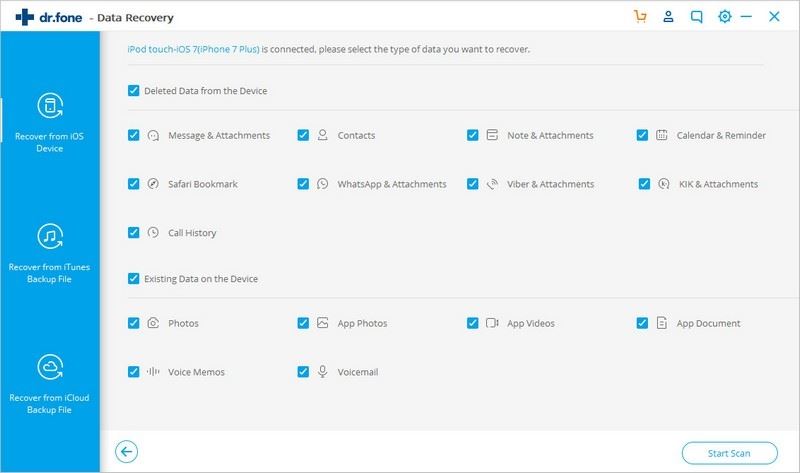 Step 3: Start Recovering Notes on iOS 9
Now the application starts scanning the lost notes for you. After the scanning, you can select the files you wish to find back and then click the "Recover" button to reastore them on your device or on your computer.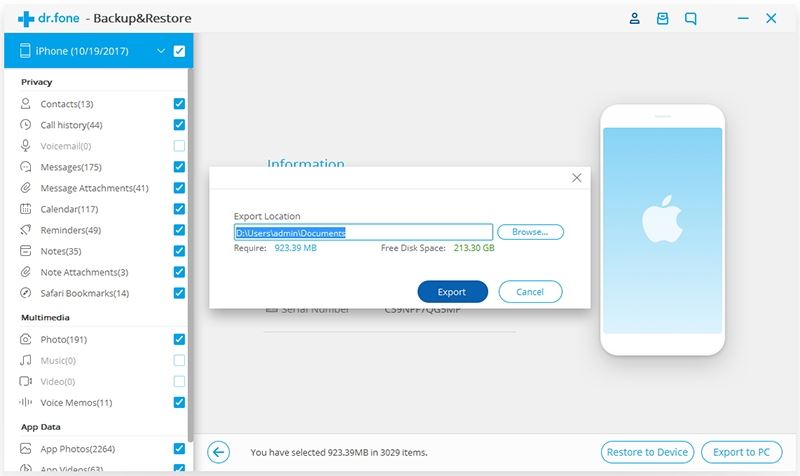 iOS 9 Notes have just made a leap to excellence. The face of the application has been transformed. The application has made many improvements and we can expect many new features and improvements and the hopes can be set high, observing the present policies of the company.