We are already very excited with Apple's decision to roll out the beta version of iOS 9 for everyone to download & test. And, with the official iOS 9 being rolled out as well sometime later this year around the fall, we thought that we should compare some of the major differences between iOS 9 and its predecessor, the iOS 8. We want to clarify that this iOS 9 vs iOS 8 comparison is largely based on the announcement made by Apple and the limited time we have spent so far with the beta version of iOS 9. In any case, this should give you a fair idea of what all is superior in the latest iOS offering.
Comparison 1. Typefaces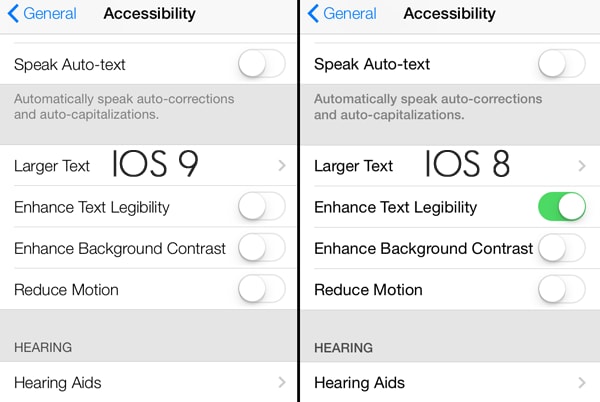 Apple seems to have made a big change with the adoption of a new system font called 'San Francisco' with iOS 9. 'San Francisco' is specifically designed to provide easier reading experience and legibility when used for small screens. The font is said to scale better and more dynamically than the outgoing 'Helvetica Neue' that was introduced in iOS 7 and used in iOS 8 as well. This is certainly a welcome change as a new font greatly affects the feel of any operating system and refreshes it basically.
The world of users and developers alike has taken this change positively, clearly giving an advantage to iOS 9 over iOS 8 in this case.
Comparison 2. Siri and Search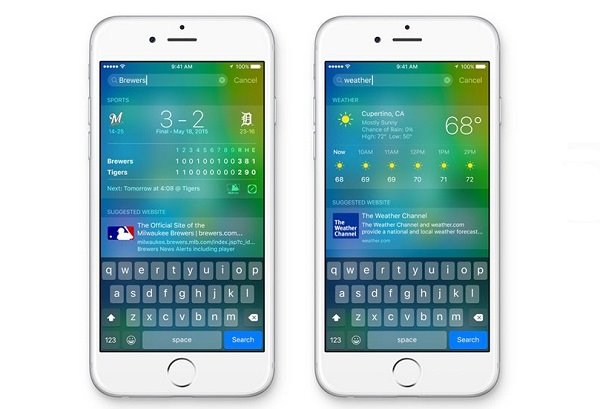 A lot of us had found the changes done to Search in iOS 8 to be far better than the one in iOS 7. However, with iOS 9, Siri and Search are going to get a lot better as Apple wanted to be able to offer a range of information to users on the basis of their habits, so much so that Apple has coined the name 'Proactive Assistant' to this new feature. Proactive would be able to offer you much more than just search results. It will be able to learn about your usage in a better way and then offer customized information, features, app suggestions, reminders, suggestions to make calls and more.
The new Proactive feature in iOS 9 is clearly a leap forward as compared to iOS 8.
Comparison 3. Maps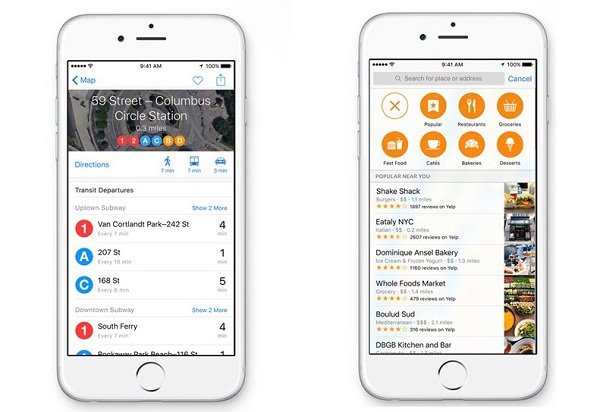 Apple Maps has had a bumpy ride all this far and clearly has not been one of the strong suits of iOS. That however is a thing of past now that the iOS 9 is here; the new Maps app that comes with iOS 9 offers the much needed and asked for feature of transit information as well.
This would allow you to plan routes better including the public transport such as buses and trains and even the time taken for walking the distances as needed. The new Apple Maps with iOS 9 will also suggest nearby places of interest such as food, shopping, drinks, fun etc.
Comparison 4. Notes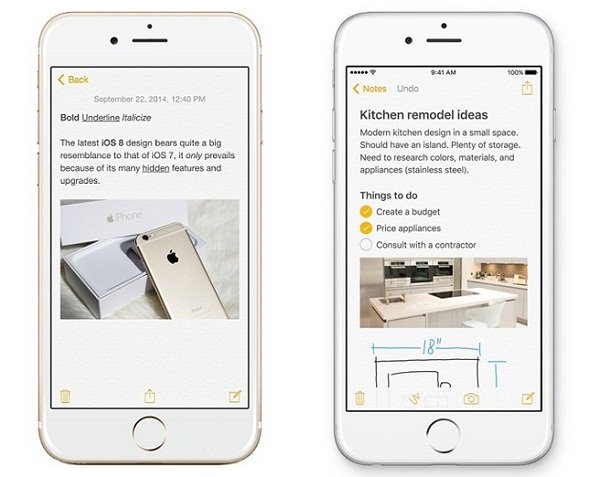 If you would have noticed, Notes, even though has been around as an app or feature on iOS for long, hasn't changed much. This is no longer the case with iOS 9 as it comes with a revamped Notes app that lets you do much more than the one you had in iOS 8 or the previous iOS. You will now be able to add smart cards to the Notes app, allowing you to include URLs, photos, documents and even maps to your notes. In fact, it allows you to directly add attachments to your notes by simply pressing the share button and selecting the Notes option.
Another great new feature that makes an appearance with iOS 9 is that of checklists. Not only can you list down your to do items on your notes but also mark them as complete once done on the notes. You can also doodle in the Notes app by pressing on the scribble or draw icon at the bottom of the app.
Wonderful feature and a clear plus point for iOS 9 over iOS 8.
Comparison 5. Multitasking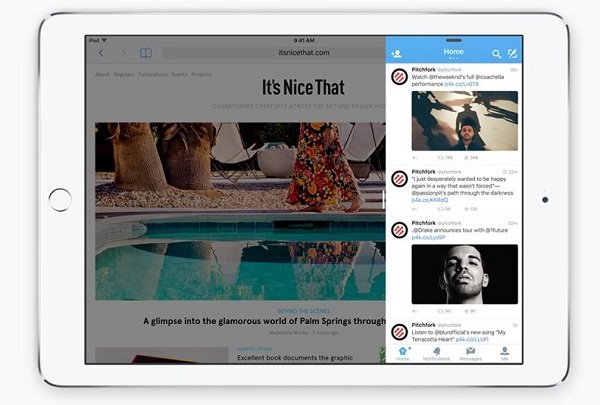 For all the iPad users out there, this one is going to be the Holy Grail of features that they wanted in their favorite Apple tablet. Well, Apple has decided to grant that wish now. iOS 9 comes with new and improved multitasking features for iPad.
Now, you can use 2 apps at the same time by simply dragging in a new layer of window on your iPad screen. You can even play videos or take calls while working on any other app as needed which we believe is an awesome feature for any iPad user.
The Verdict:
In the end, it will only be fair to say that iOS 9 is welcome change when compared to iOS 8 and certainly has a multitude of features that simply make it a must have upgrade and a worthy successor to iOS 8. We just cannot wait for the official roll out now and are eager to use full-fledged version of iOS 9 soon on our iOS devices.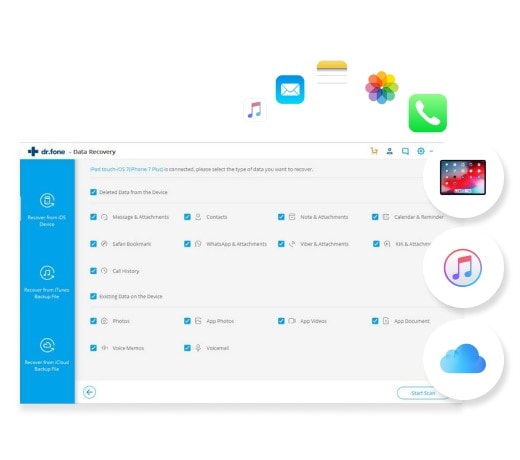 Why Choose This iPhone/iPad Data Recovery Software:
dr.fone - iOS Data Recovery is such a smart tool that can help you to recover lost data including photos, contacts, messages, WhatsApp, Notes, App documents, etc.
It fully supports every iOS device, including iPhone, iPad, iPod touch.
It allows you to recover data from 3 ways: from iDevice, from iTunes and iCloud backups.