Today, our phone has most of the important information we need to carry around with us while travelling or simply while being away from our PC. This makes it a very useful item to have around and we want to protect the data on it, which is especially important to us. This is where backup files and backup recovery come into the picture. Once your files are saved in the iCloud or via iTunes, you can easily retrieve them. This system maintains your data safe, so you can access it in case something happens and it appears erased. With iOS backups, you can save your settings, documents, saved games, messages, camera roll as well as other data, however, you cannot save content that is synced to the device like music, apps or movies.
Part 1. Recover iPhone Backup Selectively with Preview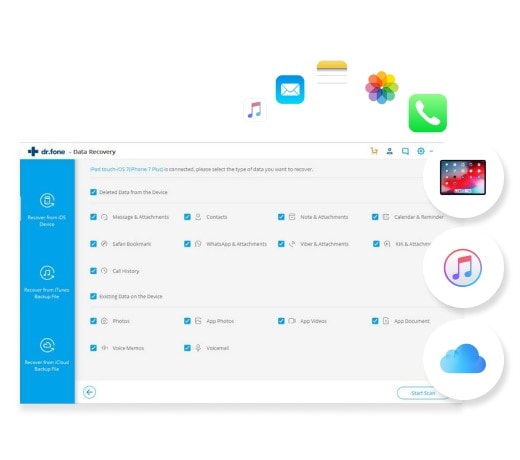 In case you need to recover deleted data on your iPhone, the accessible program to use is dr.fone - iOS Data Recovery. It can help to extract data from iTunes backup like videos, call logs, calendars, notes, contacts, photos and reminders, etc., so that you can preview and select desired data to recover. If you are using a Mac, then select dr.fone - iOS Data Recovery for Mac and here are the easy ways you can get your information back:
The preview feature that allows you to go through files before recovering or exporting them.
You can selectively recover any data from iPhone/iPad/iPod, iTunes Backup file and iCloud Backup file.
This program allows you recover files that you lost during factory reset, iOS upgrade, jailbreaking deletion, Virus attack, damaged device, broken device, and device that you have forgotten lock screen password.
It supports to contacts, notes, photos, messages, call history and more data from iPhone 7 (Plus)/SE/6s (Plus)/6 (Plus)/5s/5c/5/4s/4/3GS, iPad Pro/Air/mini and iPod touch.
Fully compatible with Windows 10/8/7/XP/Vista, Mac OS X 10.12 macOS Sierra, 10.11 El Capitan, 10.10 Yosemite, 10.9 Mavericks, 10.8 Mountain Lion, 10.7 and 10.6.
Step 1. Run the Program and Check Your iTunes Backup
First, download the free trial version of the program above. Do choose the right version for your computer. Let's work with the Mac verion here. Launch the program and click on "Data Recovery" menu, then choose "Recover from iTunes Backup File". Then you can see a list of all backup files in iTunes on your computer. Choose the one you want to extract and recover. Then click on the "Start Scan" button to move on.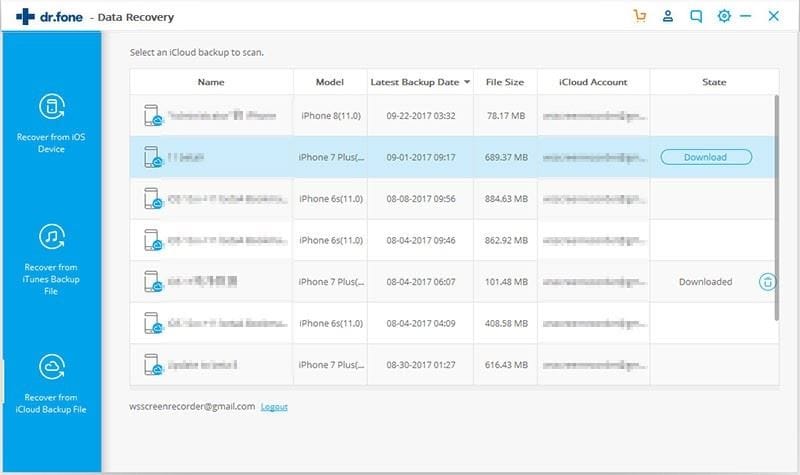 Step 2. Preview and Recover Desired Data from iTunes Backup
The scan will take you a few seconds. Once it stops, you will see a scan result, where all data in your iTunes backup file are extracted in categories. Now, you can check all content in detail for each category. Preview them one by one and tick the item you want to recover. Lastly, you can save all ticked items to your computer through the button of "Export to Mac" at the lower right corner.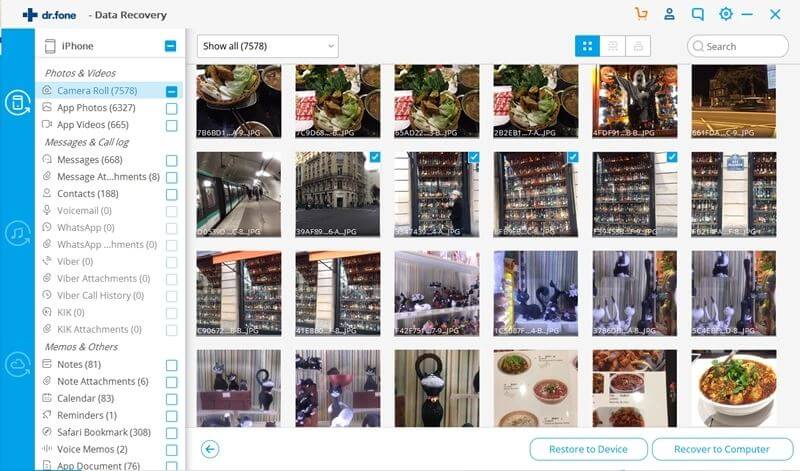 Note: Moreover, this iPhone backup recovery software lets you directly scan and recover data from your iPhone, iPad and iPod touch, when you accidentally lost imporatmt data from it. it's really a nice tool for iPhone data rescue.
Part 2. Recover iPhone Backup via iCloud
With iCloud, the important information on your iPhone or iPad will be saved and stored until the day you want to access it and restore it. With the help of iCloud you can backup photos, device settings, app data, iMessage, ringtones and visual voice-mail. The iOS device backup on the other hand will only keep data and settings which are not included in the iCloud like calendars, bookmarks, mail messages or notes. iCoud Backup is a reliable and easy solution for backing up your iOS device automatically and wirelessly. Once you have chosen the automatic backup option your data will be stored directly.
Step 1. Erase Your iPhone
Firstly, you need to delete everything on your iPhone. That's to say, make it a new phone. Go to Settings > General > Reset > Erase All Content and Settings. On the pop-up message, tap "Delete iPhone" to confirm the operation. Then just wait it to finish.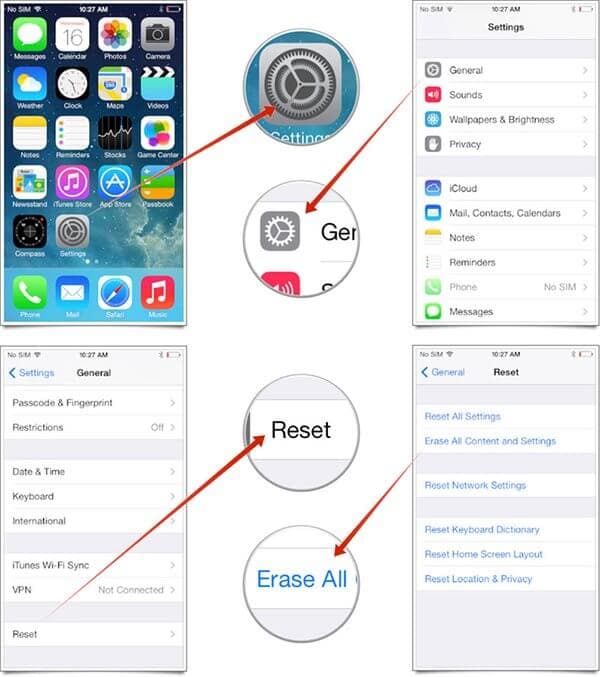 Step 2. Restore Your iPhone from iCloud Backup
Once your iPhone is erased, it will restart automatically. When it arrives at Setup Assistant, choose "Restore from iPhone". Then login your iCloud account and choose a backup file to restore.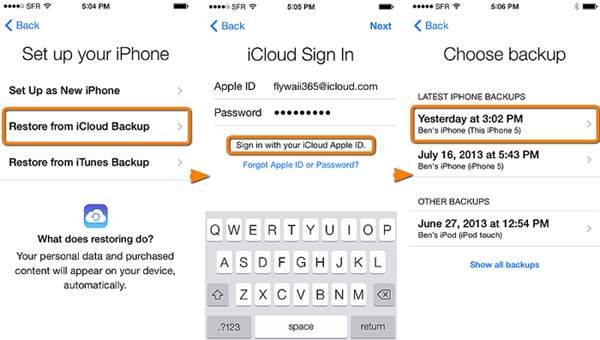 Part 3. Recover iPhone Backup via iTunes
With iTunes backup you can save the following information: contacts, camera roll, calendar events, notes, e-mail accounts, call history, messages, voice-mail, network settings like saved Wi-Fi hotspots, Keychain, game center account, installed profiles, screen arrangement, map bookmarks and saves suggestion corrections.
Backup iPhone with iTunes First
1. Make sure your PC has the latest version of iTunes
2. Connect the iOS device to the computer
3. Choose File >Devices>Back up
Check whether the backup was successful by opening iTunes Preferences and select Devices tab. There, you will see the name of the device and the date and time of the iTunes backup.
Then browse down till you find 'QuickTime'. You will see a button alongside it. If you wish to disable the program, just press 'Disable'. If you wish to re- enable the plugin, just press 'Enable'.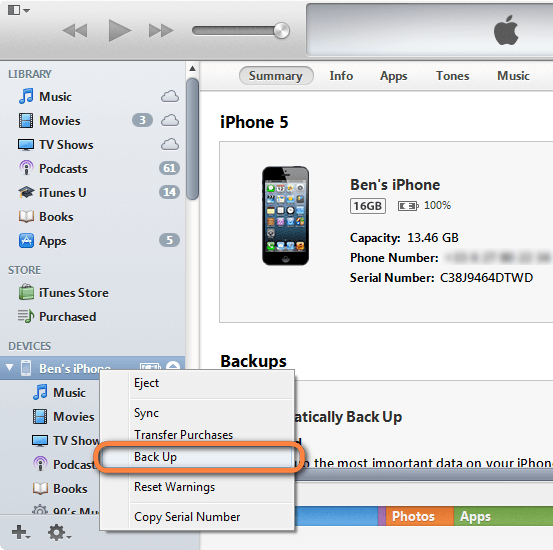 Restore iPhone from iPhone Backup via iTunes
1. Connect the iOS to the computer where you have the backup
2. Make sure this computer has the latest version of iTunes
3. Choose File>Devices>Restore from Back up.
Note: You can't preview the iTunes backup file content, and need to restore the whole backup file to your iPhone. Besides, all data on your iPhone will be erased by the backup data. Get to know it before you you act.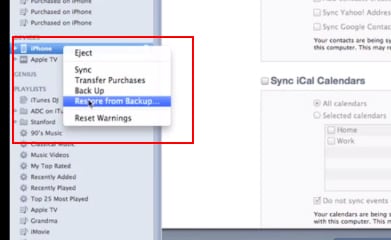 Delete iPhone Backup from iTunes
Should you want to delete a backup file in iTunes, you need to follow the steps below:
Open iTune preferences, On Mac choose iTunes > preferences and on Windows choose Edit >preferences, then click devices. iTunes will show phone number, serial number and point the mouse over the backup. Select the data you want to delete and click Delete Backup. Confirm your wish to remove the specific backup and then click OK to close the iTunes Preferences in Window.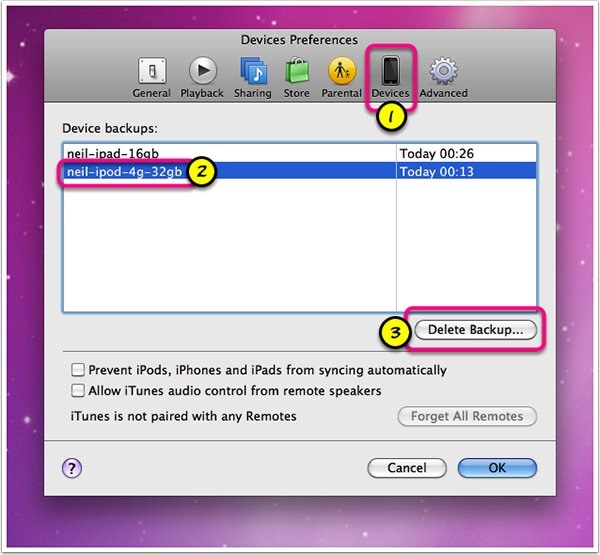 Part 4. Where is iPhone Backup File?
Want to find your backup file's location? It's not a hard work. Depending on your computer's operating system, your backup data can be placed in different folders. Just make sure you include your backup folder in the backup routine.
Location of iTunes backup on Windows
In Vista, Windows 7, Windows 8: \Users\(username)\AppData\Roaming\Apple Computer\MobileSync\Backup\
In Windows XP: \Documents and Settings\(username)\Application Data\Apple Computer\MobileSync\Backup\
Location of iTunes backup on Mac
~/Library/Application Support/MobileSync/Backup/