Why my iPhone can't make or receive calls? Who can help?
Having trouble with making or receiving calls with your iPhone? As human beings we always want things to happen the way we expect them to work. It can be so annoying not to be able to make or receive calls with your iPhone. It feels bad to be in such situations as you cannot reach your friends, families, colleagues or the people you communicate with. You may find it difficult to make or receive calls on your iPhone due to a number of reasons some of them being when your iPhone is not up-to-date or you are trying to connect with poor connections. Another reason is where some settings on your iPhone are turned on. It is always important to fix this problem for your iPhone to function as normal. Read this article to help you deal with when your iPhone cannot make or receive calls. We have explained how you can fix the problem by restoring your iPhone.
Part 1. How to Restore from iTunes for Fixing "iPhone Cannot Make or Receive Calls"
When you cannot make or receive calls with your iPhone, you may try fixing it by restoring your iPhone from iTunes. You will need to restore your iPhone factory settings. To do this you need to ensure you have a backup of all your data since the process will erase the data on your iPhone. After you have the backup you can then proceed to restore your iPhone to factory settings. Below is a guide on how you can restore from iTunes to fix the problem.
Step 1: Get you iPhone that you used to store your backup and connect it to the computer. Use a USB cable to connect.
Step 2: Open iTunes ensure it is of latest version. When iTunes gives you a message that there is an iOS update, then go for the latest version.
Step 3: Thereafter, get to File and click on Devices then "Restore from Backup". If you are a windows user and find it hard to locate a File menu, just the Alt key.
Step 4: Check for the date and size of your backups then choose that which is relevant.
Step 5: Finally, tap on "Restore" button to restore your iPhone. Wait for some few minute for the process to complete. After it finishes your iPhone will restart and sync with your computer. Again wait for a short while and connected as the sync completes.
You will have restored your iPhone and fixed "iPhone can't make or receive calls".
Part 2. Recommend the Best iPhone Data Recovery to Recover Lost Notes, Call Logs, Contacts, SMS and more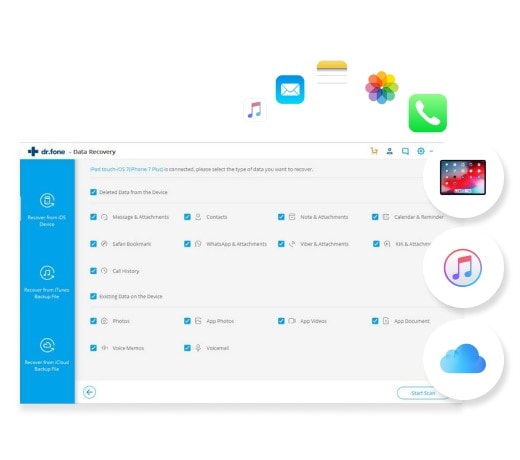 Why Choose This iPhone/iPad Data Recovery Software:
dr.fone - iOS Data Recovery is such a smart tool that can help you to recover lost data including photos, contacts, messages, WhatsApp, Notes, App documents, etc.
It fully supports every iOS device, including iPhone, iPad, iPod touch.
It allows you to recover data from 3 ways: from iDevice, from iTunes and iCloud backups.