"My iPhone deleted all my pictures. Has anyone encountered the same problem with their iPhone? How can I get back my photos lost on iPhone?" -- An iPhone user
The iPhone users around the world have been complaining about an iPhone issue that deletes all their photos. Many of them have lost their entire camera roll and are upset about it. Photos are precious to everyone as they are a reminder of their most memorable moments like parties, birthdays, etc. So, have you ever been in situation when your iPhone deleted all photos it had, it would have been very frustrating. In this article, we will give you some of the fixes to the iPhone deleted photos problem and how to solve it.
Part 1: Why would iPhone Deletes Your Photos
iPhone deleting photos is a very frustrating problem. Before you know how to get back your deleted photos, check out the reasons why iPhone deleted all photos so you can prevent something like this from happening again.
An iOS bug caused iPhone to delete photos.
Existing photos may get deleted when you restore from an whole iCloud or iTunes backup.
Photos may disappear from iPhone when they the iCloud and iCloud sync is disabled.
Water damage can be one of the reasons for deleting photos by iPhone.
You performed a factory reset deleting all the data on iPhone.
When iPhone deletes all your photos, it doesn't mean there isn't any possibility of recovering them. If you had mistakenly deleted some of your photos, there is still a chance to get them back before you try recovery. Photos app in iPhone is where you can get access to all your photos. It has a feature or folder named "Recently deleted" that stores all the deleted photos. It stores the photos for 30 days each after which they are permanently deleted. So, if your iPhone deleted photos, check out the "Recently Deleted" folder. In case you can't find your missing photos in this folder, then try to recover them with the following methods.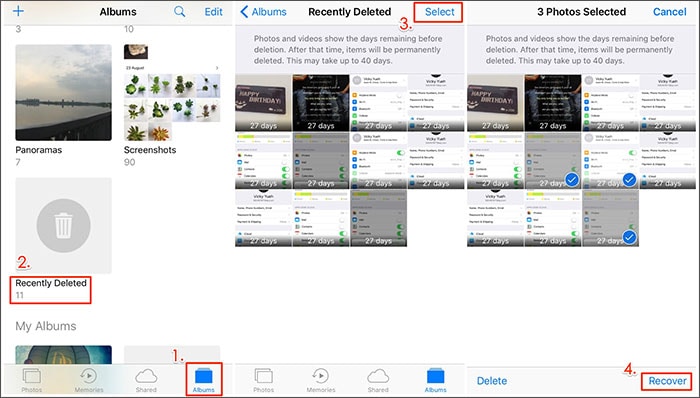 Part 2: 3 Methods to Recover Deleted Photos on iPhone
The problem of iPhone deleted photos has affected a lot of users since the new iOS update. People are complaining about losing their photos at official support page and hope a fix to the problem will be available soon. But, till then, if iPhone deleted photos, use dr.fone - iOS Data Recovery to recover your missing photos. dr.fone allows recovering deleted data on iPhone from all types of data loss scenarios. It doesn't matter you deleted the photos yourself or iPhone deleted photos due to some bug, it can recover photos all the same.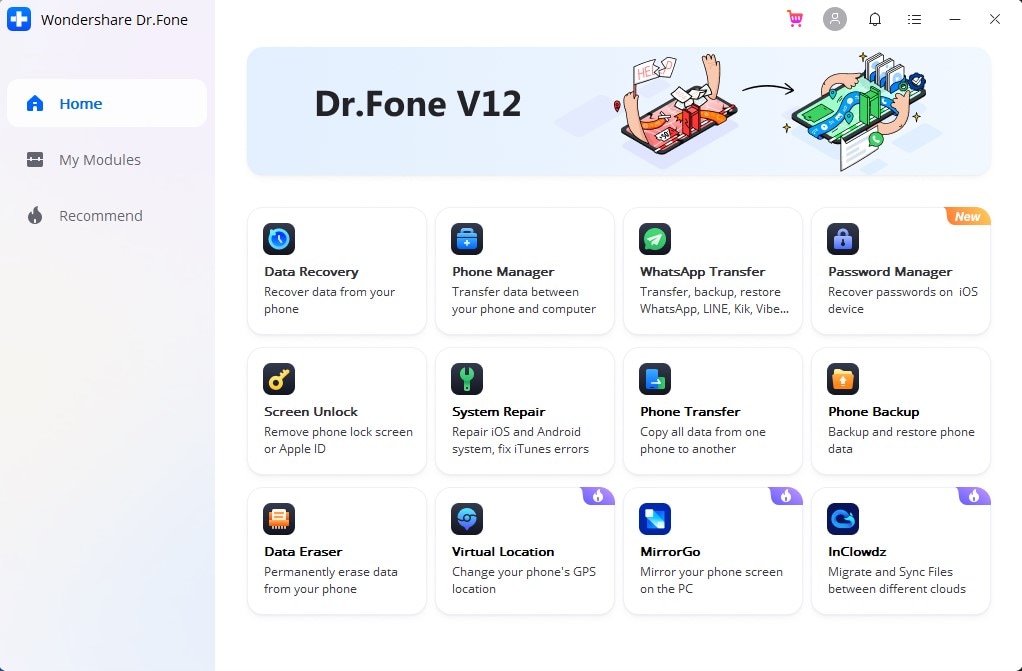 With dr.fone - iOS data recovery, you can recover your deleted camera roll photos, Photo Stream, or any other iPhone deleted photos. It can't just recover photos, but other iPhone data as well as audios, videos, contacts, WhatsApp messages, calendars, memos, and much more. It supports the recovery of iPhone deleted photos from iPhone 4 till the latest iPhone X as well as iPad and iPod touch.
It has three recovery modes to recover iPhone deleted photos. You can recover deleted photos from the iPhone itself, or from the iCloud or iTunes backup. Choose any of the recovery methods and get back the iPhone deleted photos.
Method 1: How to recover deleted photos from iPhone using dr.fone
Step 1: Download and install dr.fone - iOS Toolkit on your computer and run it after installation. Connect your iPhone to the computer with a UB cable and then open the "Data Recovery" module.
Step 2: Select which files you want to recover and then click "Start Scan". In this case, don't forget to mark the "Photos" option if you want to recover your iPhone deleted pictures.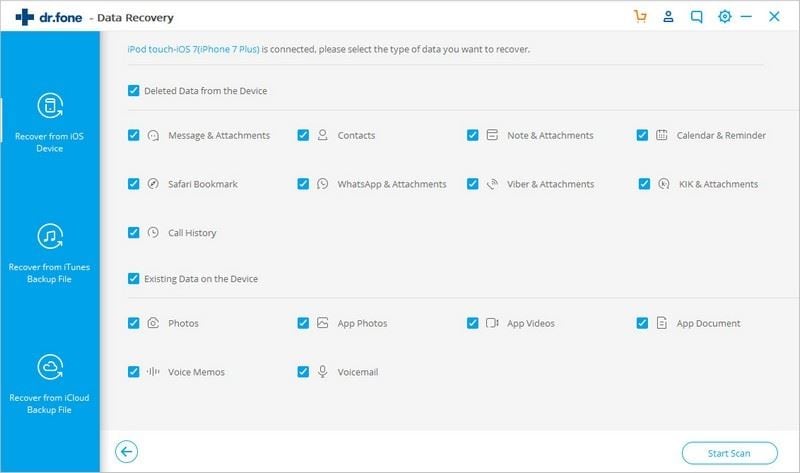 Step 3: Now, after the scanning process, preview and select the photos that you want to recover and click "Recover to Computer" button.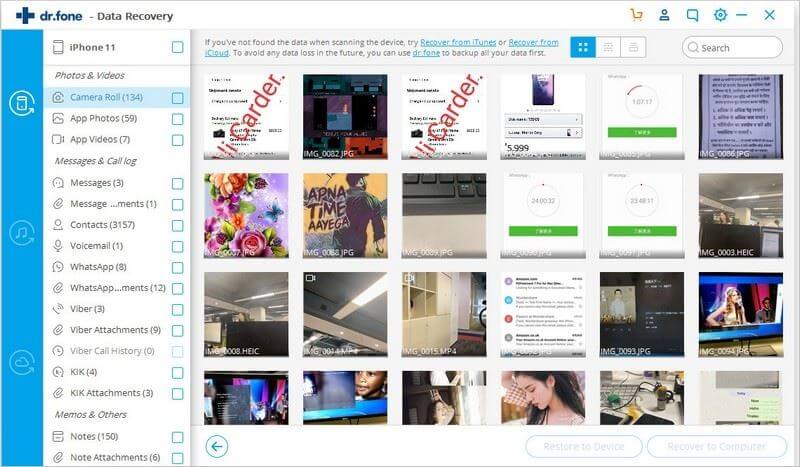 Method 2: How to recover deleted photos from iTunes using dr.fone
With dr.fone - iOS Data Recovery, it is also possible to recover lost photos from the iTunes backup.
Step 1: Connect your iPhone to the computer and launch the dr.fone. Select the "Data Recovery" option from the toolbox home menu. Now, on the next screen, select the "Recover from iTunes Backup file" option from the left. It will scan your computer for iTunes backups and display the same in a new window.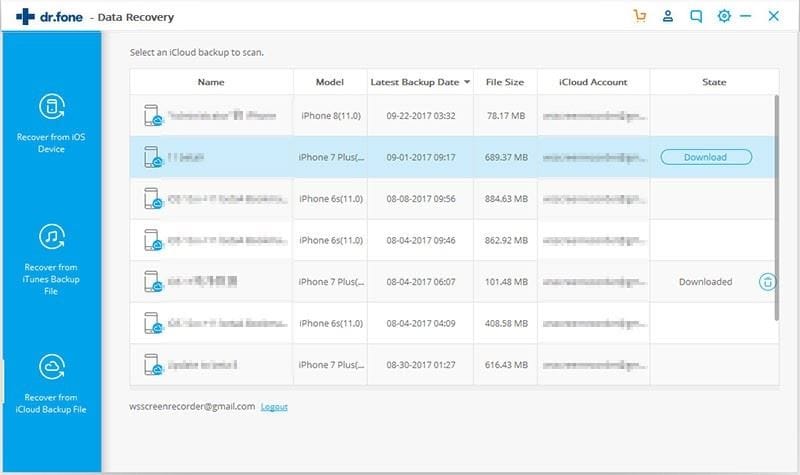 Step 2: Select an iTunes backup file that contains the photos that were deleted and click on "Start Scan". The iTunes backup will be extracted and files on it will be displayed on a new page in categories. Preview all the photos and select the ones that you need.
Step 3: Finally, click on "Restore to device" or "Export to Mac/PC" button to recover the iPhone deleted photos to the iPhone or the computer.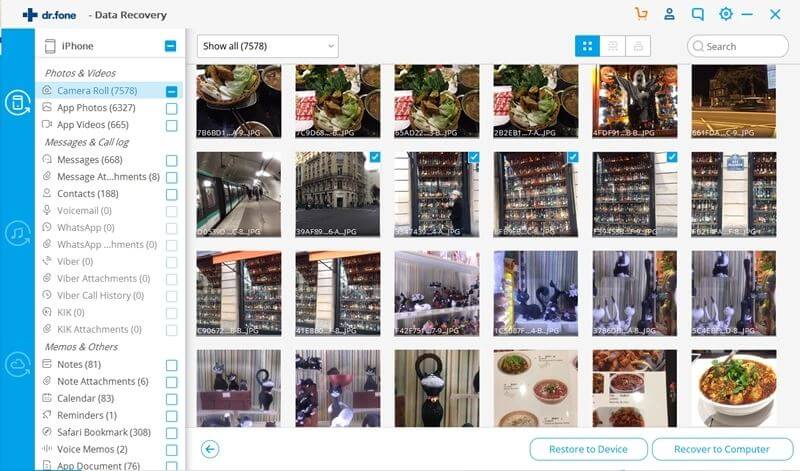 Method 3: How to recover deleted photos from iCloud using dr.fone
dr.fone - iOS Data Recovery can also be used to recover iPhone deleted photos data from iCloud backup. Follow the steps below to learn how to recover photos from iCloud backup using dr.fone.
Step 1: Run the dr.fone on your computer and connect your iPhone to it via a USB cable. Start the "Data Recovery" module and select "Recover from iCloud backup file". Step 3: Sign in to the iCloud backup and you will see all the backups on your iCloud after signing in.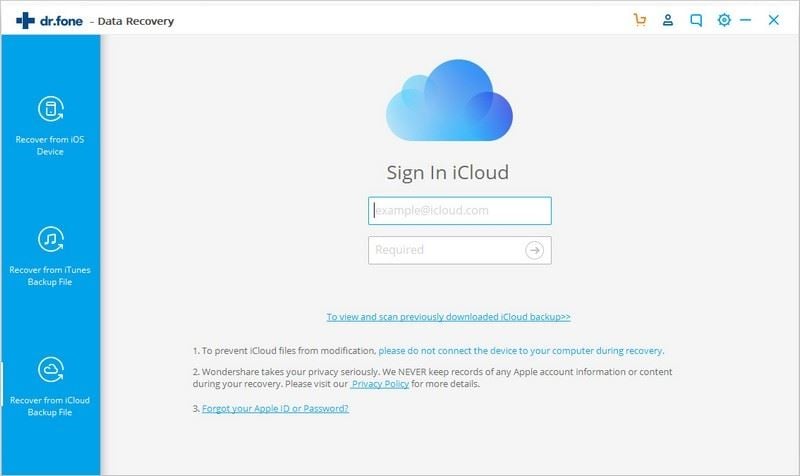 Step 2: Select the required backup and download it. Now, choose the types of file that you want to download to reduce the downloading time. Here please select "Camera Roll" option.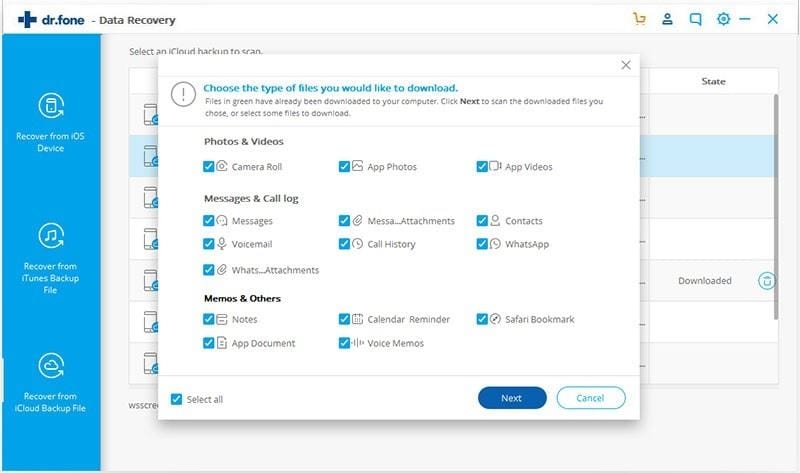 Step 3: After downloading the backup file, preview the photos that you want to be recovered and then click the "Recovery to Computer" button.