Is there any iPhone printer app that can help print from iPhone?
Yes, several apps provide the chance to print from iPhone. Nevertheless, it is important to determine the best applications in the market. These applications usually turn an available computer into a printer to route the document or the file to the printer. The process is useful when you are not using AirPrint and do not have an AirPrint supported printer. The benefit that you receive is that you can print to any printer within your surroundings.
Part 1. iPhone Printer App
#1. Printer Pro
Printer Pro dedicates itself to printing. Once installed, you can easily open an application that has printing feature and compatible with Printer Pro. After this, you can easily print the file to any printer. The downside, you should connect the printer to the PC or Mac, and have the software installed on the system. It is the reliable alternative if you do not have AirPrint compatible printer. An interesting feature is the options provided in the printing page. You will find all the needful options as that of the desktop printer. You can set the page margins, paper orientation, scaling, pages per sheet, and paper size.
Price:
$1.99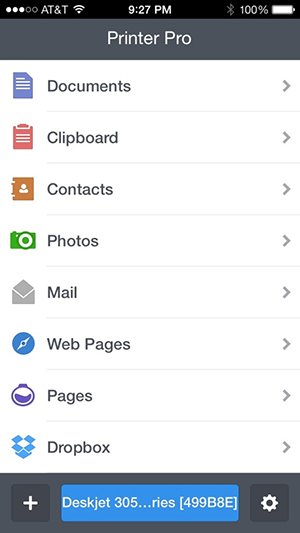 #2. Print n Share
Print n Share is an advanced printing application for iPhone. It can print to Wi-Fi printers and those connected to a Mac or PC. An added advantage is that you can print over 3G. You can also print documents from Dropbox and iDisk. It is useful if you are looking at an application with advanced features. You can also print to AirPrint-enabled printers. You can use the same printing format for all the documents and share the same with all the printers used by your Mac or PC. It even allows you to convert documents into PDFs.
Price:
$8.99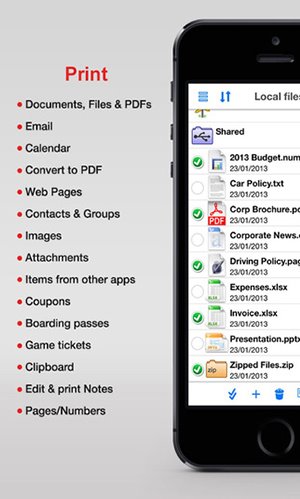 #3. Print (Print to ALL Printers)
The "Print" is an amazing app if you are using the printer that does not support AirPrint. It can even bring to a Wi-Fi printer. With the help of the software, you can even print over 3G to USB connected printers and via the Bluetooth. You can even initiate the print process remotely through 4G/3G/EDGE. Print using Google Cloud Print.
Price:
$3.99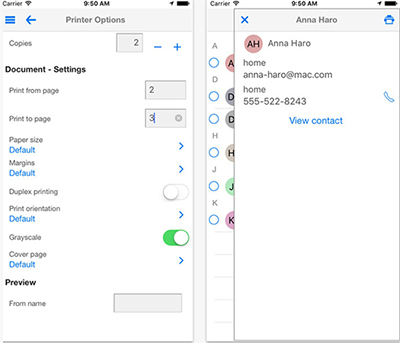 #4. Print Agent Pro
Print Agent Pro is a simple printing app for the iPhone. After installing the desktop version, you can use the "Open in" feature to import the files from other applications. You can also print from photo gallery, Dropbox, and iDisk. It is a universal app, and you can print a wide variety of file types. Print Utility is a useful app that you can use on your iPhone to print any document or file to any printer.
Price:
$5.99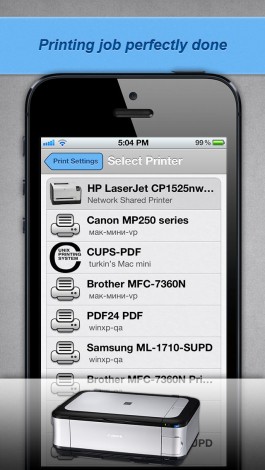 #5. Canon PRINT Business
The app gives you the capacity to print directly from your iPhone to multifunctional devices by Canon. You can print office files, PDF files, image files, photos, and web pages. It has smooth and intuitive user interface. It also provides added features that make it efficient for use in home and office.
Pros:
Free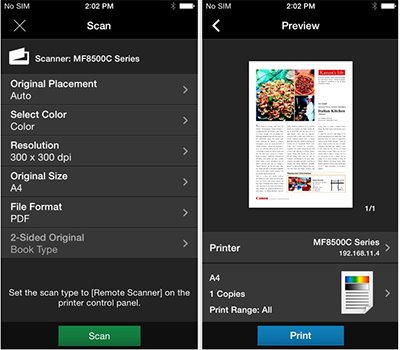 #6. Epson iPrint
Epson iPrint allows you to print MS Office files, web pages, scanned documents, attachments, images, and other files stored on your iPhone. You can even print from cloud storage sites and configure the printer settings remotely. The application supports over 21 different models of Epson printers.
Price:
Free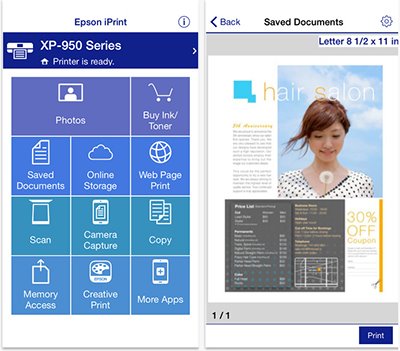 #7. Brother iPrint&Scan
Brother iPrint&Scan is an amazing app for iPhone users. The app allows you to print photos, documents, and web pages along with the possibility to scan documents and photos. You can also print documents uploaded to cloud sites such as Dropbox or Evernote. The app consists of two sections – Print and Scan. You can switch to either of the options with a simple switch available in the interface.
Price:
Free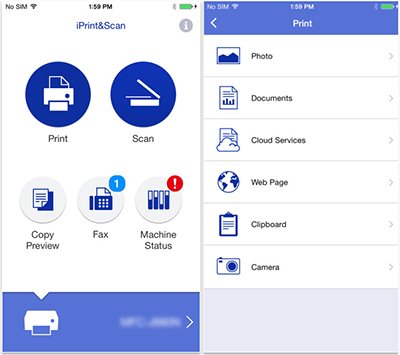 #8. Canon PRINT Inkjet/SELPHY
With the help of the PIXMA/MAXIFY Printing Solutions, you have a range of choices that you can use with your iPhone. The app allows you to print all your documents and photos from iPhone, and further scan documents wirelessly and store them on your device. The additional feature allows you to monitor the status of the ink cartridge and even browse the manual when needed. You can even print all your Microsoft Office documents with ease.
Price:
Free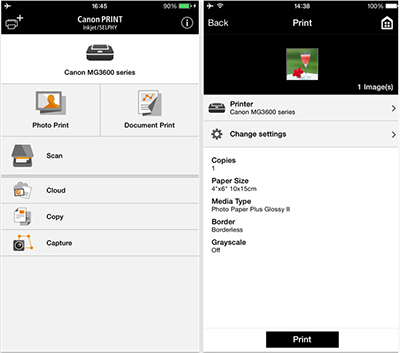 #9. PrintDirect
With the help of PrintDirect app, you can print any document directly to almost all the wireless printers through the Internet. It also has a paid upgrade option that unveils complete access to the program. Once you update the app, you can print documents, web pages, images, attachments, notes, calendar, contacts, and other files stored on your iPhone and those files that are in the cloud.
Price:
Free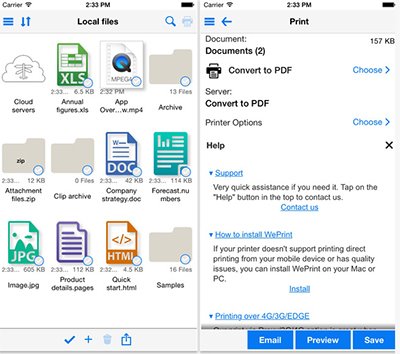 #10. HP ePrint
By using HP ePrint, you gain the possibility to print MS Office files such as Word, Excel, and Powerpoint, images stored on your iPhone, web pages that you browse and store, PDF files, and other files stored on your device. You can only print when the printer and the device are on the same network. Ensure that the printer is HP and compatible with the app. Apart from this, the app allows you to print to selected HP public print locations such as hotels, airport lounges, and stores. The feature is very useful for those who travel a lot on work. You can even print attachments to your email. You can likewise transfer data from your computer to the device through the internet or use a USB cable and begin printing.
Price:
Free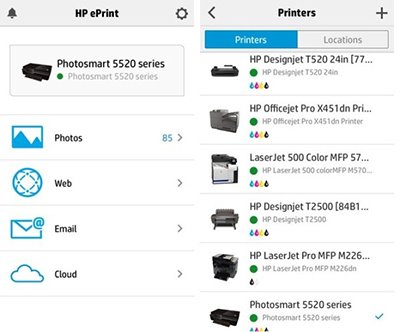 Part 2. How to Print iPhone via Local Printer on Mac/PC
Another way to print from your iPhone is by extracting the data. If you are in search of a program that is efficient and functions accurately, then the search ends at dr.fone - Data Recovery (iOS). The recovery tool, specially designed to handle all the iDevices, gives you the chance to extract and print the existing or lost data on your iPhone without corrupting or causing harm to your present content and settings.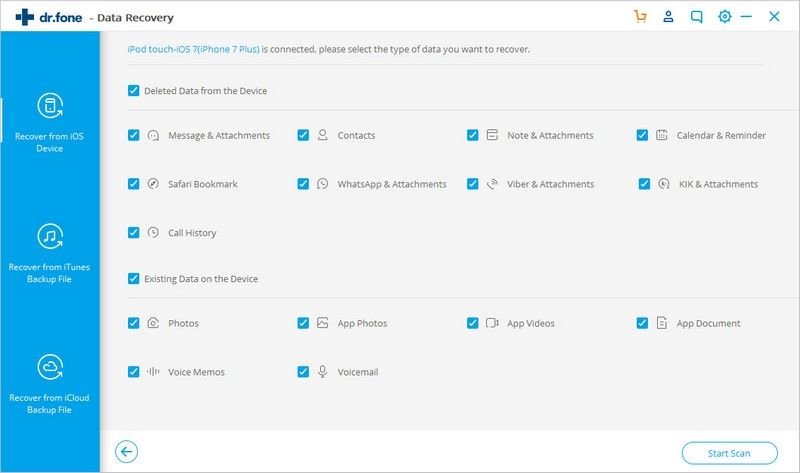 Key Features of dr.fone - iOS Data Recovery
Support for wide file formats, giving the chance to extract and print any file from your iPhone.
You can print the existing content and even the lost data. Furthermore, you can print files from your iTunes and iCloud backup files.
The preview mode permits you to see the content before you print them. It saves times and shows the amount of data available for printing.