Is it possible to disable shake to undo on iPhone?
You can only disable the shake to undo feature in iOS 9 and not earlier versions. It took a while, but Apple did listen to the many complaints about this feature. If you ever put your phone down when you were in the middle of typing something, you had to lock the phone so you would not find the undo feature launched. Now you can easily disable the function by toggling it off. Disable the utility when you are not typing anything, and then turn it back on when you want to use it in editing your text.
Part 1: Step-by-step Guide to Turn off Shake to Undo on iPhone
On iOS 9, disabling the shake to undo feature is simple. The feature can easily be turned on and off, without digging too deep into the settings of the phone. This makes it easy to turn it off when you do not need it, and turn it back on when you do. Here is how to go about it:
Step 1: Launch your settings app.
On the main screen of your iPhone, start the settings application and then go to "General".
Step 2: Go to Accessibility.
Upon clicking on the "General" tab, you will get a listing of settings in that category. Go to the "Accessibility" option to get to the shake to undo feature.
Step 3: Disable Shake to Undo.
Move down to the Shake to Undo feature, which is turned on by default, and then toggle the switch to turn it off.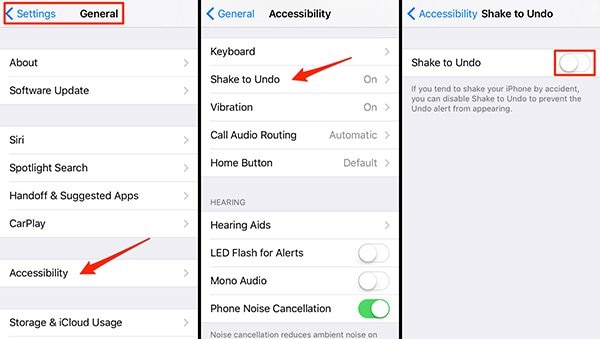 Now you can comfortably shake your iPhone without having the annoying undo notifications popping up on your screen. When you need to use it, simply follow the steps above and then toggle the switch back on.
Part 2. Best Tool to Undo Deleting on iPhone 7(Plus)/SE/6s(Plus)/6(Plus)/5s/5c/5/4s/4/3GS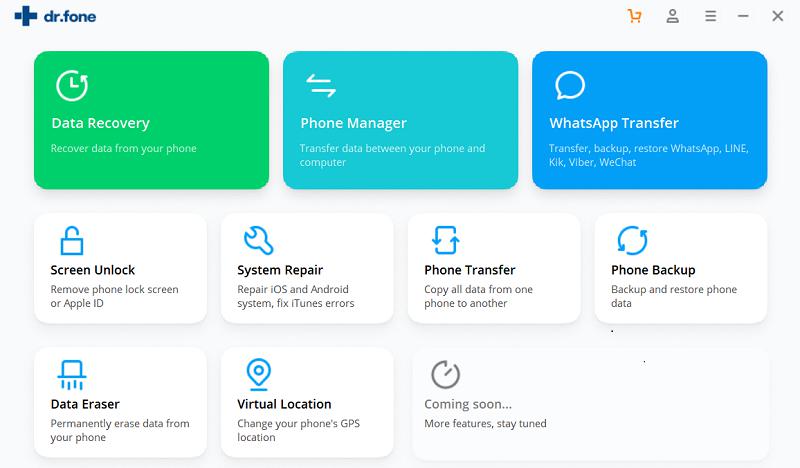 dr.fone - iOS Data Recovery is a tool used in creating backups from your iPhone so you can recover data and files if you accidentally delete them. The powerful features of this software allow you do recover data in a few minutes. You do not have to restore a full backup, and only select the data and files that you would like to recover. Here are some of the features of this outstanding tool. It supports to extract all backups to computer easily – if you want to have a local copy of your data on your computer, you can use dr.fone - iOS Data Recovery to extract the data from iTunes, iCloud and your device, and keep it on your computer.
Why Choose This Free iPhone Voice Memos Recovery Software:
Selective recovery of files and data – Unlike other tools where you have to restore a full backup, overwriting files, so as to get the deleted ones restored, you can select the data and files that you want to recover, using the preview feature.
Recovery of several file and data types – Directly recover your deleted call history, messages, notes, contacts and a host of other file and data types using this useful tool.
iTunes recovery – You do not have to restore your entire iTunes backup files. Simply select those that you need to recover and then send them to your iPhone.
iCloud recovery – In the past, getting files from your iCloud account required full download of the backup files. Now you can use the preview feature to select those that you want to restore, thereby saving you time and stress.
Full iOS (including iOS 10.3) compatibility – It does not matter whether you are recovering deleted files and data from an iPhone, iPad or iPod; dr.fone - iOS Data Recovery works with all of these devices.