Visual voicemail is program that allows a voicemail user to listen to voicemail messages without having to dial the GCI's voicemail system. It provides a list of all the voicemail messages that you have on the iPhone's screen. It also provides a menu containing several options. With these options you can manage, navigate, arrange, listen, delete, forward and reply to a message. Visual voicemail will also provide you with information such as the time of the call, duration, the caller and a lot more.
Part 1. How to Get Visual Voicemail on iPhone
Here is a step-by-step guide on how to get Visual Voicemail on iPhone:
Step 1: On your iPhone's home screen, go to "Phone".
Step 2: Click on the voicemail tab on the bottom left of the iPhone. Then click "Set Up Now".
Step 3: Key in the voicemail password and then click "Done."
Step 4: Once again, enter the password and click "Done."
Step 5: If you want to record a personal greeting, click custom otherwise leave it at default and click "Save."
Step 6: Click on "Record" to record your personal greeting and then click "Stop" once you finish recording.
Play to listen to the greeting and if you are satisfied then your Visual Voicemail is set up.
Part 2. How To Turn On AT&T Visual Voicemail on iPhone
Activating AT&T Voicemail Services on your iPhone takes a few minutes especially if you get hold of a clear guide such as the one below. If you are activating To AT&T voicemail system for the first time, you will be provided with a clear guide to follow.
Step 1: On your iPhone go to dial icon which is "Phone" app.
Step 2: On the bottom right tap on "Voicemail". If you are new customer tap on "Set Up Now" to create a password.
Step 3: Enter a password, which is about 4-15 digits long and the tap on "Done". Confirm the password by re-entering the password and then tap on "Done".
Step 4: Choose a greeting message. You can set a default greeting or you can opt to record a greeting message. After that click on "Done".
You will then see your Visual Voicemail box activated.
Part 3. How To Enable T-Mobile Visual Voicemail on iPhone
On T-Mobile network you can also enable your Visual Voicemails (VVM) within a few simple steps. However, you cannot enable VVM over a Wi-Fi connection.
Step 1: Go "Phone" on your home screen.
Step 2: Tap on "Voicemail" icon. Then click on "Set Up Now".
Step 3: Next create a 4-10 digit password and confirm it then click "Done".
Step 4: Now create a greeting message of your choice. You can opt for default greeting or record yours tapping on "Custom". Thereafter click on "Done".
Step 5: Record your T-Mobile greeting Message and click "Save". Your Visual Voicemail will then be enabled.
Part 4. How To Set Up Verizon Visual Voicemail on iPhone
When using Verizon network on your iPhone, you can also set up Visual Voicemails when you are not available to take the calls. You can opt for the paid or free option. Now here is how to set up Verizon Visual Mail on your iPhone.
Step 1: Search for "Phone" App on your home screen.
Step 2: Tap on "Voicemail" button. Here, you can be connected to Voicemail system which will give you directions on how to step up your greeting message. If not then go to step 3.
Step 3: Now tap on "Set up Now".
Step 4: It will prompt you to create a password. Enter a 4- 6 digit long password and tap on "Done".
Step 5: Repeat the password to confirm it and tap "Done".
Step 6: Next you need to create a message greeting. Click on "Custom" to record your message. Alternatively you can opt for Verizon "Default" greeting if you wish.
Step 7: Save the settings and your Verizon Visual Voicemail is now ready to take up your messages.
Part 5. Top 3 Visual Voicemail App for iPhone
iPhones are taking the market by a storm. These devices are important since we use them to keep communications and memories alive among friends and family. We call, texts and send Voice messages to our acquaintances day in day out. At times we are not available to receive these calls hence we need to leave a Voice messages. With that in mind, you need to look for a Visual Voice Mail app that integrated with different features. One that can allow you record and customize your greeting messages. Below are top three rate Visual Voicemail Apps for iPhone.
#1. Hullomail
HulloMail is one of the highly rated Visual Voicemail apps. This allows you to send messages to your calls when you are not available or when you are in a place that has poor network coverage. It will notify you the callers who tried to call and the time they called. HulloMail app is compatible with iPhone, iPad and Mac. Moreover, this app allows you to play the Voicemails left by your callers besides searching for these Voicemails. You can also share your Voicemails through emails.
Pros:
It permanently stores your Voicemails.
It allows you to share business Voicemails.
It works well with Evernote so that you can set reminders Voicemails.
Cons:
The free and premium cannot block unknown callers.
With the free and premium options you cannot search for Voicemails.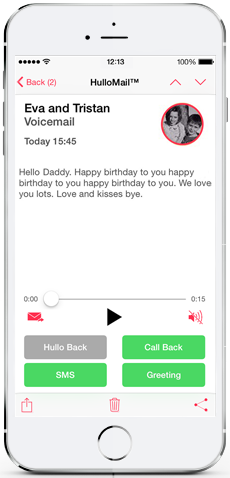 #2. YouMail Visual Mail
YouMail app is also a visual Voicemail app that is readily available for download on App store. This app has gained popularity due to its outstanding features. It allows you to create message creating for your callers. Another feature that makes it a cut above the rest is the smart greeting; it greets your callers by their names and then it says your name. For instance "Hi Ted, Adam can't get to the phone now…" Moreover, this software allows you to block spammers, robot callers and Telemarketers permanently. With this YouMail app you can share and forward Voicemails via Email, Facebook and Twitter.
Pros:
It is compatible with iPhone, iPad and your computer browser.
It sync with Facebook and uploads contact photos.
It can block unknown callers.
Cons:
It is not compatible with all mobile networks. It is limited to AT&T, Verizon and T-Mobile.
It only works for iPhone user in USA and Canada.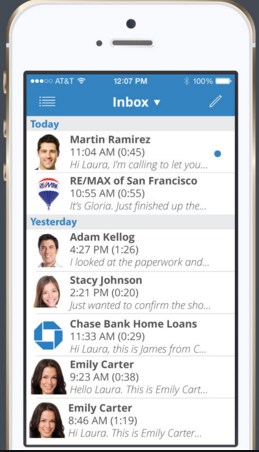 #3. Libon Voicemail App
Libon is also a Voicemail app that you can install on your iPhone. This app allows you to make calls across the globe and also send voicemails. It allows you to personalize your Libon Voicemail greetings. This gives your callers a memorable moment because of its smart greetings. Furthermore, this app is designed with speech to text feature, which allows you to read Voice messages. After receiving the texts messages you can then forward them to your email with ease.
Pros:
It allows you customize voicemail greetings.
It lets you make landline calls.
It is integrated with transcription feature.
Cons:
It is not available in all countries.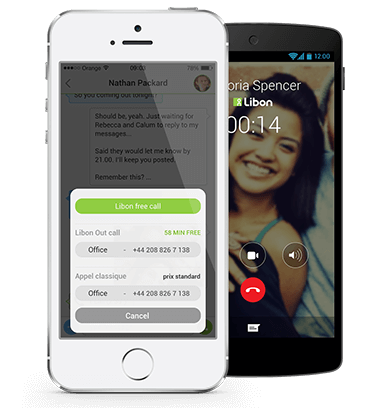 Part 6. Best Voicemail Recovery Tool for iPhone
At this point you have learnt how to setup Visual Voicemails on your iPhone using different mobile data plans and three best rated Voicemail apps. Now you may accidentally lose this Voicemails messages or upgrade your iDevice. This might be disheartening to lose important messages, but if you have dr.fone - Data Recovery (iOS) on your computer, you can easily restore them. This tool is user friendly and allows you to recover Voicemail, messages, call history, Photo, videos from your iOS device.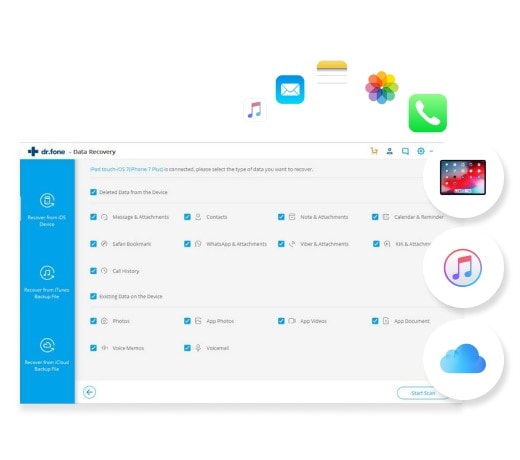 Key Features of dr.fone - Data Recovery (iOS)
It can recover supported data types from any data loss case such as; accidental deletion, formatting, jailbreaking your phone, system crash, broken phone and virus attack.
It can recover Voicemail, Voice memo, App photos, Photo library, calendar, Call history, Reminders, Messages, Notes and Contacts, etc.
It supports selective recovery of files from iTunes and iCloud Backup files.
It is built with preview feature.