After the iOS 9 release, numerous Apple clients can hardly wait to upgrade their iOS gadget to the new operation framework for more ease and a lot of new features. It is not convoluted for clients to install wirelessly iOS 9 or by utilizing iTunes. However, there is a probability that you're unfortunate to lose files like notes, contacts, messages, calendar and various other important contents after the upgrade of iOS 9.
What if the dropped information do mean lots to your account? Therefore, listed below are 3 strategies to assist you retrieving the dropped information right after the upgrade of iOS 9. When you've created backups by means of iCloud/iTunes, you can restore your iOS device entirely and start once again devoid of losing important data. Certainly, for those who have absolutely no backups, you possibly can still restore the beneficial information from iOS devices straightforwardly.
Part 1. What You Need to Perform Data Recovery on iOS 9 Devices
One of the most exceedingly awful circumstances that iPhone, iPad or iPod touch Apple users can envision that their gadget goes abruptly clear or that they incidentally wipe information, whilst they've not completed any backup of their documents. You can acknowledge that a portion of the latest updates could be lost and settle on a full restore to a past backup or you may attempt recovery software.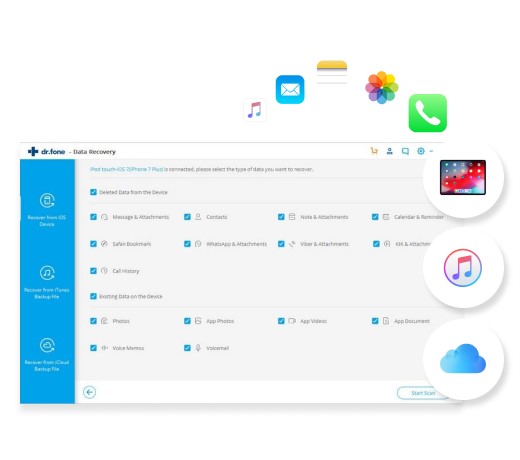 With a specific end goal to attempt to recover your videos, photographs, plus more you can pick up a data recovery program known as iSkysoft Toolbox - iOS Data Recovery. It is an amazing software that can help someone to restore your deleted or lost photos, texts, videos or contacts and other types of file. iPhone Data Recovery is not just perfect for cases of deletion or accidental loss of data, however, it can likewise be helpful for specific backups. It provides you three solutions in order to recover your lost data after iOS upgrade.
Part 2. How to Directly Recover Lost Files from iOS 9 Device after Upgrade
This mode really helps an individual to thoroughly scan iPod, iPhone, or iPad to recover your lost information, including photo library, camera roll, iMessage, text messages, contacts, WhatsApp history, notes, call history, calendar, reminder, Safari bookmarks plus more.
Steps to recover data from internal storage via iSkysoft Toolbox for iOS
Step 1: After the process of installation and launching the program, hook up iOS device right to the computer. Then click the "Data Recovery" tab. In order to save your valuable time, you possibly can choose the right file types prior to activating the process of scanning.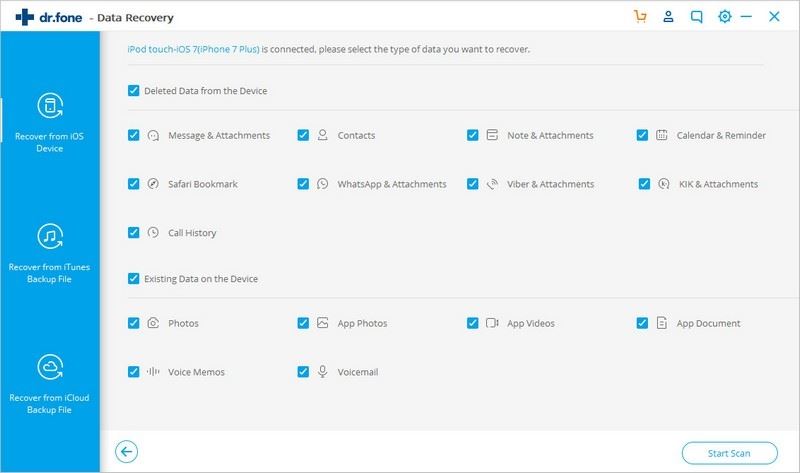 Step 2: During the process of scanning, verify that your gadget is hooked up properly and do not detach it for any reason, or you have to begin once again.
Right after scanning process, located data files on iOS gadget is going to be shown as per the file types. It is possible to preview these sorts of files one after another in an attempt to look at simply how much of one's lost data could be recovered. Afterward, you can certainly tick on files you would like to keep and tap on "Restore to Device" to save these on your computer.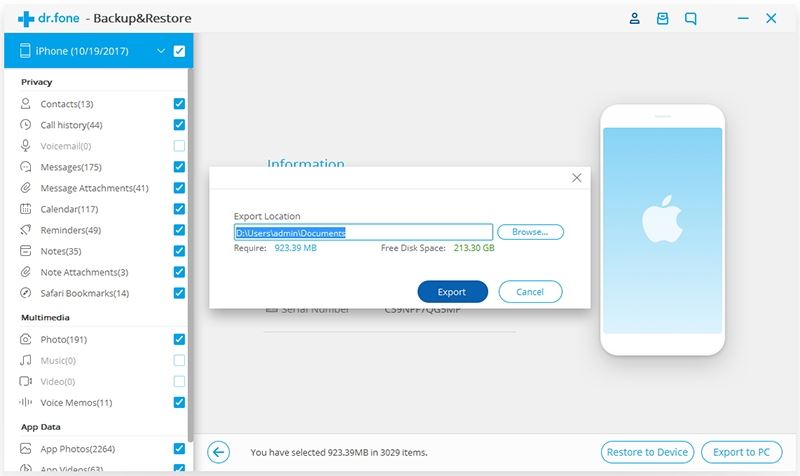 Part 3. Restore Lost Data via iTunes Backup after iOS 9 Upgrade
Ensure that you've set up the most up-to-date version of iTunes on the Mac system and have the suitable access to your computer that you've backups by employing iTunes.
Steps to recover data from iTunes via iSkysoft Toolbox for iOS
Step 1: Go to "Data Recovery" and specifically select "Recover from iTunes Backup File" soon after launching iSkysoft Toolbox for iOS. You will see a list of backup files via iTunes presently there. Choose wisely for the iOS 9 device and after that tap on the button "Start Scan" in order to extract the required file.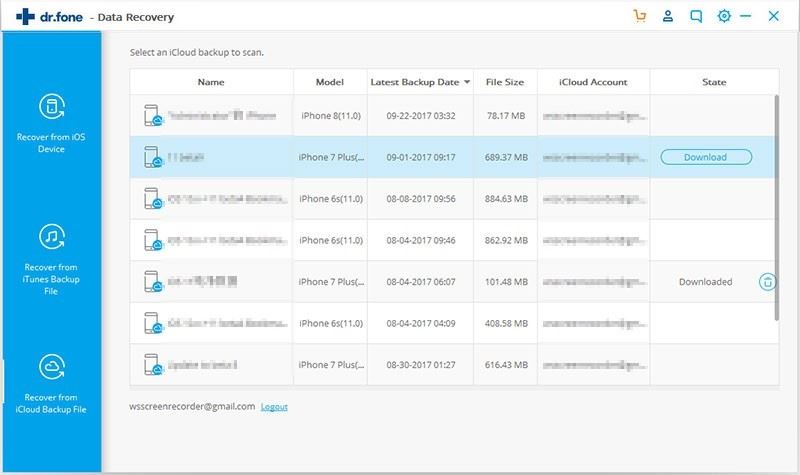 Step 2: The process of scanning will probably take a moment and afterward you can review the information residing in the backup file. Tick mark the item and save it to your computer, then tap "Recover" and you're done.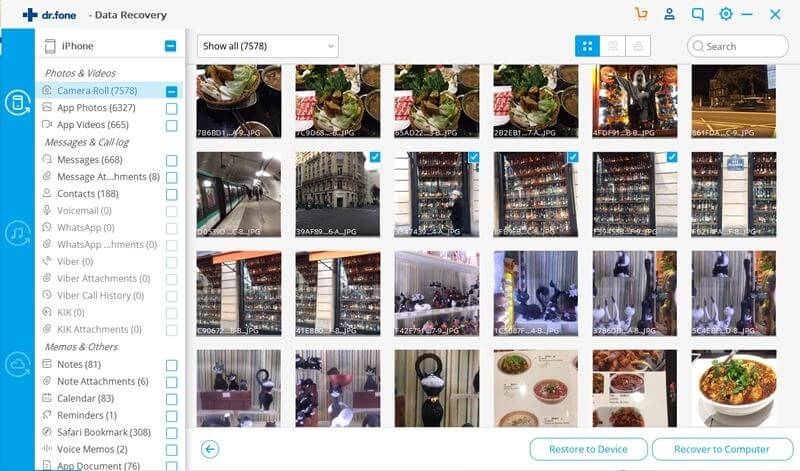 Part 4. Restore Lost Data after iOS 9 Upgrade by Means of iCloud Backup
If you've made a backup for your iOS device with iCloud, you can also partially or entirely recover your lost data from iCloud backup after iOS 9 update.
Steps to recover data from iCloud via iSkysoft Toolbox for iOS
Step 1: What you need is good internet connectivity as well as good bandwidth. Right after you're completed with this thing, start the program and select "Recover from iCloud Backup File" from the "Data Recovery" window. And then type the Apple ID in order to login to iCloud.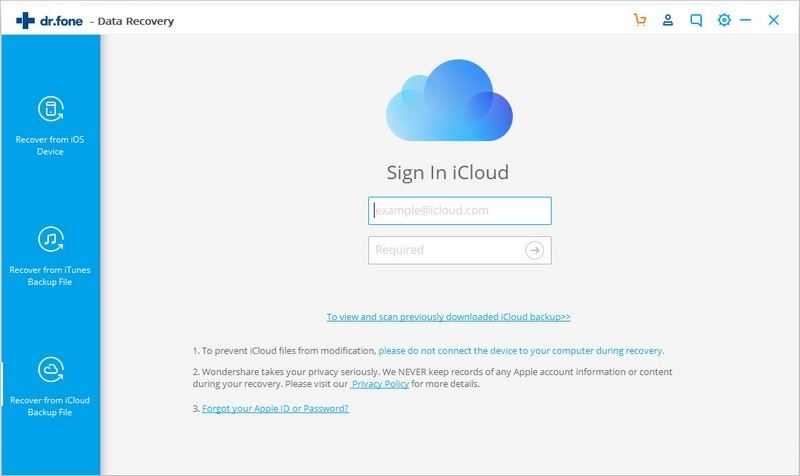 Step 2: After you're logged in, you are able to see a list of various backup files residing on your iCloud. Pick the desired one you need to restore and tap "Download" in order to start scanning it. After the download completion, you possibly can scan to wipe out the desired data in the backup file. Tap "Scan Downloaded" to proceed further. This process can take some time. Simply hold up until it's done consequently.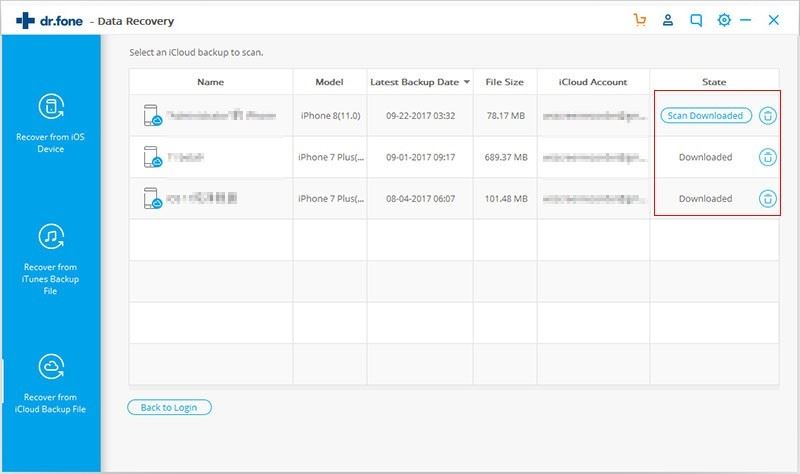 Step 3: The scanning process is for just a couple of mere seconds. Right after the item finishes, you'll find the list of data which is restored at their own location in every category. You can choose the one you need to recoup as well as go for preview in order to verify them. Simply mark on the item you would like to restore. Tap on "Recover" to save all the ticked objects.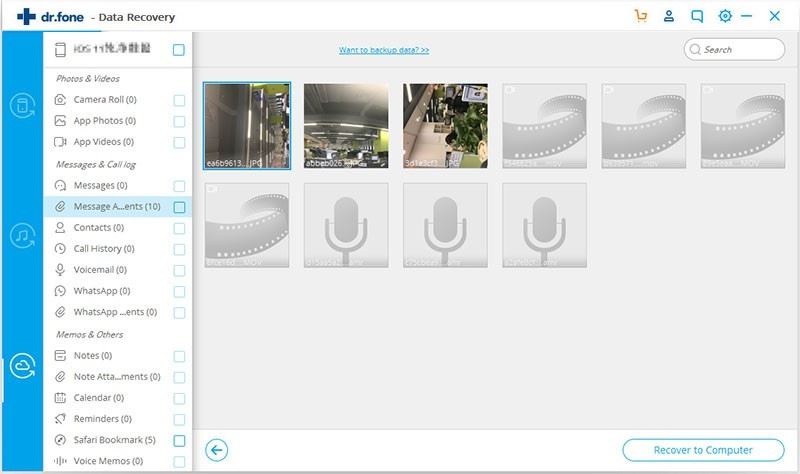 Video Tutorial on How to Recover Lost Data after iOS 9 Upgrade
Part 5. Tips for Preventing Data Loss
Each and every time you'll erase some sort of information, check once more whether or not they are the desired ones you would like to erase.
Make sure to backup iOS device before you decide to attempt to upgrade your device to new iOS. You can go for iCloud or iTunes to backup, or depend on data recovery of iPhone to backup the data of your iPhone since it can exchange information to your computer.
An ideal way is additional to backup the data of your iPhone prior to the restore factory settings. In the event you fail to backup, consider the final part of the information to recover the dropped data of your iPhone.
In case you jailbreak your iOS device correctly, you possibly can avoid the loss of data.
Stay away from virus attack; you must make certain that each and every time download your specific app in a safe manner.