How to reset bluetooth on iPhone?
As an iPhone user, you may meet several problems while using the Bluetooth. The most common problem is that your Bluetooth may fail to connect such that any time you try to connect your Bluetooth it tells you that your Bluetooth connection has failed. You may also experience a pairing problem whereby your Bluetooth may not recognize the device you are trying to pair with or it may recognize it but fail to pair with it. Your Bluetooth may be stuck when trying to find the other device and may just stay in the "Searching" process for a long time. Therefore, you should learn how to reset bluetooth on iPhone to avoid this situation next time.
Part 1. How to Reset Bluetooth on iPhone
Resetting Bluetooth on iPhone helps to troubleshoot Bluetooth problems the following are steps on how you can reset the Bluetooth on your iPhone.
Step 1. On the home screen window of your iPhone select "Settings" .
Step 2. Next tap on "Bluetooth". From Bluetooth select switch off Bluetooth.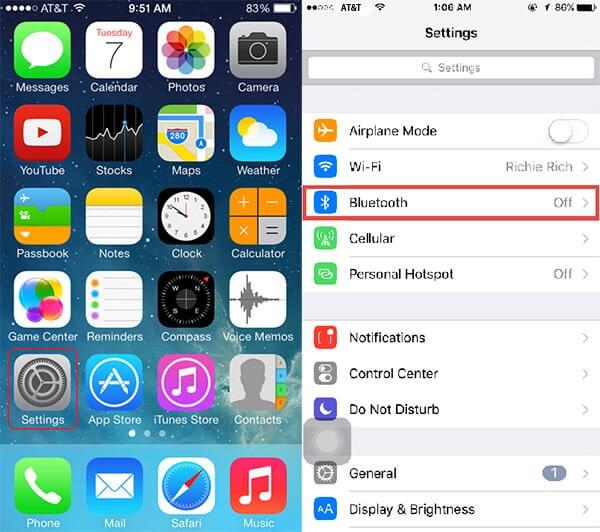 Step 3. Then hold the power button and home button of your iPhone until you see the Apple logo.
Step 4. Go back to the settings or the control center and enable your Bluetooth again. Try to connect your device now.
Step 5. If the problem persists, go to the settings and go to the Bluetooth.
Step 6. Then click the "I "icon against the device you are having problems pairing.
Step 7. Tap "Forget This Device" and confirm your action.
Step 8. Now pair your iPhone with your device again to see if the issue has been solved.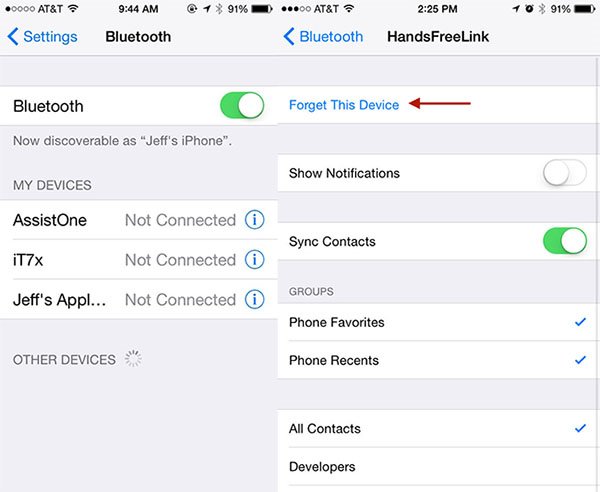 That's how to reset iPhone bluetooth settings. Hope it can help you.
Part 2. What We Could Do to Fix Bluetooth Pairing Problems
The following are possible solutions to Bluetooth pairing problems.
Make sure Bluetooth is turned on. If your Bluetooth is turned on, you should see a Bluetooth symbol at the top of your screen.
Evaluate your device's pairing process. The pairing process varies depending with your type of device. Sometimes you have to tap a passcode into your device, other times you have to touch your iPhone to the device you want to pair and incase of a sound link, you should hold a button to the speaker to pair it with a device.
Turn on the discoverable mode. In case you want to pair your device with your car's infotainment system then you should go to the settings of your device, and click on Bluetooth. This will make your device visible to the car. Then you need to press the button in the infotainment system of your car to make it search for your device. Once it finds it, it may ask for a code after confirming it the pairing will be done.
Make sure that the two devices are near each other. The devices you are trying t pair should be in close proximity, approximately five feet of one other.
Power your devices on and off. You can do a soft reset by going into and out of airplane mode.
You should charge on the devices that you a retrying to pair. Your device may have smart power management and therefore it may turn off the Bluetooth when the power is too low. Therefore, you should make sure that the two devices have sufficient power when pairing.
Delete a device from your device and then try to rediscover it. You can go to the iOS settings, and remove the device by tapping on its name and then "Forget this device".
Update the firmware. You should check the hardware's manufacture to make sure that you that you obtain the latest hardware for your device. Some devices may not connect for instance to Bluetooth 4.0 since their hardware is not updated.
Make sure that the devices that you try to pair are designed to pair with each other. Your device has a specific profile that shows what it can connect to and therefore you should make sure that the two devices are compatible.
You should get away from a Wi-Fi router since it may interfere with pairing a device that uses similar spectrum.
Move away from a USB 3.O port. Pairing your devices near a computer with a high-speed USB port may interfere with the pairing of your devices.
Turn off the device that was previous paired with your Bluetooth. Some devices may try to connect with the last thing they paired with and thus they may take a long time recognizing your current device.
Part 3. Why Bluetooth Pairings Fail?
There are a number of reasons as to why your Bluetooth pairing may fail.
Incompatibility in software and hardware; The Bluetooth depends on both the software and the hardware for it to function properly. For instance, Apple and Microsoft manufacturers have developed some radios that speak in the 4.0 Bluetooth so if you device does not support Bluetooth 4.0, then it will not pair with this radio. In the same case, if you have the same hardware but your operating system is not compatible then you will not be able to pair. For instance you device may have the radio for Bluetooth 4.0 but your current operating system may be not supporting Bluetooth smart, therefore you may not be able to use Bluetooth 4.0.
The two devices that you are trying to pair may not be designed to pair with each other. Devices come with Bluetooth profiles. For instance, you may not be able to pair a camera and a mouse since the camera does not support the human Interface Device Profile. If your iPhone and a wireless headset support the Hands-Free Profile, then the two should pair.
Long distance between the two pairing devices; If the two devices that you are trying to pair are far from each other, then they may fail to recognize each other and fail to pair.
Interference by a high-speed USB port; Pairing your device near a computer with a high speed USB 3.0 port may interfere with pairing of your devices.
Interference by low power may cause pairing to fail. Some devices have a power management system that may put Bluetooth off when the power becomes low.
A pairing may fail if your device is used to pairing with a certain device. It may always try to connect to the previously paired device and fail to pair with the current one.
In some devices, you have to switch on the discoverable mode and failure to do that may make it not recognize the intended device.
Interference from a Wi-Fi router may also interfere with pairing of a device that uses the same spectrum.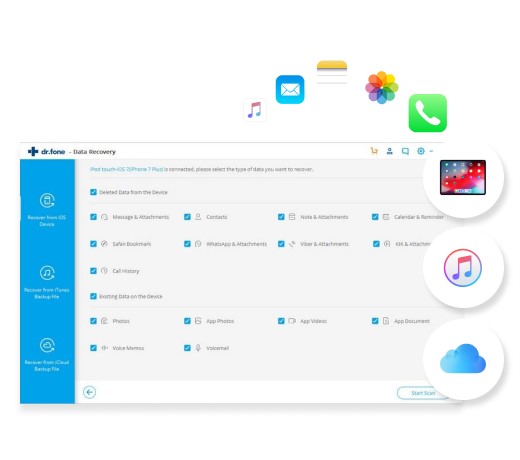 Why Choose This Data Recovery Software:
iSkysoft Toolbox - iOS Data Recovery is such a smart tool that can help you to recover lost data of your phone from iOS (iOS 10.3 supported) compatible devices.
It offers you three ways of recovering data; Recover from iOS, Recover from iCloud Backup and Recover from iTunes Backup.
You can use this software to restore reminders, photos, calendars, camera roll photos, photo stream, voice memo, app video, videos, messages, call history, audio, WhatsApp history, safari bookmark, and so on.
It offers you with an option to preview all the lost data such that you can selectively recover your data by selecting the one that you would wish to recover.