Can I reset passcode on iPhone without losing data?
It is a common practice for people to restore their iPhones whenever they want to reset their password. You might have forgotten your iPhone or maybe you deliberately choose to reset. It is easier if you still remember your password. But when you cannot remember, then it becomes a bit complex. For many, they will choose to restore. The drawback of restoration is that you will definitely lose your data. However, that is not the only option you have. You can reset your iPhone's password, without necessarily restoring. What you need to do, is to use the right software.
Best Way to Reset Passcode on iPhone without Restoring
As aforementioned, resetting your iPhone's password requires that you use an appropriate software. Using Gecko iPhone toolkit is the best way to reset your passcode. With this software, you don't need to restore your iPhone. All you need to do is to install this software to your computer.
Below is a step-by-step guide on how to reset your passcode without restoring your device.
Step 1. Download the Gecko iPhone toolkit , you can find it for free.
Step 2. Once the download is successfully completed, open it and make ensure you connect your phone to the computer.
Step 3. The above window shall be displayed. Click on the "Read lock screen password" option at the top of the screen. An empty space at the top is provided. This is where you select your device. once you have selected , click on Boot button.
Step 4. A pop-up window will automatically appear on the screen. This will prompt you to locate your firmware; that is the iOS file.
Step 5. The RedsnOw will be opened. once you see this window , just click on "jailbreak".
Step 6. You will then be required to enter the DFU mode. You simply follow the steps in the computer.
Step 7. RedsnOw will undergo a series of processes. When it has completed, it will inform you that it has succeeded. At the bottom of this window, you have back and cancel buttons, active. Click on cancel. This window will disappear.
Step 8. On the Gecko iPhone toolkit window, click on the Launch button.
Step 9. The program commences the processing of your password. Wait patiently. when it is finished, the password will appear somewhere on the screen.
By the way, if you want to get more solutions on how to reset iPhone password, please check here.
Recommend the Best iPhone Data Recovery Software
Data loss is a common occurrence among iPhone users. This is normally caused by accidental deletion, failed jailbreaking process and a failed software update. You can also lose your data if your device falls and is completely damaged. When this happens, you may feel like it is the end of everything. your beautiful photos and videos are gone, your contacts and messages are also gone. Your music files, notes, WhatsApp history, bookmarks, calendar, reminder among other data are all gone. However, this is not actually the end. You can still retrieve all your personal data on your device.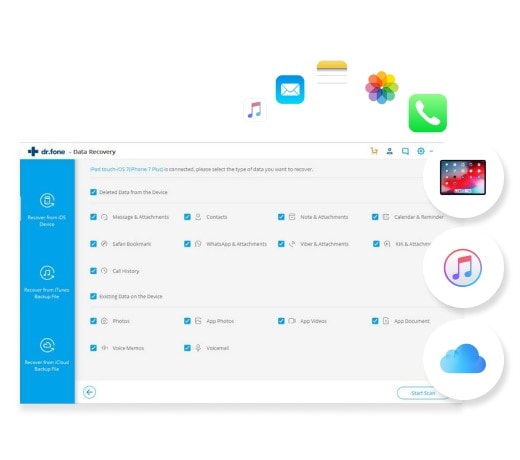 dr.fone - iOS Data Recovery is a software that can help you to recover all your deleted data. As the name suggest, you might think that this software runs not only on the iPhone (including iPhone X and iPhone 8), it also works well on other iOS devices such as iPad and iPod touch.
Why Choose This iPhone Data Recovery Software:
It is able to recover all your lost content ranging from messages, contacts, music files, videos, calendar and many others.
Your data can be either recovered to your device or on the computer. It is not restricted to only one location.
dr.fone - iOS Data Recovery can allow you to restore those files you backed up on iCloud or iTunes to your iPhone or Mac/PC.
Data preview - this feature allows you to check and identify which set of data, you would want to retrieve. At times there might be a lot of data lost, yet your interest lies on just but a few. This selectivity feature will help you speed the process of data retrieval.
Fast – this tool scans your lost items faster and retrieves them within a short time.