Why need to restore apps from iCloud?
Your iCloud account is used for iCloud Backup, apps and another data. If you have done a backup also with your apps, you can easily download them on a new device or restore them on an existing device like iPhone, iPad, iPod touch, Mac, PC. You have 5GB on iCloud storage, for free. Your brand new iPhone or your existing iOS device must be functional with all your loved apps. Restoring apps from iCloud might occur when you set the new operating system or when you want to restore your iPhone.
You might wish to restore your apps from a backup because you have run into problems with your device that can only be solved by restoring those apps. The latest backup can solve your apps issue. If you still have problems, you can move on to the next latest backup, repeating the process until the apps are running correctly.
One of your apps can have difficulties in functioning and all settings that you have done or changed just messed up your app. The good thing it is that you can restore it from your iCloud backup. Of course this app must to be in your iCloud account into your backups.
In order to restore some apps from your iCloud, you should know that your purchased apps must be still available in the App Store. If the app is no longer in Appstore, you will not be able to use it.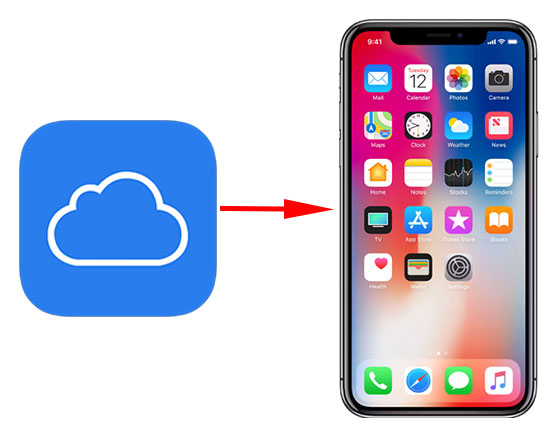 Part 1. How to Restore Apps from iCloud to iPhone
Your iPhone need to meet three criteria in order to use iCloud backup with your apps: connection to a Wi-Fi network, a power source and option to lock your device. In your iCloud, verify if you have already the backup done, including your apps. Here are tips for how to backup iPhone to iCloud or backup iPhone without iCloud.
Step 1. Erase all content and settings from your iPhone
Your iPhone should be in the same condition when it is was new, without any data on it. "Erase all content and settings" from "Settings", and click on "Reset".
Please note that this will reset your iPhone and your existing data will be gone.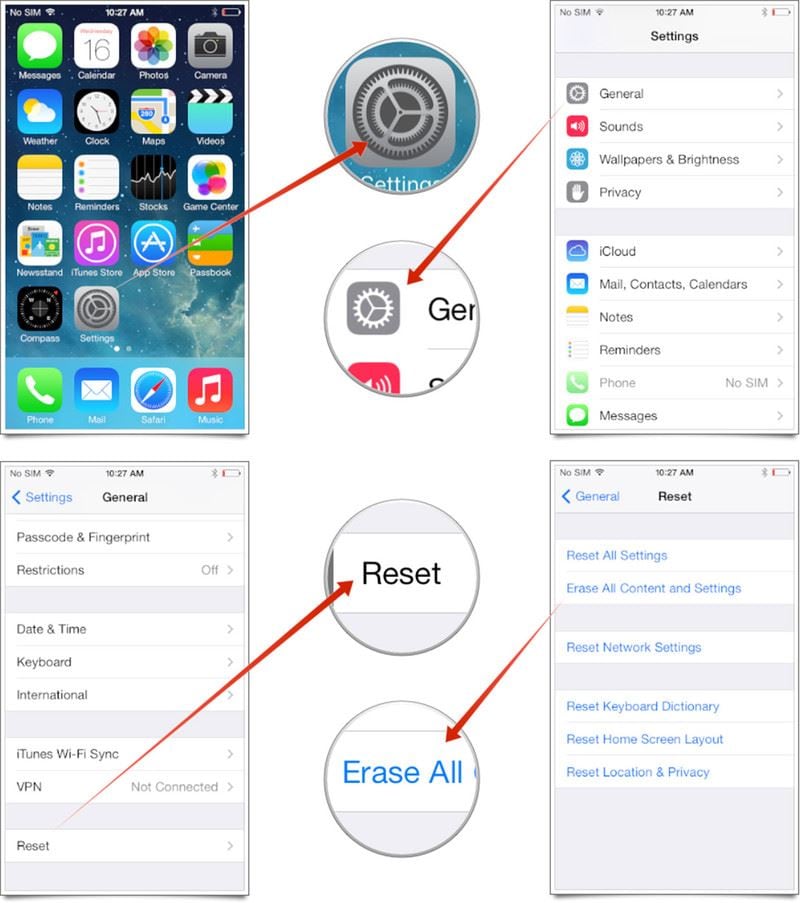 Step 2. Log in into your iCloud account
I assume that you have already one iCloud account and at least one backup with your apps. In order to restore apps from iCloud, just go to iCloud icon from your iPhone screen, click on it and log in. Fill out the form with your Apple ID and your password.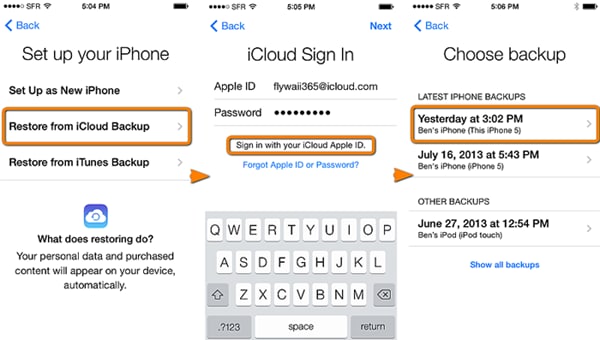 Step 3. Choose the backup with your needed apps
You can see the backups done into your iCloud account. Choose the backup that your need to get it restored to your iPhone. When the process of restoring starts, you will see the status "Waiting" for all your apps on your iPhone screen.
Also see:
How to Restore iPhone from iCloud Backup without Reset
How to Preview and Selectively Restore Photos from iCloud Backup
Part 2. How to Recover App Data from iCloud Backup
Not only want to backup the Apps, but also would like to recover the data of your Apps from iCloud? The way above is not available, but there is a way working for you. You need to install a third-party tool first: dr.fone - Data Recovery (iOS). It allows you to download and recover data from iCloud backup, including App data like photos, videos or documents generated by third-party tools.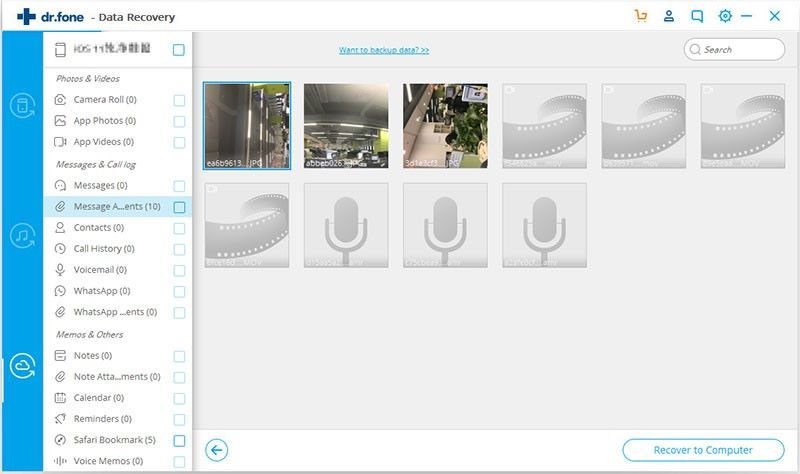 Recover data from iCloud backup/iTunes backup/iOS devices
Anyone can handle it to recover deleted files from iOS 12 iDevices and iTunes/iCloud backup.
3 Recovery Modes: Allows to recover data directly from iPhone, extract iTunes backup and download iCloud backup.
Up to 20 File Types: Recover lost text messages, iMessages, contacts, photos, videos, notes, etc.
Various Data Loss: Retrieve data lost for deletion, factory settings restore, jailbreak failure, iPhone lost or broken, etc.
Preview: Lets you read and preview found data before recovery.
Flexible Recovery: Selectively recover any item you want from iPhone (iPhone X and iPhone 8 Plus supported), iTunes and iCloud backup files.
Step 1: Download and install the Skysoft Toolbox - Recover (iOS), click "Recover from iCloud Backup File" tab from the menus . Please note the "Recover from iCloud Backup File" works only if you have backed up your iOS devices data to iCloud before you lost the files.
Step 2: Log in iCloud with your Apple ID and password. No worries about the account security, we provide privacy protection. If you have already had iCloud backup files saved on your computer, just skip "Sign In iCloud" and click the link "To view and scan previously downloaded iCloud backup" under the login form to import the iCloud backup directly.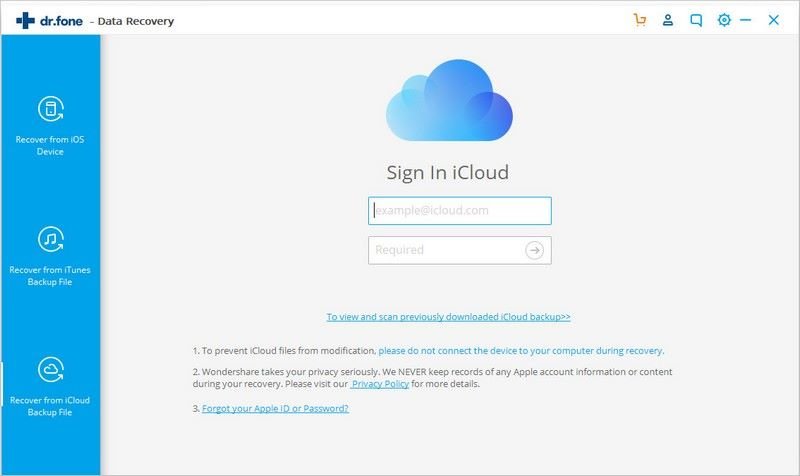 Step 3: After you log into iCloud,the program will automatically detect all your backup files in the account and display them in a list. Choose the one including the App data you want and click the "Download" button. It will take you a few minutes to finish the download process.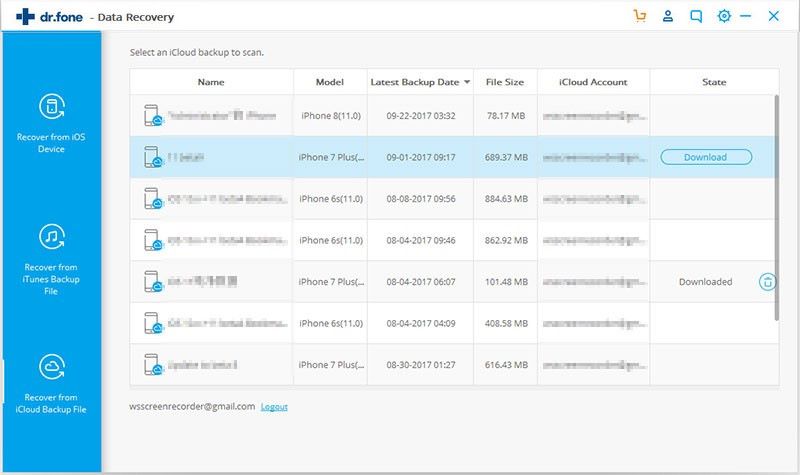 Here, you will be asked to choose the tyle of the files you would like to download. Click "Next" to move ahead.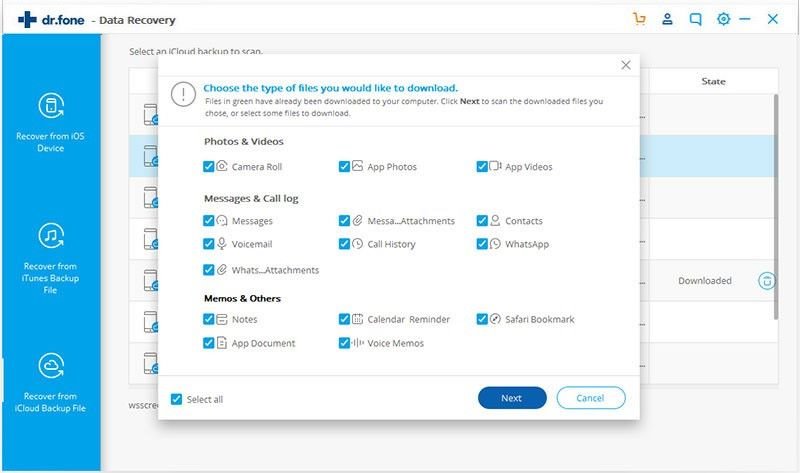 Step 4: After the downloading finishes, you can preview to check the data in your iCloud backup. For App data, you can choose "App Photos", "App Videos" and "App Documents" categories to preview the data in detail one by one. Then tick the item you'd like to restore and click "Recover to Computer" at the lower right-corner of the window.