Safari is a pre-installed browser that comes with all Apple devices. Though it is designed and developed in a way to make your online browsing experience not only convenient, however, for iPad, iPhone, or Mac users, you will be surprised to see that "Safari not working" is a common problem these days.
The users reported the same issue - Safari not working on iPhone - with the earlier versions, i.e., iOS 13/14/14.2. The same is the case with the latest update - iOS 15. Are you the one who is facing the "Safari not loading pages on iPhone" problem? Looking for an efficient solution? Don't miss reading through this guide.
Part 1: 7 Proven Ways to Fix "Safari Not Working on iPhone/iPad"
The iPhone or iPad users who often experience Safari problems search online for "my Safari is not working". Are you one of them? On the hunt for some practical ways to get rid of this challenge? This section has got you covered. It presents the top 7 ways to deal with "Safari not working on iPad or iPhone" problems in minutes. So let's get a bit deeper into the details.
1. Check Wi-Fi Connection
If your internet connection is not stable, your Safari may stop responding on your iPad or iPhone. Therefore, while using the Safari browser, you must ensure that your Wi-Fi connection has a stable speed.
If you are using mobile data, it is better to switch it off and connect through Wi-Fi. Doing this is an efficient approach, and it helps Safari keep working. However, are you still experiencing the same issues? Well, it is time to change your DNS settings. To do this, you need to follow the simple steps listed below.
Step 1 Explore "Settings" and tap on "Wi-Fi", and click on the "i" button .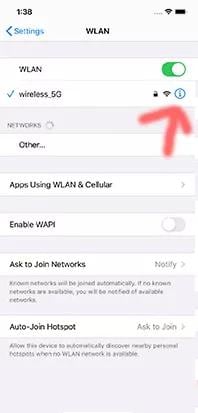 Step 2 Tap on the "Configure DNS" option, and click on the "Manual" option.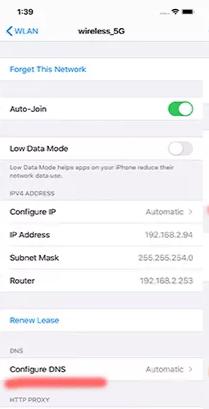 Step 3 Press "Add Server" and use either 8.8.4.4 or 8.8.8.8 to add the Google DNS server.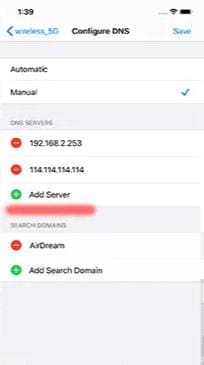 Step 4 Then click on the "Save" button, it will help you finalize all the changes you have made so far.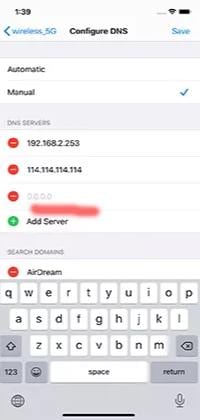 2. Hard Reset Device
Is your Safari not working on iPad? The hard resetting may be the solution you are looking for. Unfortunately, the resetting process is different in iPad Pro and iPad because of the absence of the "Home" button in iPad Pro 2018 and later versions.
If you have an older iPad, follow these steps:
Step 1 Press the "Home + Power" buttons at the same time.
Step 2 Keep holding both the buttons until the device turns OFF.
Within a few seconds, your iPad will automatically turn ON, and you'll see an Apple logo on your screen.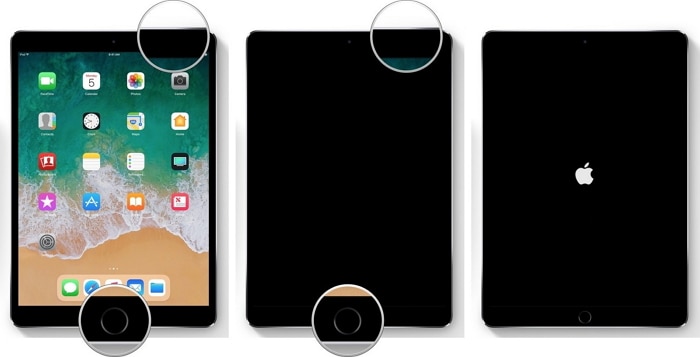 If you have bought iPad Pro 2018 or the latest version and are facing "Safari not working on iPad" problems, follow the steps listed below.
Step 1 Press the "Volume Up" button on your iPad and release it.
Step 2 Press and release the "Volume Down" button, and press the "Power" button.
Step 3 Keep holding the Power button after pressing it until an Apple logo appears on your iPad's screen.
3. Check for Update
If your iPhone or iPad is not updated to the latest version, you may face different problems like Safari not loading pages on iPhone. Therefore, it is better to keep an eye on your device's updates. Don't know how to check for the latest software update? Don't worry! Just follow the below steps.
Method 1:
Step 1 Explore your iPad's or iPhone's "Settings", find "General", and tap on the "Software Update" option.
Step 2 Click on the "Download and Install" option.
Don't forget to ensure that your device has enough charging. Otherwise, connect it to a power source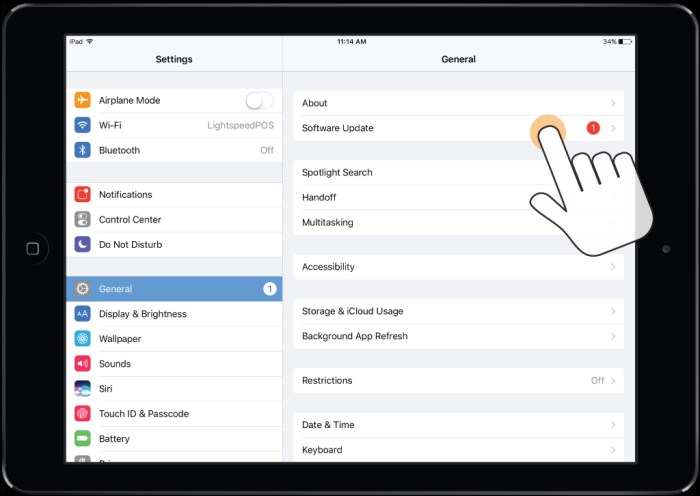 Method 2:
You can also update your iPad by connecting it to iTunes. For this, follow these 3 steps.
Step 1 Tap on the "iPad" icon, and click on the "Check for Updates" option.
Step 2 As soon as you find the updates, download and install them on your device.
4. Clear Safari History and Website Data
It is another excellent way of dealing with "Safari not working on iPhone/iPad" problems. If you don't know how to delete Safari history and web data, you can follow the below-listed steps to get the job done.
Step 1 Go to "Settings" on your device, and lookout for the "Safari" browser and click on it.
Step 2 You'll see "Clear History and Website Data" at the bottom of your screen, then click it.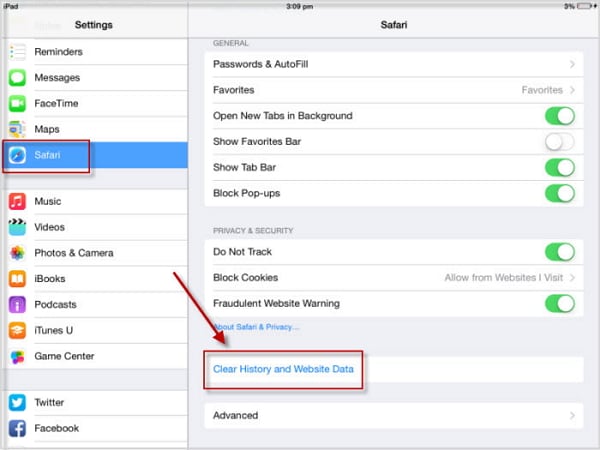 Following these simple 3 steps will clear the web data and your Safari history, and your browser may start working correctly right after that.
5. Turn off Safari Extensions
Turning off your Safari extensions could be a great solution to deal with the "Safari not loading pages on iPhone" problems. However, this fact is that these extensions may affect the smooth operations of the Safari browser. Follow these steps to turn off your Safari extensions quickly.
Step 1 Open the Safari menu page, click on the "Extensions" tab.
Step 2 Choose any extension you want to remove from your browser, then tap on the "Uninstall" button.
6. Check for Restriction
Checking for app restrictions can often fix your browser issues like Safari not loading pages on iPhone. So, whenever you face such a problem, don't forget to ensure whether or not it is enabled. For this, follow the below steps.
Step 1 Go to the "Settings" option, scroll down to find the "Screen Time" feature and click on it.
Step 2 Find "Content & Privacy Restrictions", Here you'll find the "Allowed Apps" option and tap on it.
Step 3 Then you'll see a "Safari" option on your screen, turn it on to enable it, as shown below..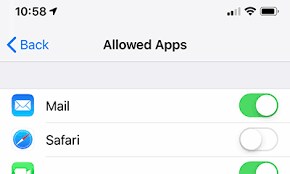 7. Turn Off Safari Suggestions
Safari Suggestions is a content designer that keeps you updated on different domains, including but not limited to weather predictions, news, movies, and app store. Though these suggestions are worth it, they may slow down your iPhone/iPad's performance, stopping Safari from doing its job. So, it is better to turn these suggestions OFF. Here's how you can do that.
Step 1 Go to your device's "Settings", tap on the "Safari" browser appearing inside the Settings.
Step 2 Turn the "Safari Suggestions" OFF as shown below.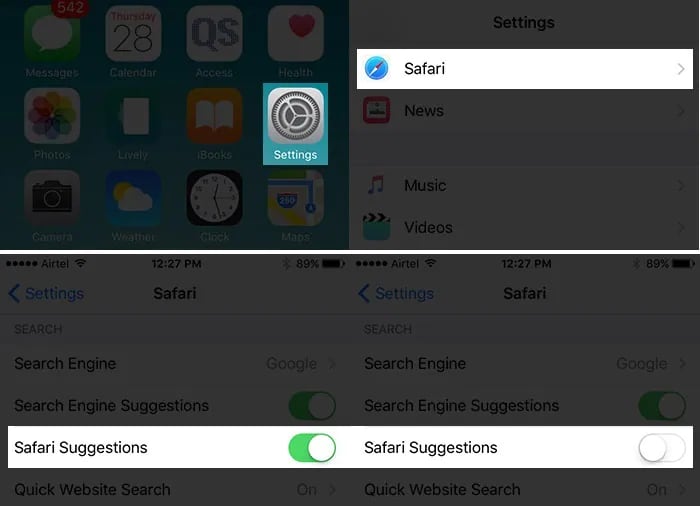 Part 2: How to Restore Deleted Safari Bookmarks from iPhone/iPad?
Have you lost your Safari bookmarks? Worried about the critical resources you have lost along with them? Want to restore at least the crucial bookmarks somehow? Look no further! This section presents the top 3 ways to recover or restore Safari bookmarks from your iPad/iPhone. But, first, let's look at how these methods work.
1. Use iCloud Backup
To restore your deleted bookmarks from iCloud backup, you need to go to a Setup Assistant mode. For this, you should remove all settings and stuff from your iPhone/iPad. To proceed further, follow the below steps.
Step 1 Tap on the "Settings", go to the "General" option and click on "Reset".
Step 2 Tap on the "Erase All Content and Settings" option.
Right after following the above 3 steps, set up your device again.
Step 3 As soon as you enter the "Set up your iPhone" option, select "Restore from iCloud Backup".
Step 4 Sign in to your iCloud account and choose the backup you wish to recover.
Step 5 Now, you'll see all the deleted Safari bookmarks on your screen.
You can now find the essential links you had lost earlier with the bookmarks.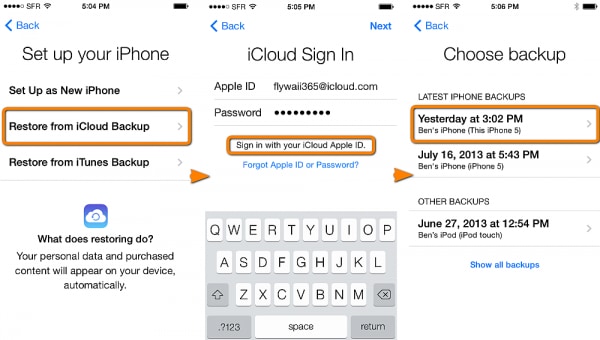 2. Use iTunes Backup
Mac - where you created the backup - is important for you to restore your deleted Safari bookmarks from your iPhone/iPad. The overall restoration process is pretty simple and consists of a few steps listed below.
Step 1 Connect your iPhone/iPad to Mac and open iTunes to proceed further.
Step 2 Click on the "File" option from the top menu bar, go to "Devices", and tap on "Restore from Backup" as shown below.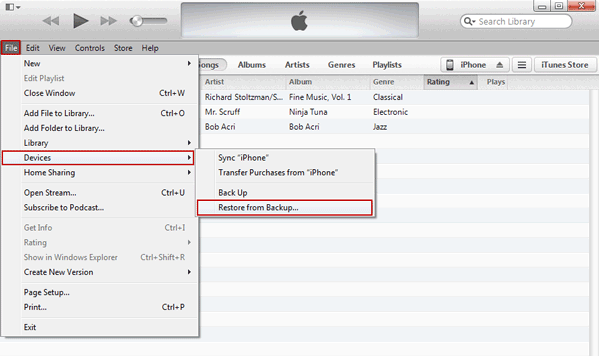 Step 3 Select the desired backup file you want to recover.
Step 4 Tap on the "Restore" option and wait for some time until the restoration process gets completed.
Dr.Fone is a professional software to perform data recovery, including restoring your deleted Safari bookmarks. Here are the main features of Dr.Fone: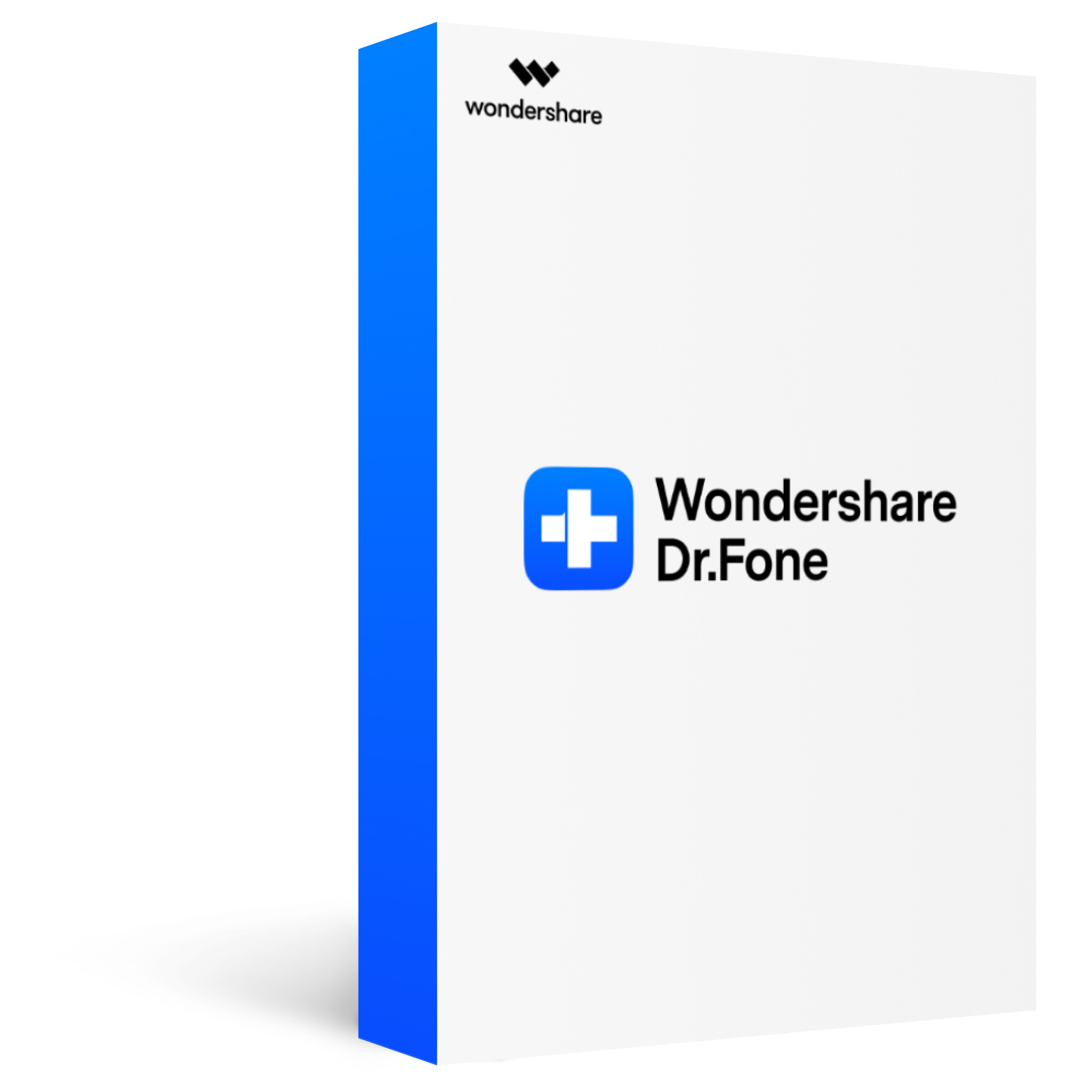 Recover the lost Safari bookmarks from iPhone,extract iTunes backup and download iCloud backup with 3 recovery modes.
Except for Safari history and bookmarks, Dr.Fone also support to recover other types of data, like documents, videos/audios, graphics, emails, etc.
Retrieve data lost for deletion, factory settings restore, jailbreak failure, iPhone lost or broken, etc.
Selectively recover any item you want from iPhone, iTunes and iCloud backup files.

3,165,867 people have downloaded it
Step 1 Download and install Dr.Fone - Data Recovery on your PC or Mac and choose "Data Recovery".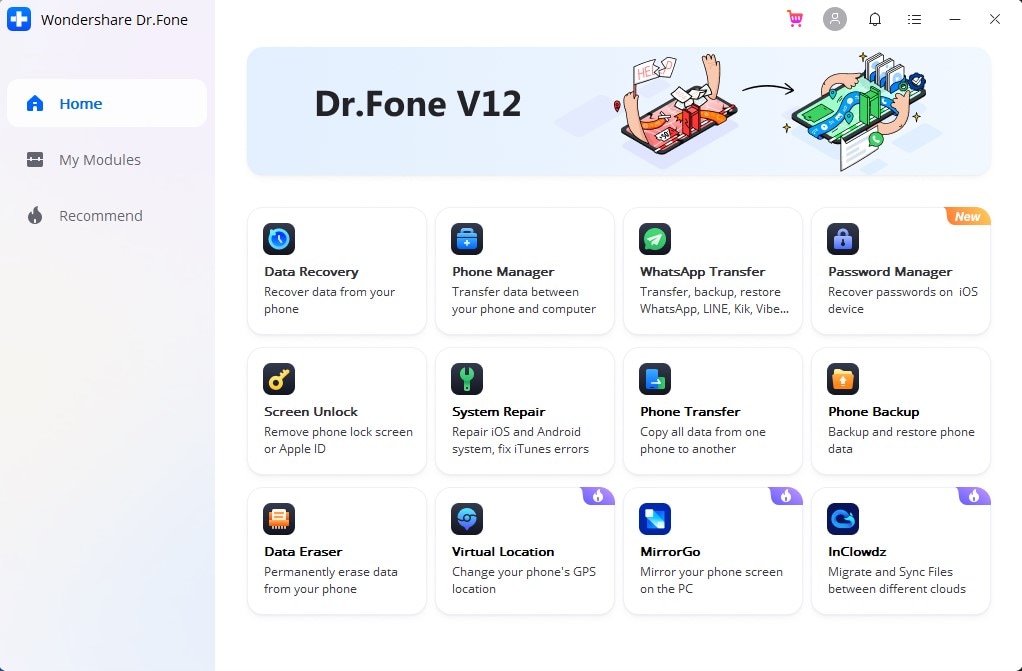 Step 2 Choose the data recovery mode and select the target data types.
Here are three data recovery modes, select the data recovery mode you need and the data types of your lost data, here choose the "Safari Bookmark" button and click "Start Scan".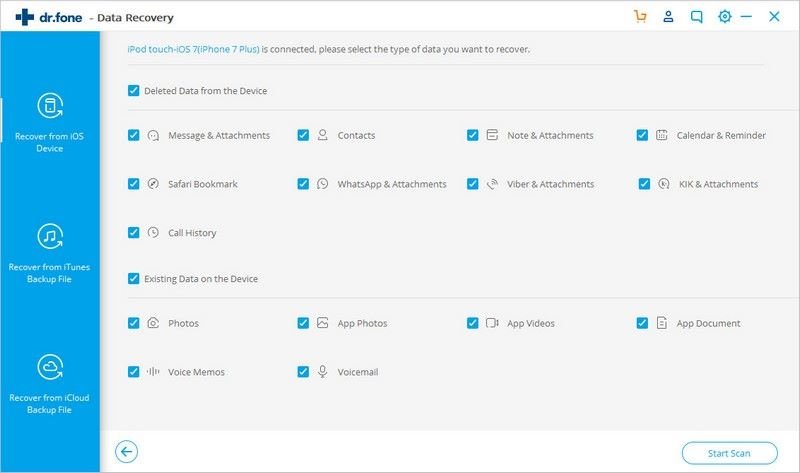 Step 3 Start to data scanning process.
After clicking "Start Scan", Dr.Fone will start scanning the Safari bookmarks from your device.
Step 4 Preview and save the recovered data.
After the Safari bookmarks are recovered, you can preview and get the wanted photos back by clicking "Restore to Device" or "Recover to Computer".