Facebook Messenger can be used on iOS devices to contact people instantly. You have the option to send messages for free and keep good relations with your friends, family, coworkers, actually with any person that you wish. Even if it has a name related to the social media network, Facebook Messenger is utilised for any contact from your Phone Book, not just for Facebook friends. In this article you will find the best ways to use Facebook Messenger for messaging, sending and forwarding messages, sending photos and videos.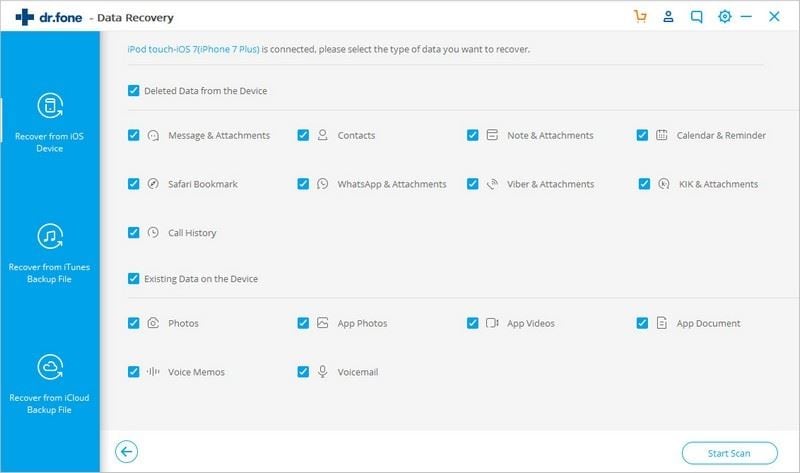 Why Choose This iOS Message Recovery Software:
It can recover Facebook messages from your iPhone, iPad and iPod touch and more iOS (including iOS 10.3) devices.
This tool can not only recover messages but also recover photos, contacts, videos, call history, etc.
It is easy to use and you can restore iTunes and iCloud backup data in one click with this software.
Before you recover any data, you have the permission to preview the contents for each file.
Part 1. Send Messages to One or More Facebook Friends with Messenger on iPhone/iPad
Scenario 1. Send Messages to One Friend on Facebook Messenger
Step 1. Click on "New Message"
When you type a name, for example Ben, you will see all your contacts having in their name this word. You can select the person that you wish just by tapping that contact.
Step 2. Write and send the message
After you have chosen the contact, it will open a new window where you can type your message. When finished, click on "Send". You will see if that person is online and if he read your message.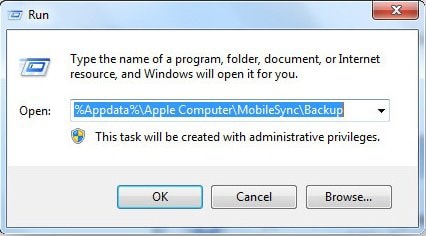 Scenario 2. Send Messages to All Your Facebook Friends with Messenger
Step 1. Open messages
Click on the "Messages" tab in order to send your message to your Facebook friends. You need to start typing your friends' names and select the friends from your Facebook friends list.
Step 2. Search Facebook friends
After you have selected the friends from your Facebook list, you can write the messages you want to send to your friends and then click on Send.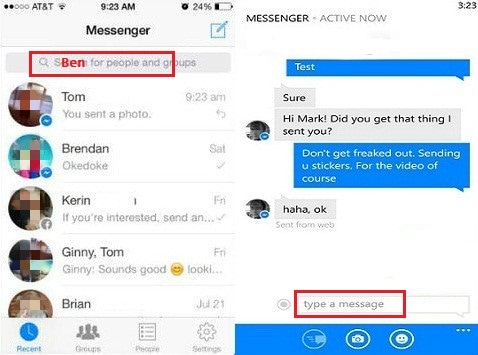 Part 2. Forward Messages on Facebook Messenger from Your iPhone/iPad
You can forward a message to a friend if he or she has not joined in the conversation. To do this, you need to go to your Inbox and select the message that you wish to forward. Press on the message until the options display and then select "Forward".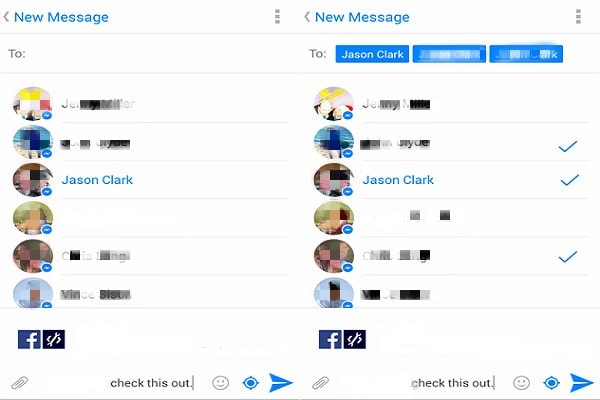 Part 3. How to Send Photos and Videos with Facebook Messenger on iOS
With Facebook Messenger for iOS you can share fast your video and photo by following just two easy steps. Due to the front and centered items, all actions for sending photos and videos can be done at one glance. You can even preview your idevice's camera roll when you wish to send media files.
Scenario 1. Photo sharing
Search your friend and open the Message window. Before to send the image, you can preview your Camera Roll and select just your amazing photo that you wish to share. All actions without leaving the chat window! Select that photo and tap to Send it, without leaving the conversation.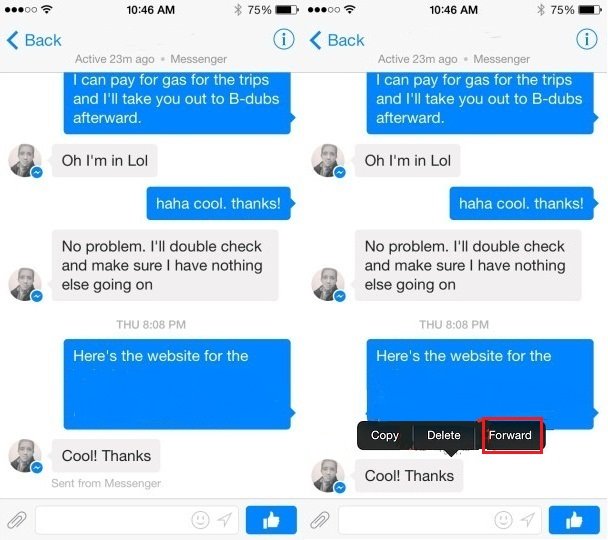 Scenario 2. Video sharing
If you'd like to send a video via Facebook Messenger to your friends, you can and hold the Camera icon above the keyboard to record a 15-second video. When you lift your finger, the video will be sent subsequently.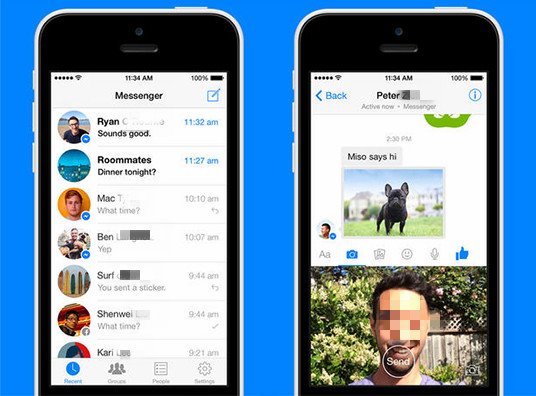 Part 4. Learn More about Facebook Messenger
Facebook Messenger works fine on iPhone 5+, iPod touch, iPad and the minimum requirement for the operating system is iOS 7.0 + . With every new update, the app try to satisfy the users' needs. Common features loved by people are sending photos, videos, making calls, text messaging. If you need to create groups and chat with them, you can create them very easy. Just create how many groups that you wish and name them like "Family", "Work", etc. One amazing feature is that you can make free calls over WiFi.
During communication with different people, you can use stickers, preview your camera roll photos and videos without leaving the conversation and select the ones you wish to send. Also you can record voice messages and send them to your friends.
There are several settings and actions that can be done, like forwarding messages and photos to people who weren't in the conversation, turn on your location to let people know where you are. Besides all, you will know when people have seen your messages and you can turn off all notifications when you do not want to be bothered.