In our hectic schedule, we tend to forget several important dates and days that we can't afford to. But thanks to online calendar service by Google that can help keeping the records of different occasions. Well if you use iPhone, it'll be a sane idea to manage those calendars by syncing it with your device.
This article will tell you all about syncing Gmail calendar with iPhone. We will provide you instructions to do so as well as the fixes if you find problem in syncing Google calendar with iPhone.
Part 1: How to Sync Google Calendar with iPhone
You can sync Google calendar with iPhone by following the steps mentioned below. Check them out.
1. Get your iPhone and tap on 'Settings'. Now, tap the 'Accounts & passwords' option.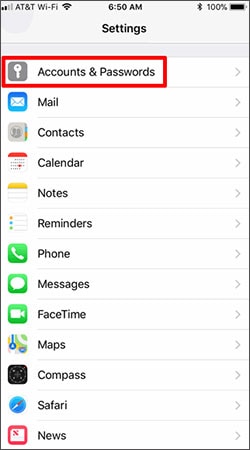 2. From the next screen, choose the Google account. Lastly, toggle the switch next to 'Calendars' option.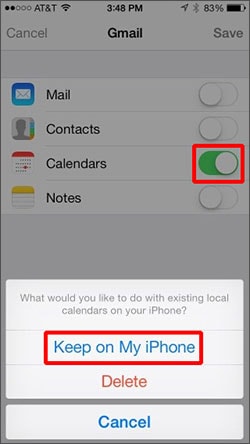 Part 2: How to Fix Google Calendar not Syncing with iPhone
While syncing your calendar, if you are unable to complete the process and Google calendar is not syncing with iPhone, we have got some solutions for you to fix the problem. Let us go through them one by one.
1. Check if the Calendar is enabled and Force Restart
First of all, you need to check in your device if the Calendar is synced or not. If not, sync it now by following the above method. In case your device is synced with calendar, you need to force restart your iPhone. For this, follow the steps given below.
iPhone 8/8 Plus/X: Press and immediately release the 'Volume Up' button. Now, press the 'Volume Down' button and quickly release it too. After this, hold down the 'Power' button until Apple logo comes into the sight.
iPhone 7/7 Plus: Start pressing the 'Power' and 'Volume Down' buttons altogether and you are supposed to do this until you see Apple logo being visible to you.
iPhone 6/6s and earlier: Press and hold down the 'Power' and 'Home' buttons simultaneously. Release the buttons after nearly 10 seconds when you see Apple logo on your screen.
2. Check Fetch Settings
If the above tip didn't work and you fail to sync Gmail calendar with iPhone, this tip might help you out. You need to set up the fetch feature and then probably your Google calendar not syncing with iPhone problem will vanish. Here are the steps to perform this method.
1. Open 'Settings' and tap on 'Accounts & Passwords'. Move further by tapping on 'Fetch New Data' option.
2. Next, select the Outlook account from the list of options available and then hit on Delete Account from the upcoming screen.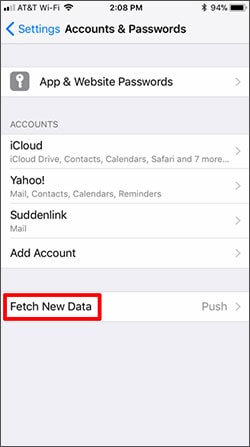 3. Toggle the 'Push' switch on and then select Gmail. Now, turn on 'Push/Fetch' under Gmail as well.
4. At the end, you can also set frequency according to your needs and choose from 'Automatically', 'Manually', 'Hourly', 'Every 30 Minutes' and 'Every 15 Minutes'.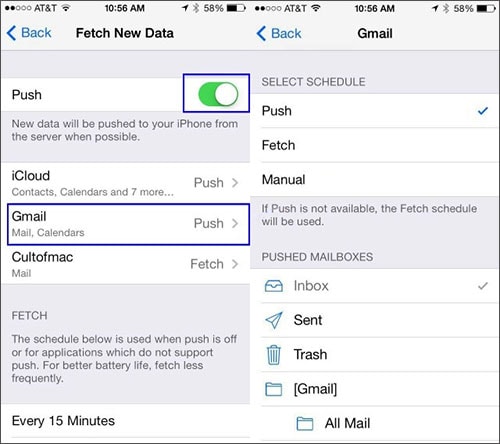 3. Set Gmail calendar as default
If unfortunately still Google calendar is not syncing with iPhone, try to set your calendar as the default one. The steps go like this:
Open 'Settings' and tap on 'Calendar'. Now, tap 'Sync' followed by 'All Events'. Return to 'Calendar' again, tap on 'Default Calendar', and choose 'Gmail' calendar as default.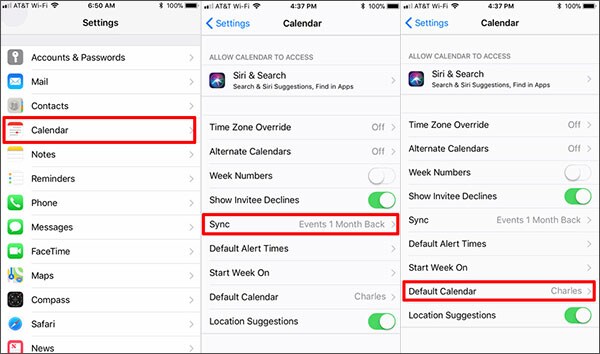 4. Remove and re-add Gmail Account
The last resort left when Google calendar is not syncing with iPhone and no aforementioned workarounds were of use is adding your account again in the device.
1. Open 'Settings' and tap 'Accounts & Passwords'. Tap on the already added Gmail account and enter the next screen. From the, you could notice 'Delete Account' option at the bottom in red color.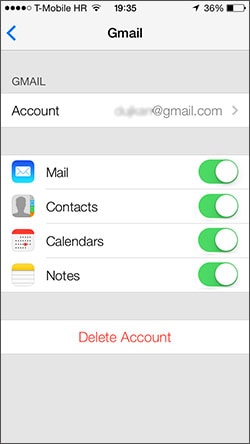 2. Tap on it and your account will be removed. Now again go to 'Settings' and tap 'Accounts & Passwords'
3. Tap 'Add Accounts' and choose Gmail followed by adding your Gmail ID. Now start syncing Gmail calendar with iPhone as we above mentioned.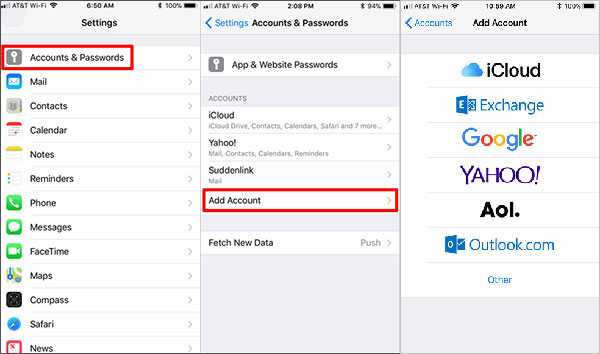 Part 3: How to Add Google Calendar to iPhone
In this section, we are going to introduce you the guide for adding Google calendar to iPhone. In case, you have no idea at all for this, you can follow the steps that we are going to demonstrate now.
1. Open 'Settings' in your iPhone by selecting it from the home screen. Similar to the first part, go to the 'Accounts & Passwords' option and tap on it.
2. Now, tap on 'Add Account' and from the upcoming screen, choose 'Google'. Sign in there now with your Google credentials.
3. At the end, you will see list of data types and each will be having toggle button next to it. Choose 'Calendar' from there and your Google calendar will be positively added. You can deselect other items if you wish.
Part 4: How to Recover Calendar from iPhone
After learning everything about the Google calendar syncing, it's time to give a thought on the calendar being lost accidentally. What if you stuck with such situation and have many important dates marked in your calendar? How will you get them back? If you have no idea and wondering the same, dr.fone – iOS Data Recovery is the one that can bring you out from the trouble.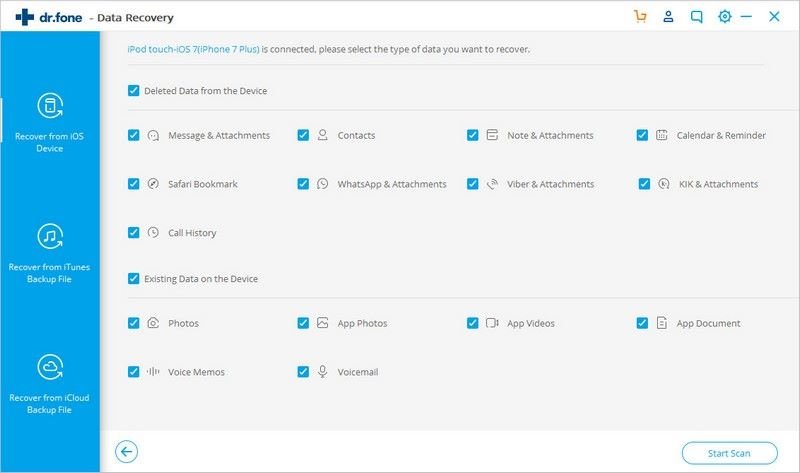 dr.fone comprises three professional modes of recovery which enables a user to recover their files from their iPhone directly, from iCloud and from iTunes backups.
It allows the users to preview their data prior recovering them.
More than 20 types of data are supported, including photos, contacts, messages, videos, WhatsApp messages, calendars, notes etc.
You can recover your data no matter how you lost them. For example, suppose your data is lost due to system crash or factory reset, this tool has the ability to give you those back under any circumstances.
It is even compatible with the latest iOS version.
How to Recover Deleted Calendar from iPhone via dr.fone
Step 1: Install dr.fone – iOS Data Recovery in your PC and launch it. Now, make your iPhone connected with PC using a digital cable. Tap on 'Trust' in your device when asked for trusting the computer. Enter the first screen of the software and click on 'Data Recovery' tab.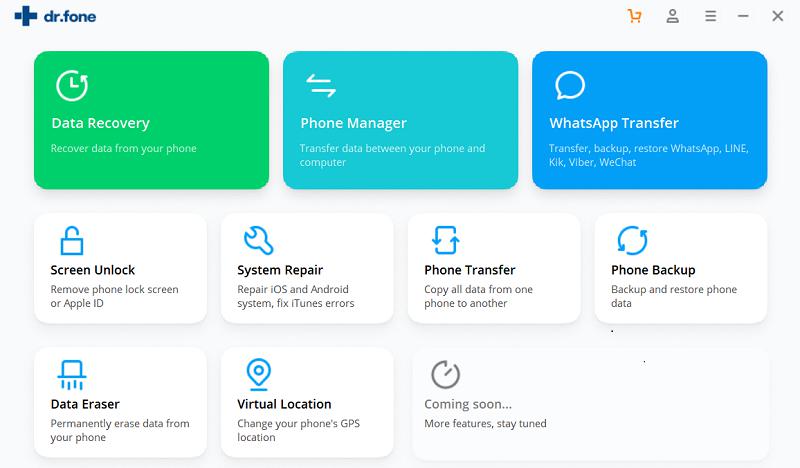 Step 2: Now, you are required to let your device's data scanned by the program. Choose the 'Calendar & Reminder' option from the list of file types and proceed to 'Start Scan'.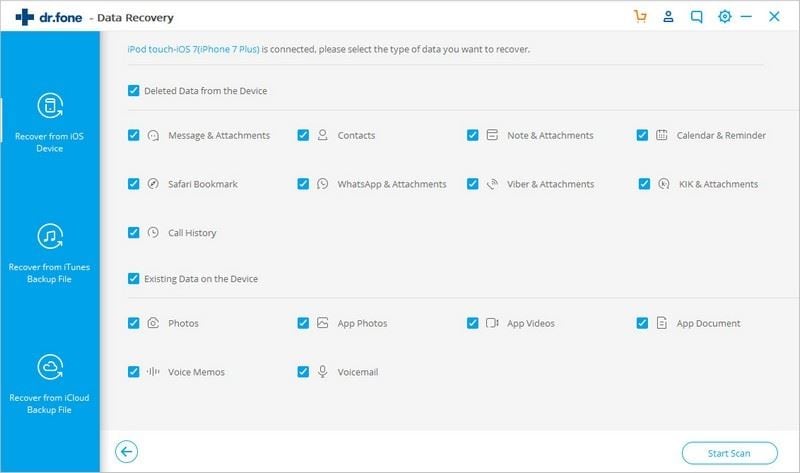 Step 3: Now, you will see the outcomes when the scanning will get finished. Select the file type (calendar) from the left panel and see it on the right side of the screen. Now, click on 'Recover to Computer' button. Finally hit on 'Recover to Computer' to confirm the action.