You all would agree that every human being needs music because it is relaxing, inspiring and helps you to be productive at work. However, transferring music from computer to mobile device, or syncing iTunes to new iPhone XS can be a pain. This is so since the transfer process isn't as efficient as we would like it to be, nor as precise, take iTunes for example. iTunes syncs content stored on the mobile device with the computer. In other words, if a song is not on the computer it will be erased from the mobile device. As you can imagine, the erasing of songs is problematic because the slightest negligence can cost you your favorite tunes. Therefore, we need an alternative that already does what iTunes is doing but in a better way.
Hence, through the article, we have come up with ways on how to transfer music from iTunes to iPhone XS without syncing. We have used third-party tool to sync music from iTunes to iPhone XS both with the automatic as well as manual process.
Part 1: How to sync music from iTunes to iPhone XS without overwriting data?
You might be wondering, is there a program that does what iTunes does but better? Well, the answer is yes! There is a program to transfer music from iPhone XS to computer without losing songs. The software is called iSkysoft Toolbox - Transfer (iOS). It is designed to make music transfer between iPhone XS and iTunes seamless. Furthermore, iSkysoft Toolbox - Transfer (iOS) transfers more than just music. You can transfer photos, contacts, messages, and even uninstall apps from several devices. It also offers better functionality and a wider range of options apart from what iTunes does.
Want to know how to use iSkysoft Toolbox - Transfer (iOS)? Then follow the process outlined below to transfer music from iTunes to iPhone XS without syncing.
There are two ways to transfer iTunes music to your iOS device:
Step 1 – Launching the tool
After downloading and launching the iSkysoft Toolbox - Transfer (iOS), from the Home Page, click on 'Transfer iTunes Media to Device'.
Step 2 – Start scan and initiate the transfer
iSkysoft Toolbox - Transfer (iOS) will scan your iTunes library, and present it to you in list form. Deselect the content you don't want to transfer and click on the green 'Transfer' button.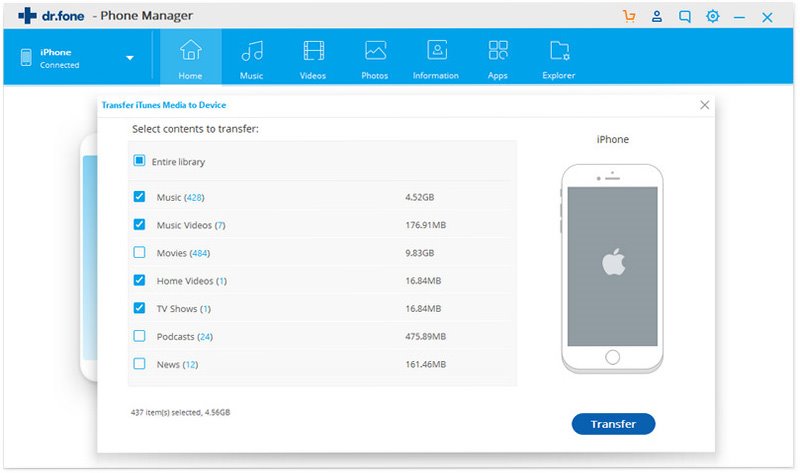 Step 3 – Finish the process
Click on 'Transfer' to begin the transfer process. The transfer will be done without any duplicity.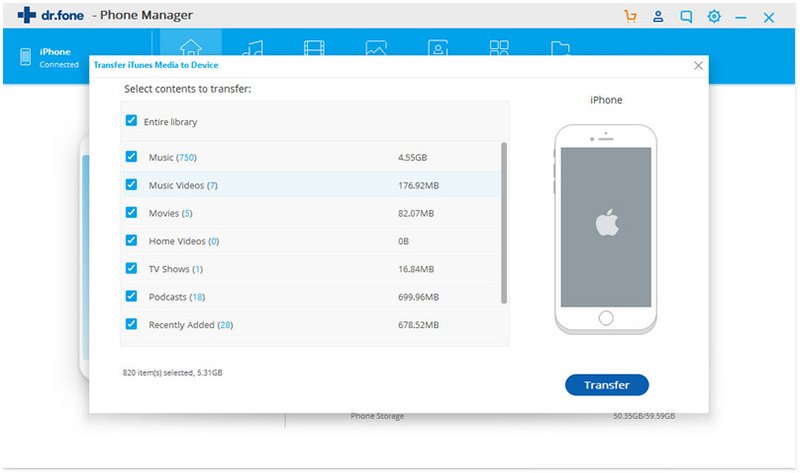 As you can see, the entire transfer process is compressed in a single-click. It is a stark contrast to iTunes whose process is longer and more complex than it needs to be.
The above method is well qualified as per the expectations of users and are bound to keep a proper check over data safety while transferring music from iTunes to iPhone. Therefore, the whole process of transfer is quite easy with the iSkysoft Toolbox - Transfer (iOS).
Part 2: Official way to sync music from iTunes to iPhone XS
As stated, the above-mentioned methods are enough to carry out the process of music transfer from iTunes to iPhone. However, if you want the official and accepted way to transfer music to iPhone XS then use iTunes. The official software from Apple works well (that is iTunes), and is great for those who are used to it. Well, using iTunes enable you to transfer music from iTunes to iPhone using two ways, one is the automatic one that you will learn first then we shall talk about the manual process using iTunes.
Below we have mentioned the automatic process of syncing music from iTunes to iPhone XS:
Step 1 – Make Connection
First of all, to make connection, plug in your iPhone XS via USB cable, and launch iTunes.
Step 2 – Select the device
Now, go to Devices > (Click on iPhone logo) and then click on the 'Music' tab.

Step 3- Sync Music
Here check the box to Sync Music. A message will appear informing you that all your content will be deleted from the iPhone (that is the existing files). Select 'Continue'.

Step 4 – Select Options/playlist/music
You will now have 2 choices 'Selected Playlists, Artists, Genres' and 'Entire Music Library' The first option will sync only select artists/songs, while the second option will sync the entire iTunes library.
If the selected option is chosen then the list of music files will appear, from there you can choose or select the required one.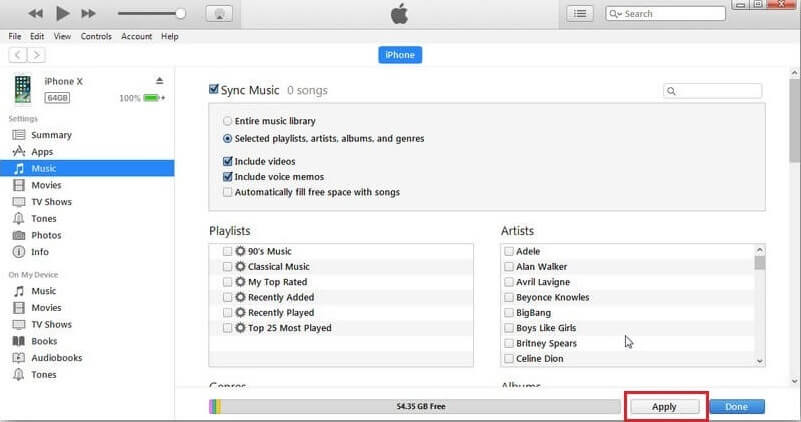 Step 5 – Click on 'Sync' to begin the process.
Once your selection process is complete, click on "Apply" to apply the changes for syncing iTunes to new iPhone XS. Then choose the "Sync" button.
You will immediately notice the difference between iTunes and iSkysoft iTransfer.
• Syncing content with iTunes, has very high risk of data loss. If a song is in the iPhone XS, but not in iTunes, then the song will be deleted from the iOS device after performing the syncing process.
• Furthermore, the process takes longer with iTunes because they are syncing the mobile device.
You will not find any of these problems with iSkysoft iTransfer because the transfer process is much simpler. Transferring songs requires a single click. Most importantly, you will not have to worry about losing information. iSkysoft iTransfer transfers content from iPhone to iTunes in a fast pace. Hence, you are free to add and delete content as you please without worrying about the delay in the syncing task.
Manual Method: How to sync music to iPhone XS using iTunes manually
You can always opt to go with the auto-music transfer process of iTunes, however we are also providing you with the option to manually transfer the music files from iTunes to your device.
Step 1 – Launch iTunes
For the manual process, as the first step, open the iTunes and then connect your device to the computer.
Step 2 – Select Manual option
You will see the device on the sidebar. Click on the device icon and then go to the 'Summary' page. Select 'Manually Manage Music and Videos' and after that select the "Done" button to finish the manual process settings.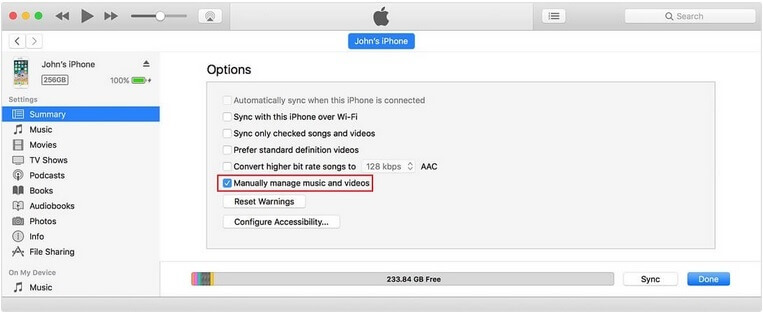 Step 3 – Return to 'Library' for iTunes music.
Here you can visit the Music section and then click on the songs you want to transfer. Keep holding the mouse and drag the song back to your device.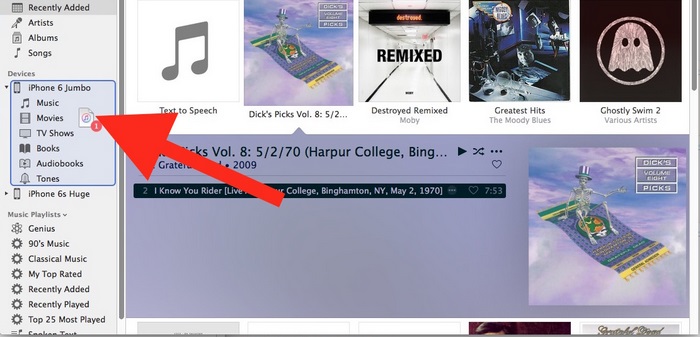 Thus, using the simple drag and drop functionality you can easily transfer the music data from your iTunes to iPhone.
Note: Please note that using the above process may sometimes causes duplicity of files as it is cumbersome to check each and every music file by yourself to avoid redundancy of similar files.
Conclusion: You deserve to enjoy your music without the risk of losing their songs, isn't it? Well, iTunes is fantastic and has proven itself over the years, but there is always room for improvement. You can find this improvement in iSkysoft Toolbox - Transfer (iOS) because it offers an easier transfer process and zero chance of losing data. The iSkysoft tool simplifies the transfer of music from iTunes to iPhone process because it transfers songs from one device to another, instead of syncing devices. iSkysoft Toolbox - Transfer (iOS) comes with several features that make incremental additions to improve your experience.
So are you interested in trying iSkysoft Toolbox - Transfer (iOS)? You can go ahead and visit the official website to get more information right away. Simply, download iSkysoft Toolbox - Transfer (iOS) and enjoy seamless transfer of music from iPhone XS to iTunes and vice versa.