Most people love jotting down their thoughts or doodling on the go. When there were no gadgets to carry along, most of us would end up scribbling our imagination or some important information on a notebook with a pen or pencil. Now with the convenience of mobile devices such as iPhones and iPads life is much simpler. There are plenty of iOS notes apps that allow us to capture everything that a physical note used to do in the past.
The number of these note taking apps is growing rapidly, because mostly the inbuilt apps available with an iOS device are basically meant for note taking only, without any additional features. The new iOS notes apps are especially developed with features such as doodling, attaching documents, pictures, contacts, and emailing the notes.
The 15 Best iOs Note Apps
Although there is no dearth of iOS notes apps, we thought of picking the top 15 notes app for iPhone and iPad that you would love to use for your note taking and doodling to your heart's content. Let's have a look, which app suits your specific needs.
1. Bear
Bear is one of the most favorite iOS notes apps having versatile options for you. Be it quick notes or in-depth essays it helps you get the best of everything. This app allows you to export the notes to HTML, Docx, PDF, JPG, MD formats. Its data recognition feature helps save links, contacts, and addresses.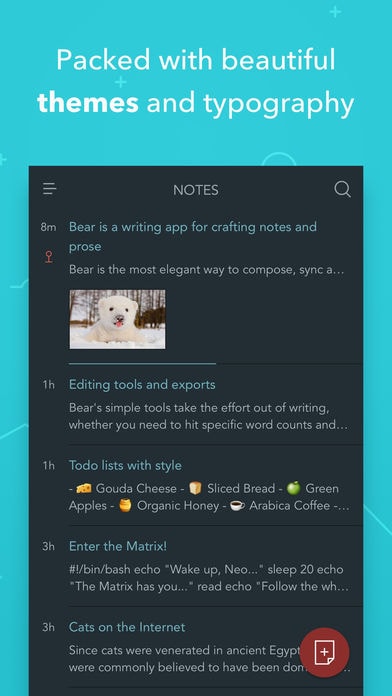 2. Awesome Note 2
If you are in love with apps like Pinterest, then this is your perfect match among all the iOS notes apps available. You can write, draw, add photos, voice records, create dairy notes, add maps, weather, and lot more. You can sync with Evernote, iCloud, iOS default Reminders and Calender and share through Airdrop.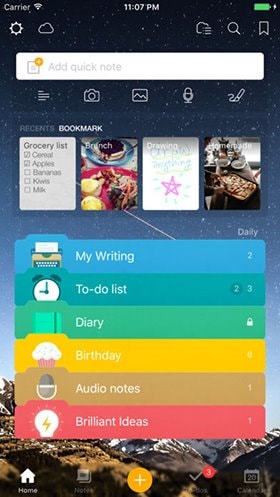 3. Evernote
For people who love writing and doodling and capturing pictures, maintaining travel, Evernote is one of the preferred notes apps for iPad and iPhone. You can add pictures, PDFs, URLs, web clips, contacts and much more to your notes.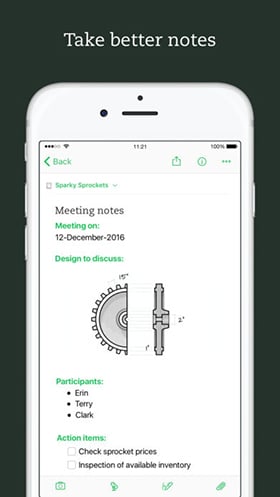 4. AudioNote
How about taking notes from audio? One of the best iOS notes apps for students and business. This app works as a voice recorder and notepad that helps plenty of writing time. This app brings notes and audios together. It helps you index lectures, meetings, study sessions, interviews and lectures. It can share notes in PDF form only for iPad.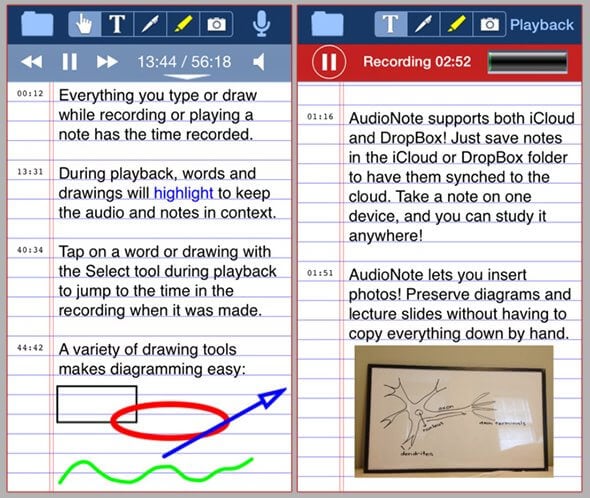 5. Penultimate
Using Penultimate app in your iPhone or iPad you get to experience the benefits of Evernote's search and sync along with seamless natural writing and sketching. With a Jot Script Evernote Edition stylus, you can experience the best digital handwriting. Keeping notes for the meeting or important journals, this app stands out among the leading iOS notes apps.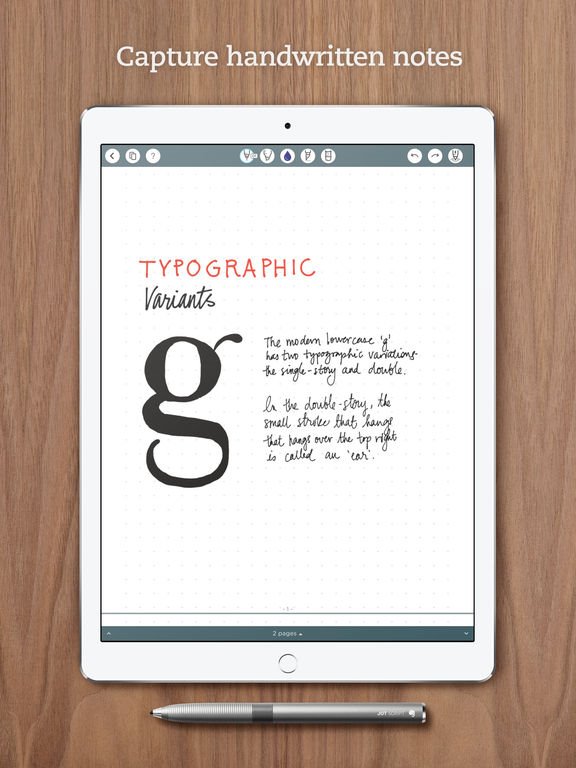 6. Note Taker HD
For writing and organizing handwritten notes and diagrams this is one among the top iOS notes apps. It supports languages that are written right-to-left and iOS Data Protection API. One can crop images from photo albums, iPad camera or Pasteboard. Wrist guard feature in this app helps unwanted touches. You can write using fingers as well as a stylus.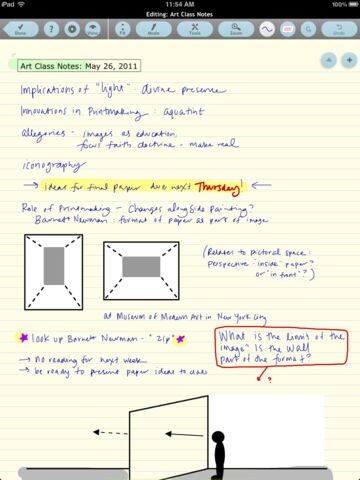 7. Noteshelf
This amazing notes app for iPad allows you to annotate PDFs and make handwritten notes. Apart from that Noteshelf helps you record audio, type notes, draw, sketch, print documents on your iPad. It supports stylus and major cloud services such as Google Drive, Dropbox, and syncs with Evernote as well.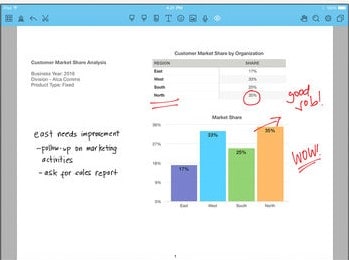 8. Pages
Not just like the usual iOS notes apps, it is a strong word processing in an iPhone. It supports Multi-Touch gestures and Smart Zoom, and allows you to create resumes, reports, and documents within minutes.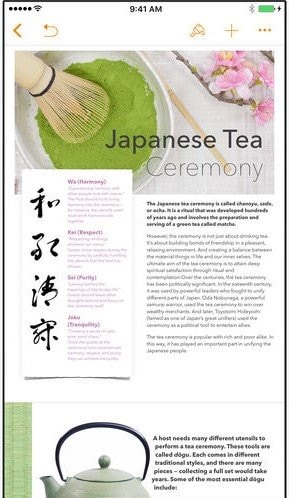 9. Notability
Among the iOS notes apps, this is an all-in-one app allowing teachers, students, and business professionals to take notes, make checklists, sketch, record lectures, and annotate PDFs. Drag and drop feature is available to move text, files, web pages and photos from other apps to Notability and share in email and message as well.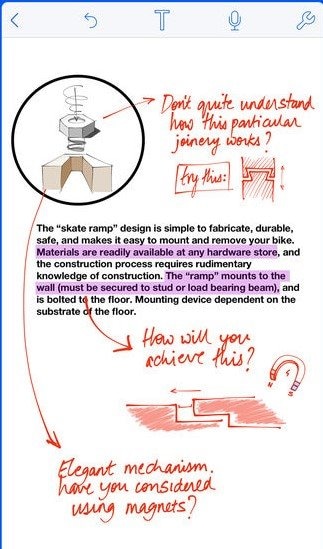 10. MomoNote (sync with web)
Speaking of notes apps for iPad or iPhone, this app enhances the power of your usual personal memos. You can have a calendar, call a contact within the memo, set shortcut for hyperlink, and much more. You can attach pictures to it and share memos by email or on social media.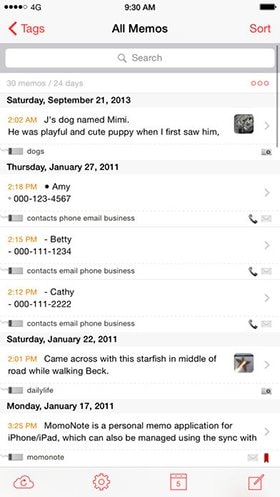 11. iA Writer
This notes app has Focus Mode, convert to MS Word format, iCloud sync, night mode, customized for retina display, allows sharing on Wordpress, as well as exports formatting to PDF and HTML. These features certainly make it one among the most popular iOS notes apps.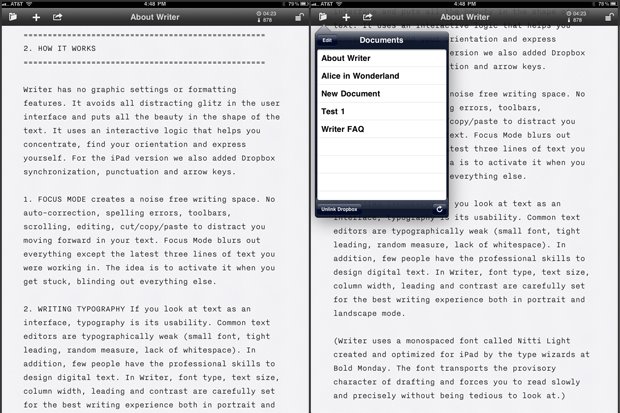 12. Drafts: Quick Capture
This notes app for iPhone allows you multiple output options like sending text to social media accounts, email, message, calendar event, and save them to cloud accounts. It supports widget, 3D Touch and share extension.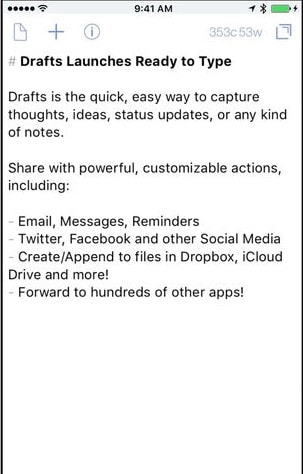 13. ThinkBook - Todos, Notes, Projects, Outlines
This type of iOS notes apps certainly have an edge over others. With varied note type including text, questions, to-dos, attachments and projects, users get everything in a single app. It supports gestures to move and indent notes.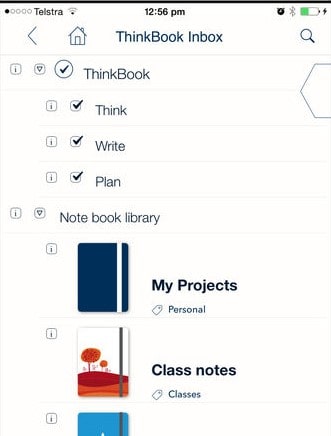 14. OmniOutliner 2
When you talk of iOS notes apps that are versatile, OmniOutliner 2 certainly reserves a top seat. It organizes your texts perfectly through its outlining feature. You can have notes, hierarchy, styling, and columns and it would keep them tidy and structured.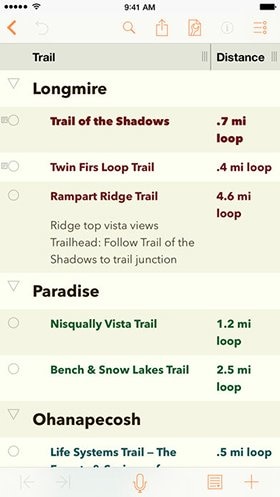 15. GoodNotes 4
Unlike other advanced iOS notes apps, it has auto shrink property that automatically fits the page. Trash function prevents accidental data deletion. You can type, insert images, PDF docs, and mix papers with it.