Is it possible to reverse an iPhone to a previous update?
It is possible to reverse an update on your iPhone, a process also referred to as downgrading. The process is quite fast and takes less than 15 minutes. If for any reason you find that the update that you did does not work well on your device, you now have a way of reversing your iPhone to its former iOS. The device has to be in recovery mode, and you will need a copy of your old iOS; look for it in your backup folders, or download a fresh copy. Here is how you go about it.
Part 1. Step-by-step Guide to Undo an iPhone Update
How to reverse iPhone update ? Here is the solution. This method involves using your iTunes account, where you can access your older iOS version.
Step 1. Connect your phone to your PC and access your older iOS version.
To very first step to undo iPhone update is using a USB cable, connect your PC and to your iPhone. Once it has been recognized, go to the "iPhone Software Updates" folder on your PC. On a Mac, go to Library > iTunes > iPhone Software Updates. On a Windows machine, go to the Search function in the Start Menu and type %appdata%\Apple Computer\iTunes\iPhone Software Updates.
NOTE: if you have downloaded a new copy of your older iOS version, find it in the folder where you stored it.
Step 2. Switch off your iPhone and reboot to Recovery Mode .
Turn off your iPhone and let it stay off for about 5 to 10 seconds. After that, power it back on and keep holding the "Power" and "Home" buttons for at least 10 seconds. Release the "Power" button, but still keep the "Home" button pressed. This will take you into Recovery Mode.
Step 3. Go back to your iTunes account and select the older iOS version.
Go back to your iTunes account, where the iPhone will be recognized as being in Recovery Mode. iTunes will then prompt you to restore the device. Underneath the "Devices" tab in the left sidebar, click on "iPhone". Click on the Shift Key, and while pressed, click on "restore"; this will be found on the bottom right hand corner of iTunes. Now choose the older iOS version in the folder you had browsed to at the start. The file will have an ".ipsw" extension.
Step 4. Finish the installation.
Let the downgrading go on for about 15 minutes. Once the older version has been installed, you will get a confirmation message. When the process is complete, click on the "Eject" button in iTunes so that the device can exit Recovery Mode.
Ends the whole process. Hope this solution can fix your issue "How to reverse iPhone update". Hope it helps you to undo the iPhone update as you like.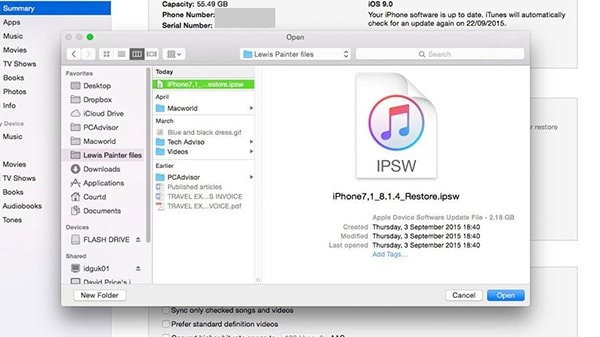 ---
The Risks of Downgrading iOS
You aren't really thinking to downgrade the iOS version of your iDevice back to the previous one, do you? Well in that case, please stop right there! We recommend you to gain some quality information about risks of downgrading iOS prior to performing the downgrade. We don't want to scare you but it is necessary to be aware of the consequences or mishappening that can take place after downgrading iOS.
1. Unlike Upgrade where all your data stays intact, downgrading iOS wipes off all your data on your iPhone, i.e. messages, contacts, photos and everything else will be deleted permanently.
2. Make sure that you already have iPhone backup of your previous iOS version to which you are downgrading your iOS version to. For instance, you upgraded your device to iOS 11 and now downgrading your iOS version back to iOS 10. In that case, you won't be able to restore an iOS 11 backup to your downgraded iOS 10 version. You must have an iOS 10 backup file with you to enable you to restore data from.
3. Users who have downgraded iOS version of their iDevice have reported that their iDevice has become unresponsive after downgrading iOS to the previous version.
4. However, we at our office also attempted to downgrade an iPhone 8 from iOS 11 to iOS 10 and eventually, we were left with nothing but a phone that wouldn't turn on. Although, this was a very rare occurrence but we must stressfully mention it here to make you aware about every possible risk involved in downgrading your iOS version.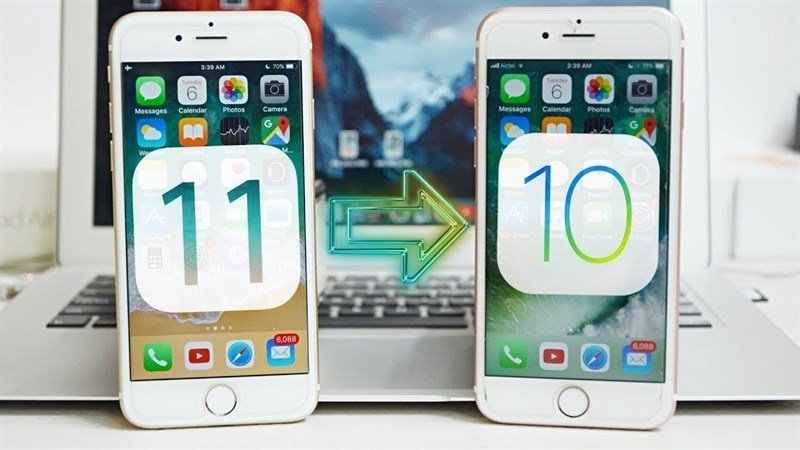 Part 2. Best Software to Recover Lost Data After Undoing iPhone Update
Accidentally lost important data during undoing an update on iPhone X/8/7/7 Plus/SE/6s(Plus)/6(Plus)/5s/5c/5? Don't worry, dr.fone - Data Recovery (iOS) is the best solution to that.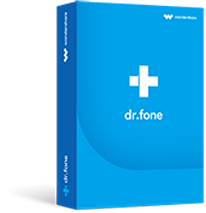 Key Features of dr.fone - Data Recovery (iOS):
Easily extract and restore your iPhone data - This tool lets you connect easily to your iTunes and iCloud accounts so as to extract backups of your iPhone.
Recovery of several file types - This tool works with up to many different file types, ensuring that you get access to your messages, contacts, notes, photos, videos, music and app data if you mistakenly lose them during undoing an iPhone update.
Preview your files - Since the tool can handle several file types, you can preview the files and data in the preview feature, select those that you want to restore and proceed with the restoration. Selective restoration will save you a lot of time, and help you organize your iPhone.
Multiple recovery modes - Recover your apps, data, files and more from your iCloud, iTunes or PC using this tool.

2,965,271 people have downloaded it
Simple steps to recover data via dr.fone
Step 1. Launch dr.fone and connect iPhone to computer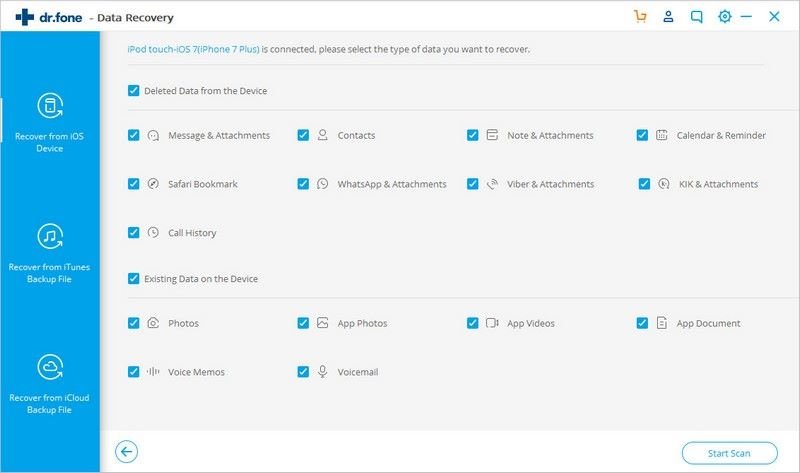 Step 2. Choose recovery method and data types you need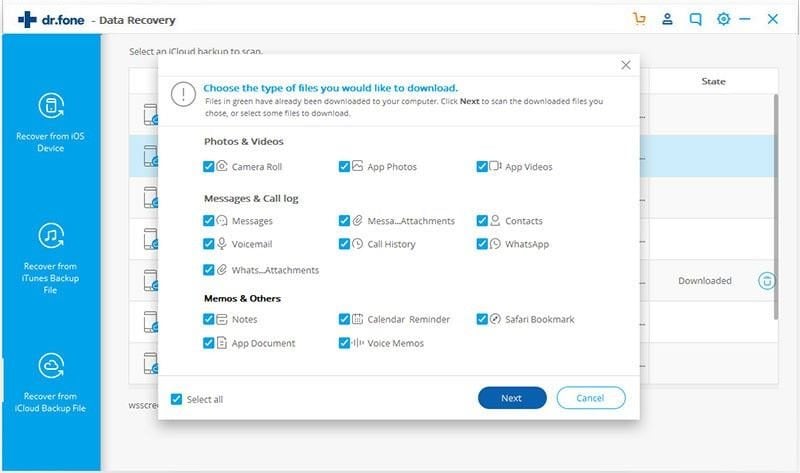 Step 3. Preview the data, choose to recover data to a computer or restore to the device.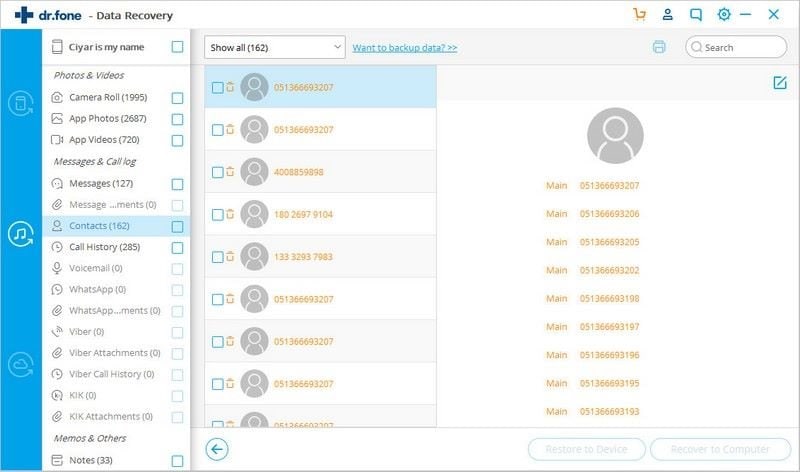 Conclusion
Losing data during the undo iPhone update process could be very common, but now you know how to recover the lost data on iPhone!