In the recent past WhatsApp users used to send texts, media files, and group chatting only. Early this year WhatsApp rolled out its anticipated WhatsApp calling service. This service has made a tremendous change in the fast-growing world. Provided you have the latest version of WhatsApp you will be able to use this service to call your contacts. Is WhatsApp free for video/voice calls? Yes, of course, here we will let you know how to call using WhatsApp.
Part 1. What is WhatsApp Calling Service
WhatsApp calling service is a great feature that enables you to call your friends and family who are using WhatsApp. It allows you to call them regardless of the country, which they are living. Have you seen this service on your WhatsApp? If not, then you need to upgrade your WhatsApp. It supports 2.12.19 versions and above.
As we know it is possible to apply WhatsApp to transfer messages between different mobile devices, its calling service is also across platforms and it works with Android phones, Windows phones, iPhones, and BlackBerry. Although you can make calls using this service, you cannot make emergency calls such as calling 911. Therefore when you want to make calls you need to look for an alternative.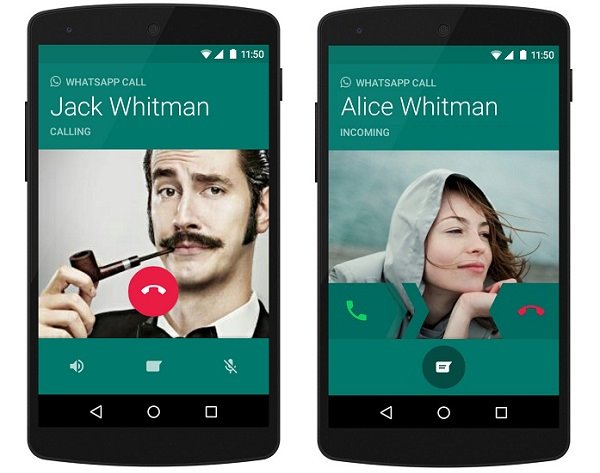 Tips: In speaking of managing WhatsApp messages including mentioned messages transferring, it is equally important to be aware how to backup WhatsApp messages and how to recover WhatsApp messages on your iPhone or Android.
Part 2. Is Calling on WhatsApp Free
Making calls using WhatsApp messaging service is free. We can say it is free because WhatsApp does not charge you. However, when you want to make a call you need to be connected to the Internet be it Wi-Fi or mobile data connection. WhatsApp uses 1.3 MB of data to make a one-hour call. The average consumption is about 780KB per minute. These charges will also apply to the person receiving the call. In most calling services the person who makes the calls is the one who is charged.
WhatsApp calling cost service also varies with Internet networks. That is whether you are using 2G, 3G, or 4G. So when you are using WhatsApp calling be sure that it consumes your data bundles. Something worth mentioning is that for the user who makes calls via Wi-Fi is absolutely free. So one thing for free that you should learn is that when you want to make international calls makeover data connections rather than mobile connections since you will incur a lot of costs.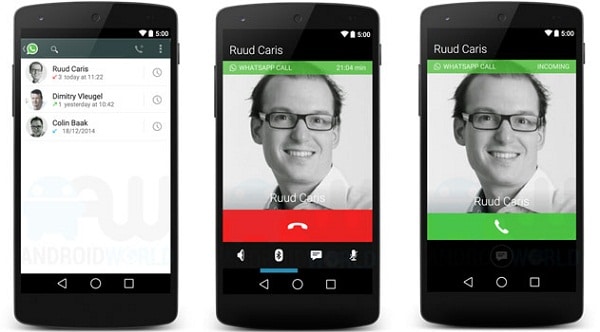 Part 3. How to Make A Call on WhatsApp (Video/Voice Call) (Free)
1. For iPhone
You can also place calls on your iPhone provided you have the latest WhatsApp calling service on your precious iPhone. Ensure that you have data on your iPhone ad enable the mobile data connection. If you are using WI-FI connect you it too. Now follow these simple steps.
Open your WhatsApp on your iPhone. Click on chats at the bottom of your screen.
Select the contact you want to call from your contacts or favorites by tapping.
Now tap on the Call icon to begin making the voice call.
Alternatively, you can select the contact from Contacts. On this option, you will see the dial pad on the top right of the screen click on it to begin making the call.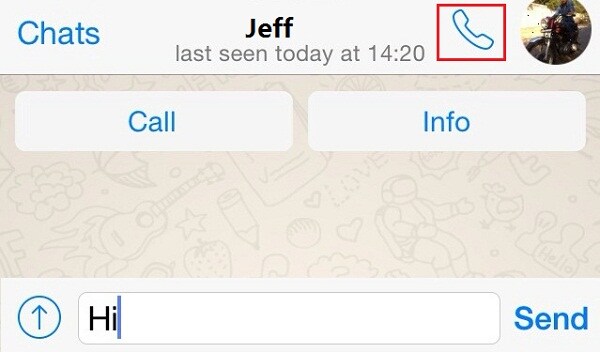 ---
2. For Android
Make calling on Android WhatsApp calling service is as easy as pie. Before you make calls ensure that the person you want to call has the latest WhatsApp version that has the calling service. Also check that you have mobile data bundles, if you are using Wi-Fi then connect your smartphone to Wi-Fi. From there you can get a quick guide on how to make calls using your Android phone.
Open WhatsApp on your Android phone. You can also go to Contacts to get all your contacts the search or scroll for the contact.
Open chats and select the person you want to call.
Touch the dial pad and it will ring the person.
When you contact receives it will display contacted and you will now be able to communicate.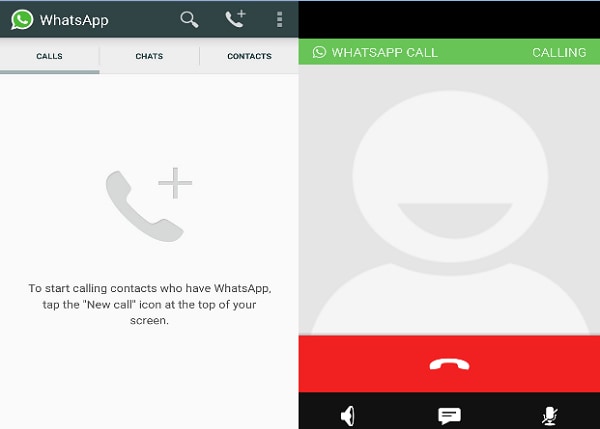 Conclusion
This article outlined the WhatsApp calling service with three main parts. Generally, having a good knowledge of WhatsApp calling is a premise for a better application. Hope you benefit from this guide on how to call using WhatsApp.