WhatsApp has excellent features to stay in touch with your friends and family with unlimited messages or sharing videos for free. It is easy and simple to use User Interface from any location. You just need to have an internet connection to send SMS or Group Chat without any charges. Using WhatsApp is very easy and all the contacts get synced automatically when you install WhatsApp. You could even invite your friends from the contact WhatsApp contact list. You could also find out who is using WhatsApp from it.
Part 1. Basic Steps for Adding Contacts on WhatsApp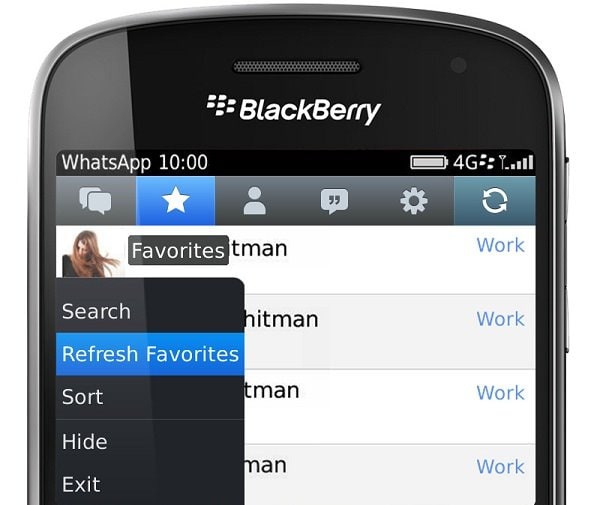 Scenario 1.
If you want to add new contacts in your WhatsApp you just have to enter the number and name of the particular contact in your phone book address. After that go to your WhatsApp contact list and refresh it.
For your clarity follow these steps: Open WhatsApp > Go to the Contacts tab > Menu Button > Refresh.
Scenario 2.
If any of your friends or acquaintance contact is not saved in your contact list and they send you a message, you just have to save them in your contacts list by clicking "Add to Contacts" tab in your WhatsApp.
In case you have any international contacts then enter the particular number in its international format only. Follow this format: + [Country Code] [Phone Number]. Remember not to include any initial 0's from the phone number.
Part 2. The Steps for Adding a Contact to WhatsApp on iPhone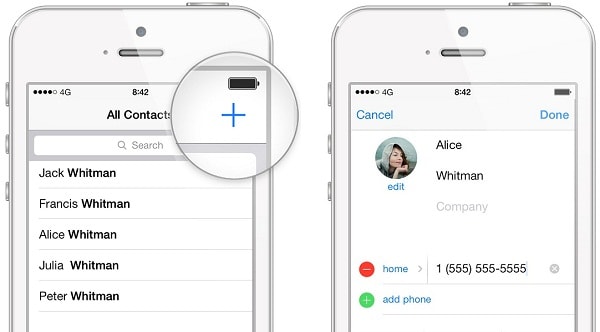 Scenario 1.
Normally, WhatsApp gets synced with the contact list. If you want to add to contacts in your iPhone just follow these steps: Open WhatsApp > Settings > Privacy > Contacts.
Scenario 2.
OR In case the contact already exists your phone book address then: Open WhatsApp> Tap Favorites at the bottom > Scroll to the top of the list > pull down the list to refresh the Favorites.
This action would recover those contacts which were deleted in the WhatsApp contacts/favorites.
Scenario 3.
We could even add a contact manually: Go to WhatsApp > Contacts > Tap the (+) button > Enter the name & number and click "Done". You could even receive a vCard through message and add the contact by clicking on it & tapping "Add to Contacts".
Part 3. The Steps for Adding Contacts to WhatsApp on Android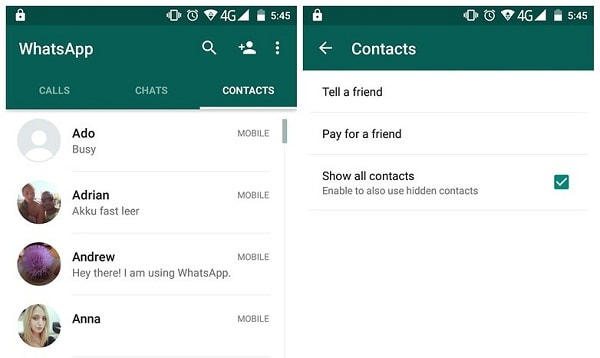 Scenario 1.
You have to follow the same steps like adding contact in your phone book address and refresh the contact list in your WhatsApp: Open WhatsApp > Go to the Contacts tab > Menu Button >Tap Refresh.
Scenario 2.
If a contact or friend is not displayed in the WhatsApp contact list then find out whether your friend is using WhatsApp or not.
Check whether the contact number is present in the phone book.
In case the phone number is an international number save it in the specified international format.
Update the latest version of WhatsApp from Google Play Store.
Allow WhatsApp to access your contacts by changing the device settings.
In your phone's address book, make sure that all contact accounts (i.e. SIM, Google, Phone) are set to "visible" or "viewable".
You could choose to display all the contacts by going to Menu Button> Settings > Contacts> Show All Contacts.
Part 4. WhatsApp Displays No Contacts? Fix it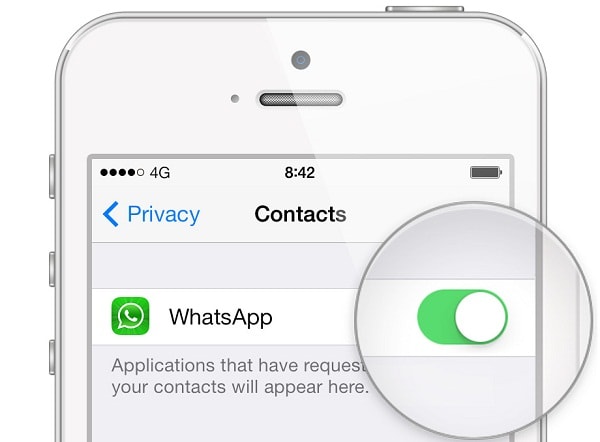 It is necessary to allow access to WhatsApp in your phone. If you had denied access to your phone's contacts while downloading WhatsApp, then you can change the settings to enable the access by following these steps in your iPhone's Settings: Go to iPhone Settings > Privacy > Tap Contacts> Tap "ON" to activate WhatsApp contacts.
It is a rare case when WhatsApp does not display as active or appears grey in privacy settings. Some users may face this kind of issue. Just make sure that there are no restrictions set in your iPhone. So, just go to iPhone Settings> Tap General and then tap "Restrictions".
WhatsApp is used by millions of users from all around the world. It is the most preferred app due to its outstanding features like unlimited messaging, sharing locations, videos, audio clips, Group chats or broadcasting messages. You could even block/unblock someone from messaging you in the future.