Aren't you bored of your static iPhone wallpaper? Of course after a certain period of owning an iPhone, you need a change and have an attractive iPhone wallpaper. You can manually change the wallpaper, but why on earth take that pain, when there are plenty of iPhone wallpaper Apps capable of doing the same automatically. These wallpaper Apps keep on changing beautiful wallpapers on your iPhone and breaking the monotony. Vibrant pictures are a visual pleasure and they instantly lift your mood.
From the long list of wallpapers Apps for iPhones, we have picked 10 best wallpaper Apps that would bring more colors to your iPhone screen. There are a varied range of wallpapers available for smartphones. The basic categories of wallpaper Apps are – background wallpaper Apps, lock screen wallpaper Apps, and live wallpaper Apps etc.
Part 1: Best iPhone Background Wallpaper Apps
1. Wallpaper List
This App contains Retina HD wallpapers and backgrounds for your iPhone. Isn't it great to have a single app that has wallpapers and background images as well? You don't have to pay anything for this App. See the main features of this app below.
The wallpapers get auto-resized according to your iOS device's screen size.
It can bookmark your favorite wallpapers.
The wallpapers, themes, and backgrounds get updated daily.
This App is free to download from iTunes.
Almost every genre of photographs you can find here and you can download those wallpapers to your iPhone camera roll and zoom them.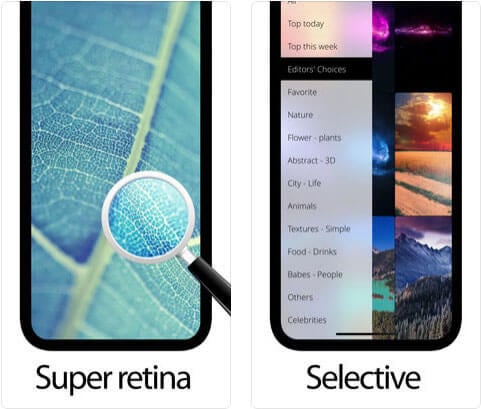 2. Wallpaper & Background Blur Color Status Bar HD
This amazing App is also known as Wallpaper Makers and the best part about this App is it allows you to custom make your own iPhone Lock Screen wallpaper or Home Screen. You don't have to pay a single penny for this. The cool features of this DIY App maker are:
You can blur your wallpapers and quickly preview them.
Plenty of new HD wallpapers get updated time to time.
You can have cartoons, nature, abstracts and plenty of other categories of pictures as wallpapers.
It supports all iOS devices.
To make your wallpapers cool and awesome, you can add icon bars or skins, and shelves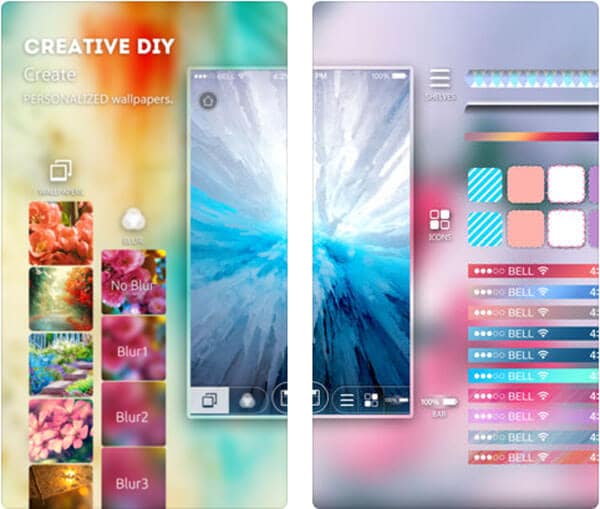 3. Vellum Wallpapers
With Vellum, you no longer have to see a dull day while browsing through your iPhone wallpapers. There are numbers of breathtaking images within the App, which you can set as your iPhone's wallpaper to transform the look 365 days. There is a new wallpaper for your iPhone everyday, as new packs get introduced regularly.
Powerful Built-in-Blurring allows you to create a blurred background with the wallpaper. You can even use gradient tools for prettier Home Screens.
Every day you have a brand new wallpaper for your iPhone. The wallpaper lasts for that day only and you can get the old wallpapers with Cellum Premium subscription.
Highly attractive and brilliant images to adorn your iPhone's wallpaper adhering to utmost picture quality and display.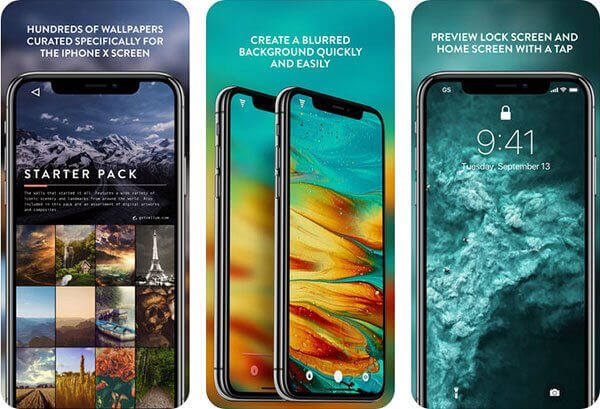 4. X Wallpaper – 4K for You
This iPhone Wallpaper App downloads HD wallpaper in high quality. It supports wallpaper designing for all iOS devices. It also optimizes the UI design for selected iOS devices.
You can design wallpapers for iOS devices of all resolutions.
You can save the wallpapers into your iPhone.
There are more than 10 categories of themes.
You can subscribe to the wallpapers, which are updated on a weekly basis.
It supports sorting of wallpapers depending on upload time or hits.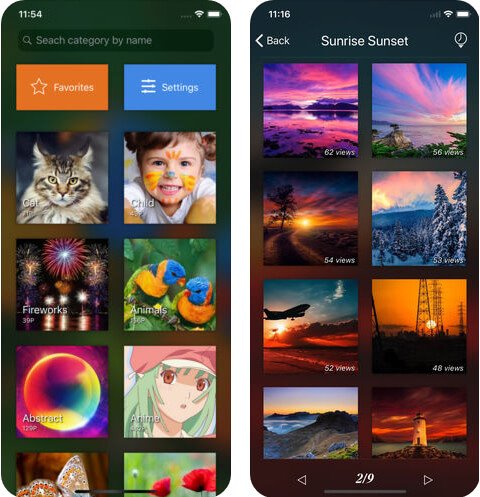 Part 2: Best iPhone Lock Screen Wallpaper Apps
Lock Screen Wallpaper Apps are pretty much in demand, as they showcase vibrant pictures on your iPhone screen even when it is locked. When you touch the iPhone screen, a beautiful lock screen wallpaper welcomes your bored eyes. Here are few of the iPhone Lock Screen Wallpaper Apps.
1. FancyLock Screen
FancyLock from Mobile Bros is a free lock screen wallpaper App for iPhone. You can have more features and themes, live and static wallpapers with a premium subscription.
You can customize your iPhone's lock screen with amazing wallpapers by using this App.
You can access designer themes and artworks to personalize your lock screen and turn eyes.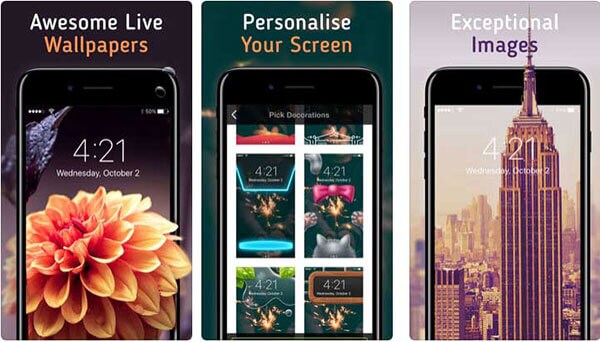 2. WLPPR
Are you fond of the wonders of the world, beaches, oceans, forests and the likes, to get captured in your iPhone and saved as wallpapers? Worry not! WLPPR is an amazing App that collates breathtaking satellite images around us, which you can download and set as your iPhone lock screen or home screen wallpaper. Every week the list grows up, bringing fresh pictures of the world around.
You can get relevant information about each picture along with the original scientific source's link.
The images get updated regularly with new collection.
You can share the images through social media (Facebook, Twitter) with your friends.
You can blur the wallpaper in the App itself to create wonderful lock screens.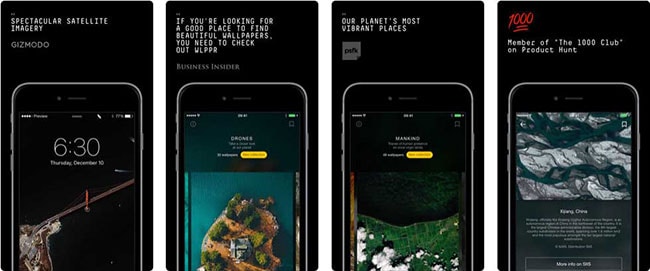 3. Lock Screen Wallpapers for Me
Developed by Apalon Apps, Lock Screen Wallpapers for Me comes with trendy and cool themes and wallpapers for your iPhone. You can even make use of stylish overlays, frames, and calendars when your iPhone screen is locked. Here come the features of this iPhone lock screen wallpaper App.
Your photos can be turned into beautiful lock screen themes.
Brilliant HD quality backgrounds for your iPhone.
Lock Screen frames can be set up at the top and bottom of the screen.
Customized lock screen calendars without changing your iPhone settings.
Attractive overlays for the iPhone screen's display area.
Makes sure to keep the perspective zoom turned off while setting the newly created design as your iPhone lock screen wallpaper. You need to allow the App to access your photos, camera, and notifications to stay updated.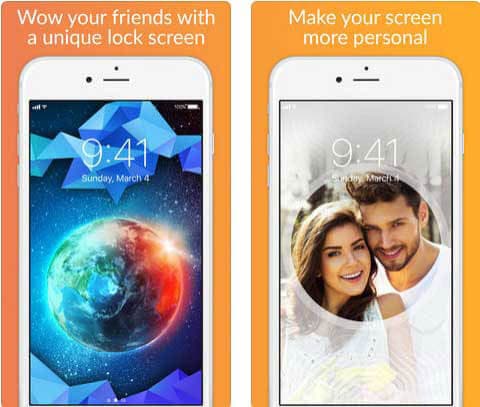 Part 3: Best iPhone Live Wallpaper Apps
Live wallpaper Apps changes the wallpaper on your iPhone at a regular interval, thus letting you see a new wallpaper when you unlock the screen.
1. Live Wallpapers for Me
Wishing for cosmic explosions, brilliant animations, time-lapse sceneries, and abstract dynamic patterns showing up on your iPhone screen? This wonderful app is going to be your Santa! Dynamic themes, animations and a lot more to light up your mood and amaze everyone around you. To set these live wallpapers, you have to select amazing live wallpapers and save them, set them as your iPhone lock screen wallpaper, and lock your screen. That's it! Ensure that Low Power Mode is off, access to photos and notifications are turned on for better results.
You can access live backgrounds as your lock screen.
High-quality animations.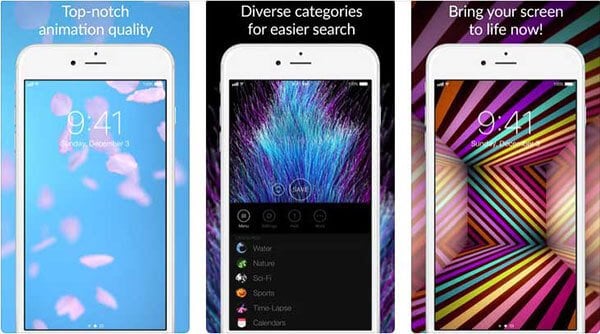 2. Live – Dynamic Wallpapers for Lock Screen
This awesome App offers live 3D touch-enabled dynamic iPhone wallpapers. Add life to your lock screen with such custom live wallpapers. The wallpapers respond to 3D touch and animate, which is a pleasure for the eyes. The basic features of this iPhone wallpaper app are:
It allows you to explore and select live photo wallpapers.
You can visualize the animated backgrounds as a slide show.
You can save and use the wallpapers as Live Photo wallpapers for your iPhone lock screen.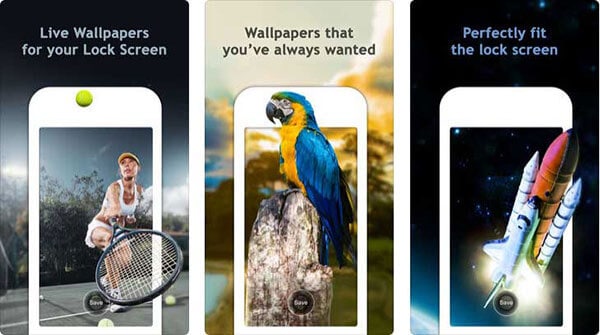 3. Magic Screen Customize your Lock & Home Wallpaper
Let your iPhone be your show reel to capture your creative stint and set it as your live lock screen wallpaper through this app. You have the freedom to use pictures, texts, stickers, calendar themes and much more to customize your own Live Wallpaper.
Play with more than 150 fonts in various colours, tones, gradient, shadow effects, and outlines.
Step-by-step easy process with intuitive and easy User Interface to use more than 35 magic wallpapers along with magical frames and collages.
More than 1000 emojis, collage layout with backgrounds, accessories, and filters 100 plus shapes for clipping masks, outline colors, and shadow effects with colors for photos .
You can import or export picture to ad from your computer using Wi-Fi.
You can turn photos, videos, and gif into Live Photo.
20 calendar templates with plenty of custom designs which can be customizable according to day, date, month, and year.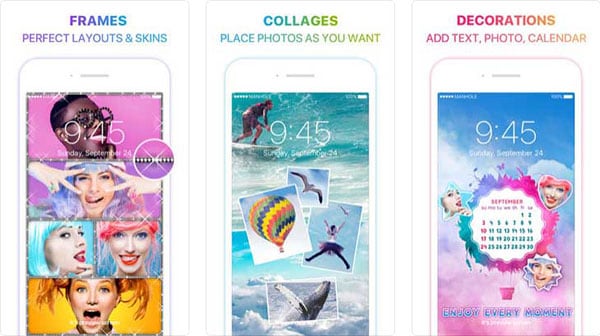 Part 4: How to Change Wallpaper on iPhone
To set or change the wallpaper on your iPhone, you need to follow a step-by-step simple process
Step 1: Make sure to 'Turn Off' the 'Low Power Mode'.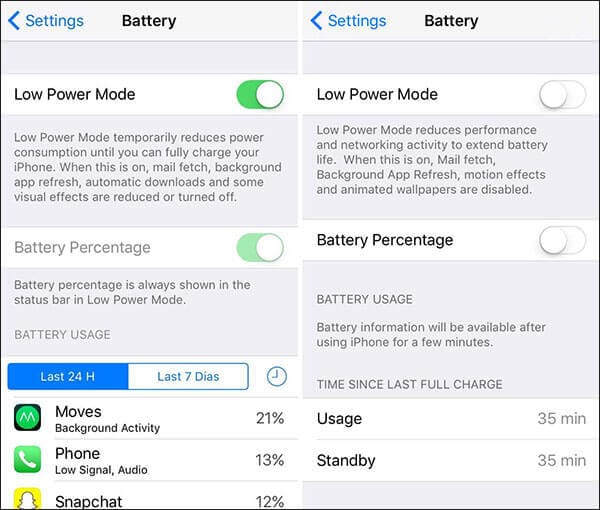 Step 2: Save a wallpaper on your iPhone from the App. Go to 'Settings' and then 'Wallpaper'.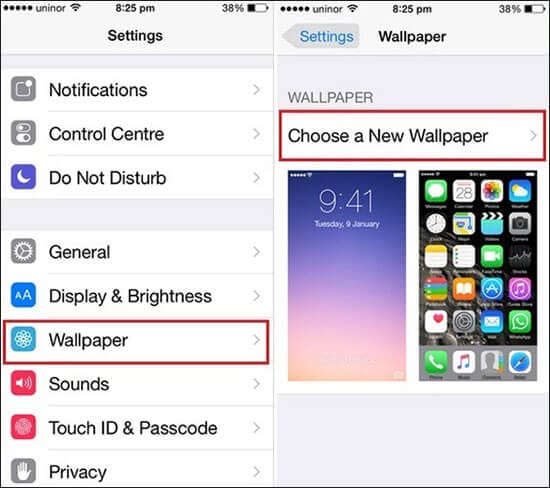 Step 3: Select the wallpaper you have saved. Next, 3D Touch your lock screen and you are good to go.