iPhone is considered the most popular mobile phones all over the world. These days many people are talking about iPhone 13 and its features. iPhone 13 model is almost the same in design as the iPhone 12 model, but there are some slight differences in weight and thickness. Furthermore, there are also few changes in size and display. In this article, we will let you know complete details about iPhone 13 design and other changes.
Part 1. iPhone 13 vs iPhone 12: Design and Display
The iPhone 13 and iPhone 13 Pro Max are smartphones designed and sold by Apple. They are one of the 15th generation iPhone series smartphones and the successor models of the iPhone 12 and iPhone 12 Pro Max. iPhone is the latest mobile by Apple and it has many good features. The following are some main points to consider in this regard.
Size
Size matters when we talk about a mobile phone and the size of iPhone 13 is different than the size of iPhone 12. According to previous reports, the only obvious difference is that the thickness of the iPhone 13 will be relatively large. iPhone 13 and iPhone 12 use the same flat bezel, which has not changed much. Whether it is the side power button, volume button and mute button, all move down about 6.2mm slightly, and it will be easier for users with shorter fingers to press. However, in terms of appearance design, this time the iPhone 13 series finally has some changes.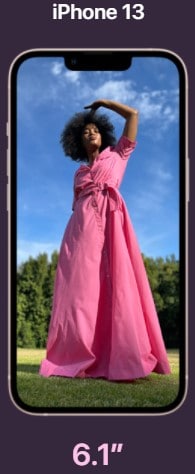 Color
Mobile phone color is the basic component that we should keep in mind before buying a mobile phone. The iPhone 13 has five colors to choose: "Black, Blue, Pink, White and Red (RED PRODUCT) ". Most ladies prefer pink color and gents prefer black color. As a user, you can choose any color according to your specific needs and requirements.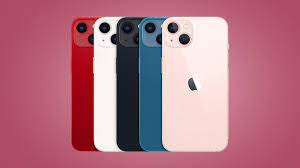 Display
Display is a major component of any mobile phone and all Apple devices have an attractive and reliable display. iPhone 13 owns a Super Retina XDR OLED screen, the screen uses a 120Hz high-brush screen, mainly with low-power LTPO panel technology, which can make the screen smoother and more power-saving and allow for fast frame rates when users need for videos, movies, games, etc. The iPhone 13 display has rounded corners that follow a beautiful curved design, and these corners are within a standard rectangle. When measured as a standard rectangular shape, the screen is 6.06 inches diagonally.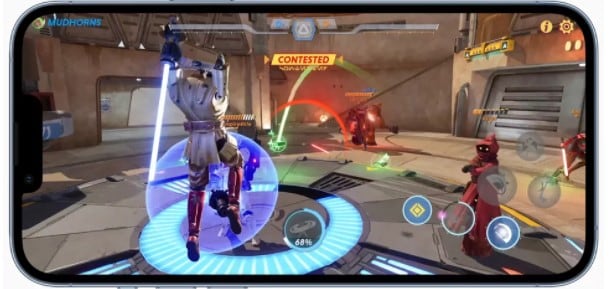 | | | |
| --- | --- | --- |
| | iPhone 12 | iPhone 13 |
| Display size, resolution | 5.4-inch OLED; 2,340x1,080 pixels | 6.1-inch OLED; 2,532x1,170 pixels |
| Pixel density | 476ppi | 460ppi |
| Dimensions (inches) | 5.18x2.53x0.29 in | 5.78x2.82x0.3 in |
| Dimensions (millimeters) | 131.5x64.2x7.4mm | 147x72x7.65mm |
| Weight (ounces, grams) | 4.76 oz; 135g | 6.14 oz; 174g |
| Mobile software | iOS 14 | iOS 15 |
| Camera | 12-megapixel (wide), 12-megapixel (ultrawide) | 12-megapixel (wide), 12-megapixel (ultrawide) |
| Front-facing camera | 12-megapixel | 12-megapixel |
| Video capture | 4K | HDR video recording with Dolby Vision up to 4K at 60 fps |
| Processor | Apple A14 Bionic | Apple A15 Bionic |
| Storage | 64GB, 128GB, 256GB | 128GB, 256GB, 512GB |
| RAM | Undisclosed | Undisclosed |
| Battery | Undisclosed; Apple lists 15 hours of video playback | Undisclosed; Apple lists 19 hours of video playback |
| Fingerprint sensor | No (Face ID) | No (Face ID) |
| Connector | Lightning | Lightning |
| Headphone jack | No | No |
| Special features | 5G enabled; MagSafe; water-resistant (IP68); wireless charging; dual-SIM capabilities (nano-SIM and e-SIM) | 5G enabled; MagSafe; water-resistant (IP68); wireless charging; dual-SIM capabilities (nano-SIM and e-SIM) |
| Price off-contract (USD) | $729 (64GB), $779 (128GB), $879 (256GB) | $829 (128GB), $929 (256GB), $1,129 (512GB) |
| Price (GBP) | £699 (64GB), £749 (128GB), £849 (256GB) | £779 (128GB), £879 (256GB), £1,079 (512GB) |
| Price (AUD) | AU$1,199 (64GB), AU$1,279 (128GB), AU$1,449 (256GB) | AU$1,349 (128GB), AU$1,519 (256GB), AU$1,869 (512GB) |
Part 2. iPhone 13 vs iPhone 12: Upgrade of Face ID
The function of unlocking the phone by face greatly improves the security of the phone. It is also very fast and convenient to directly use the face to unlock the phone. How many people can be set for iPhone13 face recognition? How to use this feature? IPhone13 supports up to 2 different faces in the same phone. If you enter your own face and your partner's face, you and your partner can unlock it. It is very easy to use and manage this security feature. Click to enter the Settings option of iPhone, find and click to enter Face ID and Password. Now enter the lock screen password. After entering the face ID and password page, you can see the alternate appearance, click it. Enter the face you want to enter according to the prompts, and you can use the newly entered face to unlock it. On a small iPhone, security has become Apple's primary issue. IPhone 13 has very strong security features and there is a very strong security feature that is Face ID. Furthermore, Apple is already testing a Face ID accessory that can be unlocked using Face ID facial recognition while wearing a mask and apple will allow iPhone to support direct unlocking with a mask.
Part 3. iPhone 13 vs iPhone 12: Better Camera
Being a phone user, we always try to buy a mobile with good features including quality display, design and camera. The iPhone 13 camera is equipped with Dolby Vision HDR recording function, support up to 60 fps 4K shooting; battery life has been greatly increased, up to 2.5 hours higher than the iPhone 12, while the iPhone 13 mini is up to 1.5 hours higher than the 12 mini. The new "Photographic Styles" function (Photographic Styles) makes the "Camera" app more personal; and the "Cinematic Mode" mode brings depth-of-field transition effects, which can record people, pets, or objects in an accurate way.
It has the following notable features:
Larger photosensitive element
Ultra-wide-angle lenses for the best results
Telephoto lens improvements
Photo post-production filter system
Portrait mode supports video recording
Night shooting starry sky mode
Image stabilization correction mode
iPhone 13 supports dynamic portrait recording for using the iPhone's depth sensor for real-time scanning, allowing post-production adjustment of the background blur for the captured video. As the iPhone 13 lens brings major improvements, it will also support the galaxy or starry sky shooting mode. As a professional, you can use iPhone 13 to take pictures and to make videos. iPhone 13 can provide you the best quality videos and pictures and therefore people prefer Apple phones and devices.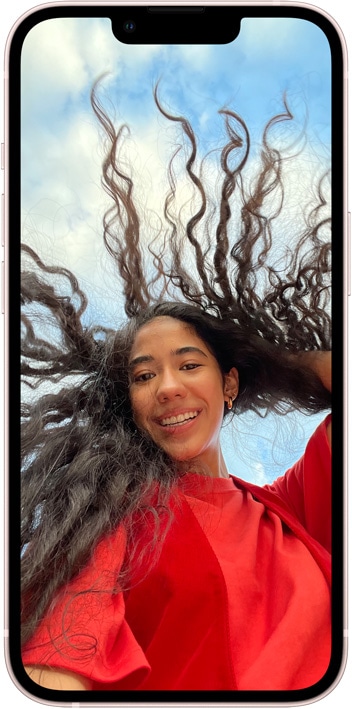 Part 4. Transfer Data from iPhone 12 to iPhone 13
Everybody is using mobile phones now and the phone market increasingly encourages users to switch between different platforms. An obvious example is those who decide to leave Android and switch to iOS, and vice versa. Furthermore, if you want to transfer data from iPhone 12 to iPhone 13 then you can use any good quality data transfer tool for this purpose. For example, you can use dr.fone - Phone Transfer to transfer data from iPhone 12 to iPhone 13 without data loss.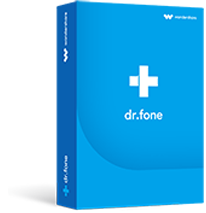 Switch Data from your iPhone 12 to iPhone 13 in one-click
The application allows you to practice cross-platform data transfer, which is meant by data transfer from iPhone/Android to a new iPhone/Anroid.
You can carry out large amounts of data transfer, which can constitute any kind of media files.
A huge set of data can be transferred across the platform that can include all forms of media and applications.
It is a platform that works perfectly across every existing smartphone and tablet.
Compatible with the latest versions of Android OS, iOS, and desktop operating systems, including Windows and macOS.
A safe and risk-free platform with no data losses recorded.
The platform supports a cross-platform transmission of data under a single click.
3,995,670
people have downloaded it
We shall follow the given steps to transfer data from iPhone 12 to 13 successfully.
Step 1.

Download and install Dr.Fone on your pc, then choose Phone Transfer.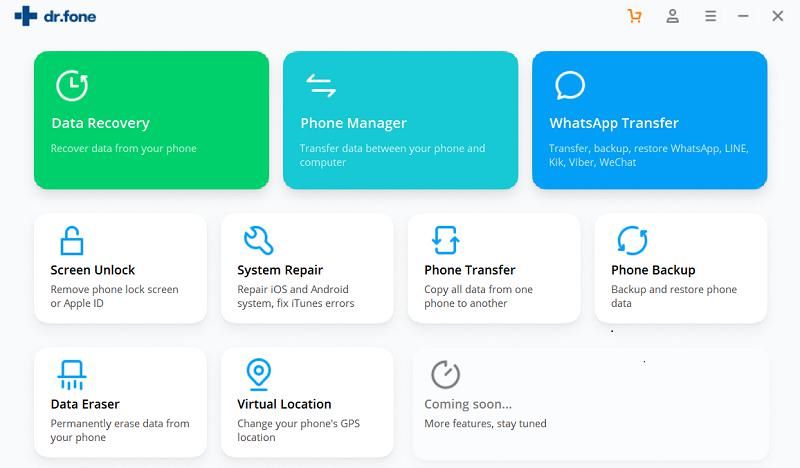 Step 2.

Connect the two target phones and select data that you want to transfer.

When you connect both devices to your pc and start the process, dr.fone will show you all the data from the source file including images, videos, audios, and text messages, etc. Choose your required data files and click start transfer.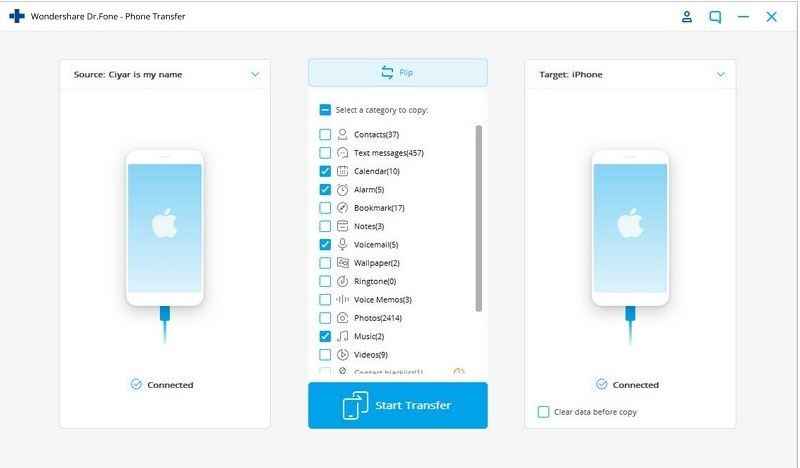 Step 3.

Wait for the data transfer process finishes.

Wait patiently for the data transferred from iPhone 12 to 13 completely, then you will see a pop-up appear on the below screen.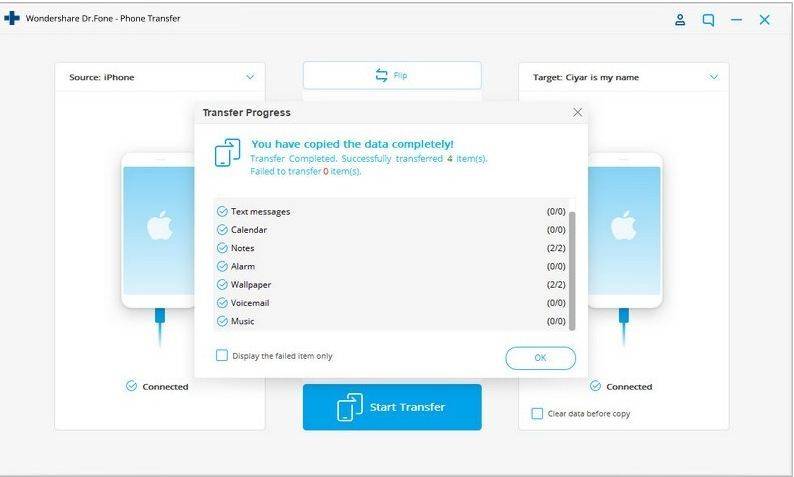 Conclusion
We can say that Dr.Fone – Phone Transfer is a very helpful tool for many users in the world. Therefore, if you are going from iPhone 12 to iPhone 13 or Android to iOS and vice versa, this app can always make this process easier.