Released on 8th June, 2015, iOS 9 comes up with subtle design changes, improved functionality, refined features and performance enhancements. It also includes a Wallet app with store, an updated Notes app, a new News app, transit directions in Maps and loyalty cards, and an optimized battery backup. Proactivity and intelligence are the main concerns of Apple to make iOS devices learn the user habits and act on that accordingly. If you are worried about how to update iPhone 4 to iOS 9, then you have reached a perfect place. Today in this post, we're discussing on how to how to update iPhone 4S to iOS 9 via 2 simple ways.
Part 1: 4 Things you Need to Know Before Updating iPhone 4/4S to iOS 9
1. Fully Backup iPhone 4/4s Before Updating
If you want to update iPhone 4s to iOS 9, then prior to do so first ensure that you have made a complete backup of your iOS device. If not yet, you would require the recommended tool, dr.fone - iOS Data Backup & Restore to perform a full backup of your iPhone in just a few simple clicks. dr.fone is a trusted and 100% safe to use software that guarantees your data will be absolutely safe and secure with its Privacy Protection Policy. The software enables you to either selectively or completely backup your iOS device data depending on your requirement. Let's now have a detailed look at the key features of this powerful tool.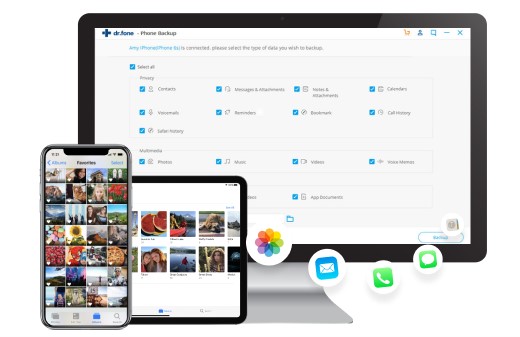 Offers another privilege to preview the data prior to performing a restore or backup operation.
Unlike iTunes, it enables you to selectively restore or backup your data easily.
It support more than 20 widely used file formats including messages, contacts, videos, photos, WhatsApp data and more.
Compatibility is not a issue with dr.fone – iOS Data Backup & Restore as it is available for both Windows and Mac OS computers.
It supports almost all iOS devices and also, fully supports the latest iOS 11 version.
2. Check Compatibility Of Your Device
Another thing you need to know when you are dealing with how to update iPhone 4/4s to iOS 9 hassle-free is the compatibility of your iOS device. iOS 9 is currently available for iPhone 4s and models which came afterwards. You can also upgrade it for iPad Air 2 and iPad mini 2 and 3 efficiently. So, if you have an Apple device which is not compatible, you should stop then and there from making an upgrade as it may harm your device. Plus, you should check and then upgrade your iOS device to the new OS version to avoid problems later on.
3. Sufficient Space To Install Update
When you download and install the new firmware on your device, you are notified of the need for free space. Ample of space may be required to install the upgraded version of operating system. iOS 9 requires storage space of about 1.3 GB on your iPhone. Free up some disk space on your iPhone by either deleting your media files or by storing them at another location. You can restore the data back post the upgradation process.
4. Update Apps before iOS 9 Update
Update apps and games to the latest version before upgrading iOS 9 as you might not be able to open, delete or update the apps after the iOS upgrade. It may also cause apps crashing and freezing. Hence, it is recommended to know how to update iPhone 4/4s to iOS 9 prior to rolling out the process. Keeping in mind the above mentioned necessary tips, you can easily update iPhone 4s to iOS 9 without troubling yourself in future.
Part 2: 2 Ways to Update iPhone 4/4S to iOS 9
1) Update Over The Air (OTA)
The wireless delivery of new software or data to mobile phones and tablets is known as over the air update. If you want to upgrade the underlying operating system, OTA updates are just meant for you. As the name suggests, you get your updates from wireless carriers, not via USB or other connectivity methods. Over the air technology is basically used to administer Software Updates, configuration settings, etc directly to your portable devices like Smart phones and tablets. For an over the air (OTA) updates, you should follow these steps.
Step 1: Head straight to the 'Settings' of your iOS device first.
Step 2: Next, scroll the settings menu down and get into the 'General' section.
Step 3: Lastly, push the 'Software Update' tab and then the device will automatically check for the latest firmware update available for your iOS device.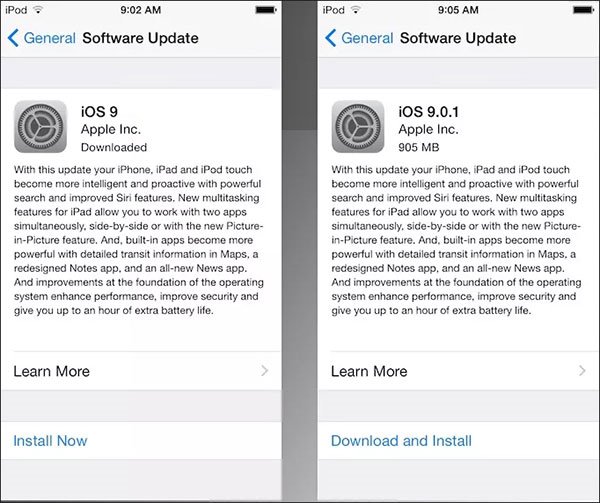 2) With iTunes
When you think about how to update iPhone 4/4s to iOS 9 safely, then the first thing that comes in your mind would be iTunes. Being the default iOS data management software, it is designed in a very simple way, making it easier to navigate between sections. You need to follow these steps to update iPhone 4s to iOS 9 easily.
Step 1: Make sure that you have the latest version of iTunes installed on both your computer and your iPhone.
Step 2: Now, plug in your iOS device into your computer with the help of a lightning cable supplied with it.
Step 3: Next, launch the iTunes on your computer and it will detect your iPhone automatically. Now, select your iOS device. And get into the "Summary" section.
Step 4: Hit on the 'Check for Updates' button and iTunes will look for the latest firmware update for your iOS device.

Step 5: Lastly, it will throw a pop up on your screen if the latest firmware is available for your iOS device. Hit on the "Download and Update" button to initiate the update process.