Thanks to the iPhone (iPhone 7) we live in a truly connected world where in we have a device in our pocket that allows us to make phone calls, take pictures and access the internet. But with as with any technology there are going to be glitches that arise and that make it more difficult for you when it comes to you using your device. One of the most common problems has to do with iPhone contacts not syncing. If you have an iCloud account then it's easy to sync your personal information between multiple devices including your iPhone, iPad and Mac but occasionally issues come up that interfere with this sync, this article will look at ten of the most common errors when it comes to contacts not syncing on the iPhone as well as how to solve them.
Part 1: Fix the Problem of iPhone Contacts Not Syncing
• Contacts don't automatically sync on iPhone
In order for your contacts to automatically sync between devices they all need to be connected to the same iCloud account. To activate this option on your iPhone (iPhone 7) go to "Settings > iCloud" and make sure that "Contacts" is checked.
• iCloud is setup correctly but contacts still don't automaticall sync
If you have your iCloud setup correctly and your contacts still don't seem to sync it could simply be an issue of having the most up to date iOS. Check for updates by going to "Settings > General > Software" update and making sure that your iPhone (and all other devices) are running the most recent iOS.
• Contacts seem to disappear after an iOS update
Sometimes after an iOS update you might check your contacts and be shocked to see more than half of them missing. Don't panic, instead go to "Contacts > Groups" and make sure that "All iCloud" is selected in order to make sure that all of your contacts display correctly.
• Contacts on iPhone don't reflect recent changes on other device
If you've made a change to your contacts on one device and they still haven't updated on your iPhone first make sure that you have a proper internet connection, the contacts can't sync unless both devices are connected to the internet. Second, force a refresh by going into "Contacts" on your iPhone and dragging down with your finger from the top of the screen, this will automatically refresh your contacts to reflect any recent changes.
• Repeat or duplicate contacts after a sync
In order to remove any repeat or duplicate contacts from your phone you have two options. Number one, go through the phone manually deleting the duplicates. Number two, if you're on a Mac then you can open the Contacts app, select "Card > Look" for Duplicates and the app will automatically find the duplicates in your list.
• Google contacts won't sync
In order to sync up your Gmail and other Google contacts on your iPhone go to "Settings > Mail, Contacts, Calendars > Add Account" select "Google" and fill out the necessary information.
• Outlook contacts won't sync
In order to sync up your Gmail and other Google contacts on your iPhone go to "Settings > Mail, Contacts, Calendars > Add Account" select "Outlook" and fill out the necessary information.
• Can't erase contacts across multiple devices
Unfortunately to erase your contacts across multiple devices you have to go and erase them in each one individually. For your iPhone go into "Settings > Mail, Contacts, Calendars > iCloud" and turn off the "Contacts" button, then select "Delete from my iPhone".
• New phone and want to restore contacts from a previous backup
As with erasing contacts restoring them from a backup is a little bit complicated. The truth is that if you want to restore a previous version of your contacts from a specific backup then you need to restore your entire iPhone using the iTunes restore process.
• Sync select contacts
To sync a select group of contacts you need to first create anew group through the desktop Contacts app. Once you have done this on your iPhone go into "Contacts>Groups" and check only the groups that you want to sync.
Part 2: How to Sync iPhone Contacts without Hassle
While all of the above problems are real hassle, especially when you have to address them over and over again. So if you want a one stop solution for all iPhone (iPhone 7) sync issues, the number one choice dr.fone - Phone Transfer (iOS&Android). This great program is available on Mac and PC and takes all of the headache when it comes to synchronizing not only your contacts but your Music, Photos, Messages and more. It seamlessly transfers your data between iPhones, Androids and other smartphone and tablet devices.
Steps to Sync iPhone Contacts to Other Phones
dr.fone - Phone Transfer (iOS&Android) is super easy to use. If you want to transfer your data from one phone to another, just follow the below simple guide to do so.
Step 1. Run dr.fone
Download the Phone Transfer software, install it on your machine and launch the program.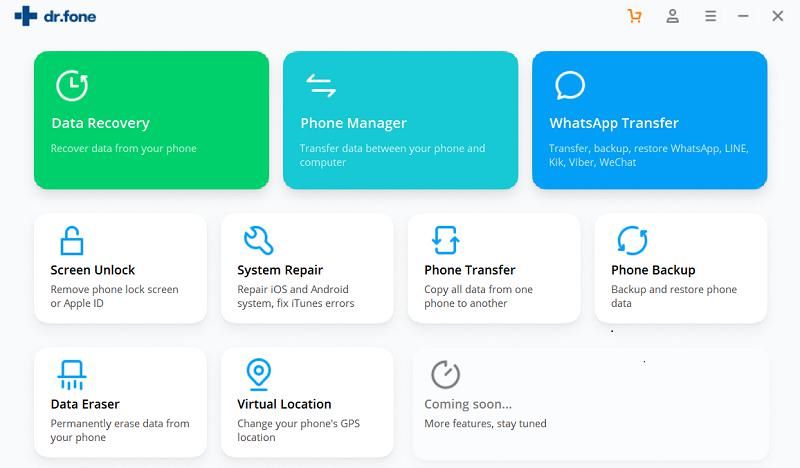 Step 2. Connect Phones to Computer
Connect both your devices using USB cables. Note, you may have to authorize access to the devices in order to continue. Then click "Switch" mode in order to sync contacts from iPhone to other phones.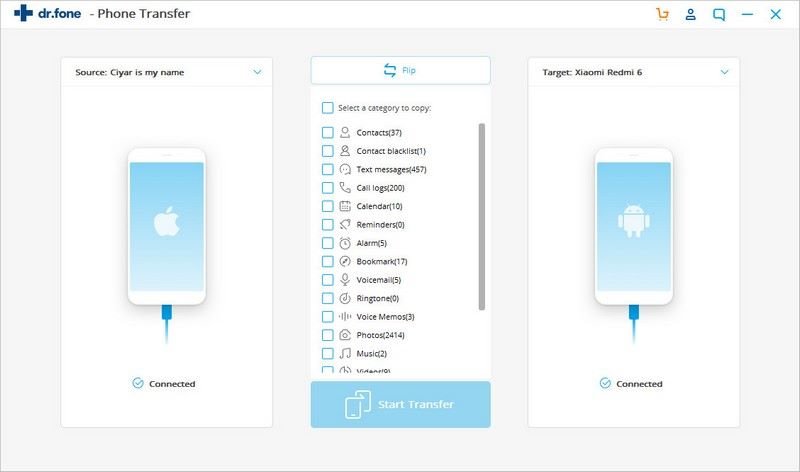 Step 3. Start Syncing iPhone Contacts
Check the contacts files you want to transfer and select "Start Transfer". The program will start transferring your iPhone contacts to other phone.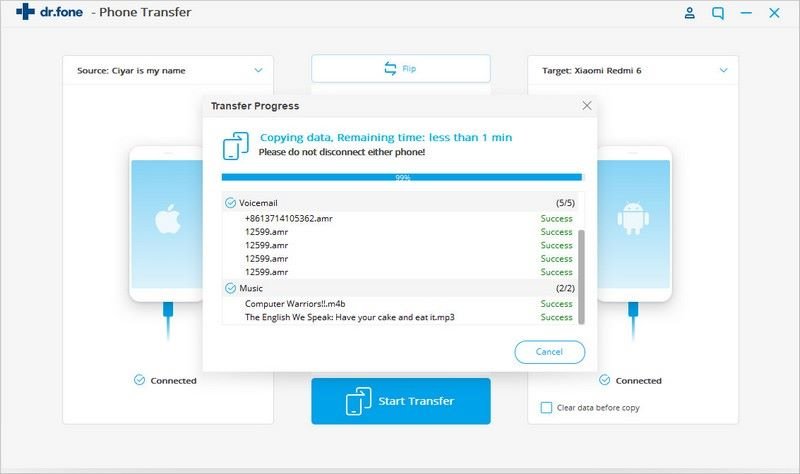 That's it! Nothing else to worry about and you know that all of the files you need will be successfully copied on both devices. Do yourself a favor and forget the headache of syncing your contacts and other data by getting dr.fone Phone Transfer today.