Part 1: The Best iPhone SMS Transfer Software
One of the major wonders of the modern world is the ability to send short messages.Being able to send these with the iPhone is really neat as it allows us to stay fully connected with our friends at all times, and that is certainly something very good. However, there are some situations in which we want to transfer our SMS to other files, and that is SMS transfer applications come in. There are multiple tools which provide you with such actions, and we will help you gain access to these very fast.
dr.fone - Phone Manager (iOS) is the best application you can use to transfer your SMS files from your iPhone to the computer, and it provides you with a wide range of other benefits as well. With iTransfer you can transfer or backup data from iPhone to computer, including contacts, messages, photos, music, etc. It also comes with a reliable and very easy to use interface, as well as a preview function which helps you find out if the files you want to transfer or not.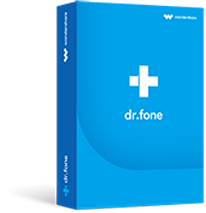 The best iPhone SMS transfer software available for the new iOS 11 and iPhone X/8 (Plus)/7 (Plus)/SE/6s (Plus)/6(Plus)/5S/5C/5/4S/4
It allows you to preview and selectively transfer the text messages you want to save on a computer.
The SMS messages can be exported as HTML or CSV/Excel format on your computer.
Apart from SMS transfer, it can help you transfer contacts, photos, music, videos, and more from iPhone to computer.
On the other way, you can use iTransfer to import data from computer to your iPhone.
3,235,631 people have downloaded it
Transferring the SMS from your iPhone to your computer with the help of the dr.fone is very easy, you just need to follow these simple guidelines:
Step 1. Download iSksoft Toolbox on your computer and open the program, and then connect your iPhone to the computer and wait until the connection is established. Choose Information tab from the top menus.
Step 2. From the left, click SMS. dr.fone will show all of the text messages on your iPhone. Now you can preview and mark the messages that you want to transfer to computer. Then click Export. Choose a format to save your SMS, Text, HTML or CSV (excel). That's it! Your choosen SMS have been transfered to your computer.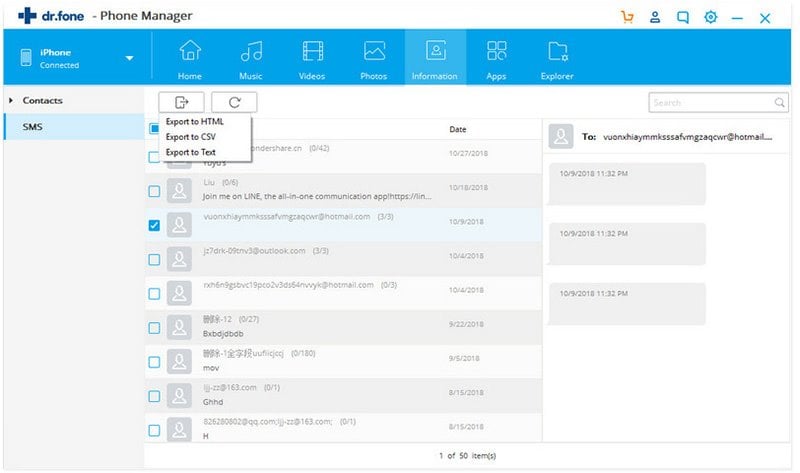 These are all the steps you need to follow in order to quickly and securely transfer your messages from your iOS device to your computer. All of these actions are very easy to perform and in the end you will have a professionally made backup for your message, which can be accessed at any given time. It's recommended that you perform such a backup as often as possible, and thanks to dr.fone - Phone Manager (iOS) you have the means to do this in a reliable manner.
Part 2: Top 5 iPhone SMS Transfer Apps
While the aforementioned product is the best one for performing SMS transfer fast and with complete reliability, we are also presenting you with some other alternative applications that can help you perform this action.
#1. iExplorer
This application brings you the complete ability to transfer just about any type of file from your computer to your Mac, and messages are no different. With a very easy to use interface and great features, iExplorer is a very good iPhone management and transfer tool that you can adhere to at any given time when you need such transfer capabilities.
#2. TouchCopy
This tool provides a standard, interesting interface and it helps you get the job done really fast. The neat thing here is that you can preview the messages without any hassle, and this feature alone is well worth it. Alongside that, the app provides you with the means to export voice messages as well, and it performs the transfer really fast.
#3. iMazing
If you want to avoid problems such as running low on space on your iPhone or you just want to save some great memories, then you can opt for iMazing. It might not be the best tool in the bunch, but it comes with a very good interface and a reliable transfer system that makes it a great app to work with.
#4. Happy Fingers
This is a lightweight application that's quite easy to use and it allows you to manage as well as transfer your messages with ease and reliability. It doesn't have a stellar interface, but it does work and it's worth a try if you look for an alternative SMS transfer tool.
#5. Copytrans
This is a great tool for those people that want to transfer their SMS quickly. It has a wide range of other functions too, which range from music transfer to app management, contact transfer and multiple others. If you want to manage your iOS device in an efficient manner, this tool is a good choice.
These are the best applications you can use to perform a quick SMS backup for your iOS device. While there are many alternatives available on the market, the dr.fone iPhone Data Recovery application is the best in the bunch since it provides a professional, easy to use method to handle the SMS transfer process in an efficient manner, so we recommend that you give it a try right away if you are looking for a reliable tool that provides such a function.