Ringtones have always been part of the world of mobile phones. They have been long in use before we were able to get phones that play audio files, take photos, and play countless video files and movies and they are still in use today. That is why it is only right that ringtones be supported the way audio, photos, and video files are being supported today.
For iPhone users, ringtones get the right treatment they deserve as they can be synced with iPhones just as any type of file, especially media files. We'll discuss just about how to Sync ringtones to iPhone and the issues you may encounter while syncing ringtones to your iPhone.
Part 1: How to sync ringtones to iPhone via iTunes
To sync ringtones to iTunes, you will have to keep in mind that ringtones are different from the typical audio files that you usually get to store in your iTunes library and play or sync using iTunes. Ringtones exist as distinct files themselves, so you'll have to make sure that the files you're syncing are ringtones, not music files. Follow these instructions to sync them to your iPhone:
Step 1.
Launch iTunes. Connect your iPhone and iTunes should automatically detect it.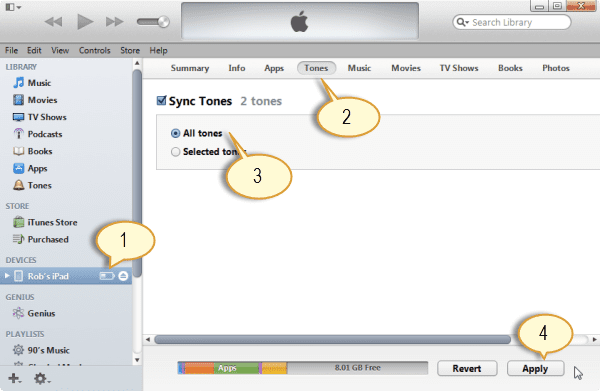 Step 2. Locate the ringtones in your computer and drag it to your iTunes library. To do this, you can also click on Tones from your iTunes library and drop the ringtones there. If in case you can't see Tones, just click on Music and drop them there. The ringtones will be put under the Tones section automatically.
Make sure you have the Sync Tones checkbox ticked. At this point, you can select all tones for syncing or sync only a number of selected tones. After making the selection, click Apply or Sync to sync ringtones to iPhone.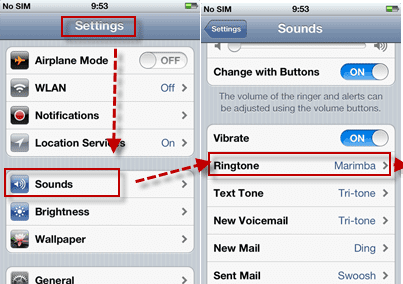 Step 3. The next step is to enable the ringtones in your iPhone once they've been synced. To do this, you'll have to go to Settings, to Sounds, then to Ringtone.
The ringtones that you've just synced should appear in the list and from here, select the ringtone you'd like to use.
---
Part 2: Ringtones won't sync to iPhone
Here are the several issues you may encounter while syncing ringtones to your iPhone and how you can attempt to solve ringtones not syncing to iPhone:
Problem 1: I have iOS 7 installed in my iPhone and my ringtones won't sync. How do I go around this issue?
Solution 1: The key to solving this issue is to re-import your ringtones and have them synced to your iPhone fresh from being imported to your iTunes library. In other words, locate your ringtones in Finder or Windows Explorer and move them to the desktop. Now delete them from your iTunes library (but keep the files in the desktop). Afterwards, drag and drop the ringtones you've just copied over to the desktop to re-import your ringtones. Now try syncing again and it should work this time.
Problem 2: I've created a ringtone using a song I've bought in iTunes but it won't sync. What seems to be a problem and how can I solve it?
Solution 2: If you're encountering this problem, it's likely that your computer isn't authorized to play or sync the ringtones. This seems to be an issue with ringtones created using iTunes and the only solution here is to buy DRM-free music from sites such as Amazon and use Garageband to turn them into ringtones.
Problem 3: I downloaded ringtones, imported them to my iTunes library, but they would not sync. How can I fix this issue?
Solution 3: This problem has quite an easy fix. If everything seems to be fine and your ringtones do not exceed 40 seconds, then all that you have to check before syncing them is the file extension. Make sure they have the .m4r extension, not .m4a or any other extension.
Problem 4: I want to use a part of a song that I edited but its extension is not .m4r. I tried syncing it but it won't appear in my iPhone. What should I do?
Solution 4: There are two ways you can solve this problem. Upon editing, you can try saving your edited music file in the .m4r format in the ringtone maker or music editing software you're using. On the other hand, you can also use audio converter software to convert your edited piece of music to the .m4r format so it can be synced successfully to your iPhone.
Problem 5: My ringtones won't appear after syncing them. What do I do to solve this?
Solution 5: You need to make sure that before you sync a ringtone, its length does not exceed 40 seconds. If the ringtone file happens to have a length of more than 40 seconds, you will need to cut it, or else, you might not be able to use it in your iPhone.
---
dr.fone - Phone Manager (iOS) - all-in-one tool to transfer data between phones and computer (iPhone 8 & iPhone X supported)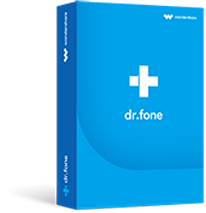 Why choose dr.fone - Phone Manager (iOS)?
Integrates all the features you need for managing music, video, photos, contacts and even text messages among iPhone, iPad, iPod, iTunes, Android devives and computer.
Transfer music, videos, playlist and more from iPhone to iTunes Library/PC/Mac/Android devices.
Fix "iPhone, iPad, iPod won't connect to computer" issues.
3,332,067 people have downloaded it