Transfer contacts to new iphone is a common phenomenon when you have bought a new iPhone, using iCloud to transfer contacts is one of the common ways since iCloud is built inside your iPhone. But the problem is that the service offers only 5GB of storage. For more space storage, people need to search for other alternative methods, therefore, transfer contacts from iPhone to iPhone without iCloud will be a problem to be solved. In this article, we are going to show you how to do this in detail as follows.
Part 1. How to Transfer Contacts from iPhone to iPhone with iCloud
iCloud is a service that helps in keeping the devices in sync by sharing information between iOS devices and computers. You can use iCloud to transfer contacts. These are the steps on how to transfer contacts through iCloud.
Step 1.

Connect the iPhones via the same internet connection or Wi-Fi.

Log in to your iCloud account by entering the Apple ID and password for the phones. Go to "Settings" and go to the name. Then please tap on "iCloud" and go to the "Contacts" switch on. Please note that if your phones run on iOS 10.2 and earlier versions of systems, you need to tap on "Settings" and then select "iCloud."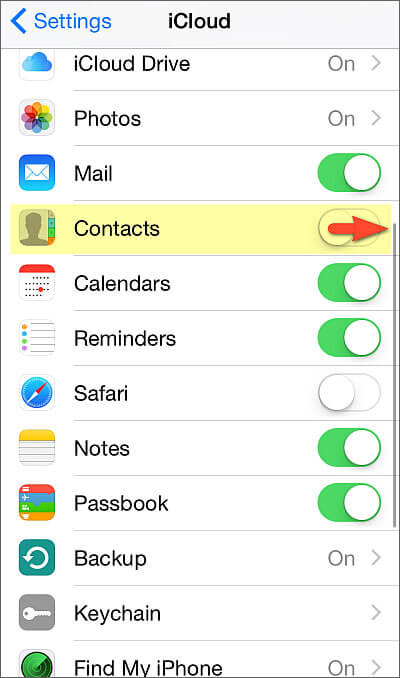 Step 2.

Look for "Storage & Backup" by scrolling down and tapping "Backup now."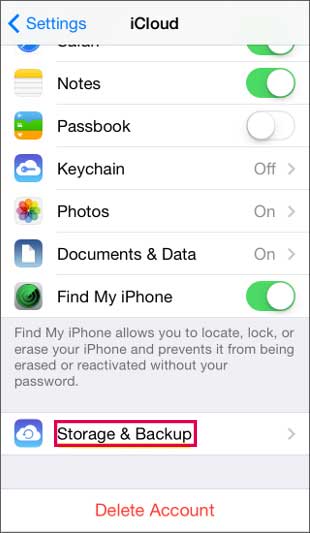 Step 3.

For the new phone, go to "Settings" and select "iCloud."

Slide the toggle button again to turn on the "Contacts."Now, open "Contacts" by tapping the dark grey silhouette head icon. Swipe the screen down to refresh it. You will see the rotating refresh icon. Release the screen, and your contacts will be transferred successfully to the new phones.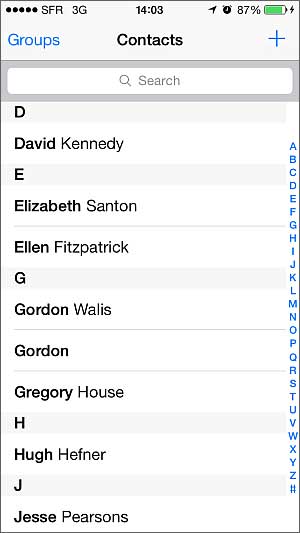 Part 2. 4 Methods to Transfer Contacts from iPhone to iPhone without iCloud
Method 1: Transferring contacts from iPhone to iPhone via dr.fone - Phone Transfer
[Best]
dr.fone is an excellent option to transfer contacts from iPhone to iPhone without iCloud. This is the most impressive phone data management tool that can manage different content on the device. It can help transfer music, messages, photos, and more from iPhone to iPhone, iPhone to Android, and vice versa. The transfer process can take place between any iOS or Android device.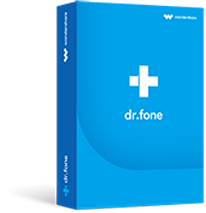 Switch Data from your old phone to iPhone 12 Pro in one-click
The application allows you to practice cross-platform data transfer, which is meant by data transfer from an Android to an iPhone or vice versa.
You can carry out large amounts of data transfer, which can constitute any kind of media file.
A huge set of data can be transferred across the platform that can include all forms of media and applications.
It is a platform that works perfectly across every existing smartphone and tablet.
Compatible with the latest versions of Android OS, iOS, and desktop operating systems, including Windows and macOS.
A safe and risk-free platform with no data losses recorded.
The platform supports a cross-platform transmission of data with a single click.
4,009,878
people have downloaded it
Step 1.

Download dr.fone and install the software.

After installing it, please connect both origin and destination iPhones to the computer. The program will automatically recognize the devices. In the toolbox, please tap on the "Phone Manager" as shown below.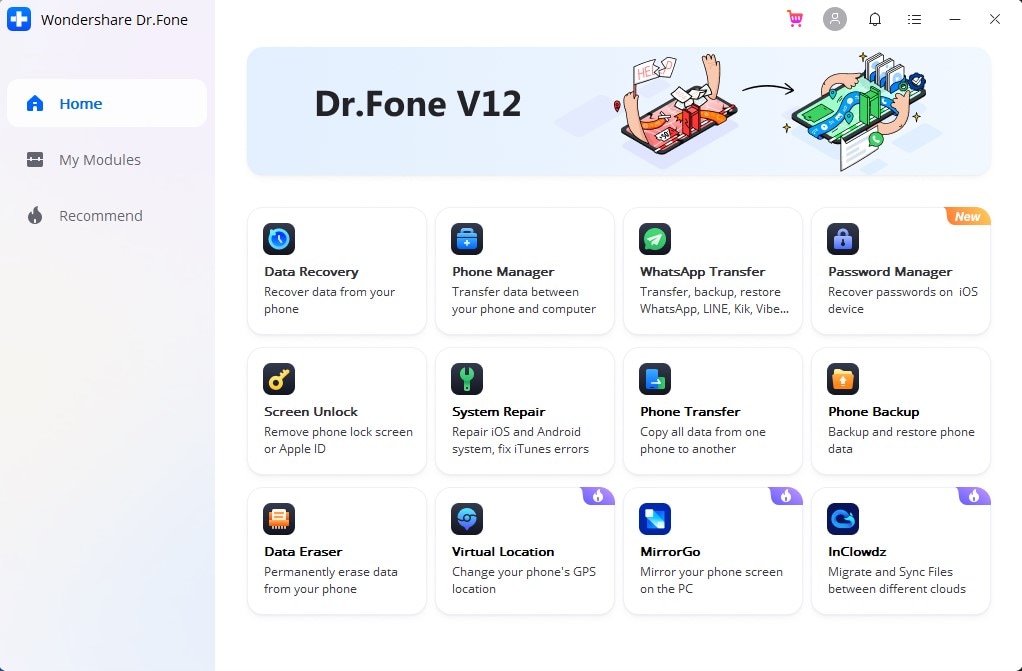 Step 2.

 Next, select the data you want to transfer from iPhone to iPhone and then click on "Start Transfer" now.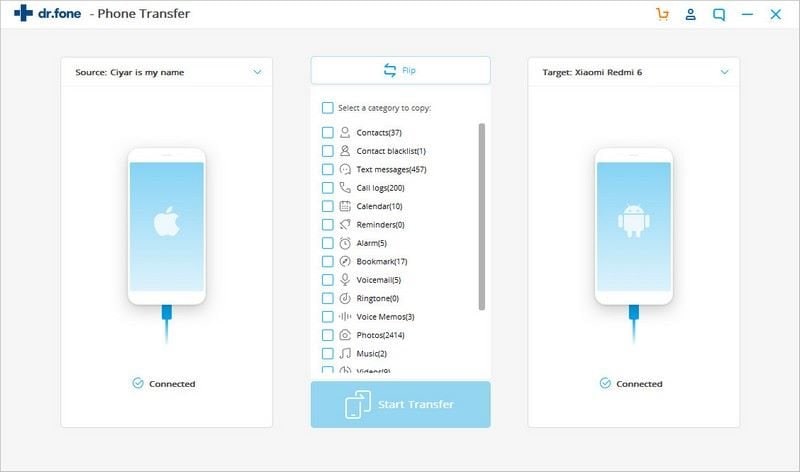 Step 3.

The software will begin the iPhone data transfer process and inform you after the transfer process is finished.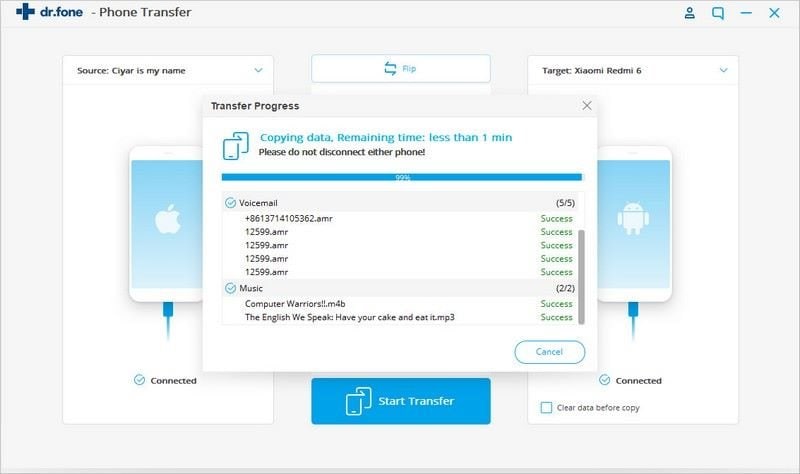 Method 2: Transferring contacts from iPhone to iPhone via Bluetooth
Bluetooth is also wireless technology helping in sharing files between two devices within a specific range. To transfer data between iPhones via Bluetooth, you need to install an app on both the devices, namely, 'Bluetooth Share Free.' the steps are shown as follows.
Step 1.

Open "App Store" and install the "Bluetooth Share Free" application. Hit the icon of Bluetooth, which will make your iPhone visible to the other iPhone.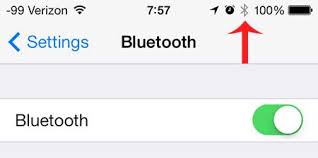 Step 2.

Go along the prompts that come to connect both iPhone.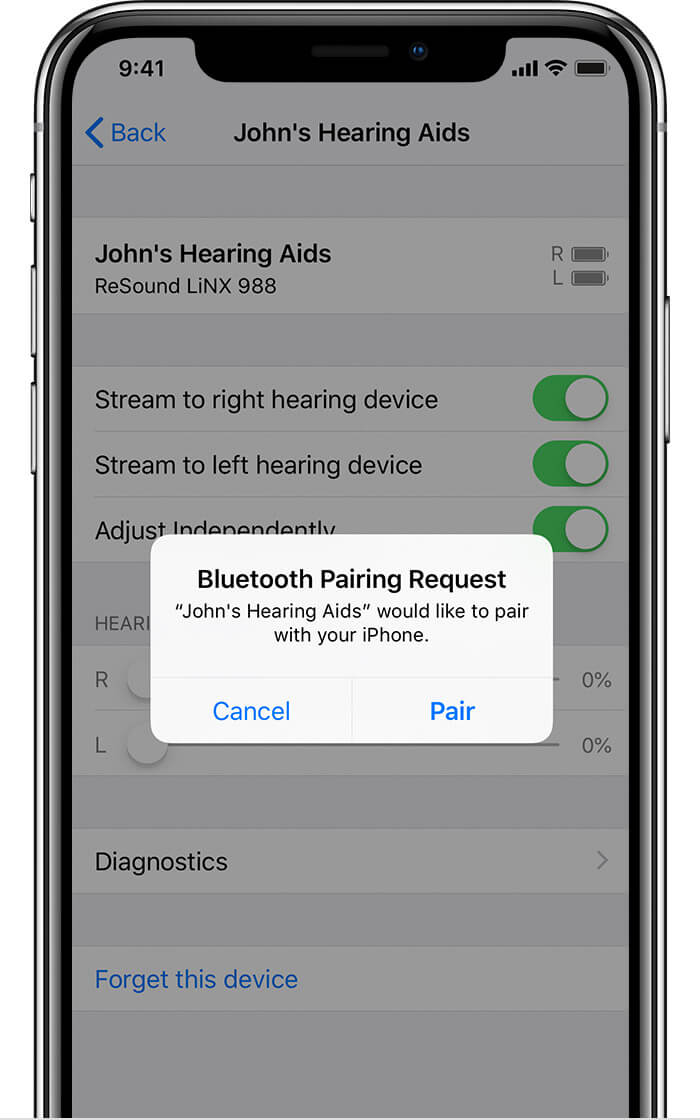 Step 3.

Tap on the "Bluetooth Share Free" icon after installation and then go to "Contacts."

After this, select the contacts you want to transfer and choose "Send by Bluetooth."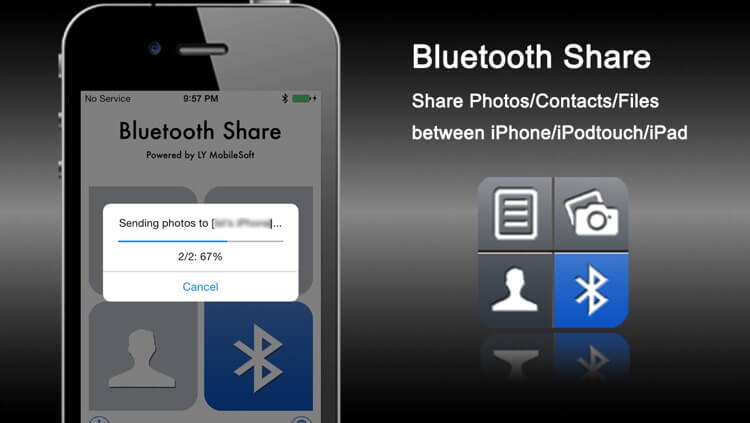 Method 3: Transferring contacts from iPhone to iPhone with iTunes
iTunes is a software helping in organizing music for iDevices users. It has a great variety of features, including syncing music, movies to iOS devices, etc. Here are some steps for transferring contacts between iPhones. Please note that this method is free, but it won't allow you to share the wanted contacts selectively, and you also can't preview the connections before the transfer.
Step 1.

Launch iTunes and connect the old iPhone to PC.

Select your iPhone in iTunes and click on the "info" tab. Turn on the "Sync Contacts with" button. Then select "All Contacts" and "Sync," respectively.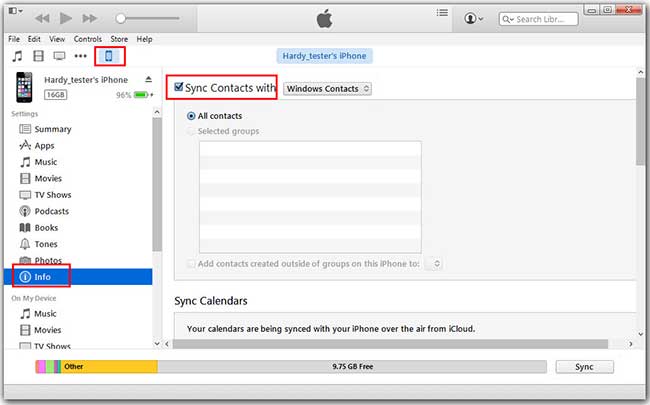 Step 2.

After the syncing completes, click on the "Eject" button to disconnect the phone.

Connect another iPhone and follow the same action. Then select the device and click on "info." After that, please hit on "Sync Contacts" and subsequently tap on "All Contacts."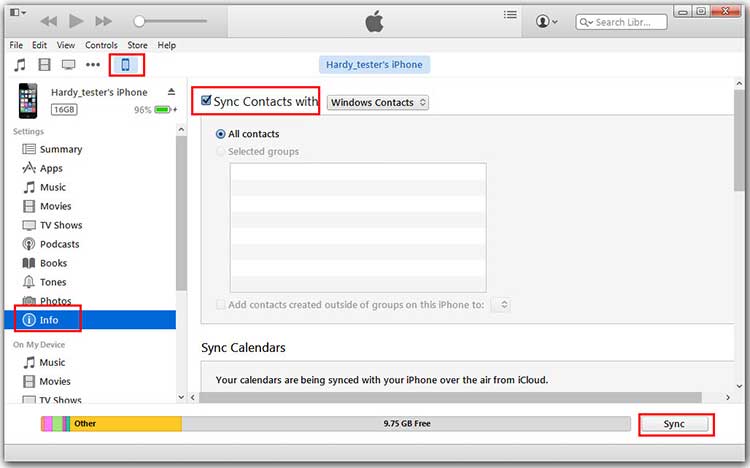 Step 3.

Click on "Sync," and this will transfer contacts to the new iPhone.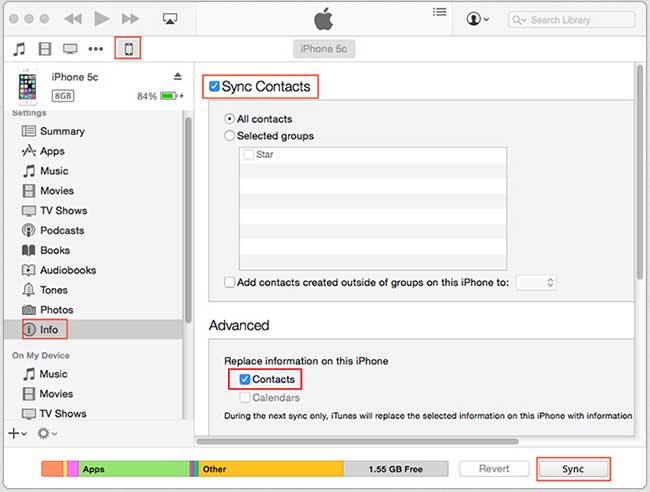 Method 4: Transferring contacts from iPhone to iPhone via Google Gmail
Gmail is an e-mailing service provided by Google, which can help sync contacts as well. People can use Gmail on their Android/iOS devices easily. The steps are as follows:
Step 1.

Open "Settings" on the iPhone and go to "Mail, Contacts, Calendars." Tap "Add Account" and select "Google."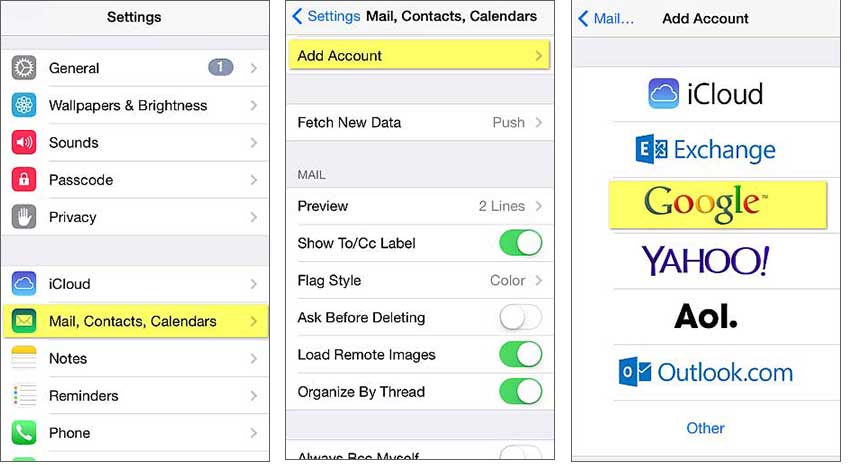 Step 2.

Enter the Gmail details, i.e., e-mail address and password.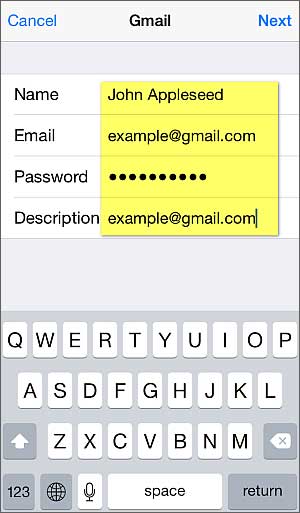 Step 3.

Follow the same steps for another iPhone above and then go to "Settings" and hit on the "Fetch New Data" button. After that, slide the "Push" button.