Google Photos is a photo management tool that can save and share user's photos across devices, which makes it possible to store a lifetime of memories. But when you have thousands of images, appreciating all of them isn't always easy, especially when you want to transfer Google photos to iPhone and share them on your social media platform. It's a hard task.
Luckily, here we have some tips for you to move Google photos to iPhone with ease, with some useful tips on organizing your collection and make it more manageable. Join us with the following possibilities, and get ready for a better experience with Google Photos.
How to Transfer Google Photos to iPhone with Clicks
First of all, let's review how to use Google Photos.
When all your selected photos are uploaded, you can browse through those photos from any device that you want, as long as it allows you to sign in to Google Drive. Or, you can visit photos.google.com from your browser and see your photo album there.
The best thing about Google Photos is that you can easily share your photos with others, even if they do not have the app on their phone. You only need to click the Share icon, insert the recipient's phone number or email address, and click send.
You can also set the software to only sync photos when you are within WiFi range. This is a great way to save your data cap, especially if the photos and videos that you are going to upload are of high quality.
Google Photos itself allows you to store photos with resolution up to 16MP and videos which are up to 1080p. If your files exceed that resolution cap, Google will automatically compress them.
Now that you have learned what Google Photos is, we want to show you how to download your photos from your cloud storage and move them to your iOS device. First, let's download those photos to your PC first.
Then, how to import Google Photos to iPhone? What you need is just the dr.fone - Phone Manager.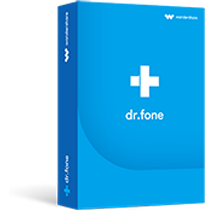 Download dr.fone - Phone Manager (iOS) to have a try!
Fully compatible with the system newest iPhone 11/11 pro.
No need to concern about data safety or privacy.
Except for the photo data, it also supports one-click to transfer messages, contacts, music and more files between iOS devices and computer.
Step 1 Open Google Photos (photos.google.com). Select the photos you want to download and tap "More".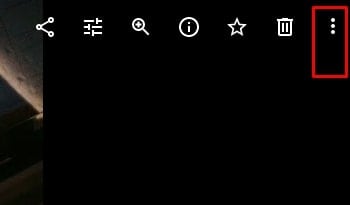 Step 2 From the drop-down menu, select "Download".

The steps above would download your selected photos to your PC. Now, the next step is to send those photos to your iOS device. Some of you might be familiar with iTunes. This is indeed the most popular software when it comes to transferring files from PC to iOS devices, or the other way around.
However, we will present you with an alternative to using iTunes in this guide. Introducing dr.fone, a complete package for all your mobile needs. It allows you to recover and backup your data, repair your system, and transfer your files across different devices. These are the steps for transferring your photos to your iOS device:
Step 1 Download and install dr.fone - Phone Manager (iOS) on your device, then click "Phone Manager".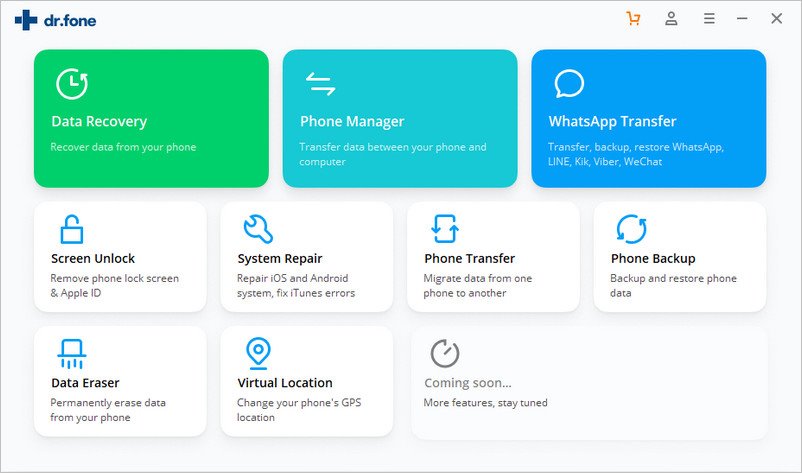 Step 2 Connect your iOS device to the PC and choose the "Photos" menu.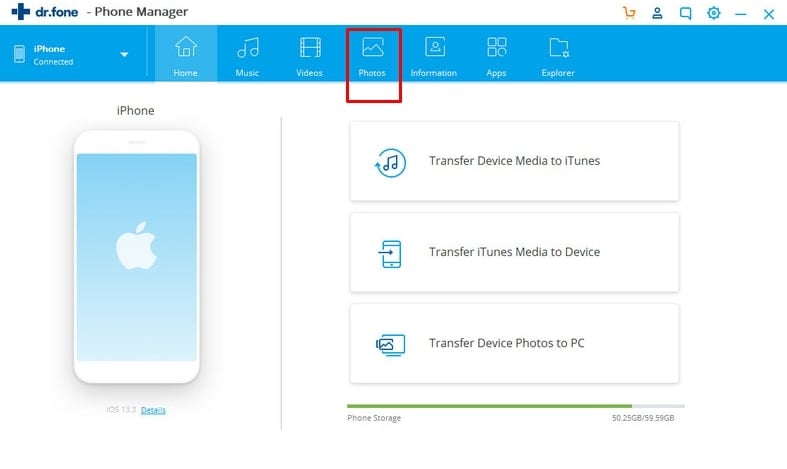 Step 3 Choose the "Add File" or "Add Folder" option. Then, you only need to select the photos you want to transfer.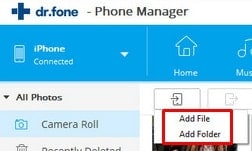 That's it! The whole process is indeed designed to be as simple as possible so that everyone can follow the procedure without any difficulties. You may also use this procedure to transfer photos from your PC to an Android device as well, which we will cover in another article.
Manage Google Photos - Transfer the Photos to A New Account
Sometimes, you need to move your photos from your current Google Photos account to a new one. It might be because you have exceeded your storage cap or you simply want to better manage your photos.
However, it can be quite challenging to switch photos from one account to another. Here, we will show you two of the best options to do it:
Simply Download and Upload
The first method is by simply downloading the photos from the old account, then uploading them to the new account. Here are the steps:
Step 1 Log in to your old account and select the photos that you wish to transfer.
Step 2 Download the photos that you have been chosen.
Step 3 Log in to your new account and click "Upload", then select all the photos you have downloaded.
Use the Sharing Feature
With this method, you create a sharing link using your old account. Then, you sign in to your new account and click the link that you have created. Here are the steps:
Step 1 Sign in to your old account and select the pictures that you want to share.
Step 2 Click the "Share" icon on the top of the screen.

Step 3 Choose the "Create link" option and copy the link.

Step 4 Sign in to your new account then paste the link on a new tab.
Step 5 Select the photo, then choose "Add to album" option from the drop-down menu.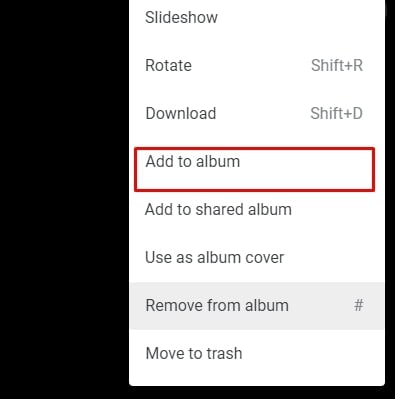 More Tips for Managing Google Photos
Apart from the methods that we have presented earlier, here are some other Google Photos tips for your photo management:
Save more space on your device by periodically backup your photos to your cloud storage. You may opt to let Google clear the original photos or keep them.


You can find people's photos easily by labeling them. Once you label someone, Google will help find other photos of that person when you search for him or her again on Google Photos.


Google Photos allows you to batch upload videos to your Youtube account. Simply go to the Youtube upload page and import the videos from your Google Photos account.
Conclusion
Those are some tips and methods for managing photos on Google Photos that you may try. Considering how convenient Google Photos is, you can expect it to gain even more popularity in the near future. If you just want to transfer the Google Photos to iPhone device, the solution with dr.fone - Phone Manager provided at the beginning could already satisfied you. If you have other confusion about Google Photos, it would be a good idea to tell us your problem, we can dive into it.