Currently, the two most important piece of electronic equipment that every one of us possesses and use on a daily basis are smartphone and laptop or desktop. As both have their respective purpose, transferring and copying photos as well as media between the two becomes a necessity and in such cases, it may well frustrate us during the process if such transfer is frequent.
If we want to copy photos from Mac to iPhone, the most complicated task is to select the photos, copy them and paste them in the destined place. Most apps screw this process as after transferring photos in iPhone, you have to further categorize them individually.
Talk about wasting your precious time and energy in this seemingly simple but cumbersome task.
Now here we have a full tutorial about transferring photos from Mac to iPhone. Let us get through that process as mentioned below.
Part 1: Transfer photos from mac to iphone by dr.fone-Phone Manager
Probably the best and easiest way to export pictures from Mac to iPhone; you cannot go wrong with dr.fone – Phone Manager solution. Get ahead of cumbersome, tiring as well as unsecured photo transfer process by using this solution.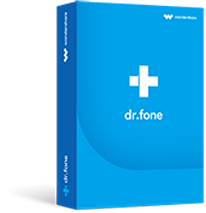 1-Click to Transfer Files between iOS and Computer
Swift as well as a speedy transfer: The best feature of this solution, the process is swift as well as transfer occurs in a blaze. You are assured to sit back and watch the process to take place for mere seconds as photos are transferred from one device to another.
Streamlined as well as an errorless process: You are also guaranteed of an errorless process avoiding hassles such as media not supported or media not found. The solution easily finds all your photos supporting all file extensions to enable convenient photo transfer without depending on other apps.
1-Click Transfer: You can literally move hundreds of photos with a single click from your Mac to iPhone without the chunkiness of iTunes. Yes, you are free of iTunes. Just select the photos and hit that transfer button. Sit back and let the magic reveal in front of your eyes.

2,965,271 people have downloaded it
Method 1 – Transfer all photos from Mac to iPhone.
Step 1 Connect your iPhone to your Mac with USB. After the connection is established, the home screen will show the details regarding a successful connection.
Step 2 Click on the Photos Tab on the top to access all the photos. After that, click on the icon on the upper left-hand corner which will suggest whether to add files or folders. After selecting any particular option, a window pops up asking you the location of the photos on your Mac.
The image below depicts the process of transferring music but it is similar to photo anyway.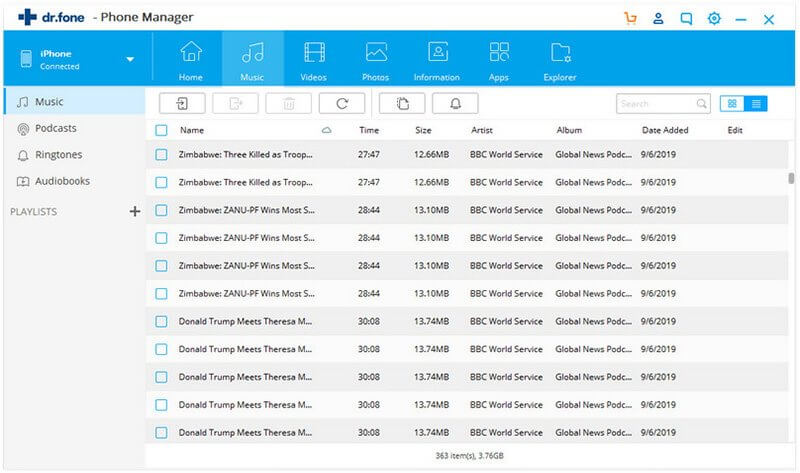 Step 3 Browse through the files and select all the photos that you want to transfer. Just click open and you are done. All the photos will get transferred into your iPhone in a flash without any error as well as they will be stored in a separate folder on your iPhone. The transfer is complete and you are good to go!
Method 2 – Transfer selective photos from your Mac to your iPhone.
All the steps are similar in this process as mentioned above except you have to choose the particular photos you want to transfer and you are good to go!
Part 2: Sync photos from mac to iphone by iTunes
The most important thing to note before you sync photos from Mac to iPhone is that all your media files on your iPhone would be erased depicting the following image. First red alert!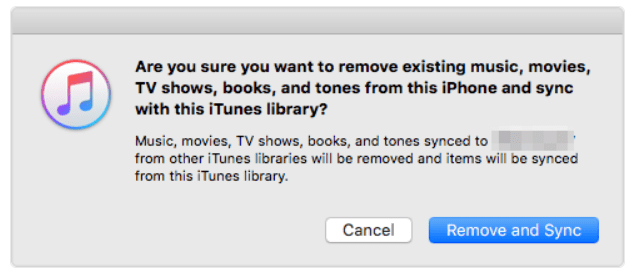 Step 1 To transfer through iTunes, you have to proceed through the chunkiest of all processes by first launching iPhoto and then dragging all your mac photos into iPhoto library.
Step 2 After that connect your Mac to your iPhone and launch iTunes.
Step 3 Steering through the device tab followed by the photos tab, select the iPhoto folder or the folder you have stored all your photos into.
Step 4 Next, click on the copy folder from tab to start the sync process ending with clicking on the apply button.
The first problem with this method is that you have to funnel through laborious processes to just copy photos. Second, you have to do all the work as iTunes will do nothing and assess nothing for you. Hence, you are best suited off with the first solution.
However, there are also other not so worthy wireless solutions to transfer photos from Mac to iPhone. Though they are not as simple as dr.fone, we should have a fair look at them too.
Transfer Photos from Mac to iPhone by Wireless solutions.
Part 3: Import photos from Mac to iPhone by iCloud Photo Library
The benefit of saving your photos on iCloud is that you can access them from any device you want but the biggest drawback is to transfer photos from one device to another through iCloud, you have to upload all the photos to the cloud and then download them on your destination device resulting in data loss. How do you do it? Follow the below steps:
Step 1 As you turn on iCloud, all photos on your Mac are automatically uploaded on iCloud.

Step 2 In order to access those photos, you need to download them as original on your iPhone and depending on the file size of each photo; you can imagine the data loss about to take place in this relatively simple process.
Part 4. Move photos from Mac to iPhone by Airdrop
Another such solution is Airdrop to access iPhone photos on mac or to move photos from Mac to iPhone.
Step 1 Set up Airdrop on your Mac. You have to turn on your Bluetooth as well as Wi-Fi for the functioning of Airdrop. Further, enable allow to be discovered by everyone to enable access.
Step 2 Turn on Airdrop on your iPhone. Open Control Centre in your iPhone. After that, tap on Airdrop and set it on discovered by Contacts or everyone mode.
Step 3 Connect both the devices in the Airdrop App. Drag your required photos from Mac to Airdrop on iPhone and hit send or click on the share button in App, choose the receiver and then hit send.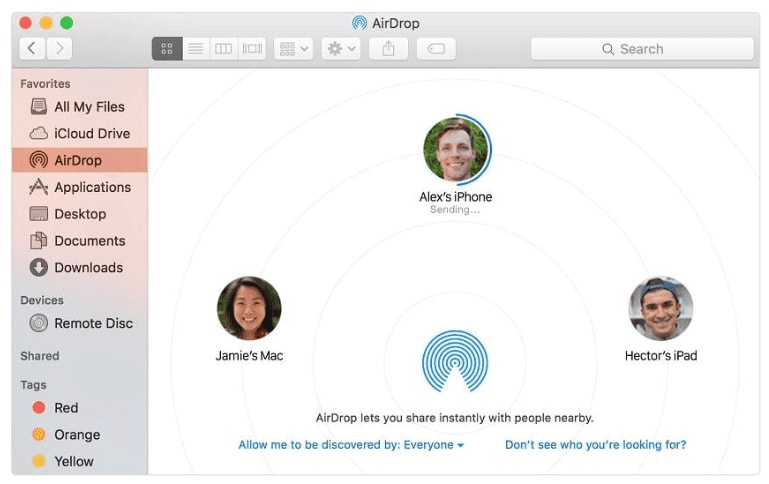 The benefits of this solution being obvious, there is less data loss than iCloud. However, such connections are prone to some serious insecurity in the network by an outsider. Further, transferring seldom goes smoothly and is filled with multiple errors.
Part 5. Import photos from Mac to iPhone by Dropbox
Dropbox uses cloud storage to host your files online. Hence it is the same as iCloud in a manner. You can access all your photos from any device once they are uploaded on Dropbox.
However, as mentioned earlier, this is a tedious as well as a data churning process which uses up lots of your data first for uploading the photos and then for downloading them. Here is the process:
Step 1 Download and launch the Dropbox app on your Mac. Select the photos you want to upload on Dropbox. After hitting upload, all the photos will be available on your Dropbox.
Step 2 Download Dropbox from the app store and launch it on your iPhone. Once you have logged in your account, you are good to go.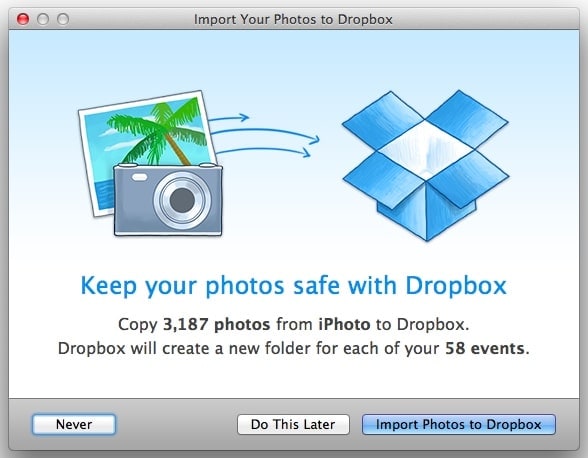 Step 3 After selecting the photos you want to download and deciding the path to which they need to be downloaded, click on download photos.
The biggest drawback of Dropbox in addition to data loss is that files only up to 2 GB in total are allowed to be transferred or uploaded for free. Hence, it is highly limiting for a person who needs to transfer photos between devices frequently.
Thus, there is only one best solution for Mac to iPhone photo transfer. Yes, you got it right; it's dr.fone Phone Manager.
Comparison and Conclusion: The best way to transfer photos from Mac to an iPhone.
Shedding a light on all alternatives, here is a brief comparison of available solutions to share your photos.
iTunes being the chunkiest of all is a clear loser in the battle. I mean, who would undergo such tiresome process of setting up iCloud, uploading, downloading, syncing and that too with the danger of erasing previous images. iTunes is a clear no.
It is followed by the iCloud photo library. There is a clear advantage in terms of accessibility through various devices but it comes at the cost of severe data loss. I mean, in the current age, if you have to transfer Raw images, it is undoubtedly infeasible to upload and download them taking immense time and cost.
iCloud is followed by Airdrop. Airdrop uses Wi-Fi and Bluetooth to transfer files with minimum data loss but it comes at the cost of insecure connections often prone to failures of transfer.
Last but not the least is Dropbox limiting the file transfer size to 2 GB proving it unfeasible straightaway.
Thus, you got it. dr.fone – Phone Manager is by far the best solution to transfer photos from your Mac to your iPhone without any hassles and headaches. Believe me! Experience it once and thank me later!