"I am a businessman, and now I have bought a new iPhone, I want to sync my voicemail to the new iPhone, Who can tell me how can I move voicemails to iPhone?"
Voicemail is a feature in which your calls are automatically answered, recorded, and stored on your iPhone, to access later. Now you get one new iPhone 11/11 Pro and want to send some important voicemails from your old iPhone to the new one. Or you may just want to send an interesting voicemail to a friend. To help you out, here we collect some practical methods about how to transfer voicemails to new iPhone. Let's walk through it and choose the one you like.
Solution 1: Transfer Voicemail to New iPhone in One Click.
dr.fone - Phone Transfer (iOS&Android) is a trusted application among the users which can be used to copy data between mobiles of different operating systems that is iOS to Android. dr.fone easy and fast movement of data including contacts, messages, photos, videos, music, and much more.
Sending of voicemail through dr.fone - Phone transfer (iOS&Android) ensures complete, safe, and secure move of voicemails. Let's see how your voicemail can be transferred from your old iOS device to your new one.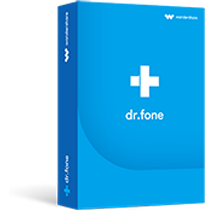 Download dr.fone - Phone Transfer (iOS&Android) to have a try!
Copy all data from one phone to another.
Compatible with Android 10.0 and the latest iOS 13.
Transfer what's important to the new phone.
3,632,659 people have downloaded it
Step 1 Connect the iOS mobile to which the voicemail needs to be transferred and then launch the dr.fone - Phone Transfer (iOS&Android) application on your desktop.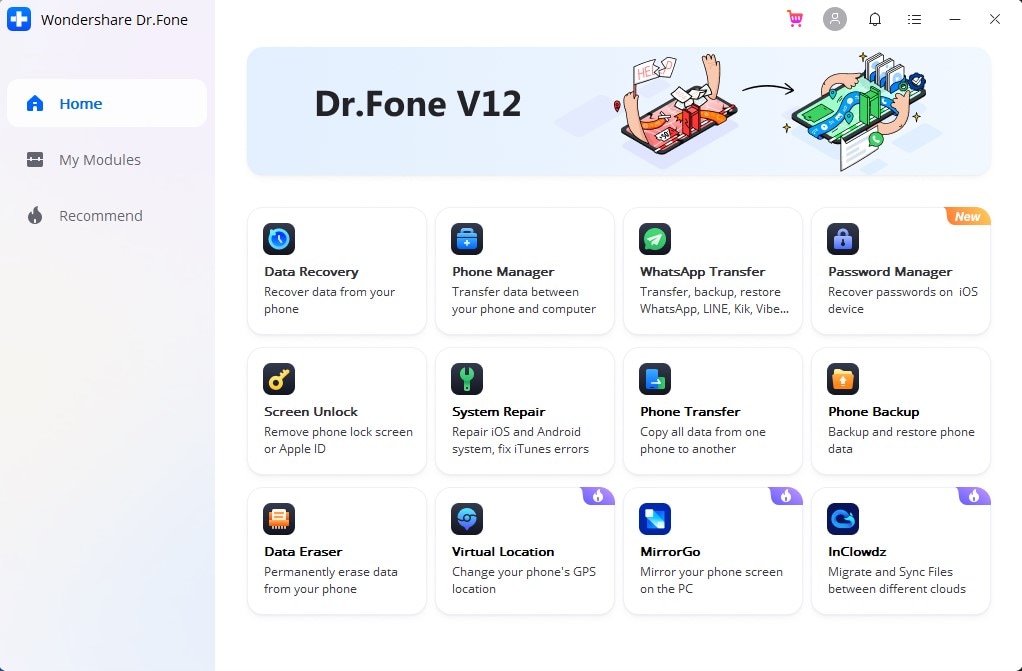 Step 2 Tap on the "Phone Transfer" option and connect the source iOS device to your desktop via a USB cable. Both the source device and the new device will be displayed on the left and right of the screen.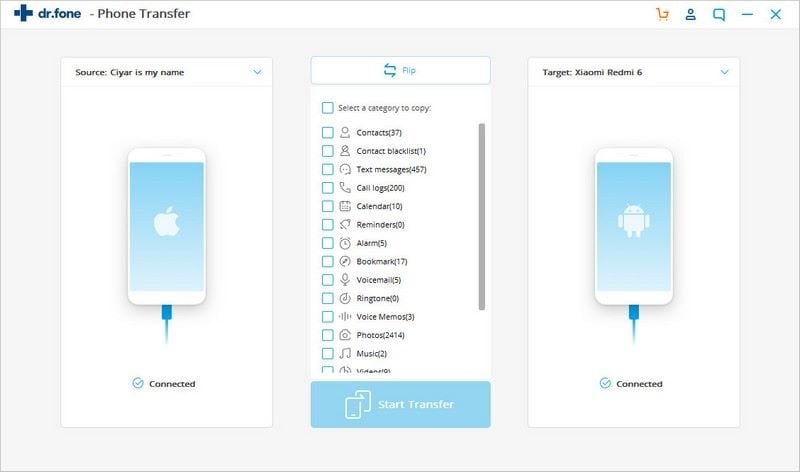 Step 3 Select the data that needs to be transferred by checking the box, for example, voicemail, and tap on the "Start Transfer" tap.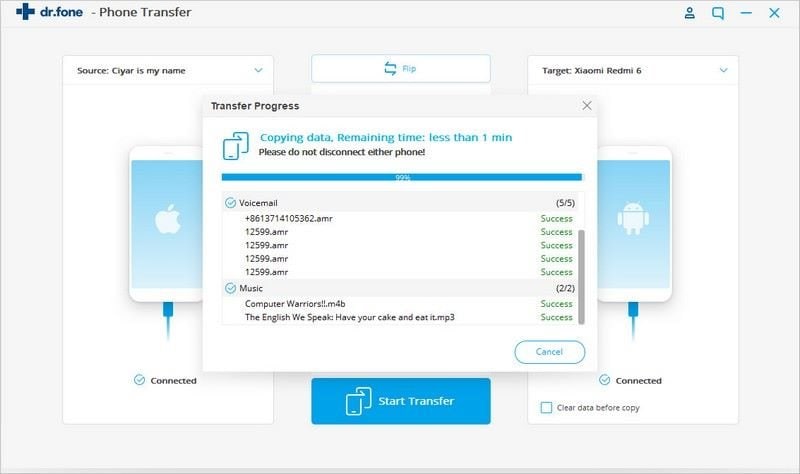 Step 4 Now the data you have selected will be transferred to your new iOS device. Once the process is complete tap on "OK".
Now disconnect your devices and you will be able to access the voicemails on your new iOS device similar to how you used to access your old phone.
dr.fone also offers a variety of other important and useful features people look for while changing a mobile device, be it an iOS or an Android! Some of the features of dr. fone application is:
Remove lock screen and iCloud ID.
Recovery of data from any device.
Fix system problems associated with Android and iOS.
Permanently erase data from any mobile device.
Change the GPS location of your iOS device anywhere in 1 click.
Backup and restore any phone using PC.
Solution 2: Do Voicemails Transfer to New iPhone via Message or Mail.
The process to transfer a voicemail through mail or message is somewhat similar, except for the final step. let's have a look at how this can be done.
Step 1 Open the "Phone" application in your old phone.
Step 2 Choose the "Voicemail" option, tap on the screen bottom.
Step 3 A list of voicemails will be displayed. Select the voicemails that need to be shared and tap on the "Share" button.
To send voicemail via Messages
Go to the "Share" option, choose "Message", take an optional message to differentiate the voicemail, add the contact number, and tap on the share button.
To send voicemail via Mail
Choose "Mail" from the sharing area, identifying the voicemail by write an optional message, type in the mail address, and tap on the share button.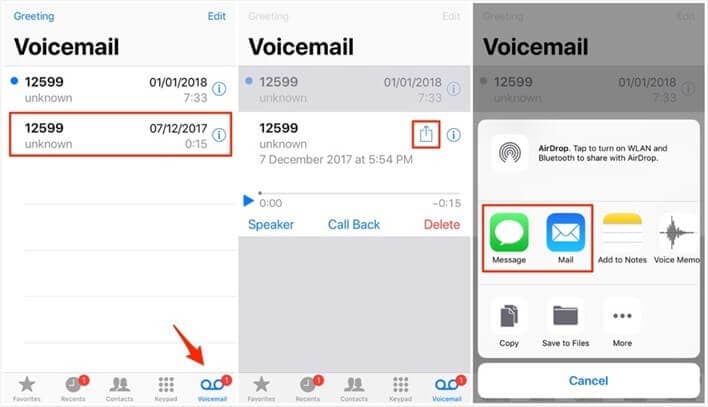 The selected voicemail will be shared with the given mail address or contact number instantly and you will be able to access the shared voicemail anytime.
Solution 3: Try AirDrop to Switch Voicemail to New iPhone.
AirDrop is a feature of iOS devices that can be utilized to send data, lie voicemails if both the iPhones are kept aside. Let's see how the voicemail copy can be done using AirDrop.
Step 1 Turn on the AirDrop feature on both the iOS devices.
Step 2 Take your old iPhone and open the "Phone" application.
Step 3 Click on the "Voicemail" and then tap on the bottom of the screen.
Step 4 A list of voicemails would be displayed. Choose the voicemails and click on the share bottom.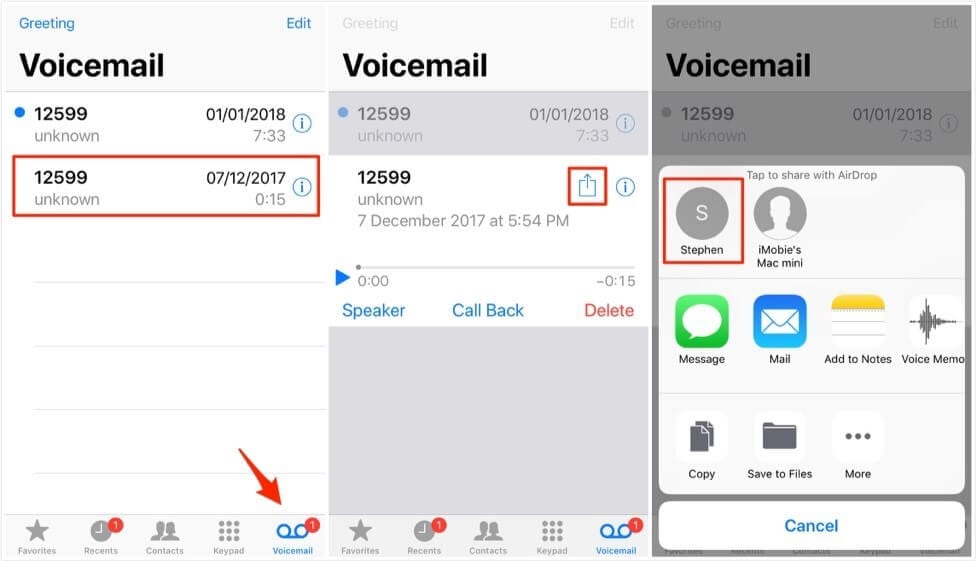 Choose AirDrop from the share options, and select the AirDrop contact to share the voicemails.
Conclusion
Voicemail is very private for every individual which is why the safe and secure move of voicemail across devices is a top priority. The transfer of voicemails via mail, messages, or AirDrop is safe but can be time-consuming and does not allow the access of these voicemails ordinarily, i.e. through phone application and then voicemail.
Using dr.fone - Phone Transfer (iOS&Android) allows you to move the voicemail as it is to your new iOS device safely and securely and also enables the traditional way of accessing the voicemail, i.e. through the phone application. It also offers a variety of other switch options which can be very useful for a mobile user while changing a phone. dr.fone simply copies the selected data from your old device and transfers it to the same location on the new device, which makes accessing the data as easy as on your previous phone. This is why we recommend dr.fone over other move methods.