In today's world of invention, the daily sprouting of social media sites and apps have made it difficult for consumers to understand how the newly developed sites and apps operate. Kik messenger is no exemption since it is an app just like any other app out there which needs to be well understood so as to benefit from it. Most people have raised a number of questions on how to open a kik messenger account, using kik, blocking people on kik and even the entire use of kik messenger. Due to that, we have prepared answers for the most asked questions about kik that have also been troubling you.
Part 1: The Top Most Asked Questions about Kik Messenger
1. How do I open a kik messenger account
To open a kik account, you will have to consider a number of factors. First; check whether you have a strong internet, check whether you have an active google play store on your smartphone, Tab and lastly, check if your gadget has got enough storage space. If you are sure about each of the above factors, then you are headed to getting a very active kik messenger account.
Step 1: Sign in into your google play store account as shown in picture.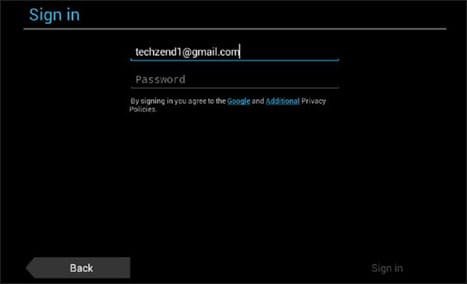 Step 3: Immediately you are signed in go to the search bar and type 'kik messenger'. Of course, many options will be displayed but no worries go for the 'kik app' with a green 'kik' as shown below.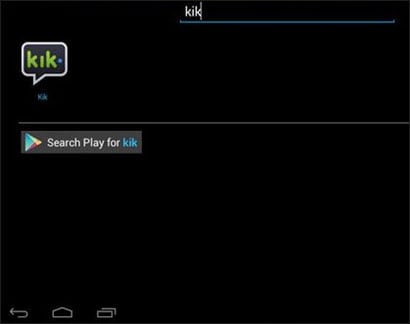 Step 3: Download the app as requested. Once you are done, you will be asked to install it, hit the 'accept' button to allow installation.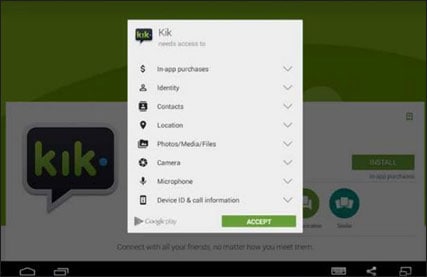 Step 4: Once the installation is ready, go straight to the 'Create Account'/'Sign Up' option to open your account.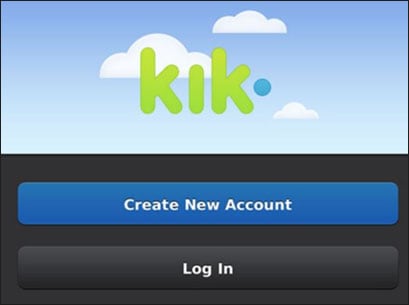 Step 5: Type your first name, last name, kik user name, email, password as well as birthday. Immediately you finish that, hit the sign up or create account button to create your account. Be patient, this might take some minutes before going through. Now once it is ready, your kik messenger account will be confirmed. From there you can start using your kik messenger app; sending and receiving messages.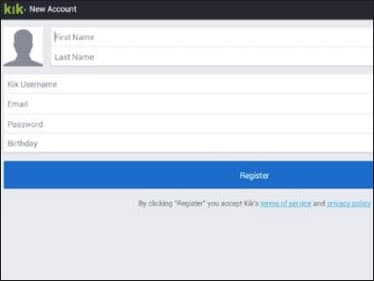 2. Tips to opening a kik messenger account
One does not need a rocket science to open a kik messenger account. Even though before that happens, it is always advisable to take into account some tips. For instance;
When you are creating a kik messenger account do not download a kik messenger app from unknown and untrusted online store. Instead obtain the app from Google Play Store and Windows Store. As you does this note that the online store you choose to download kik app from will depend on your OS.
Also ensure you have an active email address when you're creating a kik messenger account. This is where you will be notified when another user adds you or send you a text.
Be careful. Dont expose your private information, someone might use it against you. Always mask your personal info just as you do on other social media sites.
Build a strong password. This is a very essential tip. Come up with a powerful, simple password you easily understand but cannot be cracked by stalkers or hackers. Reset your kik password if you suspect any malicious activity to be on a safer side. Kik app provides you with options when you want to change your password .You can always click on the kik password option when you're troubled during signing in.
3. How you can tell when another user has blocked you on kik messenger
Being blocked is normal in almost all the social media sites. So you can be blocked on kik messenger too. You can be blocked because someone hates you or doesn't want to connect with you in any way. Are you blocked? And how can you tell that someone has blocked you? Unlike other social media sites apps, you can still send text to someone who has blocked you. Your message won't be read and it will be difficult to know whether the recipient has received it or not. As this stands out as the most asked question about kik app, here is a well-thought explanation on how you can know that you are blocked on kik messenger.
The moment you are sending a message to someone through kik messenger, normally three letters are used as a service delivery notification. The letters are S, D, and R where S stands for 'sent', D-delivered and R-Read. Now, when another user has blocked you your message will be 'sent' and 'delivered' but will not be read. In that case, you will only be able to see letter S and D but not R on your message icon.
4. How do I block someone on kik messenger
This is another most asked question about kik and there are several reasons that can lead to being blocked. Some people are fond of sending useless text; very boring messages over and over. Others nag a lot and only flood your kik profile with uncalled-for stuff. These are characters you need to block to have a peace of mind. Kik messenger gives you opportunity to do so.
Step 1: Open your kik messenger interface. At the top on the right side of your screen, you will see a setting tab looking like a nut. Click on it; you will be taken straight to your profile.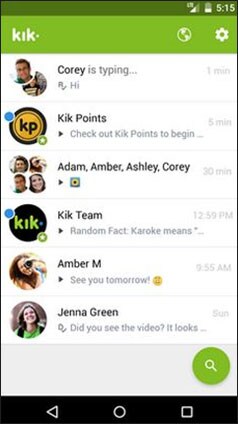 Step 2: At the bottom of your profile, you will see different options. Click on the 'chat settings' to open up.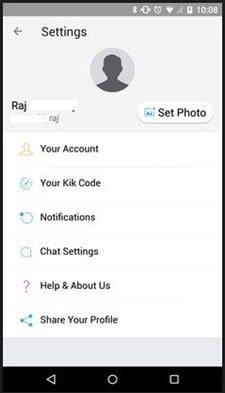 Step 3: Bear in mind that chat settings option is available if you're using iPhone or android enabled phone. But if you have a Blackberry, Symbian or Windows just go to privacy tab and tap on it.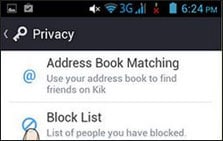 Step 4: Check the 'Block list' and tap it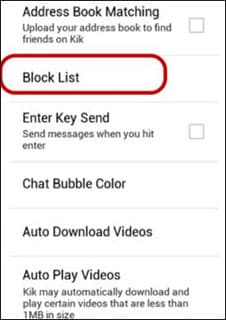 Step 5: Click on the username once you identified the person you want to block. The message asking you to 'block' the person will appear on the screen, simply tap on the yes tab.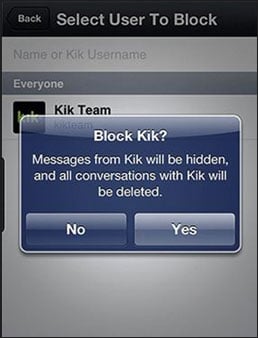 5. At what age can someone use kik messenger
This is also one of the most asked questions about kik app which appears to be unnecessary but very useful in this context. You can use it once you are 18 years and above but it is advisable that people between 15 and 18 years old to seek permission from their parents or legal guardian before submitting their username to have kik contacts. The five are the most asked questions about kik app which in one way or another will help you stay put and friendly to kik messenger.
Part 2: How to Backup and Restore Kik Messages
Trusted by millions of media and users, dr.fone - iOS Kik Backup & Restore will enable you to recover Kik messages and pictures from your previous backups. With array of matchless features this software offer users opportunity to recover mistakenly deleted information which includes messages and pictures.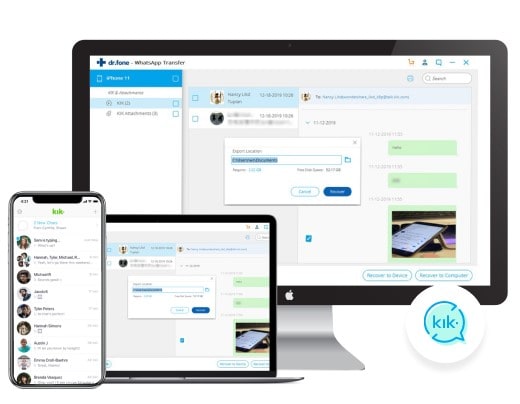 It gives you one-click backup kik chats and attachments on your iOS devices any time.
Supports kik charts, photos, sketches and videos
Gives you the ability to export your Kik messages as well as attachments to Windows PC or Mac for future use.
This tool supports all models of iPhone X/iPhone 8/iPhone 8 Plus/iPhone7/iPhone SE/iPhone 6/iPhone 6S (Plus) and much more.