"How to do disk recovery on Mac? Or, how to recover data from deleted partitions on Mac?" We are getting a lot of queries from our beloved readers regarding the same, so we thought, let's settle it for once and all.
If you too are looking for the answer of, how to do disk recovery on Mac? Then, the sooner you get the solution and the right method, the better it will be for your endangered data and falling disk. How is it such big trouble? Well, if your data and files are important, or something that you don't want to lose, then it's a trouble for you. Because a disk that's in the need to repair or is damaged is at the risk of receiving permanent damage or can lose all of your data that's stored in it permanently.
Now, there are two cases, first being the case where your disk needs to be repaired, and the data and disk will be all OK once it's repaired. Another case is the one that happens after you ignore the repair need, all of your data is lost, the disk has stopped working. Now, in the latter case, the only thing you can do is to perform disk recovery on your Mac with the help of a disk recovery software for Mac, this will recover all of your lost data from Damaged disk. So, let's move ahead, and let's figure out what needs to be done based upon the condition of your disk.
Part 1. iSkysoft – The Best Tool for The Disk Recovery on Mac
Now, as we discussed above, there can be two cases, one where a repair can do your work, and other where the destruction of your data is done, and the only recovery of the disk on Mac can save it all. In this part, we will tell you how to deal with the latter case. If due to damaged disk or lost partition, all of your data is gone, it can still be saved with the help of disk recovery software, if only you know which one to use. We will tell you exactly which one to use and why.
To perform disk recovery on mac, just keep one name in mind, Recoverit (IS) for Mac. Yes, it's the one software that we would recommend you without having a single doubt in our mind. You can simply use Recoverit (IS) to recover all the lost data from your Partitions or disk, or even if the whole partition is missing or lost. It is easy, it is reliable, and it is powerful. Unlike many other tools out there to perform disk recovery for Mac, this one isn't complicated, or have a much of the learning curve, you can simply get on with it, and recover your lost disk and its data in a few clicks. iSkysoft comes with many great features, and that's another reason that we are so confident about it being the best.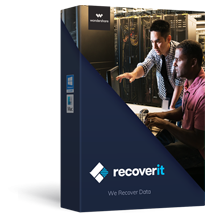 Powerful Mac Data Recovery Software:
It can recover all kinds of data from your lost partition. No matter how many important files you had stored in the disk on your Mac, and what kinds of files, iSkysoft can recover them all easily. It can recover data files like Videos, Images, ZIP files, Audio Files, Documents, compressed files, etc.
It not only recovers the data from the lost partition on your Mac, but it can do the same for other devices and Operating Systems as well. It can recover the lost disk data for Windows and Mac both.
It won't be always the case that you lost data due to the damaged disk or lost partition. So, other than doing the disk recovery on Mac, it can also recover your data lost due to accidental deletes, Malware attacks, system crash, water damage, and much more.
The iSkysoft comes with a very sorted and easy UI. Thus, it comes with different recovery modes to help you with the recovery of data lost due to different reasons as mentioned above. It provides you with the recovery modes like Lost Partition Recovery, Recycles Bean Recovery, All Around Recovery, Formatted Disk Recovery, etc.
iSkysoft can recover all kinds of data and all the data, but that doesn't mean that it floods your system with recovered files. It provides you with a chance to actually view and select the files you want to recover to your system after recovery.

3,015,629 people have downloaded it
Part 2. How to Perform Disk Recovery on Mac Using Recoverit (IS)?
Now, as you already know that it's the iSkysoft that you have to go for disk recovery on Mac, it's better to know the method as well. The method to disk recovery on Mac is extremely simple, just follow the few steps we tell you, and you will easily perform the disk recovery on Mac OS.
Step 1 Start with downloading the Recoverit (IS) for Mac from the official website, and then proceed with the installation. Once Downloaded and installed successfully, you can launch it on your Mac and move ahead.
Step 2 After launching it, the program will take you to a window that will have all of your disks mentioned on it. You need to select the disk from which all of your data has lost. For example, if your Mac has disks or partitions named as Disk (C), Disk (F), Disk (G), then you will see the disks with the same name in the Program, you need to choose one and click "Start".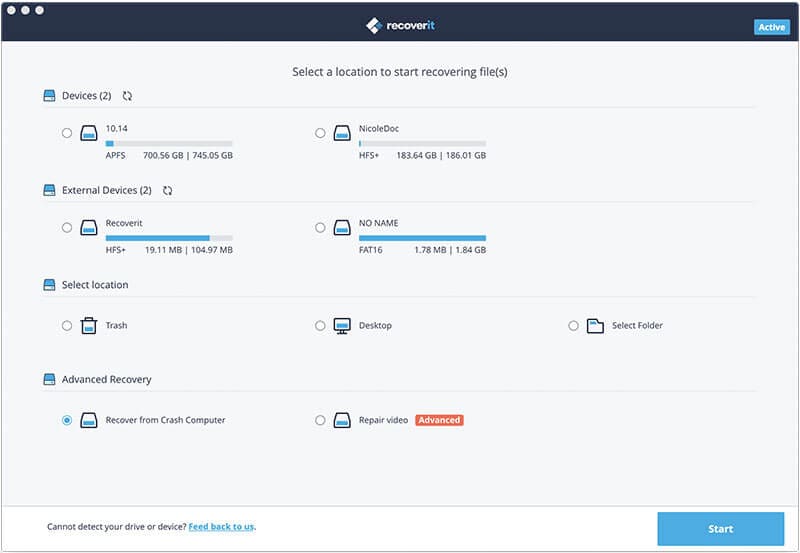 Step 3 Once you click the Start, the program will start the scanning of your selected disk for all the lost data. After the scanning is done, you will see the previews of all the files that you lost from the disk, select the files that you want to recover, and click "Recover", choose another drive to store the files and click "OK".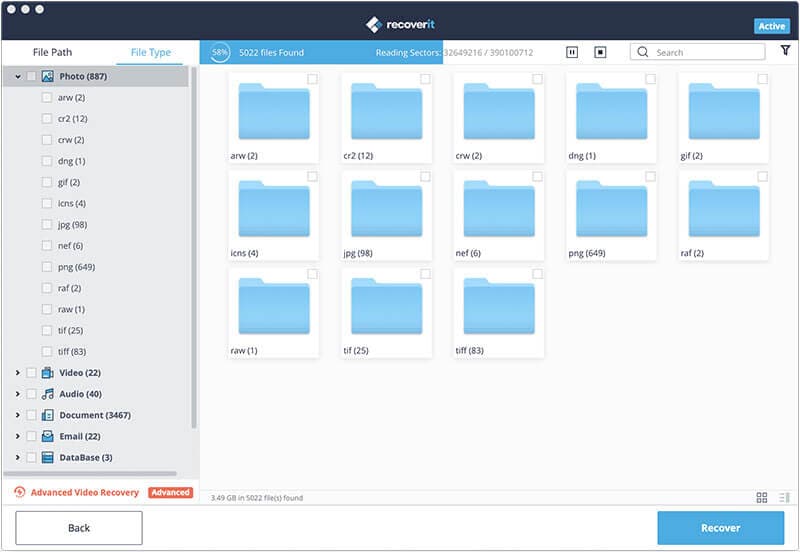 Just follow these above mentioned four steps, and you will easily perform the Disk Recovery on Mac and will recover all of your lost data.
Part 3. Try Disk Utility for Mac – Repair Your Disk on Mac
Now, you already know how to recover the data from the already lost partition or disk. But we have one more scenario, and in that scenario, there is a possibility that your partition or disk on Mac isn't fully lost yet, it's on the edge of falling, but can still be repaired. So, in that case, you need to focus on repairing it first rather than recovering data from it.
Now, how to repair disk on Mac? Or, which tool to use to repair disk on Mac? Well, it is a simple answer, the Mac Disk Utility tool. The best thing about the Mac Disk Utility is that it is an integrated tool for your Mac that comes hidden somewhere inside utility. This tool can simply repair your disk, if it is in the condition to be repaired, and if it is not in the condition, it will simply tell you to the same.

You don't need to go anywhere for Mac Disk Utility, it's right there in your Mac, and it's easy as well. We will tell you how to use Mac Disk Utility to repair disk on Mac.
Before you start: You need to print this method, or have access to it from another device, as you will be required to restart the Mac, and you will lose access to the method and article.
Step 1 When you are ready, restart your Mac by simply going to the "Apple Menu" on the top left corner of your home screen, and then select "Restart" from the options to Restart your Mac.
Step 2 As your Mac restarts, you need to "Press & Hold" the "Command + R" keys, hold them until you see the Apple logo appearing. Doing so will take you directly to the "Mac OS Utilities Menu". In the Utilities Menu, you need to choose "Disk Utility" to proceed with the disk repair on Mac. Now, click "Continue".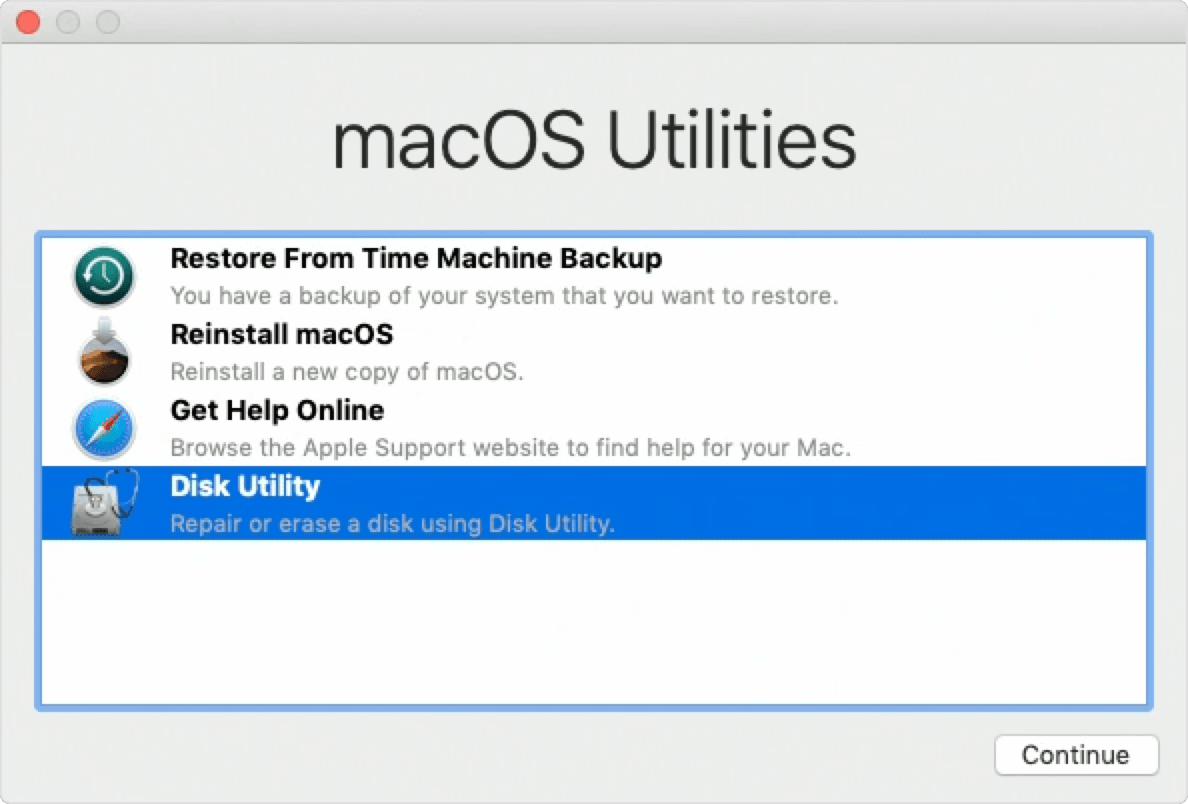 Step 3 Now, in the next window, select the disk you want to repair by navigating to it through "View > Show All Devices > Sidebar". Once you select the disk, you will see a "First Aid" button, simply click on the button.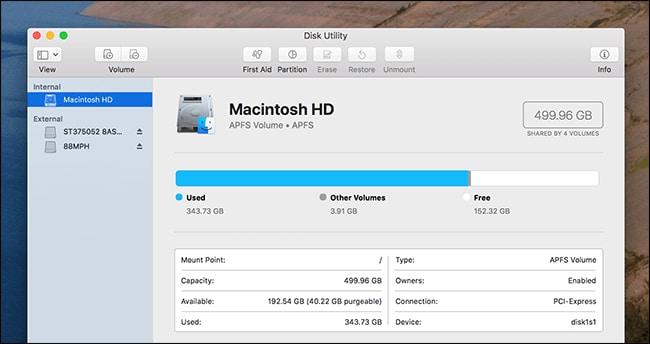 Now, three things can happen here.
1 The Disk Utility tells you that your Disk is almost fine, and it will be Ok and can be repaired, then you just need to click "Run", or follow the instructions. Your disk will be repaired.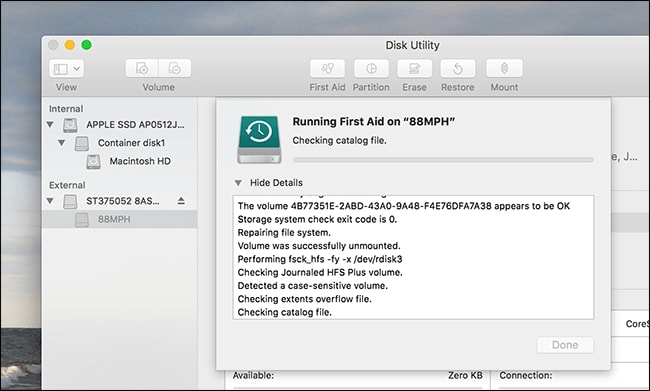 2 The Disk Utility tells you that it's the end for your Disk, it can't be repaired. That means that there is no sense of trying again with Disk Utility, simply backup all of your data from the disk, or do the disk data recovery on Mac using iSkysoft, and take your Mac to the service centre.
3 If the Disk Utility at first tells you that it can repair the disk, but later while trying it says it can't, or shows the errors like "The Underlying Task Reported Failure". Then, you can try to repair it in a second attempt, and if the error still remains there, you need to back up the data from the disk if possible and back up the overall data, and then format the disk and reinstall the Mac OS on your Mac.
At least one of these methods should work for you and should resolve your problem.
Conclusion:
Got your answer to the query of how to perform disk recovery on Mac? Good! So, let's conclude the article now. As you know, there are only 3 ways through which you can handle this situation. One, by performing disk recovery on Mac and recovering data from your disk with the help of iSkysoft. Second, by using Disk Utility and attempting the repair of the disk, if possible. Third, taking the backup of your Mac, and taking your Mac to the nearest Apple Service Centre. But remember, all of these needs to be done as soon as possible, the extra time taken might overwrite the data or damage the disk further, and then you will not be able to recover the data or repair the disk. We hope that it helps you to end up with a healthy disk.