Introduction
Visiting MacBook Pro forums is like reading a never-ending litany of crashing woes that users experience.
One of the main problems discussed is the unprovoked crashing of MacBook Pro. One user on MacRumours starts an interesting as follows:
"My fresh out-of-the-box $4800 MBP restarts due to an unknown problem during sleep at night"
Judging from the responses the thread received, for some reason, this problem occurs for most MacBook owners. The MacBook Pro "crashes" and then restarts afresh.
These users are lucky that the computers restart after crashing. What would happen if it crashes and refuses to restart? What would you do?
In this article, you learn how to restore MacBook Pro after a crash.
Part 1: Back Up Data Before You Restore MacBook Pro
Several methods are available to back up your MacBook Pro before you restore it. Two of the most common, Apple-supported backup services are:
Time Machine Backup


iCloud Backup
Before delving into the details of these two back up methods, you should understand why you need a backup for your MacBook Pro before you begin
Reasons why you backup MacBook Pro before restoration
Having a backup helps you restore files that were damaged when the MacBook Pro crashed.


A backup is necessary for recovering files, should you decide to get a new computer, or if your MacBook is completely destroyed and cannot be restored.


You might need to format the MacBook Pro, and you can easily recover all your files from a backup.
It's time to roll up your sleeves and learn about the two backup methods mentioned above.
1) Time Machine backup
This feature comes bundled with MacOS and is used to automatically or manually create a backup of your files online, or on an external drive. System files, apps, music, email, photos, videos and other documents can be stored in a backup file using Time Machine.
This backup is crucial because it stores all files in your MacBook Pro. You can then restore the files should they get accidentally deleted or ruined in the event that your MacBook crashes. It is also useful, should you need to replace your hard disk.
You need an external drive or other external storage device to create a Time Machine backup of your MacBook Pro.
Once the external storage device is connected, and you select it as your preferred backup disk, Time Machine automatically creates hourly backups for the last 24 hours. It also creates daily backups for the past month and weekly backups for the past months since you started using your MacBook pro.
When your external backup disk gets full, Time Machine will delete the oldest backups when creating new ones.
How to set up your storage device as a Time Machine backup disk
You will be asked whether you want to use the external disk as a Time Machine backup device when you connect it to your MacBook Pro. It is recommended that you choose Encrypt Backup Disk, and then click on Use as Backup Disk.

NOTE: Encrypting your backup ensures that it is available only to those who have the password. This keeps your backup safe from malicious people.
At times, Time Machine will not automatically recognize the External storage device. Follow these steps to manually add the device for Time Machine backup.
Click on the Time Machine icon

in the menu bar to open Time Machine preferences.
You may also use, Apple menu > System Preferences > Time Machine.
Now click on Select Backup Disk (or Add, or Select Disk)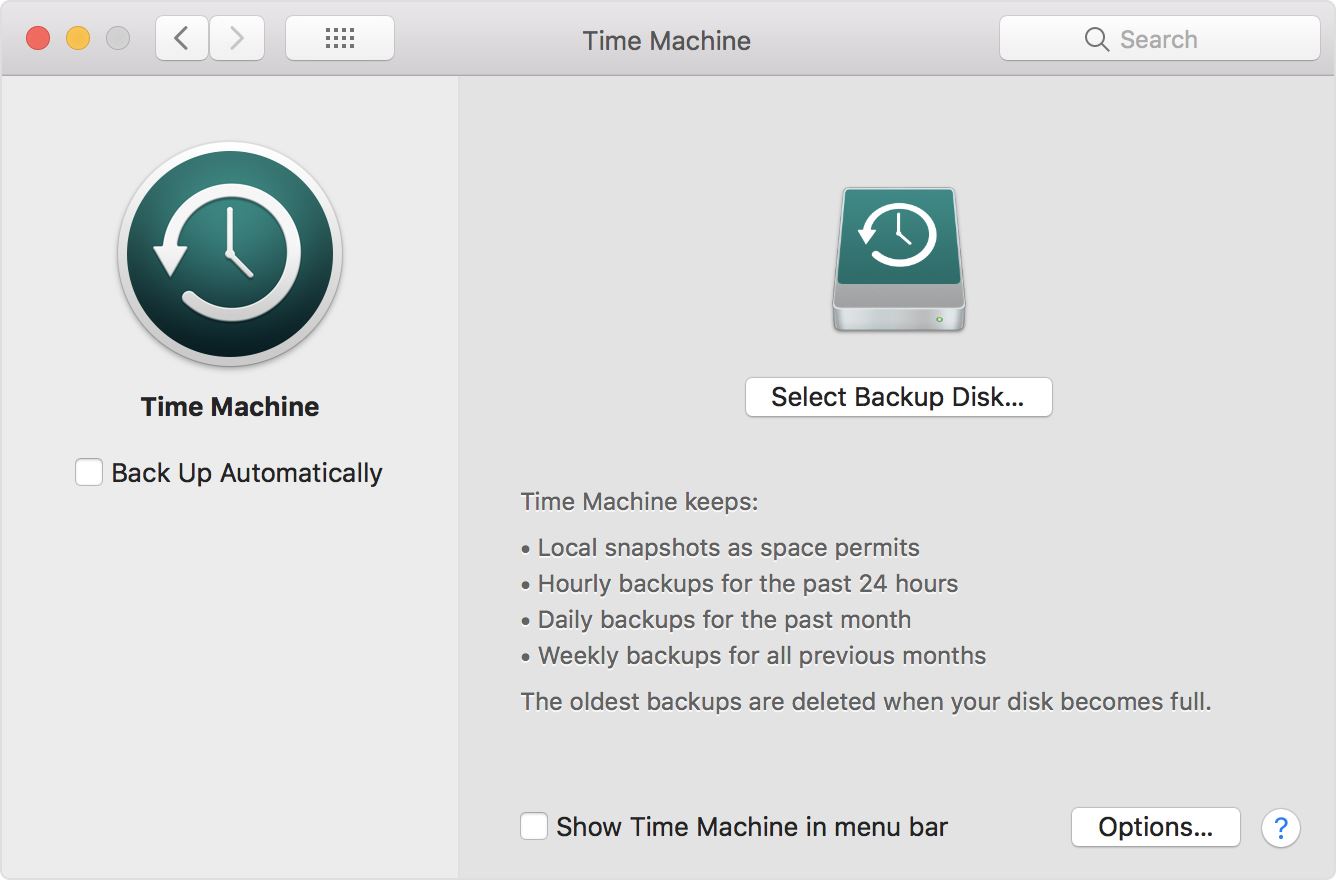 From the list of available disks, select your external drive. Proceed and select Encrypt backups and finally click on Use Disk.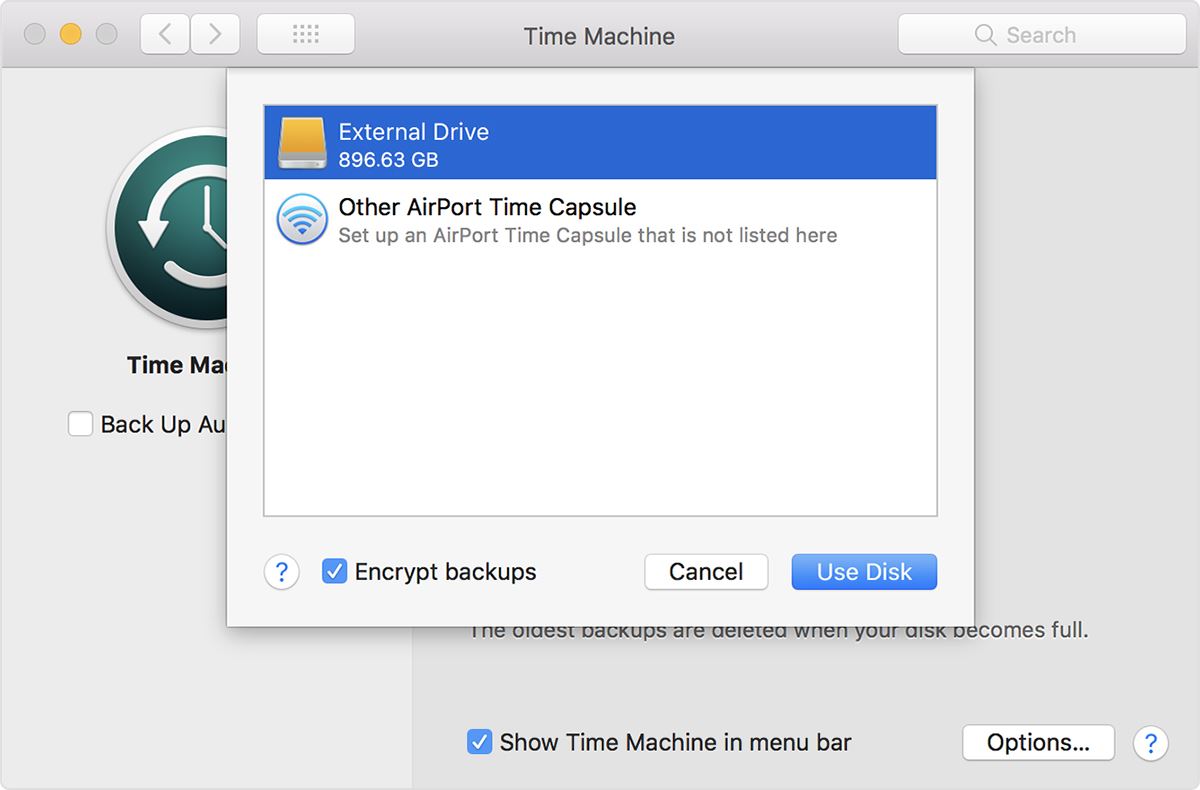 Time Machine will prompt you to erase the disk if it is in a format that Time Machine cannot use.
Click on Erase to remove all information on the disk and proceed.
Choose Automatic backups over manual backups for convenience
Time Machine will automatically begin backing up your files when you have completed selecting and setting up your external disk – you don't need to do anything else.
The initial backup will take time to complete since your entire disk is being stored. The more files you have, the longer it will take. You can continue using the MacBook pro as the backup continues.
Future backups will be faster since Time Machine will only back up files that have been created or modified since the previous backup.

If Time Machine does not start an automatic backup, click on the Time Machine icon in the menu bar

and then click on Back up Now. The same menu is used to check on the current status of an ongoing backup or to skip it even when in progress.
2) iCloud Drive Backup
You may also backup your MacBook Pro using iCloud Drive. This option is convenient since it syncs data across all your devices, whether iPhone, Mac, iPod touch or iPad. You can then access the data from any of these devices.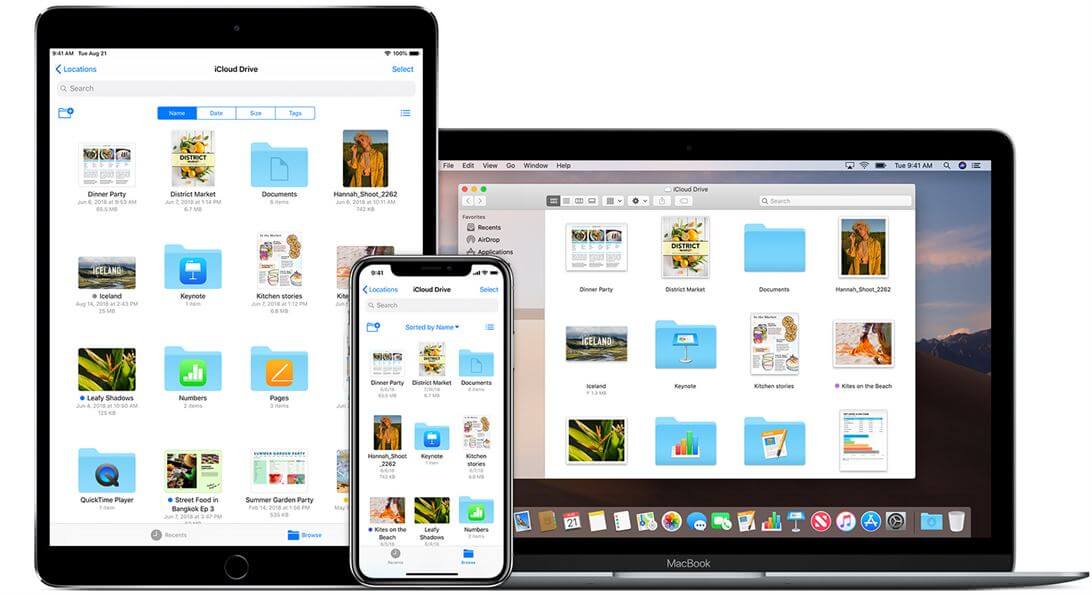 Things to do before you create an iCloud Drive backup.
Update your MacBook Pro to the latest MacOS ystem.


Setup iCloud on the devices that will access the backup.


Ensure that all your devices use the same Apple ID.
Should your MacBook pro refuse to update to the latest MacOS, check on the minimum requirements needed to use iCloud Drive for your backups.
Create your iCloud Drive backup of your MacBook Pro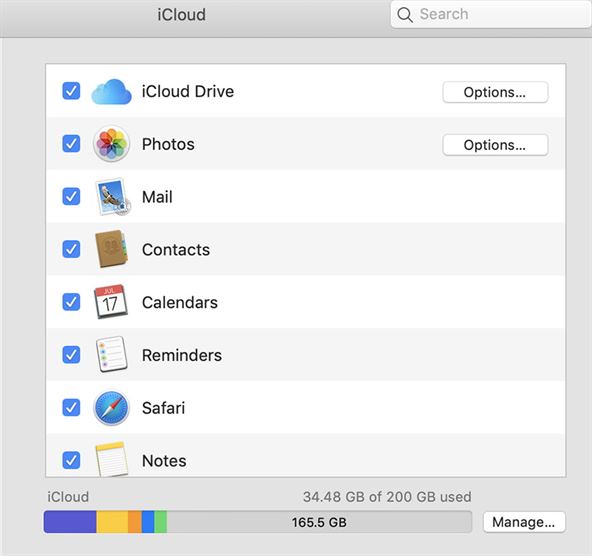 Start up your MacBook Pro and then go to Apple menu > System Preferences > iCloud.


Sign in using your Apple ID when prompted to do so.


Choose iCloud Drive.


Proceed to back up your files.
Important tips to note about using iCloud Drive
a) When you want to add files from your MacBook Pro Documents folder or Desktop, you should update your MacBook Pro to MacOS Sierra or later. Turn on your Desktop and Documents folder on iCloud Drive to store your files. Use Finder in iCloud Drive to find the files on your MacBook pro Documents folder and Desktop.
b) When using a second MacBook Pro as a backup device, the files in the second device are not updated or merged automatically with the files on the first device. You should access your Desktop or Documents Folder on iCloud Drive and then download the files to your second Mac computer.
Part 2: How to Restore MacBook Pro
One sure-fire method of restoring your MacBook files is to use a Time Machine backup. This method is used to restore files, and also the MacOS.
1) Restoring from a Time Machine backup
a) Restoring all files
i) Connect your Time Machine backup disk and then turn on your MacBook Pro.
Should your MacBook Pro start up and present a setup assistant prompting you to add information such as your network, keyboard and country, proceed to step (ii).


Should your MacBook Pro start up and present the Finder, go to the Applications folder, access the Utilities folder and open the Migration Assistant. Click on Continue, and then go to step (ii).


Should your MacBook Pro fail to start up fully, or you need to restore the MacOS you were using, follow the prompted to restore both MacOS and your files.
ii) Should your MacBook Pro ask how you want the information transferred, select whether to transfer from a Startup Disk, Second MacBook Pro or Time Machine Backup, and then click on Continue.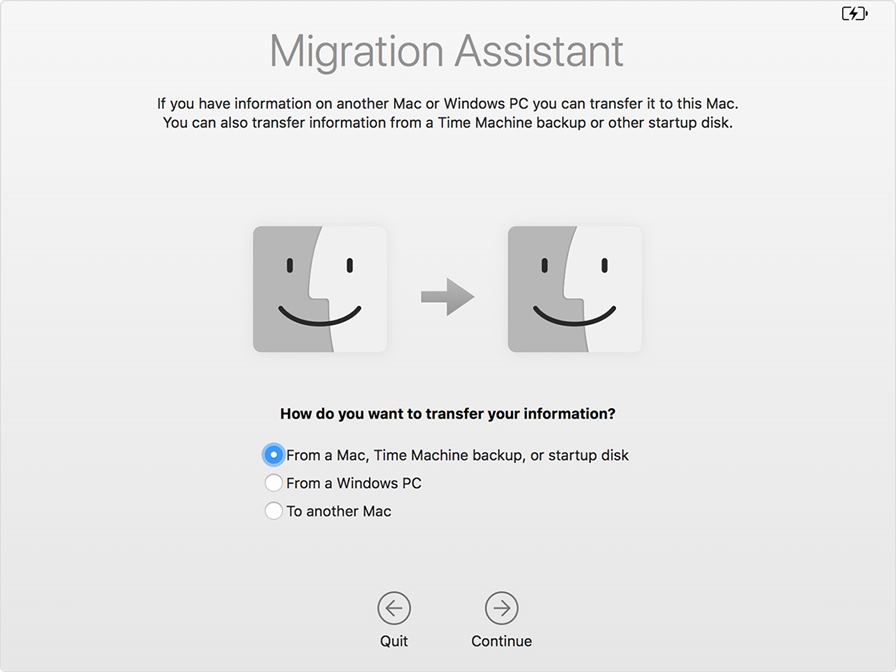 iii) Select Time Machine option followed by Continue.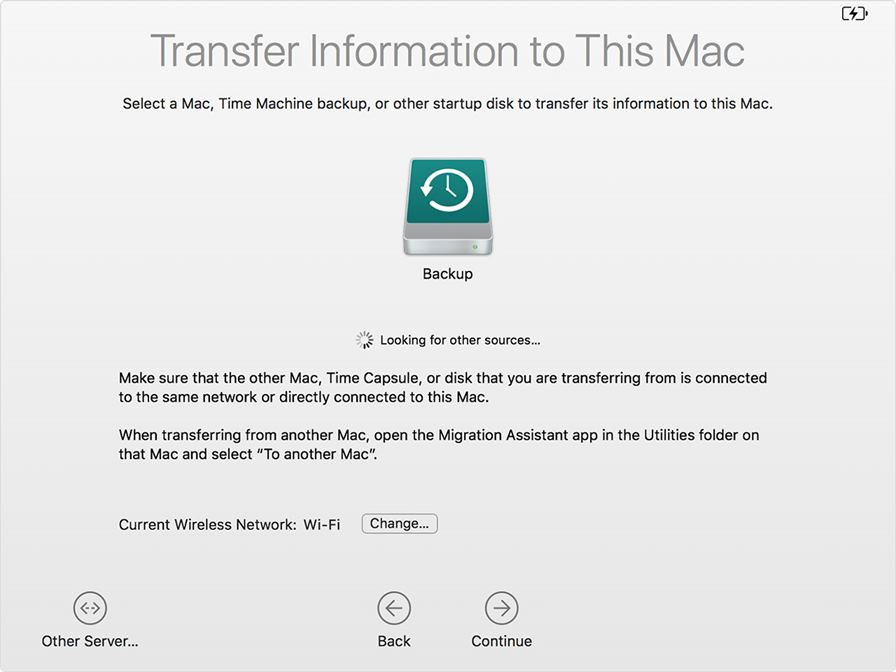 iv) When prompted to choose from a list of backups, arranged by date and time, select your latest backup and click on Continue.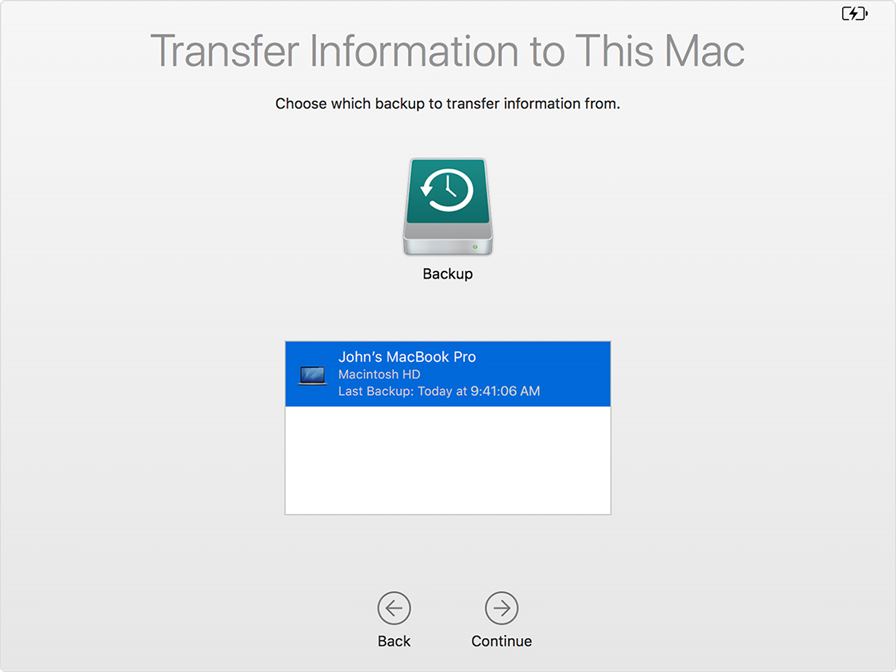 v) choose the information categories that you want to transfer and finally click on Continue, to start the transfer.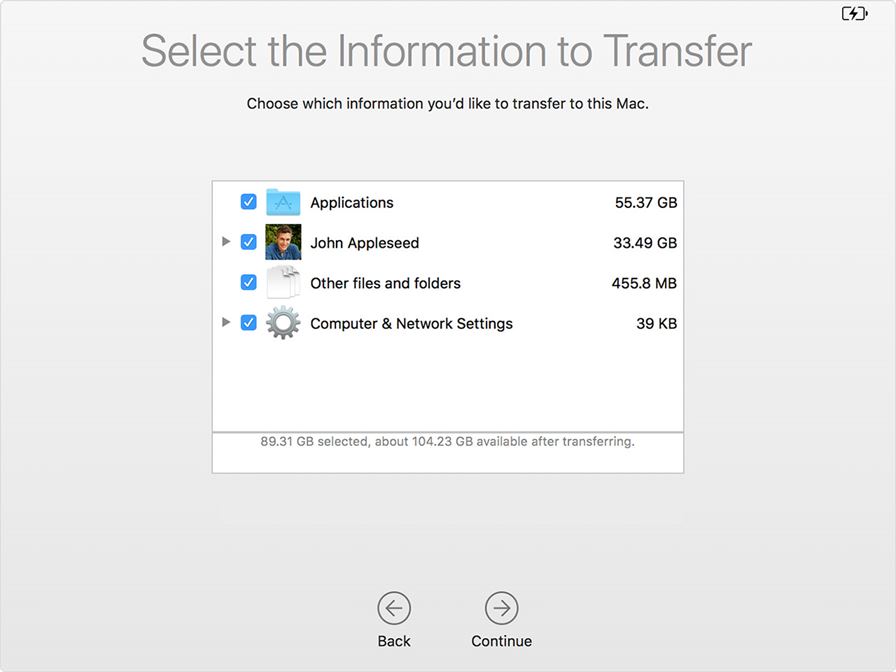 Depending on the amount of files that you are transferring, the whole process may take a few hours to be completed.
After the transfer is complete, reboot your MacBook Pro and then log into the migrated account to access your restored files.
b) Restoring both MacOS and all your files
This method will erase all the files on your hard disk, and use the Time Machine Backup to restore the MacOS and your files. The MacOS will be the one you used when creating the Time Machine backup.
i) Connect your Time Machine backup disk and powered up
ii) Switch on your MacBook Pro and instantly long press CMD + R. This should start the MacBook Pro in MacOS Recovery mode.
iii) You will be presented with the MacOS Utilities window from where you will opt to restore from a Time Machine backup.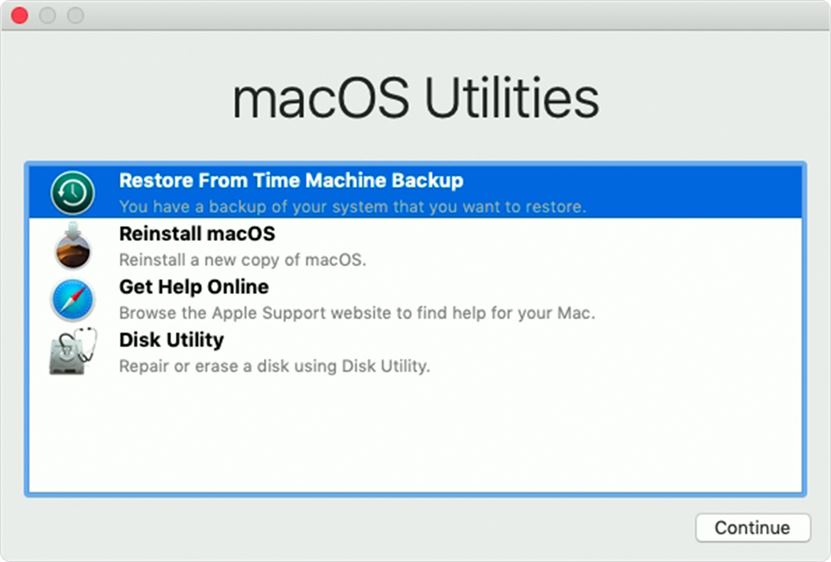 iv) Click on Continue, followed by Continue once again on the next screen.
v) Select your Time Machine backup disk to restore from and then click on Continue.
NOTE: If you encrypted your Time Machine backup, you will have to unlock it using the password that you used when creating the backup. Click on Continue to proceed.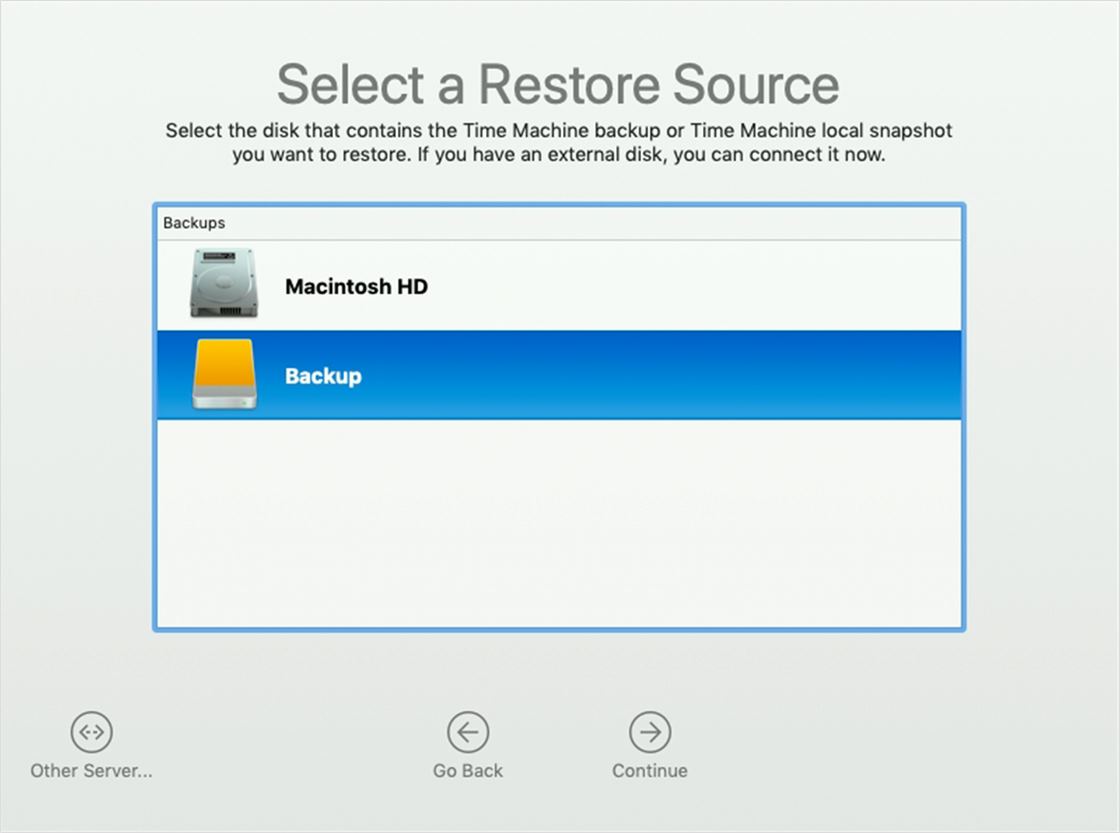 vi) Select the required backup and then click on Continue.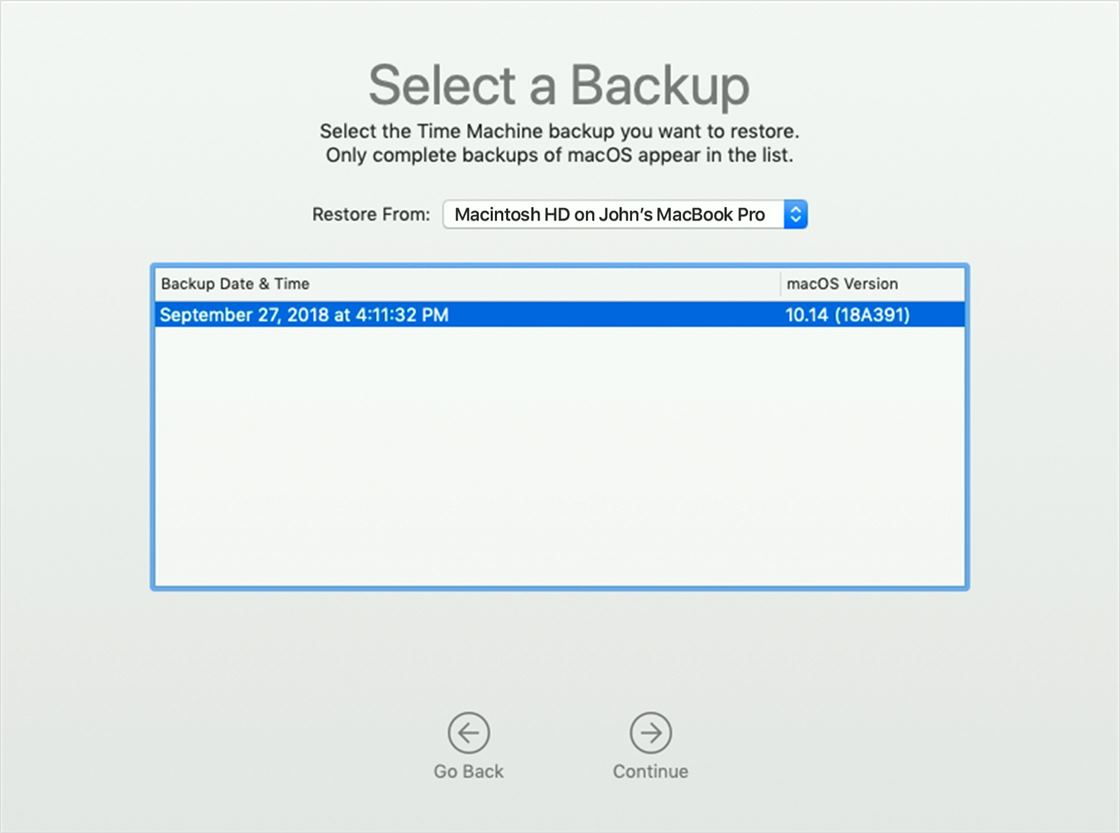 vii) Select the destination disk, whether it is the Hard Disk of your MacBook Pro or any other destination disk. Click on Restore or Continue.
NOTE: Should your MacBook Pro have FileVault protection turned on, enter the password to unlock it and then click on Restore or Continue.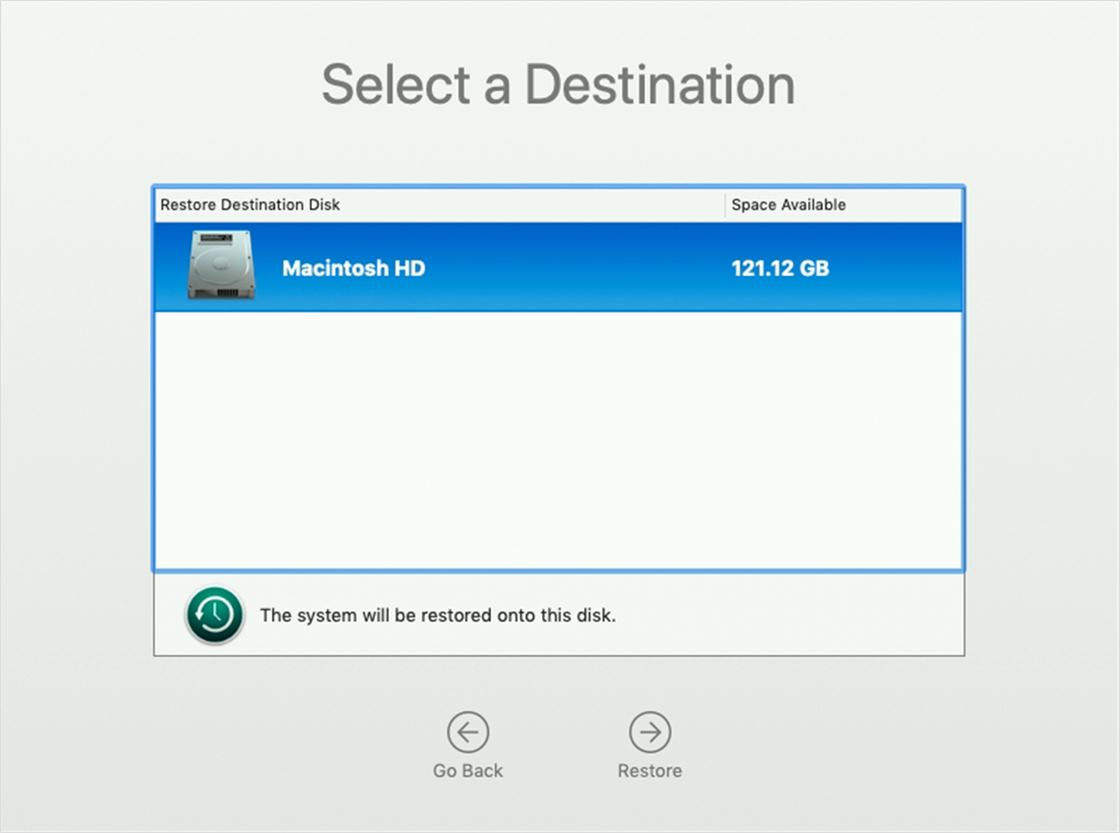 Once the restoration is completed, reboot your MacBook pro and access your MacOS and your files too.
2) Restoring files from iCloud Drive
iCloud Drive does not backup the MacOS that you are using or the Apps. The backup you create can only restore files.
Restoring files from iCloud Drive is simple.
Use the Finder in iCloud Drive, navigate to the folders having the files you want to restore and then move them to your MacBook Pro.
It is as simple as that.
Part 3: How to Restore MacBook Pro Deleted Files - iSkysoft Data Recovery for Mac
One of the best and safest ways to restore your MacBook files is to use iSkysoft Data Recovery for Mac. This is a fast way of recovering a wide range of files, on your MacBook Pro.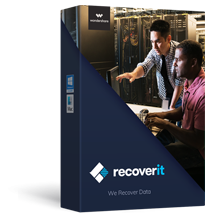 Key Features of iSkysoft Data Recovery for Mac
Fast Recovery – this method is fast so you do not have to wait for several hours to restore your MacBook Pro.
Recover 1000+ file types – the tool can recover a wide range of file formats.
Versatile recovery tool – you can recover files from your computer or other external storage device.
Recover data from a crashed computer – with this tool, a crashed computer can be restored easily and securely.
Selective recovery – you can choose to recover all your files, or choose specific files or file formats to recover.

3,015,629 people have downloaded it
Step-by-step guide to restore MacBook Pro using iSkysoft Data Recovery for Mac
Step 1

Download, install and launch iSkysoft Data Recovery for Mac.

Go to the official download page and install iSkysoft Data Recovery for Mac on your computer. Once installed, launch the program to access the home screen. Here, select the restoration module that you need and then click on Next.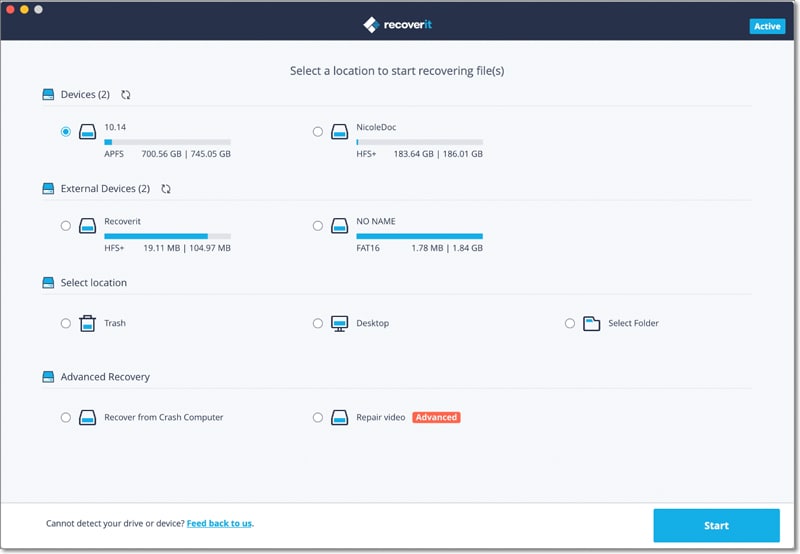 Step 2

Select the partition to recover files from.

The next window should show you a list of the partitions on your MacBook Pro hard disk. Select the one that you want to recover files from, and then click on Start. Click on the Refresh icon, located next to External Removable Device, if you do not see any external hard disk listed.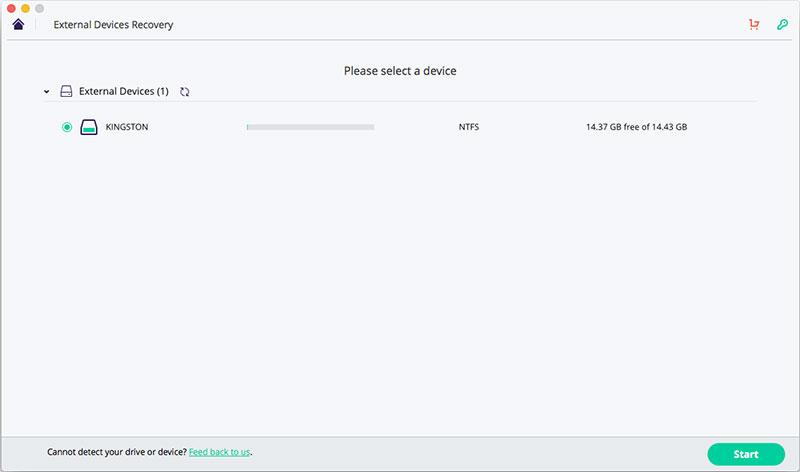 Step 3

Select the files to be recovered and complete the recovery process.

iSkysoft Data Recovery for Mac starts scanning the selected drive after you click on Start. The time taken will depend on the size of the partition. When scanning is complete, you will be presented with a list of recoverable files. Their validity, which is a measure of their retrievable condition, will also be listed.

You can opt to select all files for retrieval, or select particular files. You may also choose to retrieve one particular file format e.g. MP4 if you want videos alone.

It is recommended that you use an external storage device or another partition as the destination for the restored files. This reduces the risk of corrupting the files, if the partition you are scanning has been damaged.

You may also preview the files before recovering them one-by-one.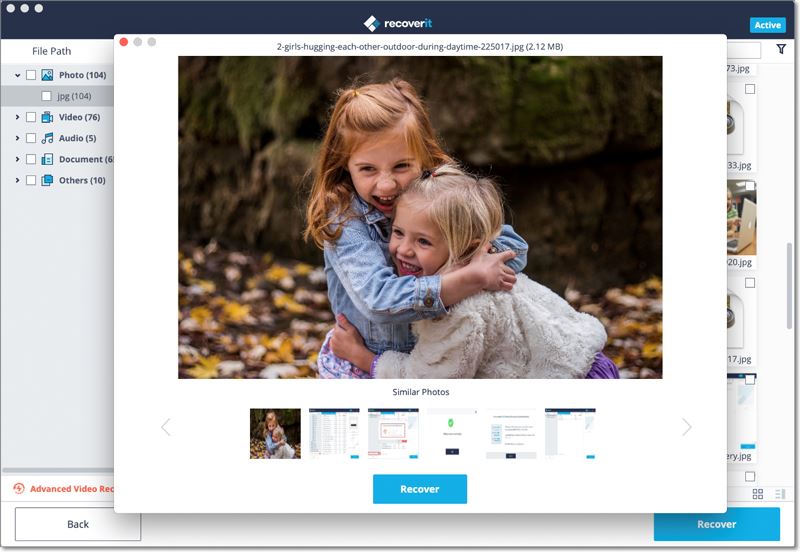 Tips:
Use the inbuilt filter when you want to scan for particular file types. This speeds up the scanning process.
Enable deep scan if you want to go deep into the partition and find files that cannot be found using the basic scan feature.
You may also save the scan results to use in future when you want to recover the same files.
Consider the validity of files before you attempt to recover and restore them. This saves you time as the tool will not attempt to recover unrecoverable files.
In conclusion
There are several ways to restore MacBook Pro, and these three listed are just some of the best. Time Machine Backup and restoration is a slow process, but it will backup and restore all your files, including applications and MacOS. It is a great way to backup and restore your full computer.
iSkysoft Data Recovery for Mac is a speedy and efficient way to restore lost and deleted files from your Mac, and also from your hard disk partitions. Use this tool when you really need to restore files in a hurry. Get iSkysoft Data Recovery for Mac now and never have to worry about restoring your damaged MacBook Pro in future.