"I recently restored factory settings in my iPhone and need to recover some of my data from previous iCloud backup. Need some help".
- a question from Quora
Many of us are in the habit of deleting some of the files from our iPhone to clear some memory or else do restore factory settings to make it work better.
However, before doing so, you should always back up all the data to your current iCloud account so that you can recover it anytime when the necessity occurs.
So, we have come up with some of the most useful iCloud recovery methods in this article. To tell you in brief, our article today can be summarized as:
So, for what are you still waiting for, move on to dig in and find out more about iCloud recovery.
Part 1: How to Recover Lost Data from iCloud Backup
If you have upgraded to a new iOS version in your device and you wish to recover the data from the iCloud backup without the aid of third-party software, it's quite easy.
We shall discuss a prevalent method to recover lost data from the iCloud backup in this section.
Step 1 First of all, execute "Settings>General>Software update," and if you find a new version, download and install it in your iOS device as per the instructions.
Step 2 In this step, (to do a restoration later), make sure you have a recent Backup in your iCloud account.
There are different steps in different iOS versions, such as:
If it is an iOS 11 or later versions, you can backup your data by clicking on "iCloud Backup" from the Backup option in the "Settings".


If it is iOS 10.2 or any other earlier version, go to "Settings" and execute "iCloud>Storage>Manage storage."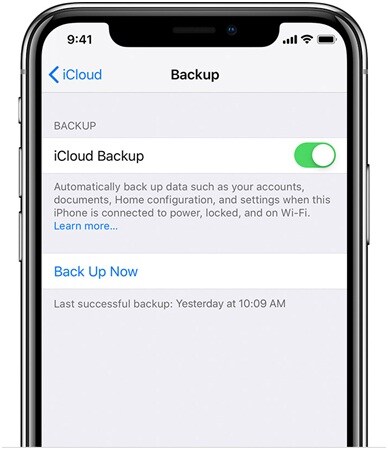 Step 3 Once, you have created a recent backup, go to "Settings> General>Reset>Erase all contents and settings option." This is to wipe your device and leave it in a clean state.
Step 4 Your current settings and contents will be erased from the device. In the App & Data screen, hit "Restore from iCloud account" option.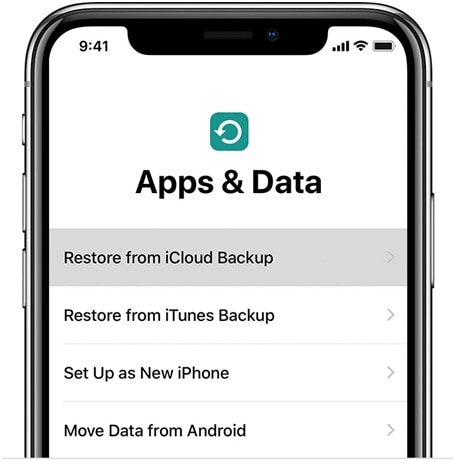 Step 5 Now, sign in into your iCloud account with ID and password. In the next interface, choose the backup from available backups and click on it. The restoring process will begin.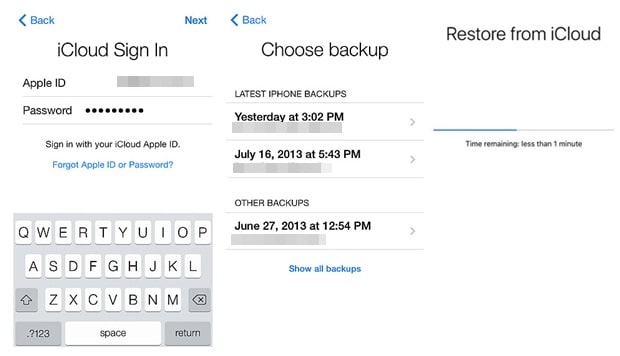 So, this is how your lost or erased data is recovered back to your iOS device with the help of iCloud backup.
Part 2: Use the Best iCloud Data Recovery Software to Recover Lost Data from iCloud Backup
"Is it possible to recover data only with the help of device options, or is there any reliable software that will do the iCloud recovery process for me?"
Well, why not? Why should you worry when dr.fone - Data Recovery (iOS) is there right beside you to help you in this?
dr.fone - Data Recovery (iOS) helps in recovering your iPhone data in any scenario. Have a look at the different scenarios below:
Have you accidentally deleted any of the files from iPhone?
Have you reset the factory settings?
Is your device a water damaged iPhone?
Have you incurred an iOS system crash in your device?
Have you incurred an iOS system crash in your device?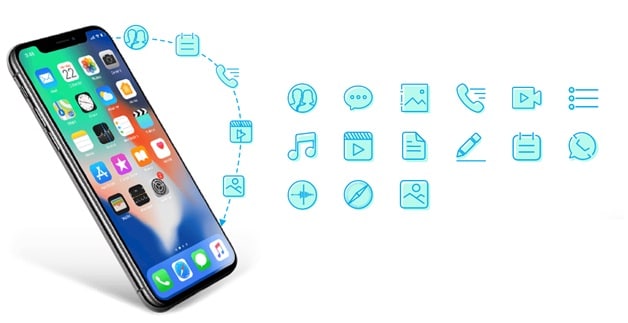 To perform recovery from an iCloud backup with the help of dr.fone - Data Recovery (iOS), you need to follow a few simple steps which we will take you through in this session.
Note: This method is possible only if your data is in the iCloud backup. If not, choose "Backup and Restore (iOS)" option.
Step 1 Once you have installed, launched the iSkysoft toolbox for iOS, click on "Restore from iCloud backup file" once connected.
Step 2 Now, sign in into your iCloud with the username and password credentials.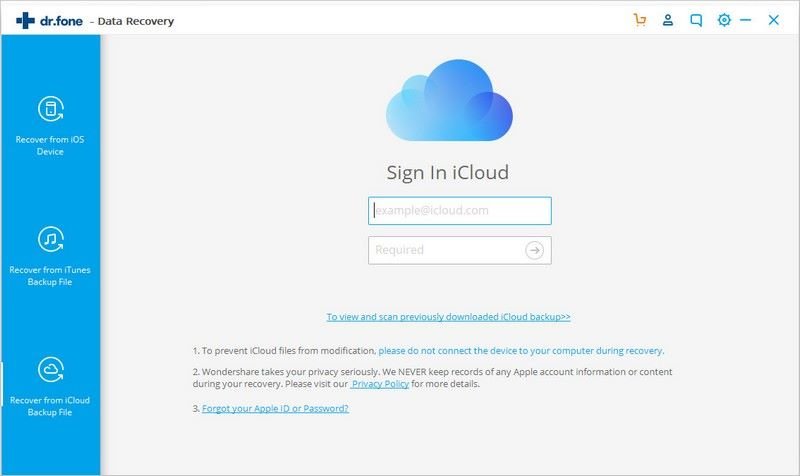 Step 3 All your iCloud backup files will now appear on the screen along with backup date and size. Click on the backup file you need to download and hit the "Download" option.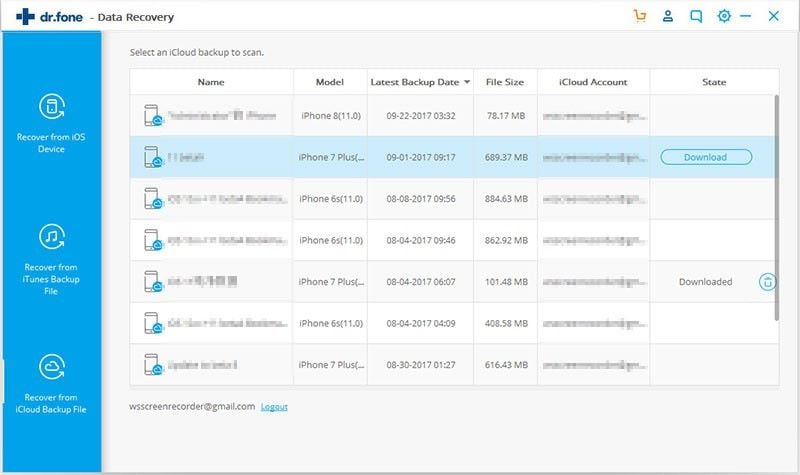 In the next interface, you can choose the types of files you need to download. To proceed, click on the "Next" button.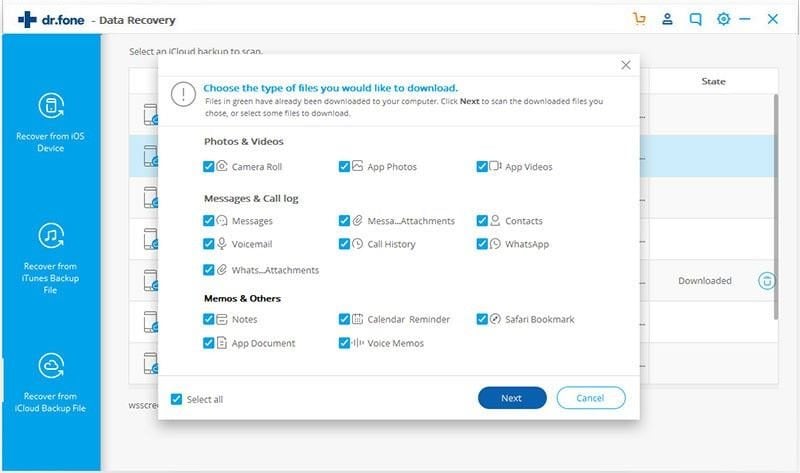 The particular iCloud backup file will now begin to download.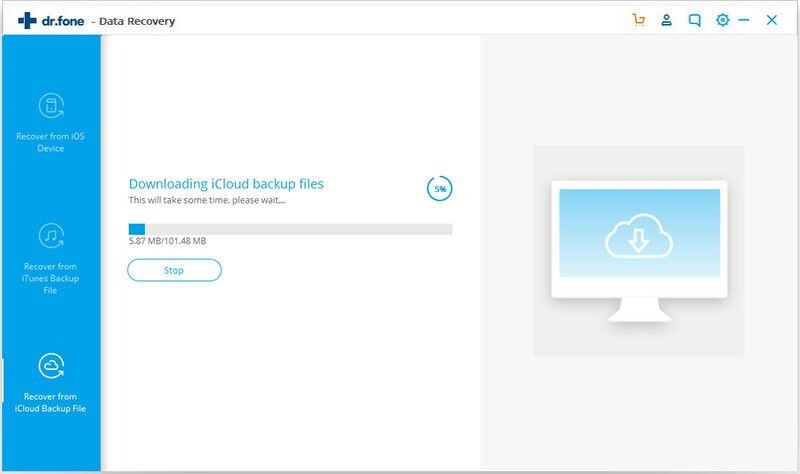 Step 4 Once the download is complete, you can preview the data and start recovering them.
You can choose to click on the "Recover to Computer" or select the "Recover to Your Device" option.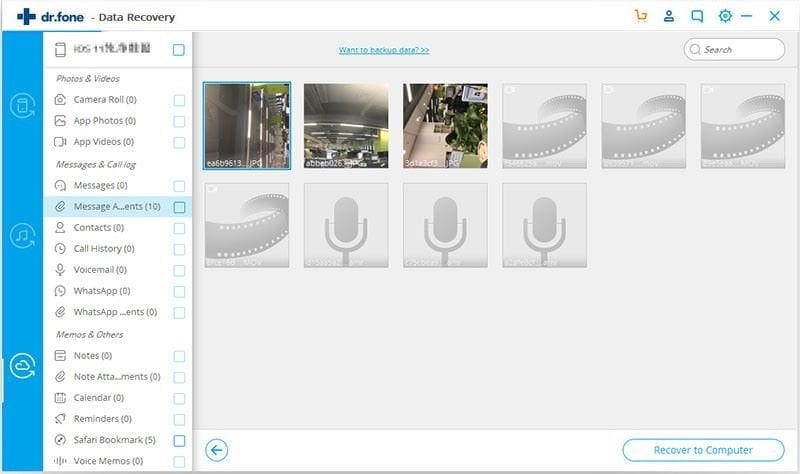 With these steps you can restore various types of data like contacts and other social media chats to your device from iCloud backup file with the aid of dr.fone - Data Recovery (iOS).
Part 3: iCloud Account Recovery
There are times when there is a high possibility for you to forget your iCloud account password, which in turn makes the data recovery process complicated. At that time, you will need to recover your iCloud account. Hence, in this section, let's see how to retrieve an iCloud account. If you have forgotten your Apple iCloud account password, you can regain them by the following methods:
Two-factor authentication
If you have the two-factor authentication enabled in your Apple ID, then there is a high possibility of changing it from the trusted iOS device like an iPhone or iPod.
On your iPhone or iPod:
Step 1 You should first ensure that your device has iOS 10 or any later version.
Step 2 Choose the "Change password" option from the "settings" section. If it is an earlier version or iOS 10.2, then tap iCloud> [your name]>Password & security and choose "Change password" option.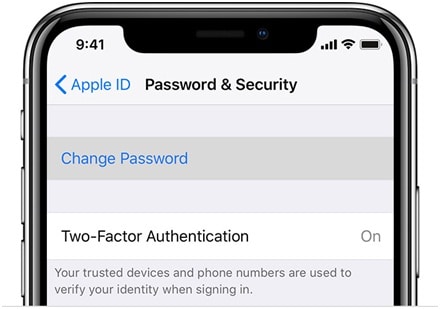 On your Mac device:
For an iPhone, you can perform the previous method, but for any of the Mac device, you would have to use the following two steps for Apple iCloud account recovery.
Step 1 To start, go to the Apple menu. Select system preferences and hit on "iCloud" option.
Step 2

You will be directed to the Account Details windows where below the checkbox, you must click on the "Forgot Apple ID or password" option and subsequently follow the instructions.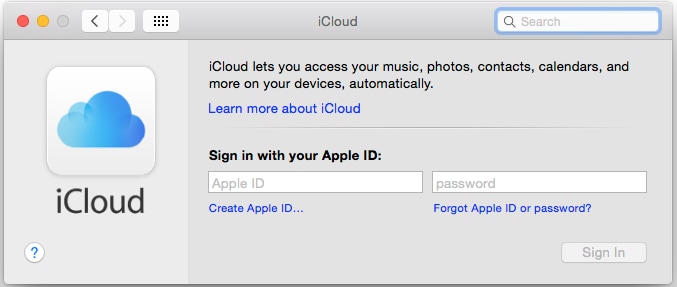 There you go, isn't it smooth to recover my iCloud account?
Conclusion:
Restoring the data from your iCloud account back to your iPhone device is easy, and the retrieval can be done by using a third party software like iSkysoft toolbox as well.
Well, we hope you would have learned well about iCloud account recovery and how to retrieve data from an iCloud account here. So, the next time you face issues in restoring your data, you can make use of these ideas and get back on track with your iOS device.
Lastly, always ensure you have a copy of this iCloud recovery article and do not forget to tell your friends about the knowledge you have gathered here today.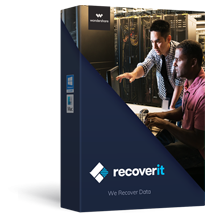 Recover Lost Data on Mac Easily!
It is compatible with both Windows and Mac operating system.
It supports a large number of storage device type including hard drives, USB flash drives, SD cards, etc.
All major types of files can be recovered including music, images, video, documents, emails, and archives.
It has a deep scan features for in-depth scanning of the hard drive for searching files to recover.

3,165,271 people have downloaded it