Mac internet recovery has been a topic of confusion for many users. People often confuse between Mac internet recovery and MacOS Recovery. Many believe that both are same - a way to restore your MacOS if anything happens to it and it stops working.
However, this is not the case! iMac Internet recovery is different from standard recovery and in this guide, we will help you understand more about the two!
Part 1: What is Mac Internet Recovery
The easiest way to define iMac Internet Recovery is to differentiate it with standard iMac recovery.
Standard Mac Recovery: Every Mac comes with a Recovery partition in its hard drive. This space is reserved to keep the most up to date version of Mac. So if something happens to your current MacOS, then you can use this partition to reinstall MacOS into your system.
Mac Internet recovery: If something happens to your standard recovery partition, then you will be not able to reinstall MacOS in need of an emergency. This is where Mac Internet comes in as it lets you download the MacOS version that came with your Mac when you bought it. Mac internet Recovery downloads the OS from Apple servers rather than local storage.
Part 2. Why You Need to Use Internet Recovery to Reinstall Mac?
Mac Internet Recovery is designed to help the users to get a complete reinstallation of MacOS on their system. There are many scenarios where the Internet recovery of Mac is useful.
Damaged recovery drive: The number one case is when your local recovery drive is damaged. This will prevent you from making a standard recovery process.
Slow computer: Over time, your Mac may get slowed down due to the large amounts of data that it has to process. Internet Recovery gives you a fresh install of the OS, bringing the software to the way it was when it was bought.
Remove unnecessary files: Internet Recovery will wipe all the existing data on the hard drive. So if your Mac has a lot of cache files burning up your storage, an internet Recovery will work the best.
Remove malware: If your Mac has been infected with any type of virus or malware and you can't seem to find a way to remove it, then doing an internet recovery will help you erase all the data on your Mac and replace the infected OS with a fresh one.
Part 3. How to Reinstall MAC OS X Using Internet Recovery Mode?
Reinstalling Mac OS in Internet Recovery mode is not a hard thing to do. However, there are some precautions that you have to take before venturing out to do so.
Precaution: What should you do before performing Internet Recovery?
Doing an internet recovery on Mac without thinking of its implications can have unwanted results. Go through the following points to know the full list of precautions that you must keep in mind before performing the internet recovery.
Back up or move your files: Internet Recovery will wipe all your data from your system. So if you don't move all the important files you want to use again from the system, it will get erased in the process. So make sure that you backup or move all the data from the Mac to another device before performing internet recovery.
Stable internet connection: Internet Recovery on Mac downloads the OS image right from the apple servers. So you will need a speedy and reliable internet connection to download the file. If your internet fails halfway, it can create some pretty hard problems to fix.
How to perform Internet Recovery Mode: Step by Step guide
If you have had a good look at the precautions, then we can now look at the step by step guide on internet recovery guide. Before going into the steps, make sure that you have connected your mac to a reliable internet connection.
Step 1 Restart your Mac.
Step 2 Now when the Mac restarts, press down Command - Option – R.
Step 3 As the Mac is booting up, a globe will be shown with the message "Starting Internet Recovery".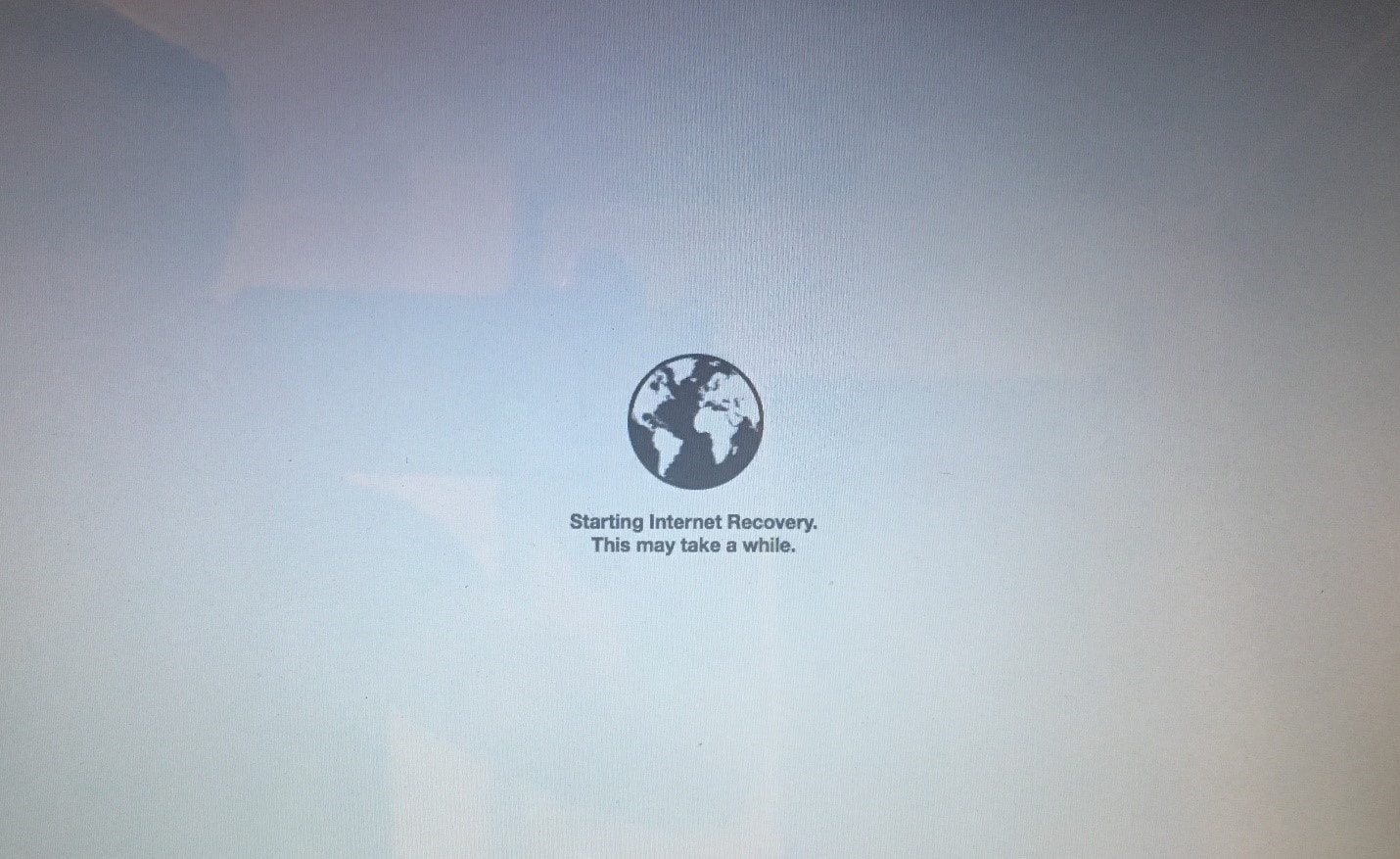 Step 4 You will be asked to enter a WiFi network. Connect to a reliable WiFi.
Step 5 Wait for the utility window. Click on Reinstall OS to begin the Reinstallation process.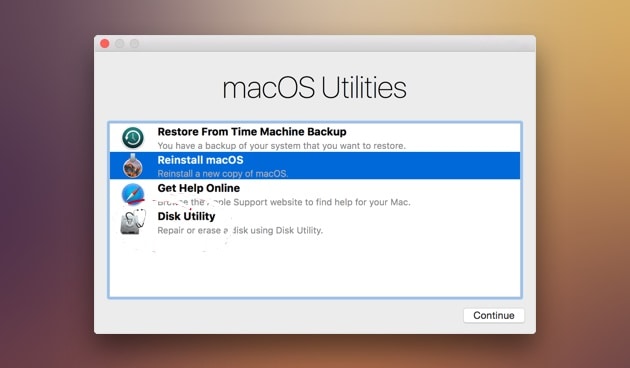 After the reinstallation process, the Mac will have a fresh install of the MacOS that I came with. Like we mentioned before, all the data in the Mac will be completely erased in the process.
If you have no other way of refreshing your system, then this method surely works!
Part 4. Does Mac Internet Recovery Delete Files? And How to Troubleshoot?
[Important]
The answer is yes, and this can be a deal breaker for many users. The reason why we do Internet recovery in the first place is that there is no other option to make your Mac work in a normal way.
If your Mac stops abruptly, then chances are that you might not get enough time to move all your files or make a backup. So now, some of the important files are still there and the is no option but to do an Internet Recovery, which will erase all the data on your mac.
Now, this is devastating news as most of us do not think about making a backup file until it's too late. So what are you going to do to get your files back? Check out the section below!
Lost all your data in Mac Internet Recovery? Recoverit (IS) is the rescue!
If you have all your important files erased on your Mac and are looking for a way to get them back, then we introduce to you, Recoverit (IS).
The Recoverit (IS) tool scans your hard drive very meticulously to find deleted data even after a format. This works because even when you format your hard drive, the files tend to stay there hidden until they are being overwritten. The Recoverit (IS) digs out these files and brings them back to life. Let's have a look at some of the features makes iSkysoft the best tool for getting your files back after performing an Internet Recovery.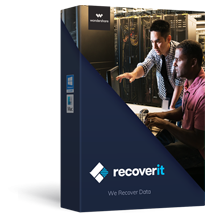 A Life Saver to Solve Your Data Loss Problems!
Multiple file format support: Recoverit (IS) for Mac supports a host of file formats like mp4, mp3, doc, xls, jpeg, png, etc.
Easy recovery process: You don't have to worry about doing complex steps or processes. Data recovery with iSkysoft is easy and quick.
Time Machine Backup recovery: You can get files back from Time Machine backups that you have saved on your Mac.
No internet connection: The Recoverit (IS) works offline for most recovery modes, hence you don't have to bother about connection issues or speedy network.
iMac and MacBook Support: You can use the dr.fone on a variety of Mac devices like the iMac, MacBook, and the Mini.

3,015,629 people have downloaded it
Wondering how you can set up iSkysoft on your Mac? Follow the installation guide below to know how you can install iSkysoft Data recovery on your iMac.
Step 1 Download iSkysoft toolbox from the official iSkysoft Website. Beware of unauthorized versions from fake websites.

Step 2 Run the program on your iMac. Select a location where your data got lot to scan.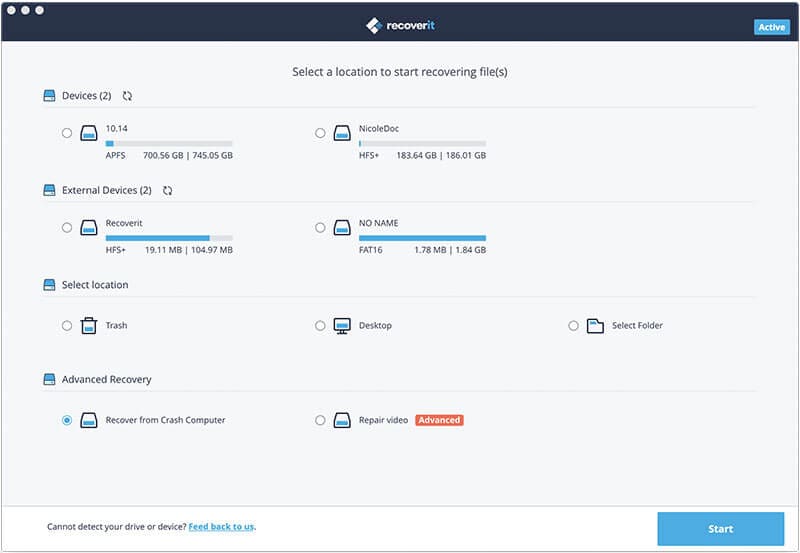 Step 3 The software will now scan your hard drive and get the list of all the deleted files.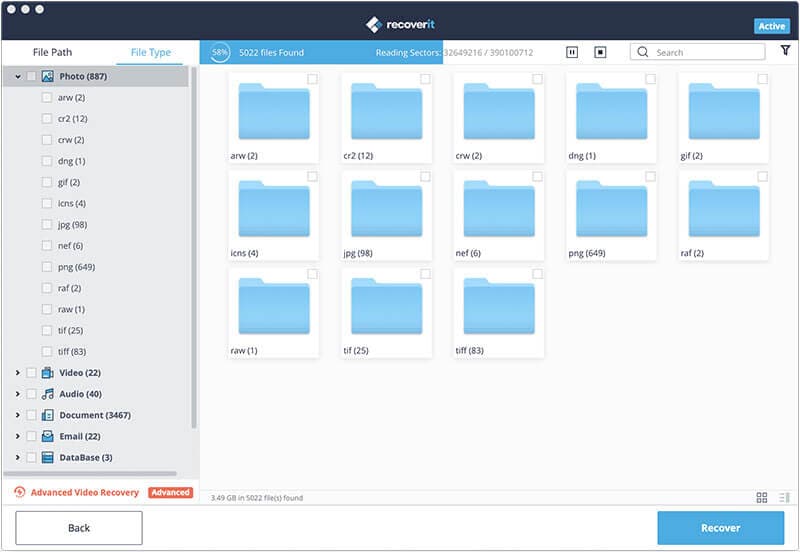 Step 4 Select the files you want to recover and click on Recover.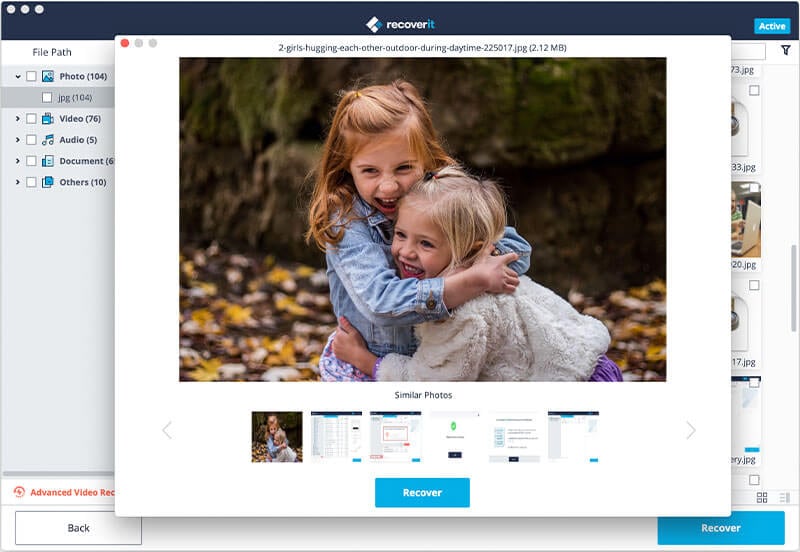 This is all there's to it! Now you don't have to worry about your files getting lost because you did an internet recovery on your iMac. Just install iSkysoft Data recovery tool and you are all set! You can also use the software to recover files that were accidentally deleted or lost due to a failed partition.
Conclusion
Performing an Internet Recovery is surely a daunting task. And when you finally do it, all the files within your device will be lost. But now you know a software that can help you get back if it were to comes to that.
Always make sure to maintain your Mac so that you can avoid such instances in the first place. Good computer maintenance goes a long way!