If you have been looking for a data recovery software for Mac on the internet, it's possible that you have already gone through a hundred of such tools. If you have noticed, every other tool claims to be the best data recovery software for Mac. But in the real world, their performance is not quite up to the mark. So, how to find the best data recovery software for Mac? How to know which one is the best data recovery software for Mac? Well, you don't need to worry, we have already done all the heavy work for you. We have gone through almost all of the data recovery software available for Mac, we have tested them by ourselves, or compared the things they offer and have made a list of the top 9 data recovery software for Mac.
This article consists of all those top 9 data recovery software for mac, that we have figured out for you. So, go through all of them, and choose the tool that best suits your need.
Tips: Things You Need to Take Care of Before Performing Mac Data Recovery
Before you get on with the data recovery on Mac with the help your favourite tool, here are the few things that you need to take care of prior to recovery. Go through all of them, and keep them in mind while preparing for recovery.
1 Do Not Overwrite the Data
As soon as you accidentally lose your files from Mac, or you realize that you have lost your files, you need to avoid thinking much and stop using your Mac instantly. Why? Well, because the only reason that the data recovery software on Mac is able to recover deleted files, is that when you delete a file from your Mac, it doesn't get entirely deleted from the system. The data of the file remains in your system, it's only the address of the file that gets deleted. Now, the only way that hidden data can be deleted permanently is by overwriting another data over it, and the same happens when you keep using your Mac after losing the files. The data on the drives get overwritten, and it becomes impossible for data recovery software on Mac to recover those files.
2 Was the Immediately Delete Feature Enabled?
We all know that if you intentionally or accidentally delete a file from your Mac, you don't need to worry much, the file will be resting in your Trash Bin, and you can easily recover it from there. But there is another scenario, in which even if you delete your file simply, you will not be able to recover it from Trash Bin. There are many apps in your Mac that have an option to enable a feature called "Immediately Delete", if you enable that option, all the files you delete will start getting deleted permanently without going to Trash Bin. So, you should know if the Immediately Delete option was enabled or disabled.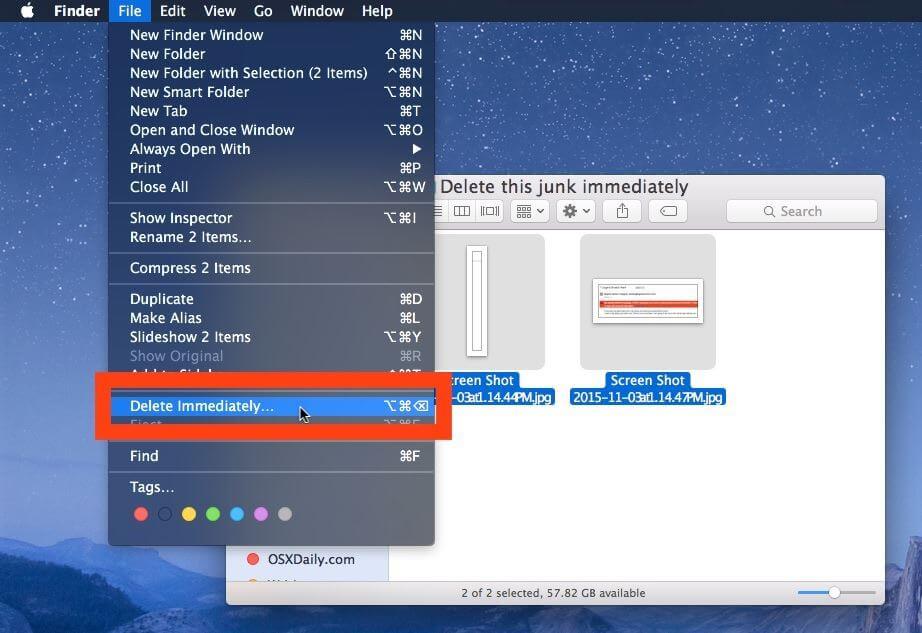 3 The Reason Behind the Loss of Data
Most of the data recovery software from Mac comes with multiple recovery modes, all those modes are configured to recover your files lost due to different scenarios. Some modes are configured to recover data that's lost due to Malware attack, some recover data that are lost due to system crash, and some recover accidentally deleted files. Thus, you should know the reason behind the loss of your data, so that you can recover the lost data in a more specific way.
4 Disable the System Integrity Protection Before Attempting Recovery
We all know that MacOS is a very secure OS, but sometimes it is just a little extra security, and that creates problem during many operations. Your latest versions on Mac including Mojave comes with an extra layer of security called "System Integrity Protection". This feature comes inbuilt and protects your Mac from any kind of Malware attack or hacking attempt. But the same feature creates a problem when you are trying to recover deleted files on your Mac with the help of a recovery tool. Thus, you are required to disable the System Integrity Protection to successfully recover files on your Mac.
Top 10 Mac Data Recovery Software – macOS 10.14 Mojave Supported
This is the list of all those top 10 data recovery software for Mac that we have figured out for you. You can either go with the software that we have recommended to you, or you can find out yourself which one is the best for you.
1. Recoverit (IS) for Mac – Highly Recommended
iSkysoft is one of the best recovery tools for Mac. It is designed to recover all kinds of lost files from Mac in the easiest way possible. With the proved highest recovery rate, extremely simple and highly interactive UI, an affordable price tag, and a long list of powerful features makes the tool our highly recommended recovery tool for Mac. iSkysoft has the recovery support for twice the file types compared to any other tool, and it has got the most powerful deep scan, that allows you to recover everything from your drive. iSkysoft comes with different recovery toolbox for Windows, iOS, MacOS, and Android.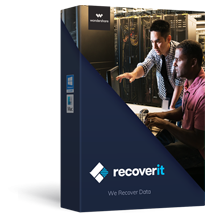 A Life Saver to Solve Your Data Loss Problems!
It can recover more than 1000 file types of Videos, Audios, Images, Documents, etc. It's more than twice what most of another tool support.
It offer you multiple recovery modes like All Around Recovery, Deleted Files Recovery, Lost Partition Recovery, etc. The modes help you to recover files from different scenarios.
You can recover all types of data by using this tool, you can recover Images, Video files, Audio Files, ZIP files, documents, App data files, and so on.
You can recover files from almost all kinds of devices i.e. Mac, PC, Laptop, Mobile, Cameras, Pen drive, Hard Drives, Flash drive, SD card, etc.
The program comes with a deep scanning feature for a complete powerful scan and a quick scanning feature for a fast and powerful scan.
The program is also very affordable with the lifetime ultimate pro-recovery licence(Data Recovery Pro + System Crash Data Recovery (WinPE Bootable Media)) for windows, and going only a few bucks higher for Mac, still cheaper than almost all the other tools.
The Program lets you preview all the recoverable files before recovering them to your Mac.

3,015,629 people have downloaded it
How to Perform Mac Data Recovery with the Help of Recoverit (IS) Tool?
Step 1 Download and install the program on your Mac computer.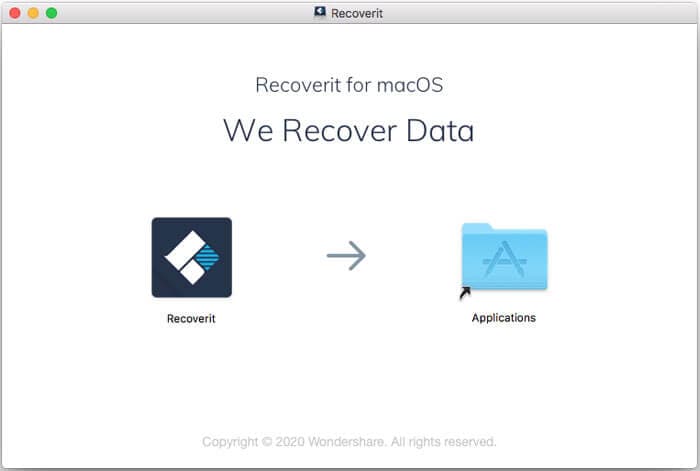 Step 2 Now, the program will take you to another window that will have all of your Mac's partitions, drives, and any other external connected drive listed. You need to choose a storage drive from which you want to recover deleted files on Mac. Select the drive and click "Start".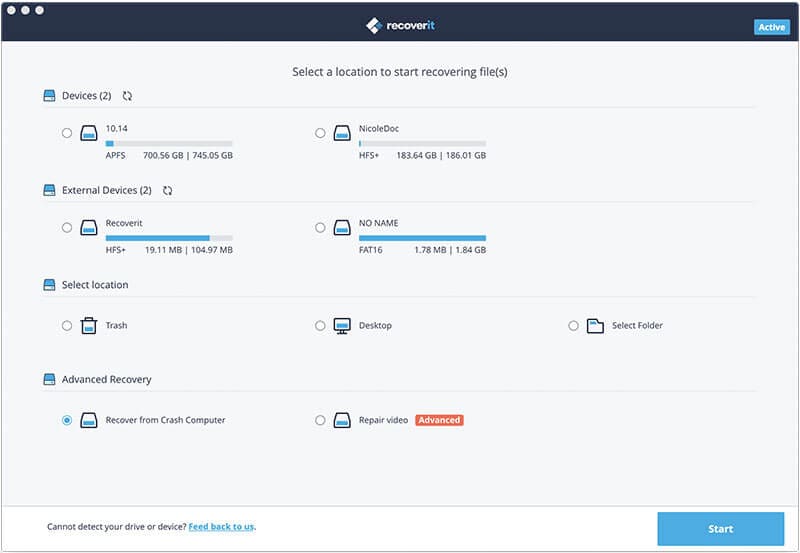 Step 3 The program will scan through your selected drive for any of the recoverable lost files, and once the scanning is done, the program will show you the previews for all the files. You can sort files accordingly, or can navigate through them to find the files you want to recover. Select the files to recover and click on "Recover" button at the bottom of the window. You'll be asked to choose a storage location on your Mac, choose a location and click "OK".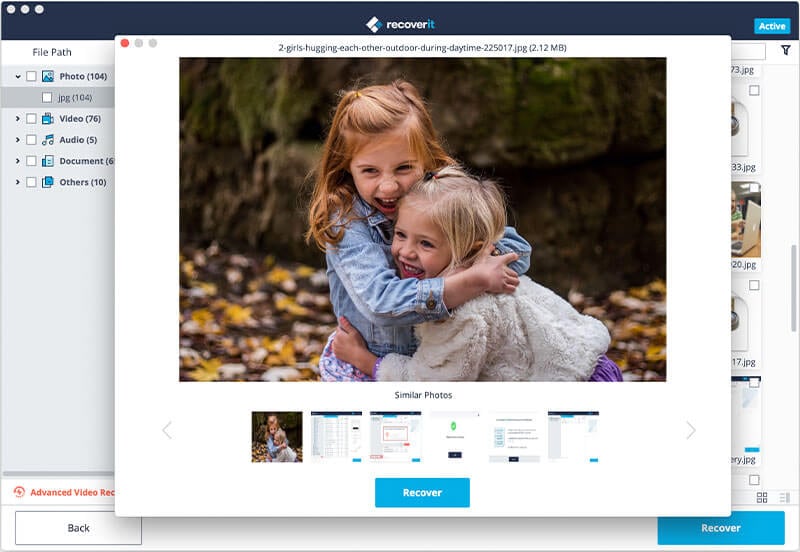 Following this method should easily recover all of your lost files from Mac. If you still think there is any file left, you can try to recover from Trash which goes with a deep scan.
---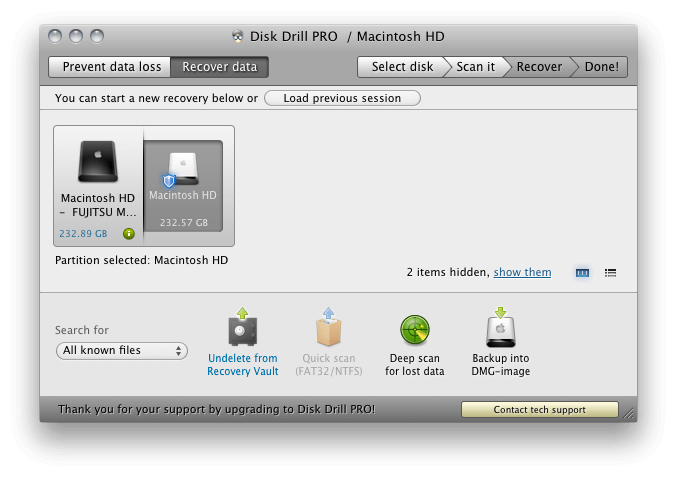 Disk Drill is one of the most popular Mac Data Recovery utility. The makers claim that the new version has improved the software by a good margin, it works faster than the previous version, the user experience has been improved, and it can now recover 30% more data. There are a few great things about Disk Drill, and the one being that it is available for free trial as well. Although the tool is really useful, its paid version can feel costly to many users, especially compared to other tools with similar features.
Pros:
It provides a Quick scan and Deep Scan feature, both the features in combined provide a greater chance of recovering files.
The software supports the recovery of over 300 files types.
The software comes with a free trial version, the pro version is also budget friendly compared to other tools.
The UI is straightforward and very simple to Use.
Cons:
The free trial version only supports the preview of recoverable files, it doesn't allow recovery of any files.
It doesn't provide any option for scanning of an individual folder or types of files.
The UI is very less interactive.
Lacks some of the major features regarding data recovery that many competitive tools provide.
Have less interactive customer support with the unavailability of live chat.
---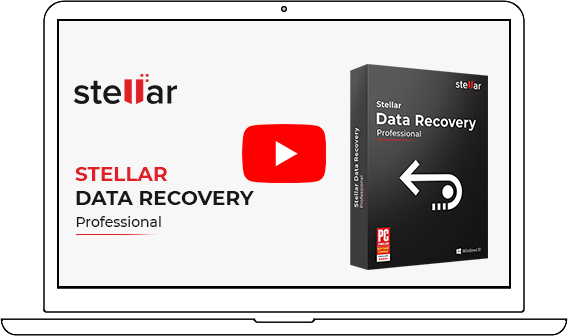 Stellar Data Recovery for Mac is another good data recovery tool that can help you in recovering lost files from multiple scenarios. Like many of its competitors, it has a good recovery rate and can recover almost all the files. The simpler UI, the compatibility and great support make it a good pick. However, the pricing of the tool is really high, and that too for a single user licence. The tool has a separate version for its window users, Mac users can go with these versions.
Pros:
It has a simpler UI for Data Recovery on Mac, the two buttons on the home window i.e. Recover Data, and Monitor Drive helps in keeping it straight forward.
It offers multiple recovery modes.
The program supports the recovery of a large number of files types.
It supports preview before recovery, allowing you to choose what to recover and what not to.
Cons:
The tool is heavier on a budget if compared to other tools.
It doesn't come with any free trial version or any free recovery option for a certain amount of data.
The program doesn't support bootable recovery.
The scanning process consumes more than the expected time, especially in some recovery modes.
Lack of customer support, no Email support, only Live Chat in Daytime.
---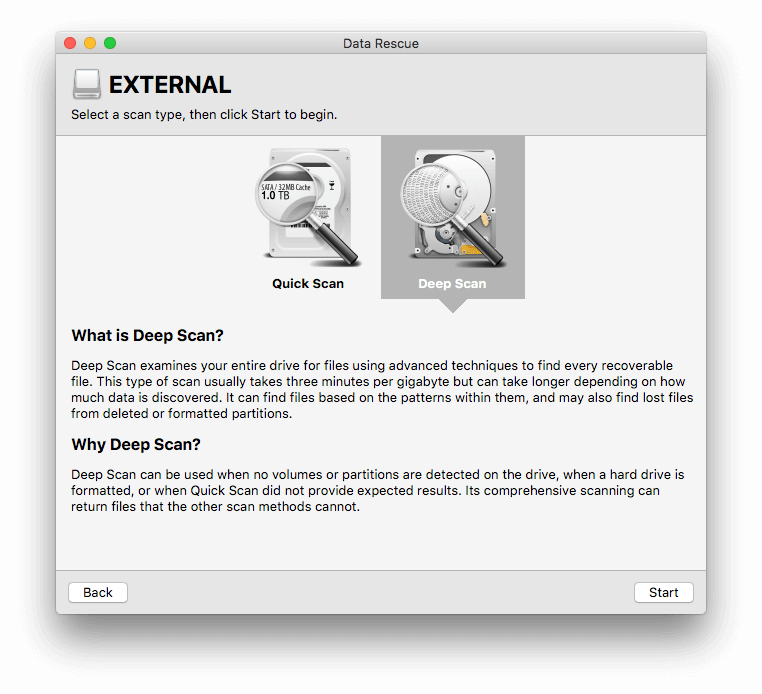 Data Rescue is again a very popular name in Mac data recovery. It's a lightweight simple recovery tool that comes with a good number of useful features and can be really helpful Mac file recovery. The tool comes with a standard and a professional licence. The standard licence is already costly with a price tag of $99, and the professional licence goes further high with the annual subscription fee of $299 in the first year and $199 after the first year. The other thing that makes this tool different is that unlike other tools, it can't work offline, you need to connect your Mac to the internet to use the tool.
Pros:
The program can identify and restrict duplicate files from being recovered.
The program comes with multiple useful Scanning options.
It lets you recover data from an internal drive as well as an external drive.
The tool provides you with an option to preview the files and choose what to recover.
Cons:
It doesn't work offline; an internet connection is a must.
The Demo version provided only comes with the feature to preview files, it doesn't allow recovery.
The program supports recovery for very fewer files types, no more than 100 files types.
Although the deep scanning feature is powerful, it takes longer than normal.
The program has a limit for the number of external or internal drives you can use on it for recovery.
---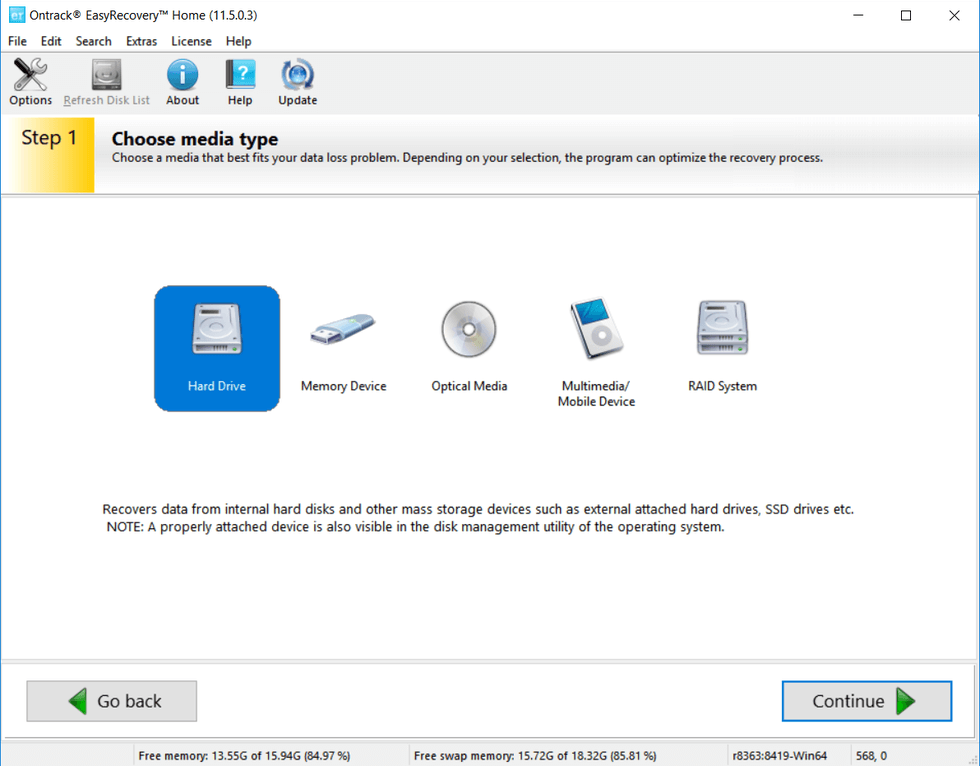 The Ontrack Easy Recovery for Mac is a data recovery tool that's less known, but still good enough to be on our list. The tool is easy to use as it's named, and yet can recover a good amount of your deleted files. The tool comes with 3-different licences, i.e. Home, Professional, and Technician, all the versions being cheaper than its competitors are priced at $79, $139, and $499 respectively. The tool also provides you with a free trial version, you can recover up to 1gb of data under the free licence.
Pros:
The Ontrack EasyRecovery comes with a version compatible with both Mac and Windows.
It has 24*7 telephone customer care support.
It comes with a premium and technician version that supports the feature to repair damaged video files and images.
The recovery process is easy and not much complicated.
Cons:
The program comes with a free trial version that doesn't support the recovery of files; you need to pay to recover even a single file.
There is no customer support alternative rather than telephone support.
It doesn't support bootable recovery in case of an unexpected shutdown.
The program takes longer than expected to scan and recover files.
---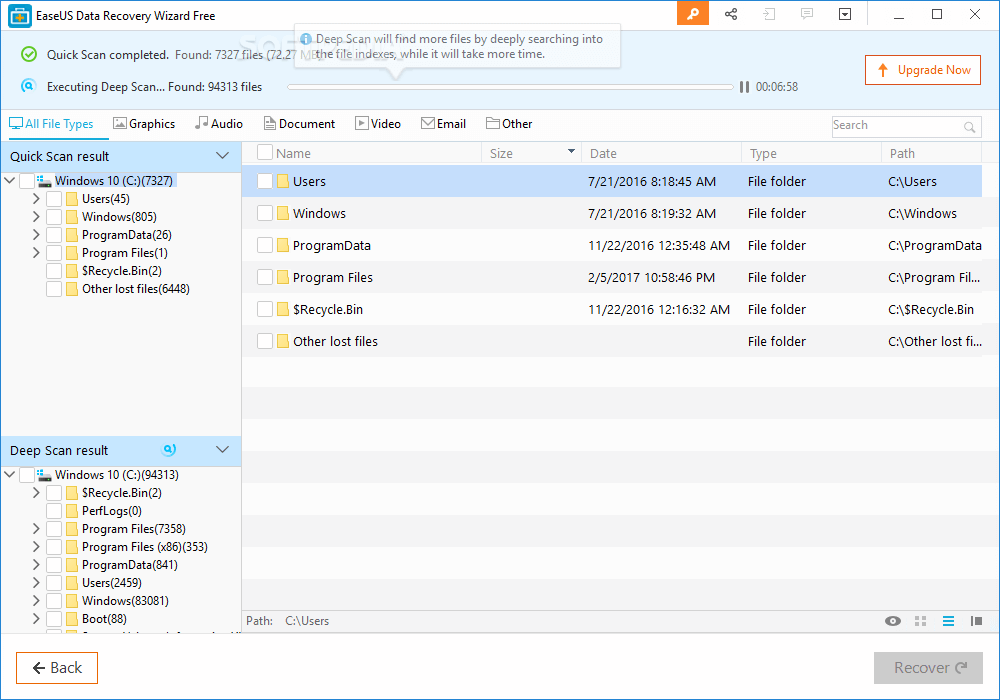 You might have heard of EaseUS Data Recovery Wizard for Mac, the EaseUS is a good known player for data recovery in Mac as well as windows. It comes with a good number of useful features, and the recovery rate that it carries is also higher than most of its competitors. The program comes with 2 licence i.e. Pro, and Technician. The Pro version seems to be priced quite high at $89, compared to other tools out there. However, the good thing is that the tool comes with a free trial version that allows you a recovery up to 2gb.
Pros:
In case of an instant crash or an unexpected shutdown, the bootable recovery feature really helps you.
The program has different versions compatible with MacOS and Windows.
The tool comes with a free trial version that supports recovery up to 2gb.
The software has really great customer care support with both Live Chat and Email.
Cons:
The program is very less customizable compared to its alternatives.
The program lacks a full drive scan feature to scan the full drive in one go.
The price that the software comes for is very high if compared to other similar tools, especially for Mac.
The program lacks an option to allow you to scan a particular folder.
---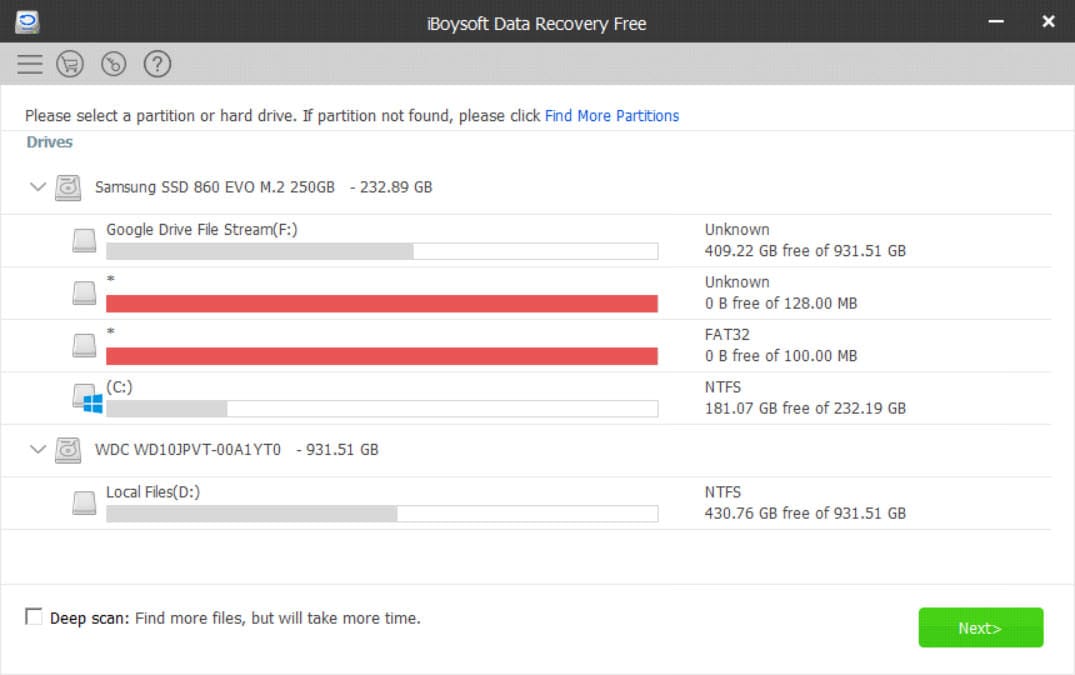 iBoysoft Mac Data Recovery tool isn't a very popular data recovery tool for Mac, but it can do its work pretty well. The lightweight and fast recovery tool are also priced quite competitively at $69, and it comes with a trial version that allows you to recover files up to 1gb. The program lacks few necessary features like a preview of all files and sorting of files, etc. But it provides you with a few additional features like bootable recovery and easy recovery process. Also, it's one of the very few tools that support the APFS file system.
Pros:
It can recover the files lost from your Mac due to various reasons, i.e. system crash, unbootable problems, etc.
It allows you to preview all file types before recovering them.
The program is easy to use and straightforward.
It comes with a free trial version that allows you to recover data up to 1gb.
Cons:
The deep scan version recovers more but takes longer than normal.
After scanning, the file can be sorted according to file type only, there is no option to sort files according to dates or alphabets.
The program doesn't support preview after scanning for files bigger than 5 MB in size.
The UI of the recovery tool looks very dull and less interactive.
The program lacks an availability for Manual customization and added utilities.
---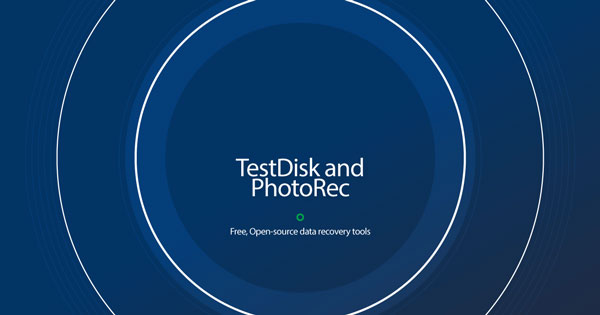 TestDisk is a totally free and open sourced recovery tool for Mac. Being open sourced means, it can rely on the developer's community to keep the software up to date. As a free tool, the TestDisk can do its work quite impressively. It has a good recovery rate as well. But what's different about TestDisk in not so good way is that it is a command-based tool, thus, it is certainly not for those who are any less than experts, and it doesn't have any graphical interface as well, it lacks in any kind of extra features. It's just to simply recover your lost files from Mac if you know how to give commands to it.
Pros:
The program can recover documents, images, videos and other files from multiple storage devices.
Test Disk is a free recovery tool for Mac, it's an open source program.
Test Disk supports the latest MacOS version.
Cons:
The recovery in TestDisk are totally command based, there is no graphical UI.
The program doesn't allow you to preview the recoverable files after scanning.
The recovery process is very technical and is not for users unfamiliar with it.
The program takes very long to complete the process.
The program supports various recoveries but still lacks the support for APFS data recovery.
---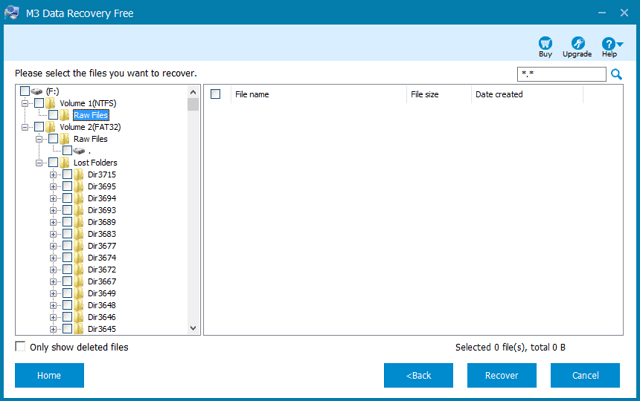 M3 Mac Data Recovery is another free data recovery software for Mac and is also lightweight. To be honest, it's not good enough. But as it is free and weighs less than 5mb in size, we can't expect too much from it. It supports the latest Mojave version of Mac, but the free tool lets you recover only 1gb of data on your Mac. Also, as the program is too lightweight, it lacks any kind of good graphical interface or interactive UI.
Pros:
It supports recovery from all the storage devices compatible with Mac.
The M3 Mac Data Recovery tool is a free tool.
It's a very lightweight application and weighs only 4mb.
It supports almost all of the MacOS versions.
Cons:
The software has a very low recovery rate and is not powerful enough to recover all of your files.
The software is not efficient in recovering video files and images.
The free version doesn't allow you to recover more than 1gb of data.
The lightweight tool lacks good graphical and interactive UI.
The program is very less efficient in recovering RAW files types.
Suggestions: How Do We Choose the Best Data Recovery Software for Mac?
In this article, we have recommended you Recoverit (IS) for Mac, and we did so because we feel that it's the best data recovery software for Mac. Now, you must be thinking that how we know it's the best data recovery tool for Mac? Well, of course, we try and test everything before recommending it to you. But we have some criteria, that software needs to match to qualify as the best data recovery software for the Mac.
What are the criteria?
The first criteria are compatibility because if the tool isn't compatible with your device or OS, it's of no use. Most of the software right now is not compatible with the latest version of MacOS Mojave, but iSkysoft is compatible with it.
The second criteria being the power of recovery and ease of usage. How powerful a data recovery software for Mac are? By power we mean, how much of data it can recover, will it recover everything, or will it leave a lot behind? With the power, it's necessary that the software is easy to use, otherwise, most of the users won't be able to recover their files. The iSkysoft is powerful enough as it carries a 98% recovery rate, and its 3-step recovery process is extremely easy as well.
What features a tool provides is equally important. There are many tools that only recovers your files without providing you with an extra set of features, this makes the recovery difficult, as you won't be able to configure the recovery in a way you want. The iSkysoft provides you with a ton of features, and that allows you to configure the result of a recovery in a way you want.
The last but not the least important factor is pricing. No matter how urgent the recovery is, purchasing an overpriced tool is always a wrong move. Thus, we compare every aspect of the tool and then compare the pricing of the tools that are already beast in all the other ways. iSkysoft is one of the best data recovery software for Mac, but it still comes at comparatively lower pricing.
All these criteria in combined help us to choose the best data recovery software for Mac. There are many other tools that qualify these criteria, but the iSkysoft scores the most.
Conclusion:
So, have you found out your best data recovery software in the list? All these listed Mac recovery software covers each and every aspect of recovery, you are not going to find any better software other than those mentioned in this list. Thus, there is no meaning of trying, it's all here in this list. In case, if you are confused, you can always go with our pick for best data recovery software for Mac i.e. Recoverit (IS) for Mac. If not iSkysoft, there are plenty of other good options in the list. Choose the recovery software for Mac you want to use, and recover your deleted files from Mac.