MAC systems are some of the most premium computing devices you can get your hands on, and as such do come with a plethora of premium features such as MAC Recovery mode.
This range of phenomenal computer systems are a great choice for all types of users starting from novice to profession, and for a wide spectrum of tasks including videos, gaming and music.
But just like most computer devices, MAC systems aren't perfect and start to deter in performance as they are used owing to several reasons such as adding and removing programs, etc.
However, on a brighter note, MAC systems do come with the ability to restore their performance back to factory settings via a feature called MAC Recovery Mode, so you can reset your computer back to factory settings in just a few steps.
And since great chances are that you will need to use MAC Recovery Mode at some point, here's everything you need to know about this utility so you can use it in the right way.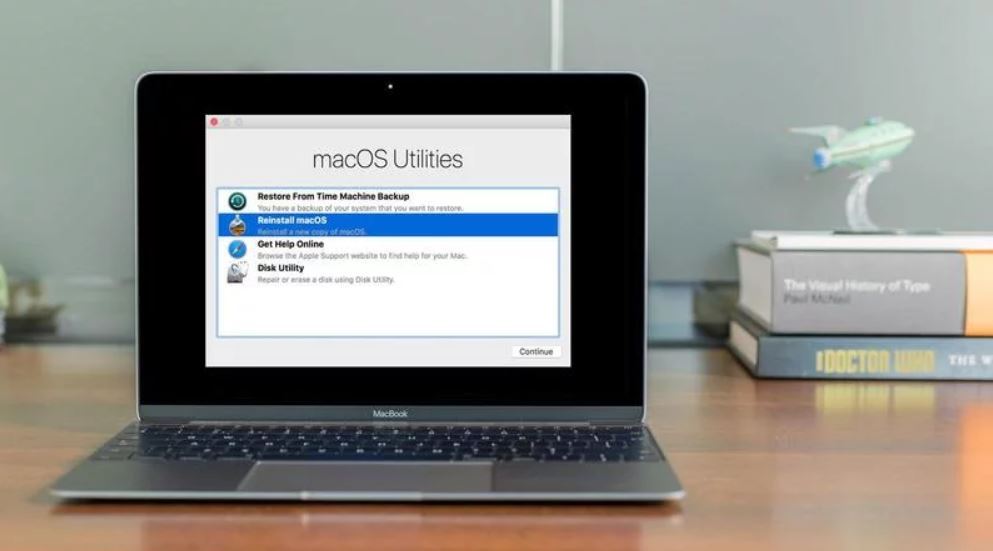 Part 1: What is Mac Recovery Mode?
MAC Recovery Mode sometimes referred to as macOS Recovery was first introduced in 2010 with OS X 10.7 Lion. It is basically a recovery hard drive partition that contains the latest version of the macOS installed on your system, and is designed to troubleshoot issues with your computer.
There may be several situations where MacBook recovery mode proves handy including when you need to wipe the system clean when selling it or giving it to someone else, troubleshooting problems such as failed startup, issues with a particular version of the operating system or you just want to do a clean install of the OS.
Part 2: Options You Have on Recovery Mode
To elaborate, here are some of the common features of MAC Recovery Mode:
Restore from Time Machine Backup – this inbuilt feature of Apple recovery mode allows you to automatically backup your files including music, apps, documents, emails, and system files, and restore them in the event something goes awry with your system.
Reinstall macOS – another great feature of MAC Recovery Mode is the ability to refresh your system with a fresh OS install by either connecting to the internet or over a WiFi connection.
Disk Utility – this large component of MacBook Pro recovery mode allows you to perform several actions including repairing or erasing your boot or startup disk or other hard disk, and provides access to a handful of other utilities such as the Startup Security Utility, Firmware Password Utility, Network Utility and Terminal.
Check internet connection – this feature of MAC Recovery Mode allow you to reinstall your macOS in the event your recovery partition is damaged.
Get online help – and if you need help with using MAC Recovery Mode, you can always access the online help menu to get information on how to perform the right steps to fix the issue.
Part 3: When Do You Need to Use Recovery Mode?
You should ideally only use MAC Recovery Mode if you're facing any of the aforementioned issues with your computer system. There are several reasons for this advice, most notably the slim chances of losing data when using Apple recovery mode. And sometimes its best not to mess with recovery options if you don't need to because these types of tasks can sometimes be time consuming and not to mention may call for expensive professional help if used incorrectly.
Part 4: How to Start Recovery Mode on Mac?
When it comes to using MAC Recovery, the process is pretty straightforward for the most part, but if you haven't used it yet, here are the steps to start MAC in recovery mode. The easiest way to enter MAC Recovery Mode is:
Step 1 From your Mac computer, start by clicking the Apple logo located towards the top left of the screen.
Step 2 Then select Restart.
Step 3 This next step is where you need to pay attention, and entails pressing the Command and R keys immediately until the Apple logo appears or spinning globe. Take note that the spinning globe will only appear if the MAC Recovery Mode utility is trying to start via the internet when it unable to complete this task from the inbuilt memory system.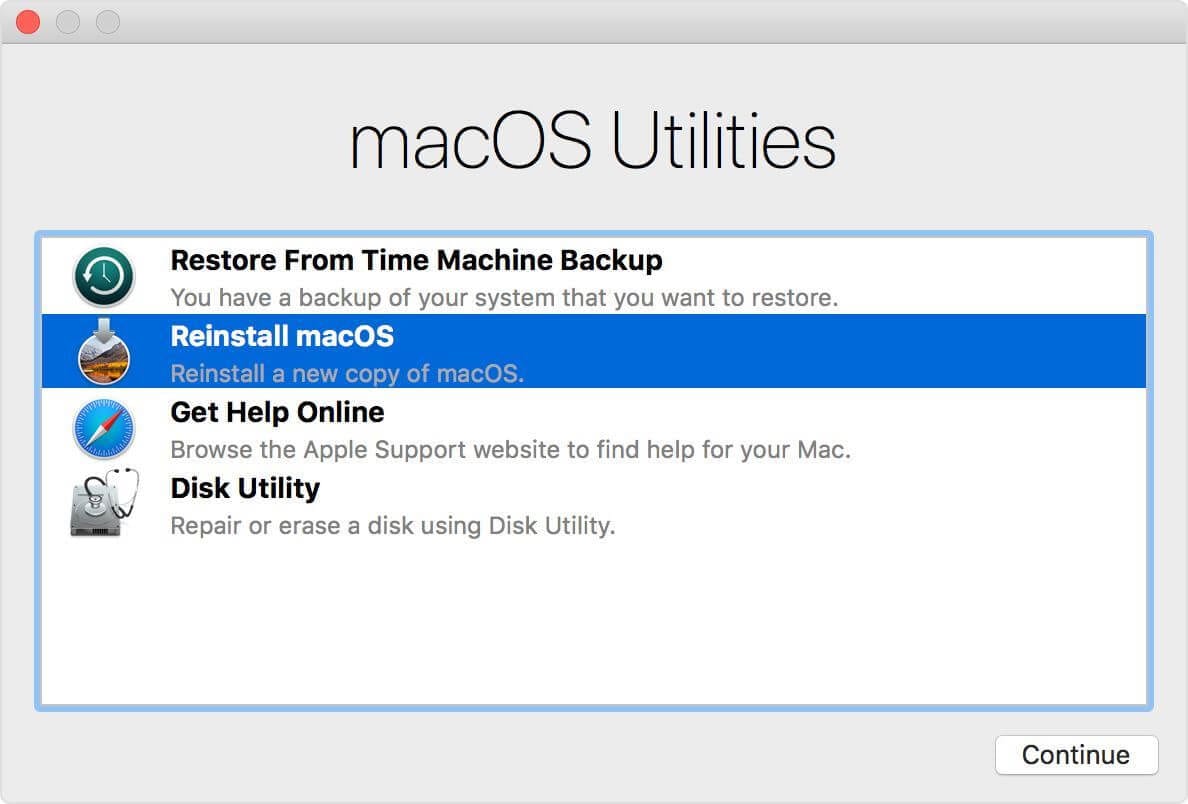 Step 4 Lastly, you should now see a Recovery Mode Utilities window that displays several options to choose from.
Part 5: How to Restore from Time Machine Backup Using macOS Recovery Mode?
As mentioned earlier, you can use MacBook Pro recovery mode to restore your data from Time Machine Backup, so here's how to go about it using the utility. Before getting started, you need to ensure that you have connected your Time Machine Backup disk and turned it on. If you are using a Time Capsule or network-attached storage drive, for the Time Machine, ensure that both the MAC and backup disk are on the same network.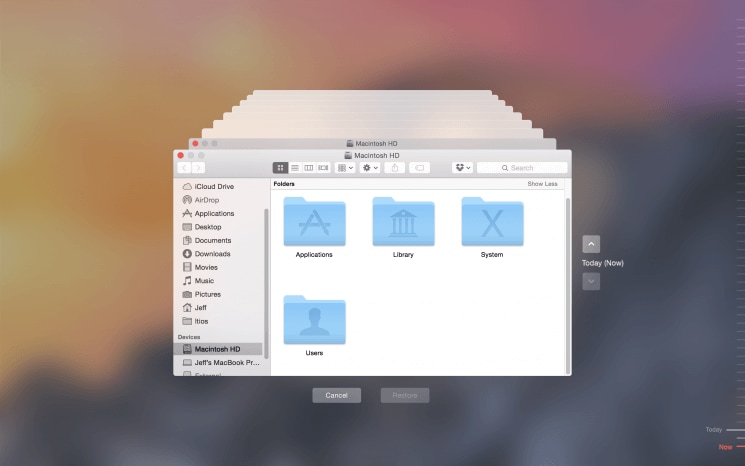 5.1 Steps to Restore from Time Machine Backup Using macOS Recovery Mode
Step 1 When you are ready, choose Restart from the Apple Menu, or simply power on the system.
Step 2 Next, hold down the Command (⌘) – R leys at the same time as the MacBook or iMac restarts after you hear the chime sound, and keep them pressed down until you see the Apple logo on your screen. Apple recommends that you use the built in keys on the MAC system rather than an external keyboard because these actions may not be registered this way.
Step 3 Now you will see the Mac OS X Utilities menu appear. If it fails to appear, it in most cases means that you did not press the keyboard combination at the right time, so you will have to restart the system and try again.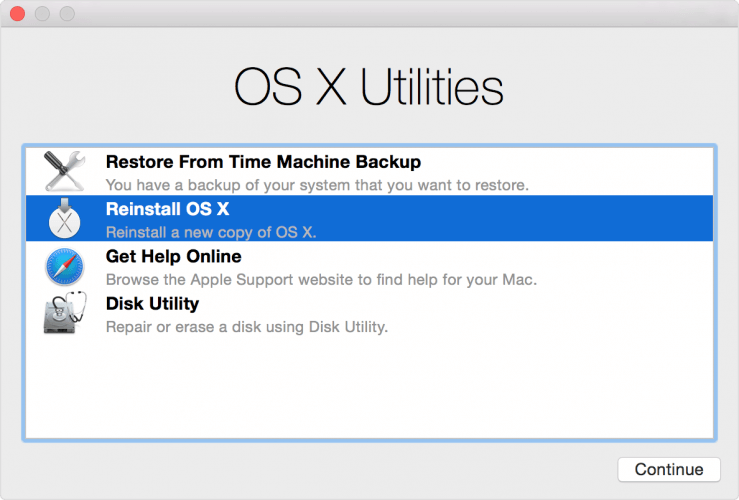 Step 4 Now, select the first option – Restore and click Continue.
Step 5 In the next screen that follows, you will be provided with the option to either restore your MacBook from a network backup disk, Time Capsule or external backup disk. You will need to do the following depending on your configuration:
External backup disk – simply select the disk and press Continue.
Time Capsule – if this option is selected, you will have to first choose your WiFi network from the WiFi menu, then the Time Capsule device and lastly Connect to Remote Disk.
Network backup disk – select the device and the click Connect to Remote Disk.
When using a network attached storage or Time Capsule, you may be prompted to enter credentials such as name and password in order to connect to the backup disk.
Step 6 Similar to System Restore in Windows PC's, you now have to select the backup file you would like to restore from. The process of restoring using MAC Recovery Mode may take some time, so you can grab a latte and sit back and watch the process unfold.
Step 7 Your system is restored when the MAC starts up again. Since MAC Recovery Mode will only reinstall macOS and restore your personal files, you can copy specific files, macOS user accounts and settings to another MAC using the Migration Assistant.
5.2 But what if your Time Machine backup is not available?
Well, have no fear because there's iSkysoft MAC data recovery software to the rescue. This feature rich utility is featured in several leading publications, and best part is that it allows you to recover your data from several different devices including memory cards, digital devices, and RAID drives.
Adding to this, iSkysoft Mac data recovery software supports several different types of files and formats including video, audio, image, archives and other files. Some of the key features of iSkysoft MAC data recovery software are: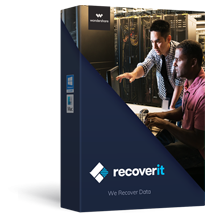 A Life Saver to Solve Your Data Loss Problems!
Trash Recovery – just like the name would suggest, you can use the software to recover files from MAC trash or even emptied trash.
Recover data lost by virus attack – in the event your system has experienced a malware or virus attack, don't break a sweat yet because you can recover all the lost files easily with iSkysoft.
Formatted MAC drive recovery – if you have formatted your MAC drive intentionally or unintentionally, you can use iSkysoft to recover lost files with little or no effort.
Recover data after system crash – this all rounder tool also helps you recover data after a system crash or from an unbootable hard disk. You can also use it to create to create bootable media such as a disk.
Recover data from lost partition – regardless if the data is lost, deleted, formatted or hidden on a MAC partition, you can use iSkysoft to get it all back.
Time Machine backup recovery – And if you have created a Time Machine Backup, then use the iSkysoft MAC recovery software to restore data loss, file lost or damaged.

3,015,629 people have downloaded it
As you can clearly see, iSkysoft MAC Recovery software provides you with several premium recovery options, some of them that are not even available in the MAC Recovery Mode utility. And if you are wondering if it is easy to use, short answer is that it works in just a few clicks and can be used by non-technical and technical sound users.
Step 1 Start by launching the iSkysoft utility on your MAC, and then select a location to scan from the intuitive interface.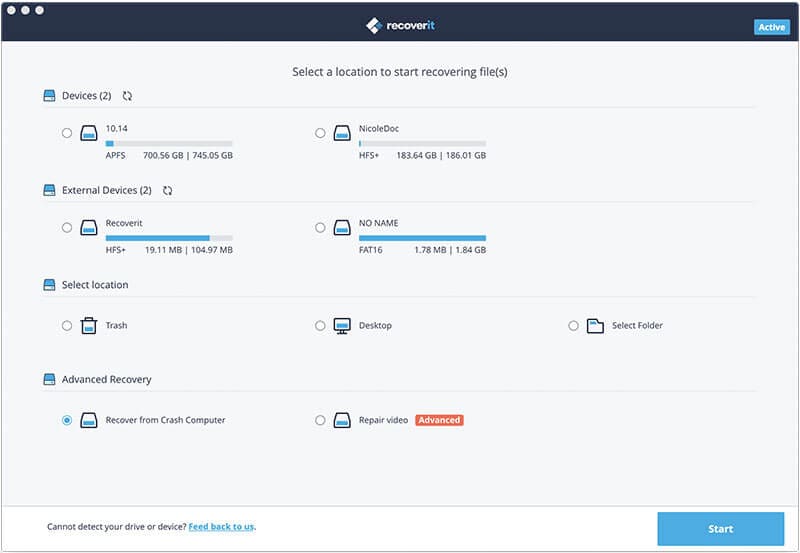 Step 2 After selecting the location, the program will begin to scan the lost data on your disk. After scanning, press the Start button to preview the files that can be recovered.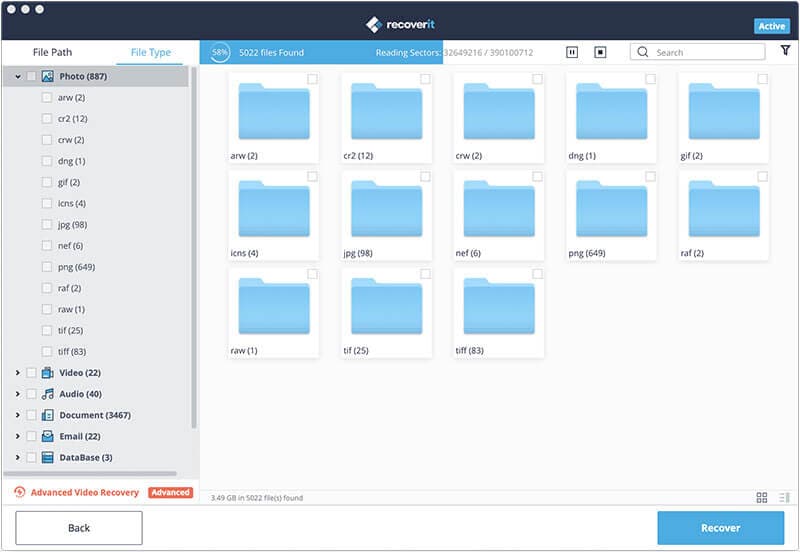 Step 3 Finally, select the files you wish to recover, and then press the recover button. And that's all there is to it – a no-fuss experience and great alternative to MAC Recovery Mode.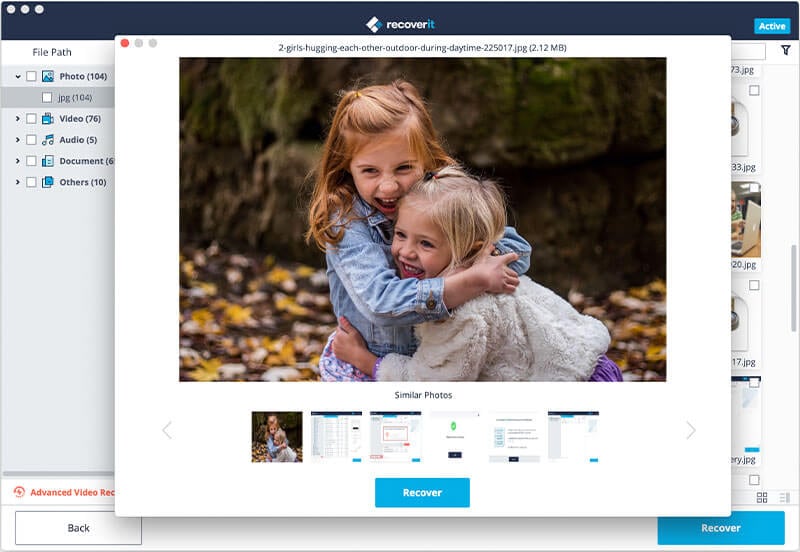 Final thoughts:
MAC recovery mode is a great way to get your lost data back and sort out other issues with your PC such as updating the operating system or doing a clean install. However, it comes to recovering lost data, it comes with a host of limitations, for which iSkysoft MAC recovery software is a premium and viable solution.
It not only supports several different file formats, rings in with myriad key features, but also work well on macOS and Windows powered computers. And best part is that regardless of where your data or backup is stored – MP3, MP4 players, USB drive, SSD etc., you can use iSkysoft to restore your precious data.