"I decided to do maintenance for my Mac OS X. To my surprise, the app notified me that my disk partition needs repair. How do I do OS X partition recovery?"
- a question from Quora
In its context, the Recovery Partition in Mac OS X is a vital segment of application installation. This is what actually allows you to reinstall Mac OS when you need such. It also aids in repairing of drives, restoring from backups and even used to restore recovery partition Mac. However, in certain cases, a recovery partition may be unintentionally removed but the norm is that Mac devices should incorporate this important component. You may be wondering what recovery partition is and what it entails. Read through for more!
Part 1. What is Mac Recovery Partition?
This is a reserved Mac operating system section that is normally created automatically during the installation process. One of its major functions is to help in the restore of software to your Mac. Actually, you don't need any external drive to restore your Mac device. Furthermore, it includes Safari, a feature that aids in connection to the internet. However, in some cases, a Mac device may not have a Recovery partition, prompting the user to create recovery partition Mac.
Part 2. How to Create Recovery Mac OS X Partition
Various reasons may lead to a no recovery partition in Mac scenario, compelling you to commence the creation process. There are two different ways which you can use to create the recovery partition. You can either reinstall OS X onto your Mac machine or use a third party tool.
Why It Is Necessary To Create a Recovery Partition for Mac:
Since your Mac device needs this important component for various functionalities. These include reinstalling of Mac OS, troubleshooting Mac, helping in repairs of your drives and restoring from Time backups. In the event that a Mac is missing the bootable recovery drive partition, it becomes necessary to recreate it for the normal functionality of your Mac device.
Step by Step Guide to Create Recovery Partition for Mac OS X:
In order to create a recovery partition for Mac, you will be required to attain the OS X installer from the Mac App Store. Find this under the 'Purchases' tab which matches your Mac system software version. You also need to acquire an AppleScript to aid in the recreation of the recovery drive. This can be found from the corresponsive developer's website.
Step 1

Launch the Recovery Partition script

It is vital to create a backup before commencing the Mac recovery partition process. Then launch the script.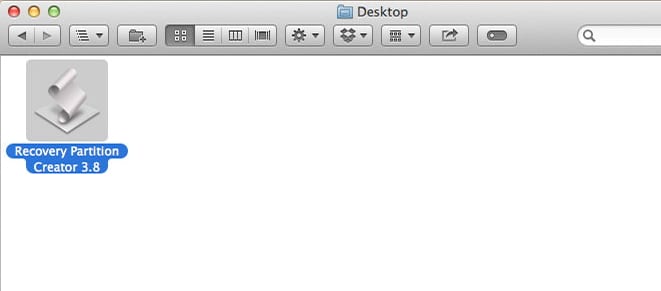 Step 2

Choose primary disk

The next step requires you to select the primary disk partition where the operating system Mac install resides and then click on the 'OK' button.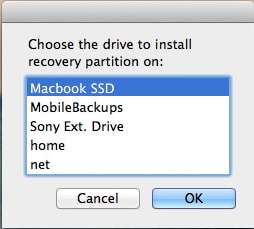 Step 3

Select OS X installer

This should be the installer that you initially obtained from the App Store. You should also make an appoint to check the drives for any errors. If they are fine, click on the 'Continue' button.
Step 4

Run Diskutil list

Running the diskutil list will populate a number of lists. Look for 'Apple_Boot Recovery HD' script. This script will enable you to have the Recovery partition so as to continue with the normal operation of your Mac device.
Part 3. How to Restore Data from a Lost/Deleted Recovery Partition
You may unexpectedly land in a situation where to find my Mac recovery partition is required. First and foremost, it is important to understand that the macOS partition may be lost and probably gone forever. Even though there are still chances of attaining your lost recovery partition, it is vital to know that such losses are usually triggered and just don't happen out of the blues.
3.1 What Then Are Some of the Lost Partition Scenarios?
If there is damage in the file system of the partition, chances are that such a partition may become inaccessible.
Incomplete disk formatting
When disk formatting is interrupted, the entire logical structure ends up not functioning as it was meant to. This may suddenly lead to a lost partition.
Such a scenario may result from a large number of bad sectors resulting in the operating system refusing to read while booting.
Corruption within the logical structure of the hard drive may slowly drift to this missing recovery partition Mac scenario
Abrupt power disruptions or lack of a power backup may also result in deleted partition in Mac OS.
3.2 How to Restore Data from a Deleted Recovery Partition?
Despite being on the receiving end of lost or deleted recovery partition, you can still explore avenues and do a recovery. Recoverit (IS) for Mac has the capacity to salvage data from any partition and logical drives of Macintosh OS.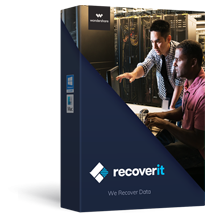 Features that make Recoverit (IS) for Mac a number 1 tool
It gives an all-around data recovery solution for any type of data. These include document files, audio data, and photos, among many other types.
You can also use it to recover data lost from any storage device on your Mac including Macbook, iMac, Zip Drives, SD card.
Besides using this OS X partition recovery to obtain lost data from disk/partition formatting, you can also engage it in recovering data from any other data loss scenario like system crash and hardware failures.
It is also 100% secure and trusted by millions of users.

3,015,629 people have downloaded it
Follow its simple steps to restore files from deleted recovery partition for your Mac.
Step 1

Download and install

Once you have downloaded Recoverit (IS) for Mac, install it on your Mac device and then launch it.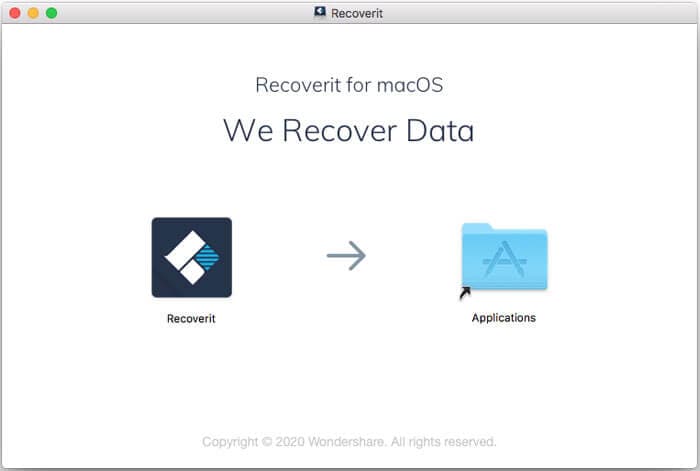 Step 2

Select a partition

You'll then need to select a partition at which your lost data is harbored. Then click on the 'Start' button to commence the recovery partition for your Mac.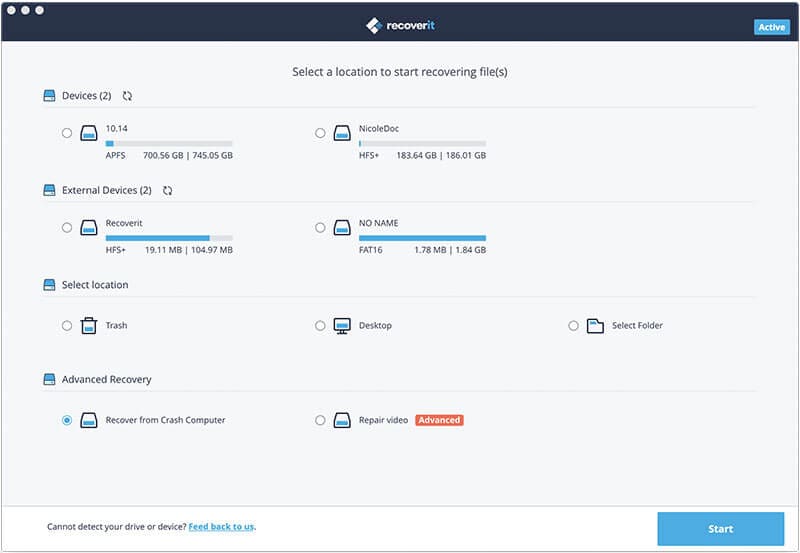 Step 3

Preview your recoverable data

At this stage, you will be bombarded with tones of recoverable data arising from the scan process. Check the small boxes against all the files that you need to recover. Next, click on the 'Recover' button to salvage all the files from the lost or deleted recovery partition.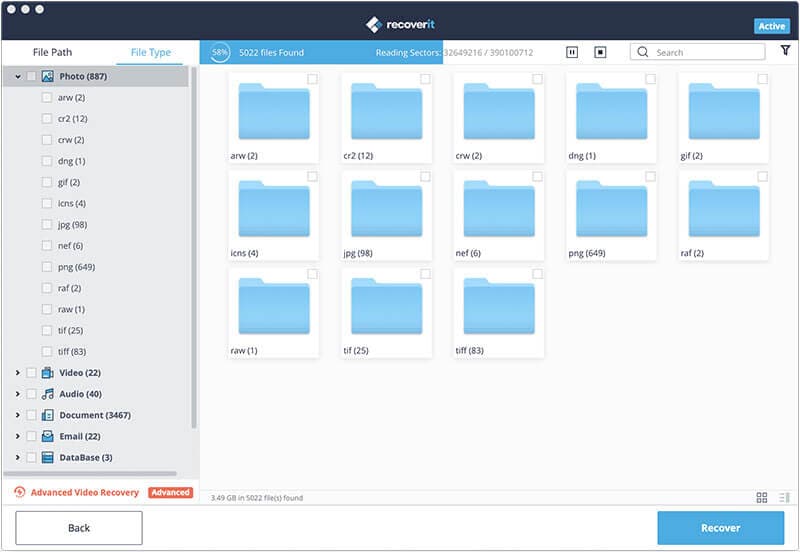 Conclusion
Just the manner in which it is easy to delete files unintentionally, you are also likely to be confronted by a deleted recovery partition for Mac. We have highlighted the various ways by which your recovery partition may be lost. And we also included the best app in the market to solve such problems. Recoverit (IS) for Mac is able to scan your Mac's hard drives in search of data from the lost or deleted partitions. In the event that all don't go on well, you can do an elaborative Mac partition recovery with the 'All-Around-Recovery' option for optimum results.