"Does Keynote autosaves in the background the file we are working on? I have lost an important presentation that I was working on and can't seem to recover Keynote file now!"
- a question from Quora
Keynote is the native application in Mac that helps us create stunning presentations in less time. Although the Mac application is equipped with tons of features, sometimes it seems to malfunction out of the blue. For instance, there are times when you might end up losing an important Keynote file out of the blue. Thankfully, there are different ways to recover deleted Keynote files or any other inaccessible document. You can take the assistance of Keynote autosave or use a third-party data recovery tool to do it. Let's explore these Keynote recovery options in detail.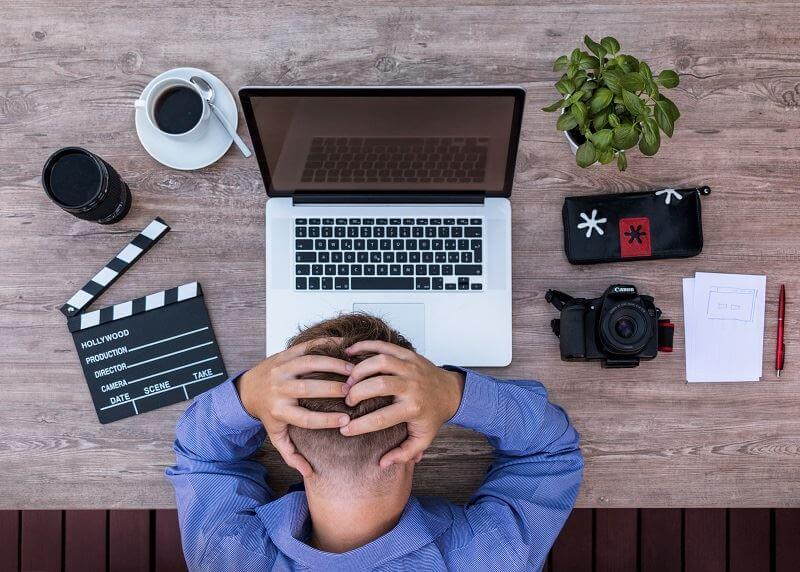 Method 1: Recover Mac Keynote Presentation Files with Recoverit (IS) for Mac
If you are looking for a hassle-free solution to recover Keynote file that was lost or deleted, then give Recoverit (IS) a try. The recovery application is available for both Windows and Mac, including every leading macOS version. It features an intuitive user-friendly interface and has one of the highest data recovery rates in the industry. The application supports the recovery of all kinds of Keynote files and other important documents.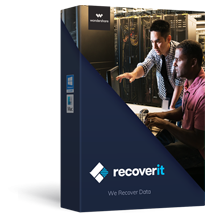 A Life Saver to Solve Your Data Loss Problems!
Following a simple click-through process, anyone can recover deleted Keynote files on Mac, lost under different conditions.
It doesn't matter if you accidentally deleted a Keynote presentation, the storage got corrupt, or the file was lost from the Trash – the application supports all kinds of data loss scenarios.
Apart from Keynote files, it can also recover other important documents of formats like PDF, PPT, CSV, DOC, and so on. You can also recover your lost photos and videos as well.
The application supports data recovery on external sources too like SD card, pen drives, hard disks, etc.
A free version of the software is also available, letting users get a hands-on experience of the tool.

3,015,629 people have downloaded it
To recover Keynote files on your Mac using Recoverit (IS), the following steps can be taken.
Step 1

Install the program

Firstly, launch the Recoverit (IS) application on your Mac shortly after suffering from unexpected data loss. From its home, you need to pick a data recovery mode. For instance, if you have accidentally deleted Keynotes files, then pick the "Deleted Files Recovery" mode.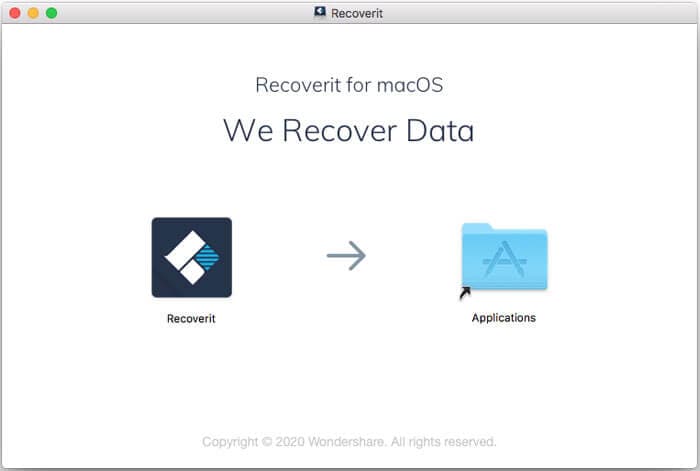 Step 2

Select a location to scan

In order to proceed, you need to pick a source location to scan. This can be an internal partition or any externally connected device as well.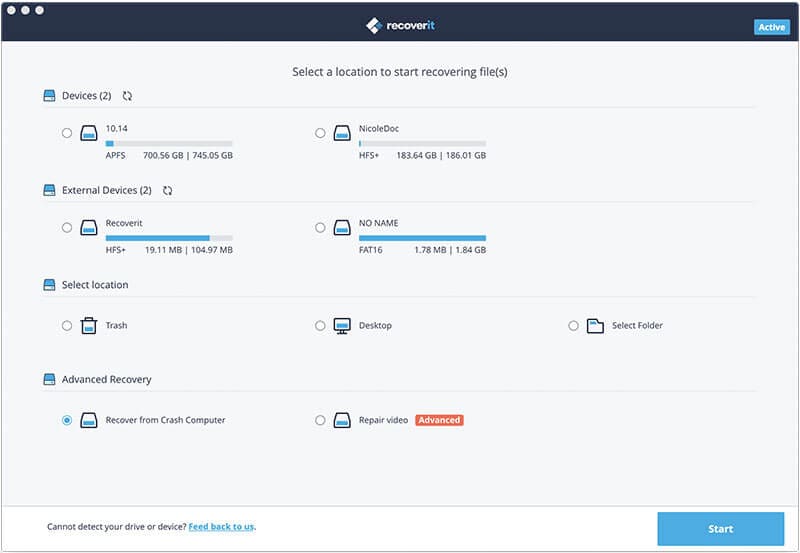 Step 3

Recover your Keynote files

As you would start the recovery process, the application will look for all kinds of deleted or lost files on the selected location. Just wait for a while and let the application complete the scan.

In the end, all the retrieved data will be displayed for you to preview on its interface. Select your Keynote files and click on the "Recover" button to save them to a location of your choice.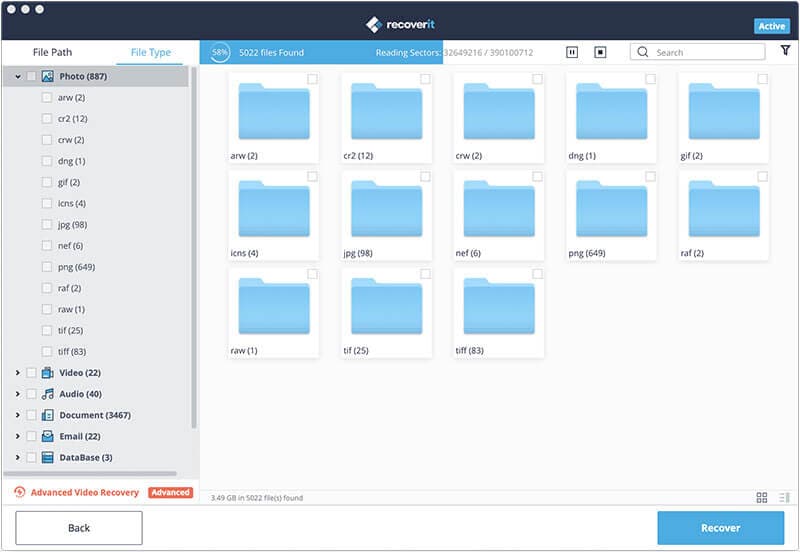 By following this simple drill, you can easily do Keynote recovery on your Mac. Though, if you want to get better results, then perform a deep scan by clicking on the "All-around Recovery" option at the bottom of the screen.
Method 2: Restore Mac Keynote Presentation Files from Trash
If you have accidentally deleted a keynote file from your Mac, then you should consider visiting its Trash first. As you know, when a file is deleted, it isn't removed from the storage right away. Instead, it is moved to Mac's Trash folder, where it is stored on a temporary basis. Therefore, you can easily recover deleted Keynote files from Mac's Trash.
Step 1 Firstly, access the Trash folder on your Mac. You can just find its icon on Mac's dock and double-click to open it. Alternatively, you can also look for it via Mac's Spotlight as well.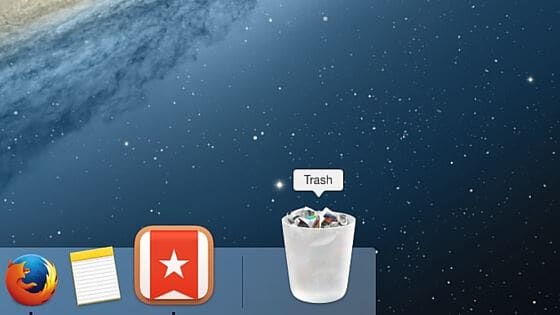 Step 2 Once the Trash folder is opened, you can look for the Keynote file that has been deleted from Mac.
Step 3 Select the Keynote file and right-click to get its context menu. Click on the "Put Back" option to recover Keynote file to its original location again.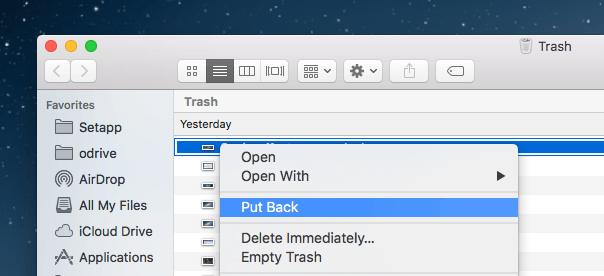 Method 3: Restore Keynote Files from the Time Machine Backup
In case if the Keynote file is missing from the Trash folder, then you need to take some drastic measures. If you have already taken a backup of your Keynote file on Time Machine, then you can easily restore it. Time Machine is the inbuilt feature in macOS that helps us take a steady backup of our data, letting us restore it afterward. Here's how you can recover lost Keynote presentation via Time Machine backup.
Step 1 To quickly access Time Machine, you can go to Mac's System Preferences and launch the Time Machine application on it.
Step 2 If you want, you can also go to the folder from where the Keynote presentation was lost. Now, click on the Time Machine shortcut from the main menu and choose to "Enter Time Machine".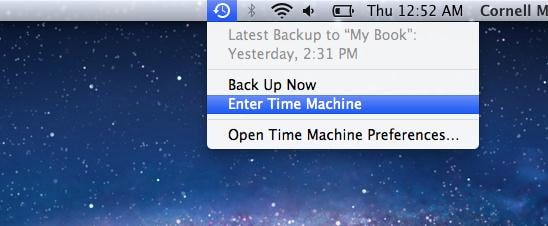 Step 3 This will launch Time Machine with all the backup files that are available for the specific location. You can use the scroll on the side to move between different time durations.
Step 4 After finding the Keynote file that was lost, simply select it, and click on the "Restore" button. This will recover Keynote file (the original document) to its existing location automatically.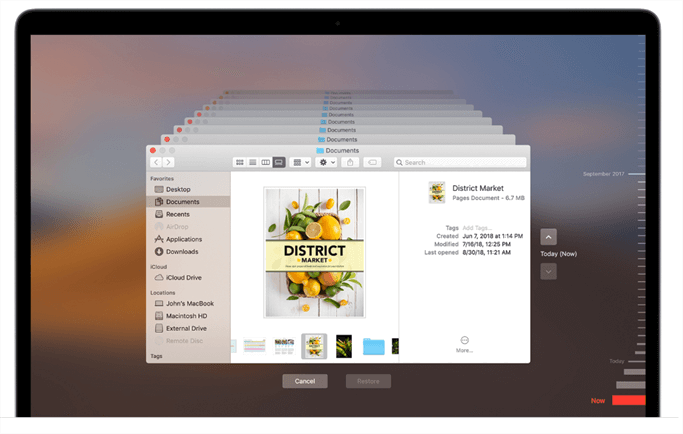 Method 4: Recover Keynote from a Previous Version
If you want to know does Keynote autosave documents or not, then the answer would be "yes". When we work on a Keynote file, it would automatically create a previous version of the document in the background. In this way, users can easily undo changes and go back to the original version of the file. Additionally, if Keynote was closed unexpectedly in between, then you can recover your document by visiting its previous version. To recover a Keynote presentation without saving, follow these easy steps:
Step 1 To start with, open the available version (the unsaved file) of the Keynote presentation you wish to recover.
Step 2 Once the presentation is successfully opened, go to the main menu and click on File > Revert to > Browse All Versions.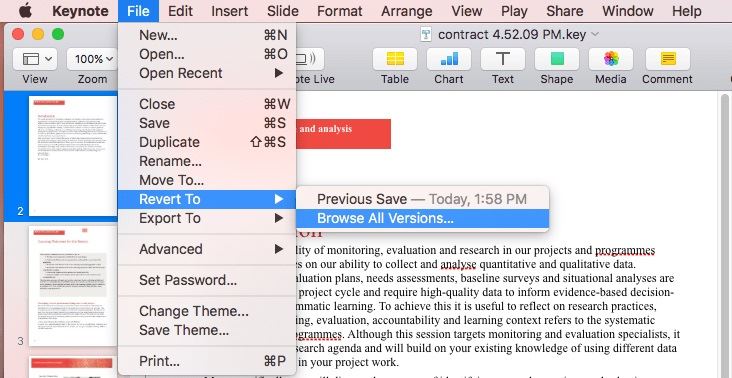 Step 3 This will automatically open all the previous auto-saved versions of the document. You can use the arrow keys or the side scroll to move between different versions and preview them on the screen.
Step 4 After finding the relevant version, just click on the "Restore" button to save it. Alternatively, you can just copy certain content from the previous version and paste it to another document as well.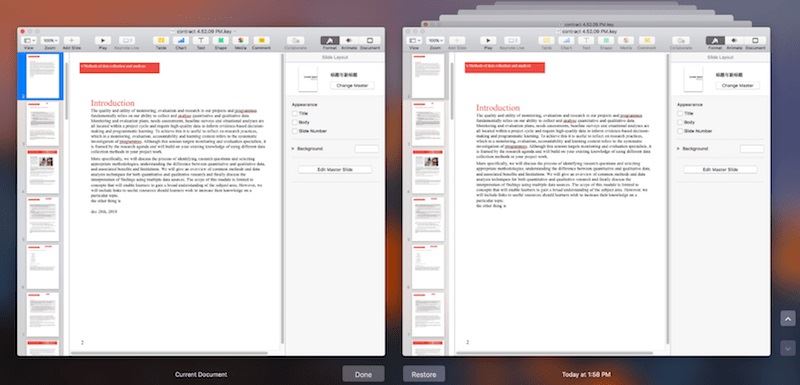 Now when you know four different techniques to recover Keynote file, you can easily get back your lost presentations. Ideally, from the listed solutions, Recoverit (IS) provides the best Keynote recovery solution. You can use it to get back your lost, inaccessible, and even accidentally deleted Keynote files quite easily. The application is known for its high data recovery results and can help you retrieve more than 1000 different types of data on your Mac or Windows system.