A situation may come along where you need to give your Mac computer to someone close to you, sell the computer, or recover it after a disastrous crash or malfunction. Knowing how to restore Mac to factory settings comes in handy since you will essentially return the computer to the state it was in when you bought it.
This process involves wiping out all data from your computer, and then reinstalling MacOS. However, you may also need to recover files from a damaged partition and this guide will show you some tools to help you do this with ease, speed and security.
Part 1: Why Do You Need to Restore Mac to Factory Settings?
There are several reasons to restore you Mac to factory settings and some of these are
Selling the Mac: you do not want the buyer to access your Apple information as this would compromise your security
Giving away the Mac: At times you may want to give away the Mac to a family member, friend, or charitable organization. You also need your security information erased from the Mac
Malfunctioning Mac: When it begins to malfunction, restoring to factory settings and reinstalling the MacOS is the best way to go.
Part 2: Things to Do Before You Restore Mac to Factory Settings
There are certain things that you should do before resetting your Mac to factory settings. These help you keep your data for use on another Mac or the same one once you reinstall MacOS. Here is how you go about it:
1. Backup your important data
You can back up your data to a new Mac or an external storage device using Time Machine or other third-party Mac backup tools such as SuperDuper or Carbon Copy Cloner.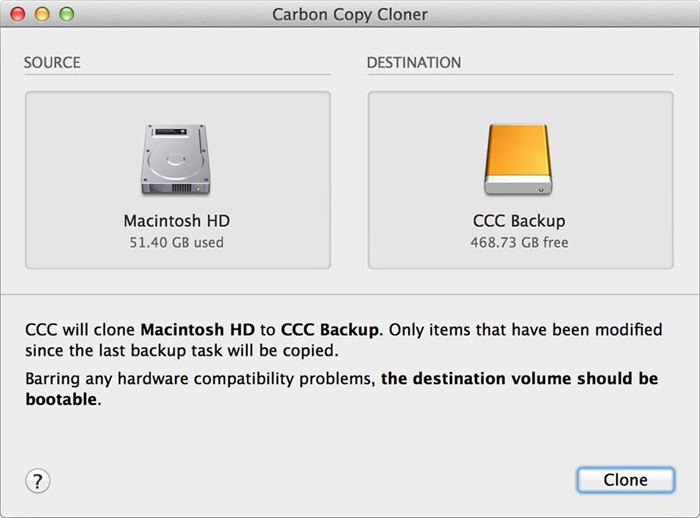 2. Deauthorize iTunes/iCloud
Your computer is authorized to work on iTunes and iCloud using Apple Accounts. If you are giving away your Mac or selling it, you need to deauthorize it from both iTunes and iCloud.
So, your account cannot be used by another person to purchase and download content from iTunes, or access files that you have stored on iCloud. This is a basic security measure that you must do when restoring Mac to factory settings.
Deauthorize iTunes:
For iTunes 12: Enter your iTunes and click on Account > Authorizations > De-authorize This Computer. Input your Apple ID and Password before finally clicking on De-authorize.

For older iTunes versions: Simply click on Store > Deauthorize This Computer.
Deauthorize iCloud:
Deauthorizing iCloud is a matter of logging in and deleting all files and crucial information. Follow these steps:
Open System Preferences and then select iCloud, and click on the Sign Out option.
You will be presented with a window listing the following: iCloud Drive, Contacts, Calendars, Reminders.
Deselect each of these and then click on Continue (Older MacOS versions will display Delete From Mac).
iCloud will inform you that it wants to update before you sign out.
For MacBook Pro/Air, confirm removal of payment details. All Apple Pay information will be wiped out when you sign out.
Enter your Apple ID and sign out of iCloud. Wait for a while as iCloud wipes out all data on your Mac.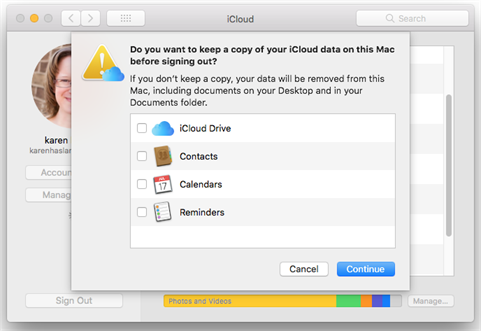 3. Sign out of iMessage
You must sign out of iMessage before restoring Mac to factory settings. Go to the message app and then follow this path:
Messages > Preferences and finally click on Accounts.
Select the iMessage and Apple Mail accounts and then click on Sign Out.
4. Turn off FireVault
FireVault is the utility that encrypts data on your hard drive. You will be getting rid of the files anyway, so security is no longer an issue.
Open System Preferences, then click on Security & Privacy and finally select the FireVault tab.
You may also click on the padlock icon at the bottom left side of your screen and then enter your user name and password to unlock.
Now select Turn off FireVault, enter your user name and password again and then wait for FireVault to decrypt any encrypted files on the Mac.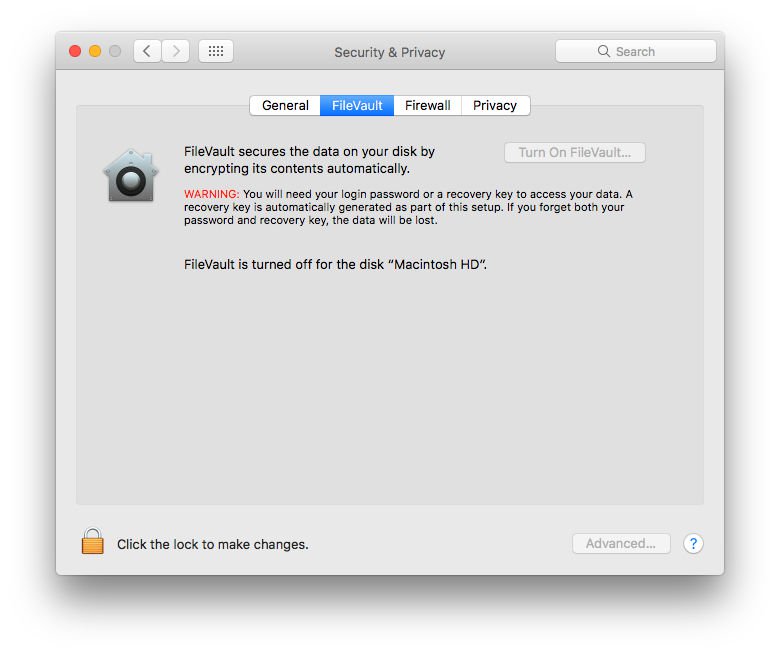 5. Erase Touch Bar Data
This is only applicable to Macs with the Touch Bar, such as MacBook Pro
Reboot the Mac into recovery mode using CMD + R.
On the MacOS Utilities screen, select the pull down menu entitled Utilities and then click on Terminal.
Now type the following on the Command Line before hitting Return.
xartutil –erase-all, when asked to proceed, type Yes.
Finally pull down the Apple Menu and then select Restart in order to reboot the Mac in the normal fashion. The Touch Bar data will be erased when the Mac reboots.
Part 3: How to Restore Mac to Factory Settings without Losing Data?
Sometimes you may need to restore to factory setting simply to reinstall MacOS and do not want to lose any data on the computer. Here is how you go about it:
1. Restart Mac in Recovery Mode
Restart the computer and long-press the CMD + R buttons until you see the Apple logo. Release the keys and your computer will boot into recovery mode.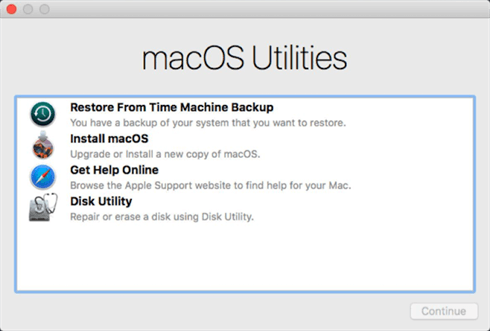 2. Erase Mac hard drive
When in recovery mode, the typical login screen is not displayed. You will be presented with the MacOS Utilities window, where you will choose the desired option.
In this case, select Disk Utility and then click on Continue, and choose your hard disk and click on Erase.
Now select the MacOS Extended (Journaled) option as the format. Click on Erase once more.
The process will take some time, so wait till it is completed then go back to the Disk Utility menu at the top of the screen and quit Disk Utility. The hard disk will be erased while conserving crucial data.
3. Reinstall MacOS operating system
You hard disk has been erased and is ready for a clean install of MacOS. This can be done while still in recovery mode.
If you had switched off the computer, start it in recovery mode using CMD + R.
Access the MacOS Utilities window and finally select Reinstall MacOS.
Let the operating system get reinstalled and your Mac will be clean from any errors that may have plagued it before.
Part 4: How to Recover Lost Data on Mac after Reset
1. Use Recoverit to recover lost data
[Recommended]
Recoverit for Mac is a versatile tool that is used to recover data that has been accidentally deleted or lost due to another event such as a virus attack. This tool is easy to use, and comes with powerful recovery features that will aid in getting your crucial files back, if you did not create a backup earlier.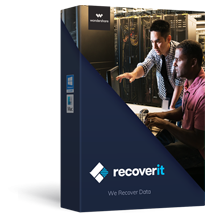 Powerful Mac Data Recovery Software!
Fast Recovery – saves you time in that it works faster than other recovery tools.
Recover 1000+ file types – No matter what format your files have, this tool can recover them and show you previews while doing so.
Versatile recovery tool - It can restore files from SD Cards, External hard disk, another computer or the current hard disk drive.
Recover data from a crashed computer – should a virus attack crash your computer, you can still recover your crucial files and data.
Selective recovery – save time by selecting the particular files or file formats that you need to recover.

3,015,629 people have downloaded it
Below is the step-by-step guide to restore MacBook Pro using Recoverit for Mac.
Step 1 Download, install and launch Recoverit for Mac.
Install Recoverit Data recovery for Mac by accessing the official download page and downloading the installer. Double-click to install, and then launch the program.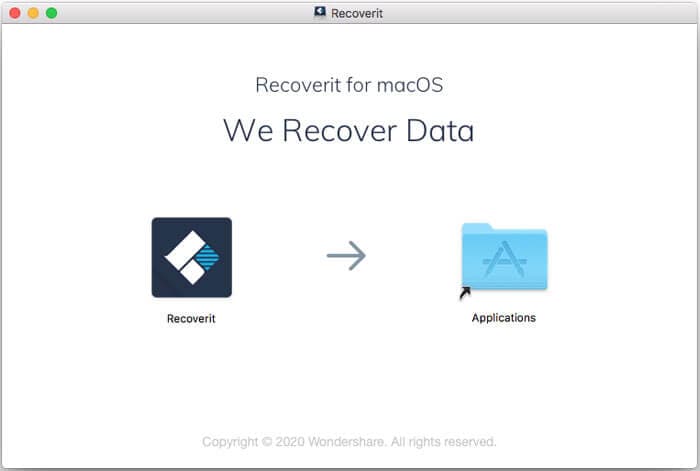 Step 2 Select the partition to recover files from.
You will be presented with a list of partitions on your hard disk. Choose the one where your lost files were located and click on Start.
If you do not see any external hard disks listed and yet they are connected to the Mac, click on the Refresh icon found right next to the External Removable Device option in order to have it listed.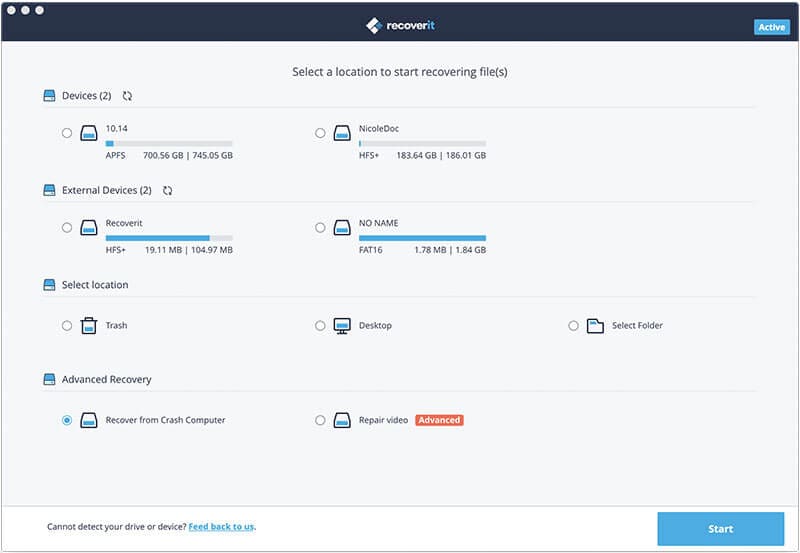 Step 3 Select the files to be recovered and complete the recovery process.
Upon clicking on Start, Recoverit for Mac will begin scanning the selected partition for lost files. The size of the partition determines how much scanning time is required.
After scanning the results will show you a list of recoverable files. Each will have a validity indicator, which shows whether they can be retrieved or not.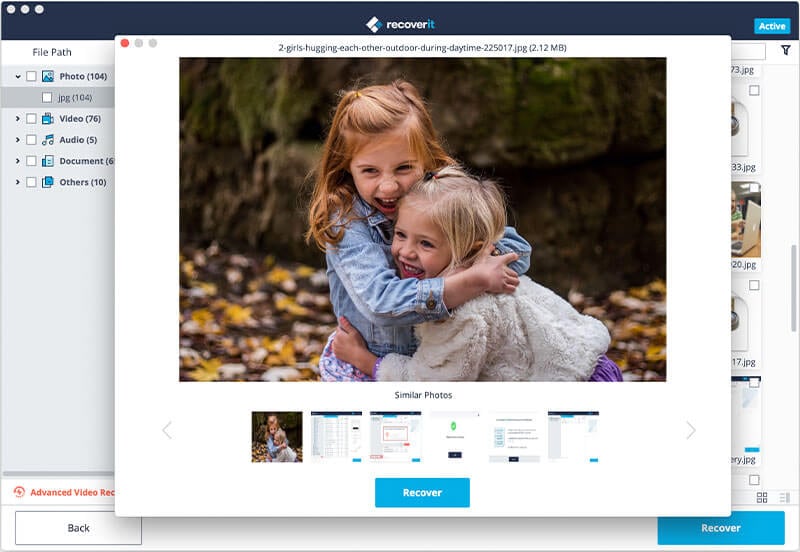 You may select all retrievable files or choose particular ones. It is also possible to retrieve a particular file format e.g. jpg if you want jpeg pictures alone.
When restoring lost files, you should use another partition or external storage device as a destination for the restored files. If the partition you are scanning has been damaged, the restored files may get corrupted. Choose to preview files when you want to retrieve them individually instead of batch retrieval.

Tips:
The inbuilt scanner is great when you want to find a particular file format and helps in speeding up the scanning process.
If the first scan does not find certain files, you have the option of performing a deep scan to find them.
Save the scan results in case you need to do another scan of the same partition in future.
2. Recover data with the Time Machine backup
You can use a Time Machine backup, created earlier, to restore lost files on your Mac:
1. Switch on your Mac after connecting the Time Machine backup disk or device.
If you are asked to enter your Country, Keyboard or Network when you start the Mac, move on to step (ii).
If your Mac enter the Finder, access the Applications folder, and then go to Utilities folder and click on the Migration Assistant. Click Continue before proceeding to step 2.
If start up fails completely or you are prompted to restore the MacOS, follow the on-screen instructions to restore both the MacOS and files.
2. Decide the backup device
You should now decide on the backup device from where you want to restore your files from. The Mac Migration Assistant will give you certain options for transferring your files.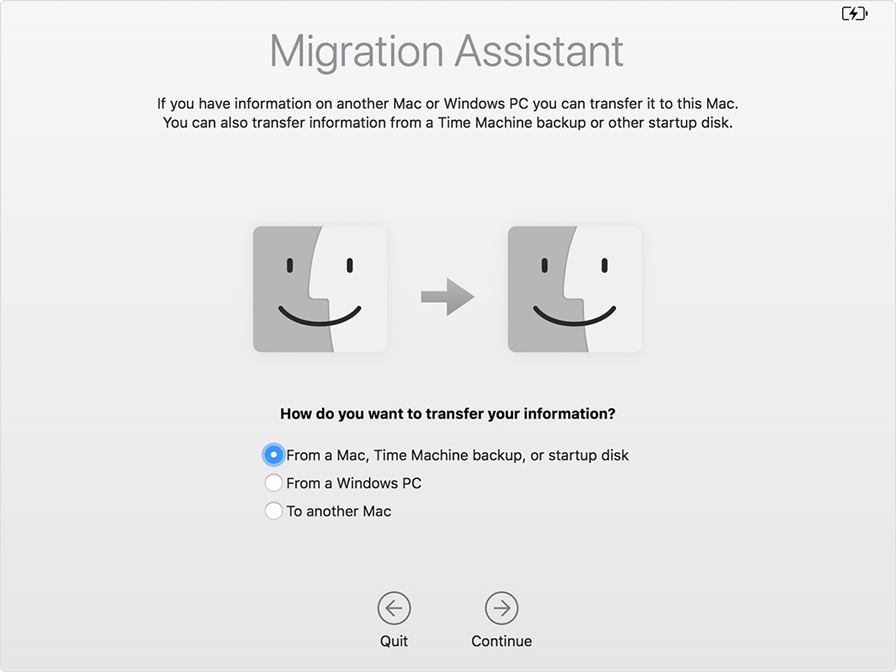 3. Start backup
Select From a Mac, Time Machine backup or startup disk and then click on Continue.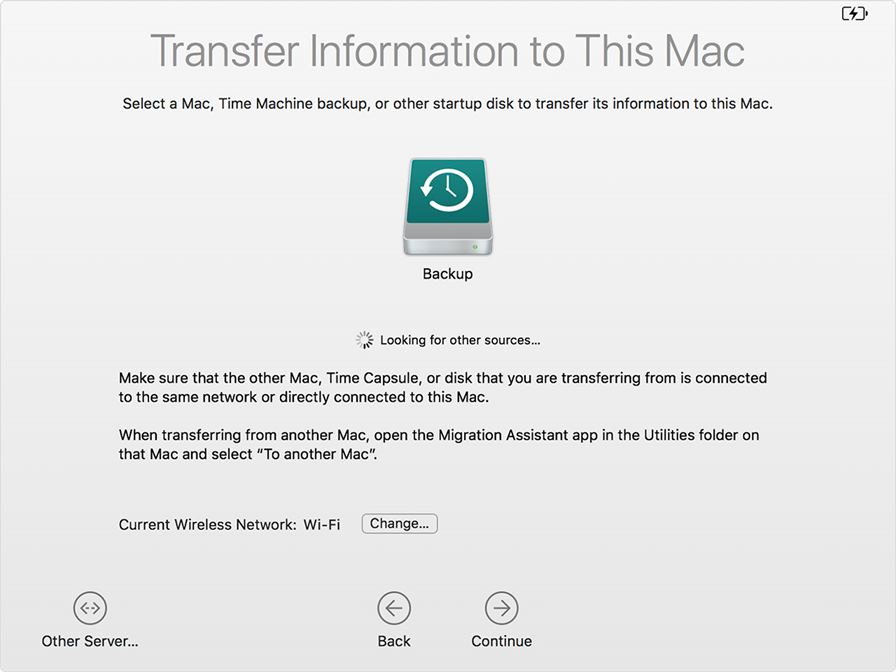 4. Choose the backed up file
You will be presented with a list of backups on the Time Machine backup disk. Choose the backup with the latest time and date and then click on Continue.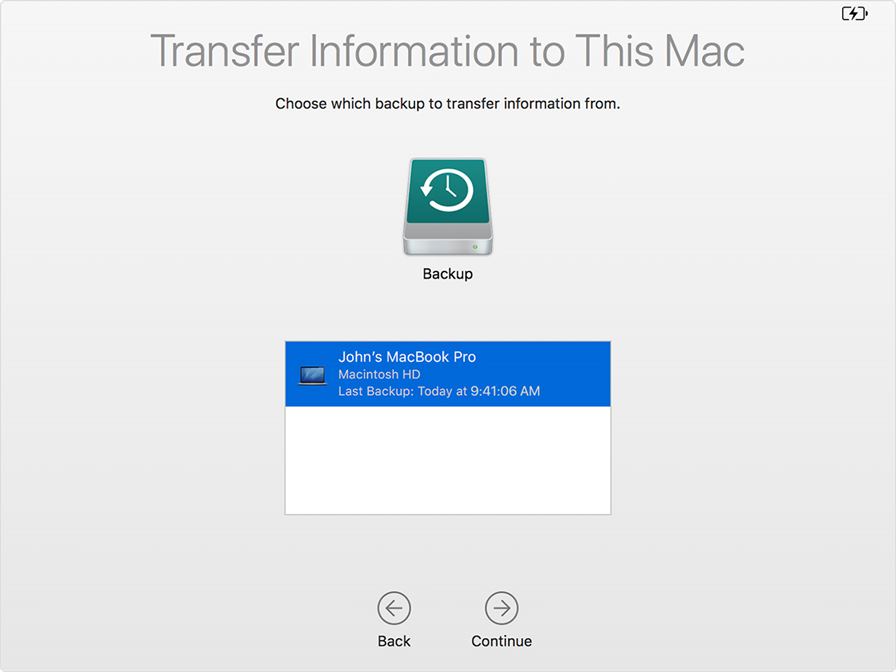 5. Choose the backed up file
From the list of data categories, choose the preferred category and then click on Continue. This will begin the transfer or restoration of files from the Time Machine backup disk.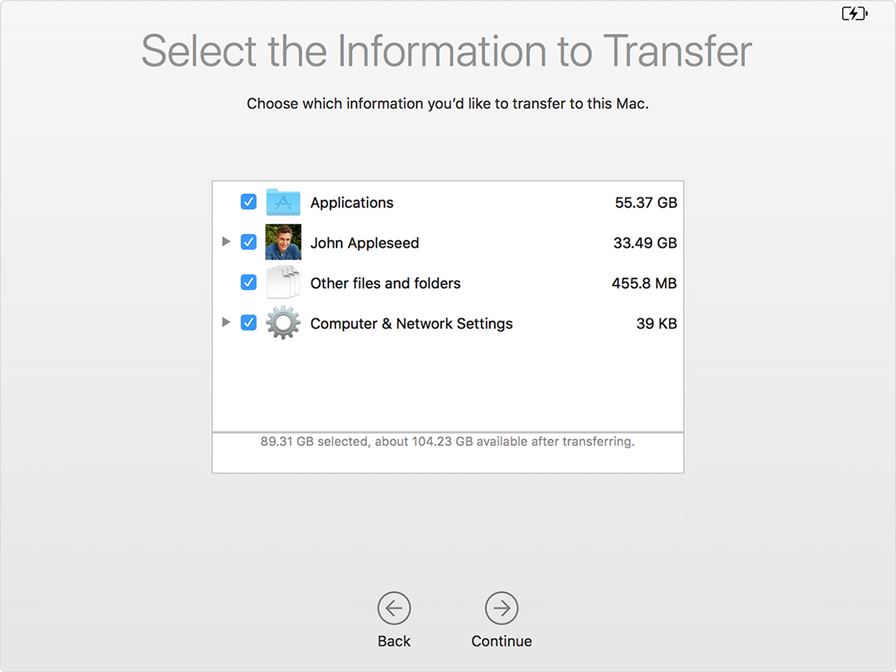 Restoring from a Time Machine backup disk can take a long while, depending on the number of files you are transferring. Once complete, restart the Mac and then enter the migrated account to find the restored files.
In Conclusion
When giving away your Mac, selling it or repairing a corrupt MacOS, you need to restore the Mac to factory settings. This is one way of cleaning your computer so it assumes the condition it was in when you first purchased it.
However, there is information that you need to remove from the computer other than your files and applications. Data from iCloud, iTunes, Touch Bar, Apple Payments and others should also be removed from the computer. This is why you need to perform deauthorization from iCloud and iTunes.
Finally, if you want to restore your files from a backup, you can use a Time Machine backup, and if you didn't have a backup, get Recoverit for Mac and restore the files from your damaged hard disk.