Summary:
Are you looking for memory card recovery software? We understand it precisely, if you are looking for a good software then something is not good with your memory card. But you have got a better piece of solution over here, in this guide we will be explaining every question that you are asking yourself as well as Google.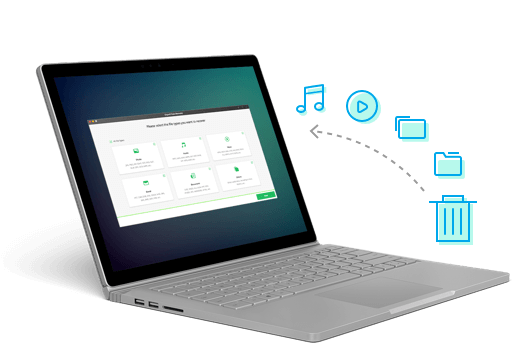 Part 1. What is a memory card?
Memory card is a chipset which contains your data in different size and category. You can use it anywhere on cameras, music players and with any device where it is compatible.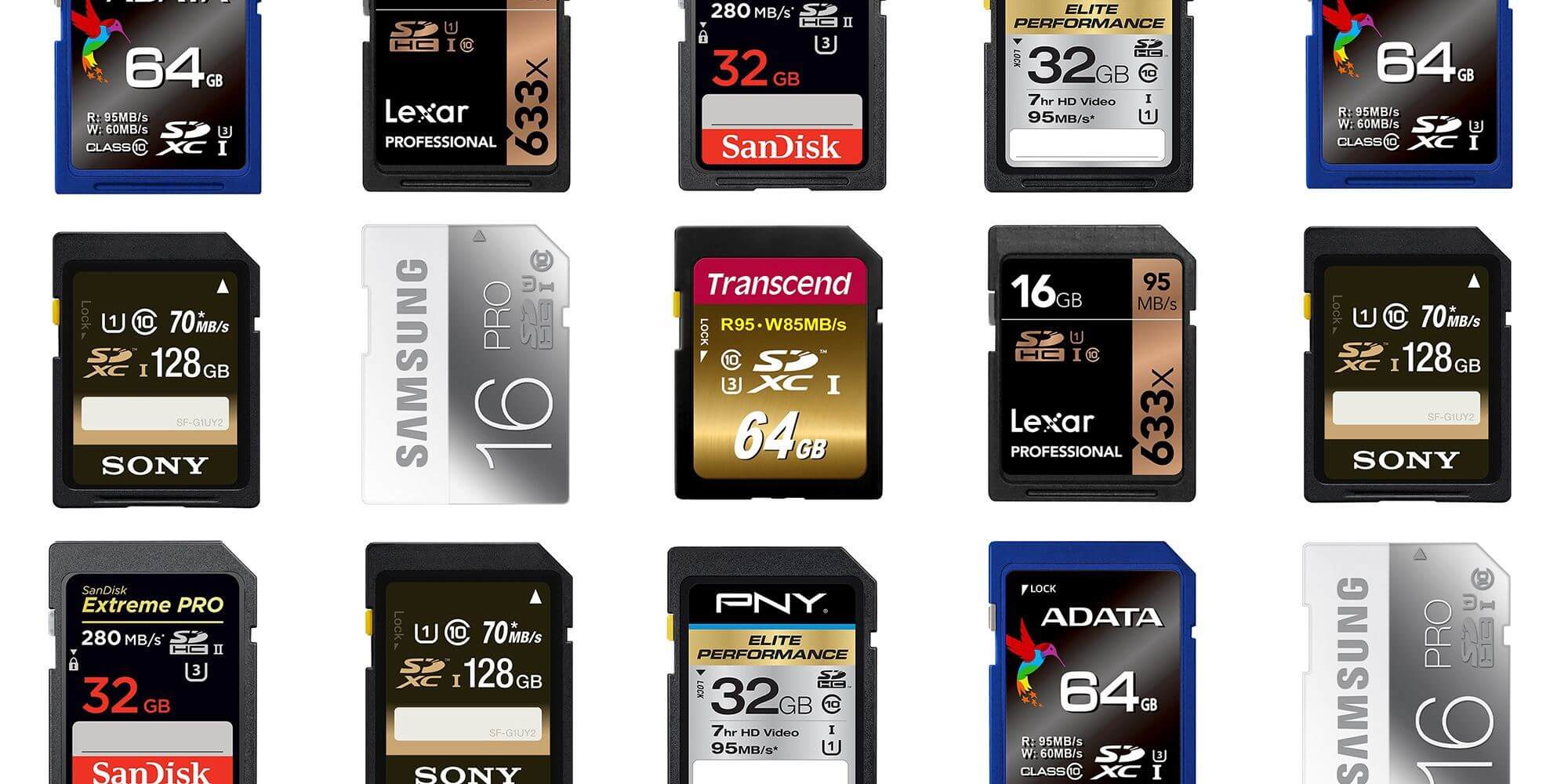 Part 2. Cause of data loss on memory cards?
There are several reasons why the memory card data is lost. Here are few major reasons-
Accidental formatting
Virus attack
Improper handling while carrying
Corrupt system file
Physical damage like broken circuit and plates.
Now, you might be thinking are these damages recoverable with any source?
Yes, you have asked the right question and we have a detailed answer for this. As you know, there are problems with every device that consumes electricity but why to worry when there is a solution for it too. You can recover your lost data on memory card with a good software that is Recoverit (IS) toolbox.
Let us introduce you to the fastest tool of its kind.
Part 3. Recoverit (IS), a Life Saver to solve your data loss problems!
Recoverit is compatible with almost every device available out there. It can recover any kind of data loss on your Windows, mac, iphone, Android, camera, music players, USB drives, SD cards and memory cards.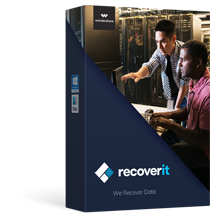 A Life Saver to Solve Your Data Loss Problems!
Recoverit (IS) tool supports over 90+ file types that are available today.
It would scan for your lost in two modules. The one is quick scan that takes a random process of recovering your lost files and another is the deep scan that would dig deep on your drive to look for the lost files.
It would not disappoint you in terms of recovering your precious data. Here you will get your data previewed to you for selecting it by relevancy.
You can preview the relevant files and folders that you want to recover and save them on a different drive other than the one you are recovering.
2,926,067 people have downloaded it
Data recovery on Recoverit is very simple and fast. Following easy steps and you will get your data back to you:
Step 1

Install and launch the program on your computer

Please launch and install Recoverit (IS) on your computer.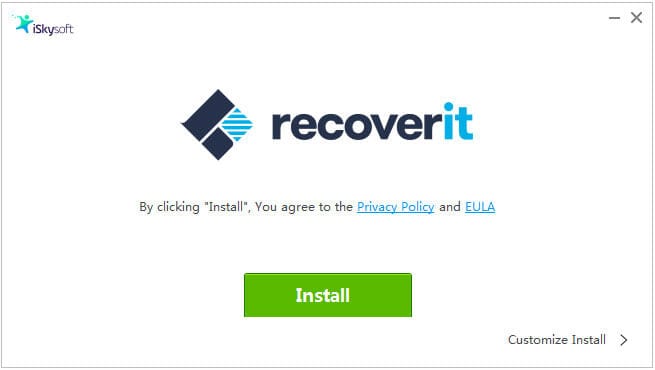 Step 2

Select the memory card where your lost data resided

Connect your memory card to your computer. Select the memory card where you lost data under "External Devices". Then click on "Start". Wait for a while as Recoverit (IS) scans the disk.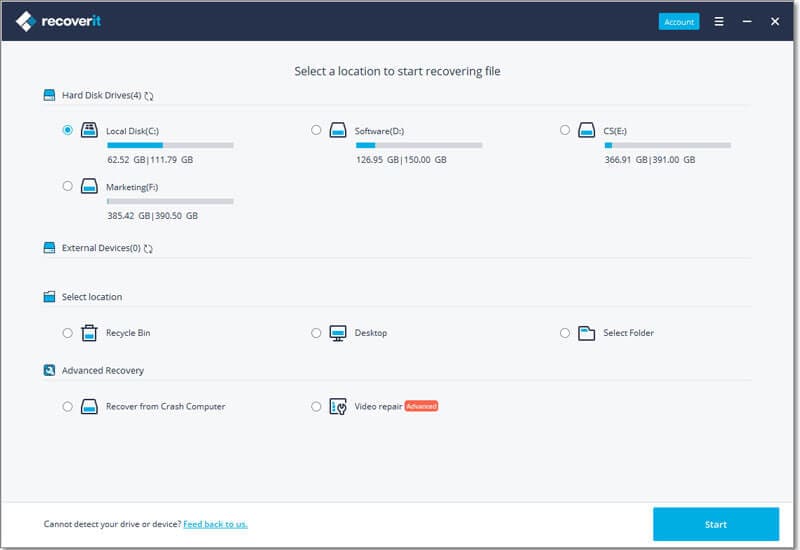 Step 3

Preview the lost files and recover

After the scanning is done, the program will show your files in a categorized way on the interface. Here, you can select the files you need and click Recover to save them on your computer. You can also choose to same the files on other external hard drive or devices.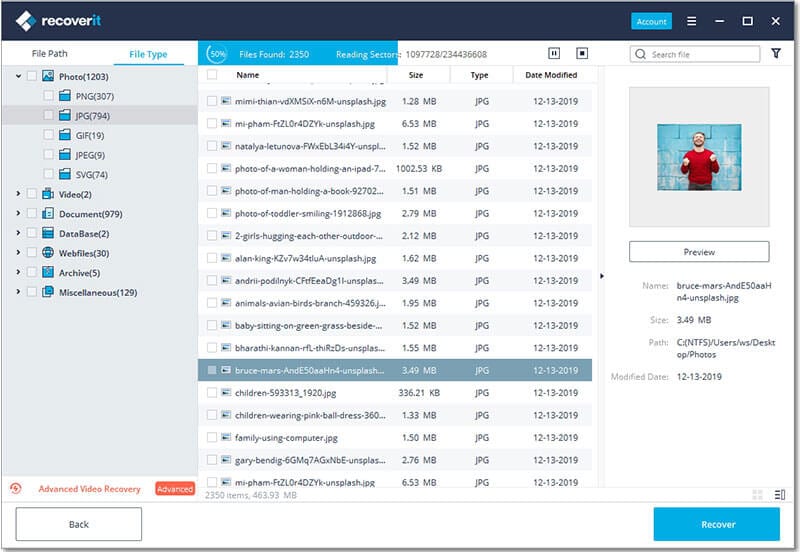 Here, you have got all your data back with just few clicks.This is how Recoverit (IS) toolbox has changed million lives. It would work best in terms of data recovery on your drives.
Part 4. Let's have a look on two different aspects where your data can be recovered and cannot be.
Data recovery is useful anytime however there are certain cases where it will work and somewhere it will not work at all. Because everything has its own limitations at the end. No mater how good you are at something but you always few aspects behind.
Recoverable situations-
If you have formatted your drive by mistake.
Virus has infected some of the files.
Accidental deletion of data.
Corrupted files and data on the drive.
Hidden and archived files that are not visible by default.
Unrecoverable situations-
If your drive is broken.
The chipset is damaged or fused.
The circuit is broken and can't be fixed in such cases if the chipset is repaired then you can give it a try.
Permanent damage of the drive.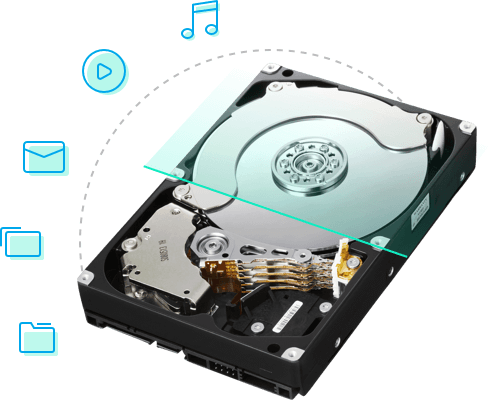 Part 5. How you can avoid permanent data loss?
There are several ways where you can avoid permanent data loss on your device. Some of them are given here.
Always keep a backup for your data on regular basis.
Sync your data with the backup files that is known as file drills to randomly restore your data from backup.
Keep your device in a clean and dry space.
Use appropriate type of electricity because static electricity can damage your device.
Use a virus removal program on a regular basis to keep your data safe and secure.
Always use the Undo feature to restore your data to the default position if something wrong happens to it.
Use a realiable software to detect hardware malfunctions that would really help you.
Part 6. Top 5 memory card recovery software.
Here in this guide we are providing you with other memory card data recovery tool as well to find out the best that serves your purpose. We have aligned them according to the best features they have.
1) Recuva
Recuva is a good program when it comes to recovering data without any hassle. This software should be downloaded and installed to get your memory card data back immediately.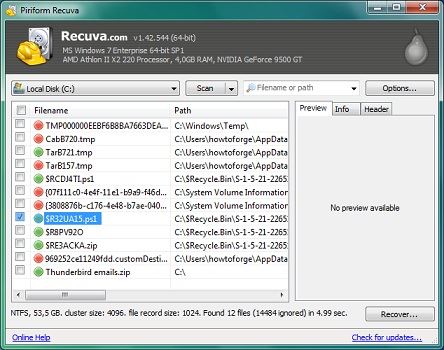 Pros :
It has exe files of small sizes.
Easy interface and operating.
Cons :
The downloading page of software is not friendly as you need to search more into it to download.
There are certain features which are not configured for user consideration.
2) Glary Undelete
This software is best for memory card data recovery because it has a fine user interface that provides best results to it's users. A non-technical person can use it and take the advantages.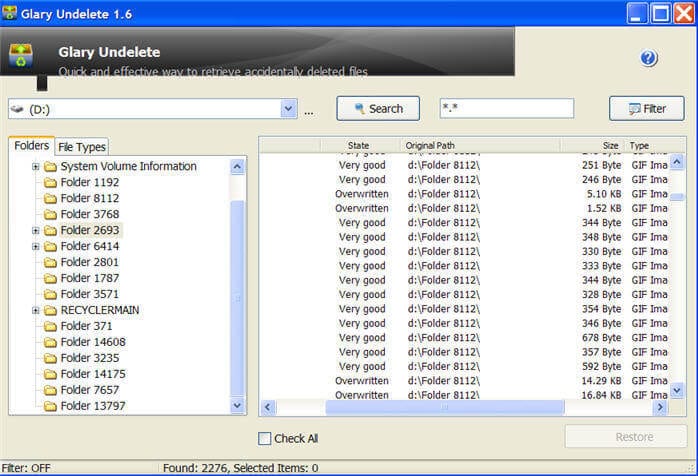 Pros :
The program has a small size.
The categorized view of files and folders is simple.
Cons :
The software setup file is embedded with different softwares.
This is only good for non-commercial use.
3) PhotoRec
PhotoRec is a good name in recovery industry online and it needs no further introduction. It is rated to be the best software to recover files on your storage devices. It has a powerful functionality which makes this memory card recovery software easy to use. You can recover your memory card data in no time.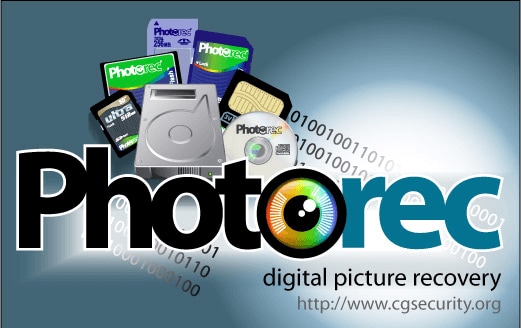 Pros :
It can recover your data for free.
It supports Linus, windows and MacOS.
Cons :
It needs a bit of technical knowledge to understand the software interface.
Beginners find it difficult to use due to compact command lines.
4) Stellar Data Recovery
This software is precisely designed for the priority of USB drives. To recover memory card data this software will give best results if installed.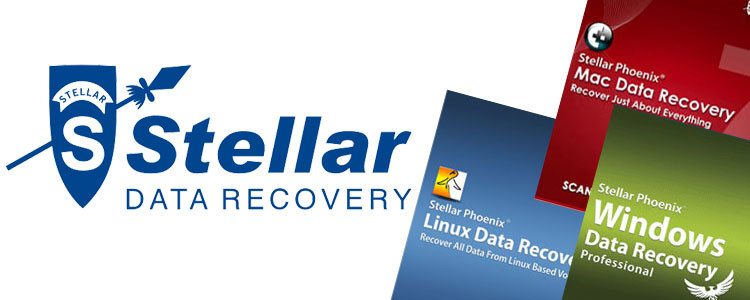 Pros :
The interface is easy.
You can preview the files in the embedded format.
Cons :
You can recover limited data on this program.
The setup file of this program is too large.
5) Soft Perfect File
To recover memory card data anytime and anywhere you can get this program installed because it's just 500kb in size. You will enjoy your interface with this software because it is designed keeping in mind the demands of customers.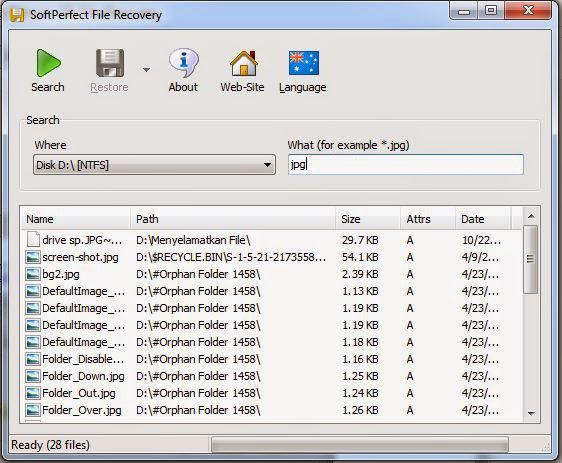 Pros :
It is portable and easy to use.
The small size make a pocket sized data recovery tool that you can use anywhere you want..
Cons :
You can't preview the files while recovery.
The recovered files health is not shown.
Conclusion:
So, when it comes to data recovery Recoverit is the best choice. We are not saying it, our features are giving us good reviews by our worldwide clients. No doubt there are certain programs that might be better than us but they only support a single device interface. That means if that program is designed to recover your memory card then it would only entertain your memory cards.
However, Recoverit (IS) is specially designed recovery software to restore files from your memory cards like micro SD card, miniSD card, full-size SD card, Flash cards, SDHC memory cards, etc. It supports all popular SD card brands on the market, including but not limited to Sandisk, ATP, Kingston, Lexar, Transend, PNY, Samsung, Canon, etc.
It supports all operating systems such as Windows, MacOS and Linux. You will not find it difficult to install and download. No such pre-technical knowledge is required in order to get this software and operate it. There are few simple steps that you can utilize and recover your data back.
So, what are you waiting for now?
It's your call to spread happiness all over where you can reach. Try it and you will love it, get some helping hands and share this unique program with your friends and family whoever is need to recover their data.
If you can do it, then why you are holding yourself back?
Go ahead and share the link with your friends and make their life better with this ultimate tool.